How to Use Visual Watermark for Videos
With our video watermark app, you can create and add a watermark to your video in just five steps:
Step #1. Install the Visual Watermark for Videos application on your computer. Download the installation files here.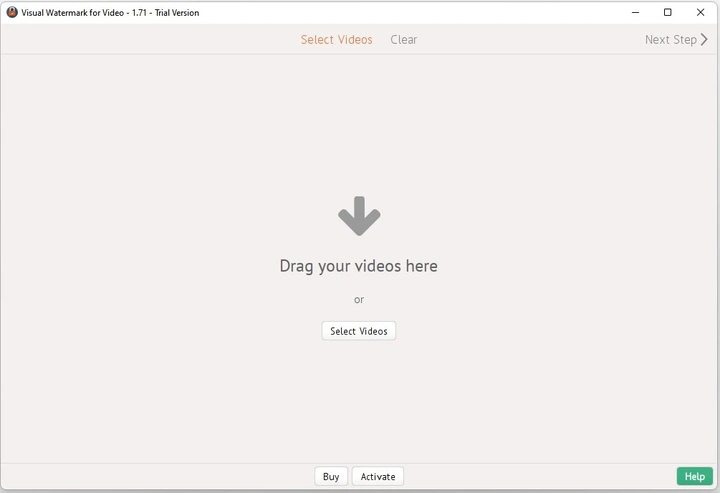 Step #2. Upload your videos to the program or drag and drop them from a folder on your computer. If you accidentally uploaded an extra video, delete it using the "Clear" button. Click "Next" and proceed to the next step.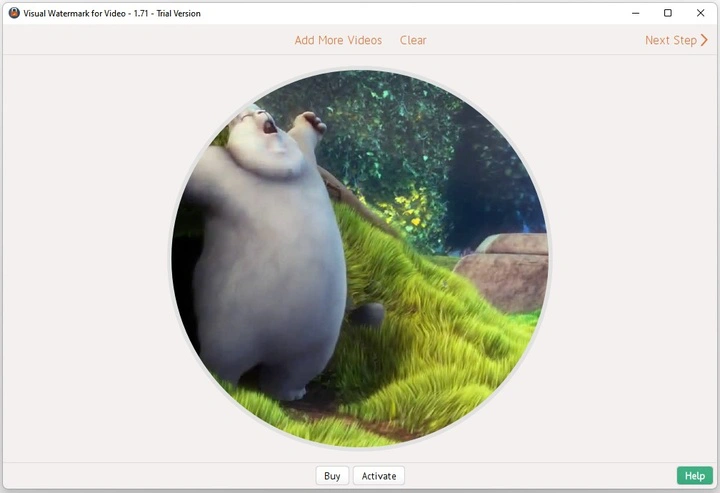 Step #3. Create a personalized watermark. You have the following options:
Add text.
Write what your watermark will say. Change the font, color, size, transparency level, and rotation angle. Select one of two Tile types, if you want to fill your frame with repeated watermarks. Change the spacing between strings of text. Add effects. Set animation if needed.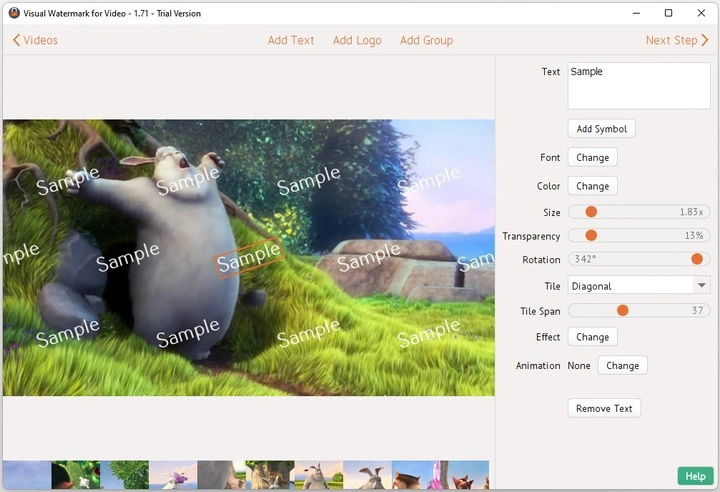 Upload logo.
Upload your company logo file from your computer. Or choose an icon from our gallery of over 50 different themed elements.
If your file does not have a transparent background, you can remove it in our video watermark app. Just click the "Remove Background" button. There are also tools for editing your watermark: change color, size, rotation, transparency, effect, position, and animation.
Add a group from the program's gallery.
We have templates with a group of elements that you can use as you wish. For example, you can choose a group with a logo, brand name, and a short description. Wedding videographers often use these watermarks to promote their company and protect copyrights.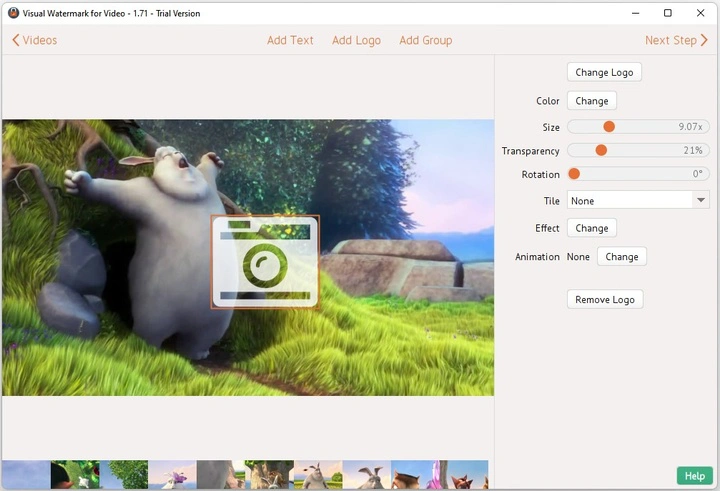 Step #4. Check out how your watermark looks. Click "Next" and select "Preview." If you've worked on multiple videos simultaneously, see how the watermark looks on each one. In all videos except the first one, you can further adjust the watermark position.
Step #5. Set Export settings and download watermarked videos. To get a quality video with a watermark, take the time to choose the Export settings.
Specify the output folder. This way, you will know exactly where the file will be saved. If you select the same folder as the original video, the program will warn you.
Check the box next to "Resize watermark automatically". This is necessary if you want it to adapt itself to files of different formats.
Select video format. You can specify the original format or choose from the suggested options.
Specify the video encoder priority. We have two options: better picture quality or faster processing. The choice depends on your needs.
Resize (if needed). Click on the arrow next to the item, and you will see all the available options.
Rename the files so as not to confuse them with the originals. Here you can also set the numbering for each video.
Click "Apply watermark". Wait while the program processes the video.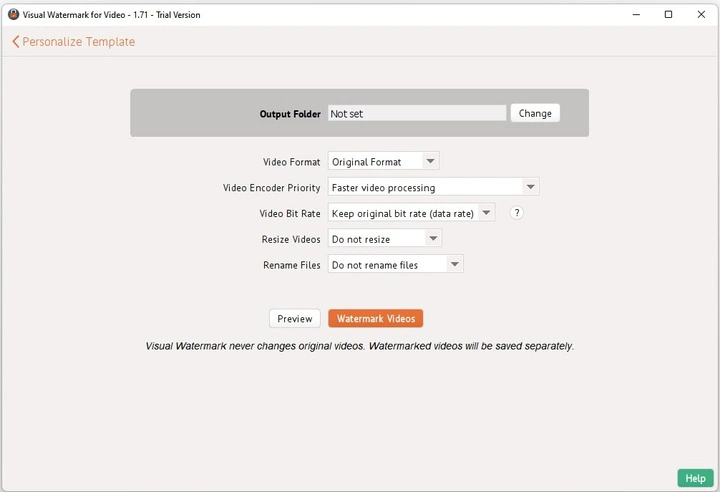 Once watermarking is done, you can go to the list of saved files. Here you will see the "Save watermark template" button. Click on it to save your watermark as a file. You can reuse it, so you don't have to recreate it.
When you install Visual Watermark for Videos, you automatically start with the trial version. After processing, a string of text will appear on your video saying that you added a watermark using our program. Buy the full version to remove this limitation.
Watermark Video