A watermark is a branded translucent mark that a content owner can apply to photos and videos. It indicates that the material cannot be copied or used for commercial purposes. Some content creators use watermarks to promote their brands. Many companies add their logo as a watermark to videos and photos to make them more recognizable.
It's crucial to learn how to add a watermark to a video since it shouldn't steal all the attention. Most often, watermarks are translucent and black and white. This way, they do their job without making the content look bad and unprofessional.
You can create and apply your watermark to protect your videos with our Visual Watermark program.
In this article, you will learn how to add a watermark to a video using our application and get answers to many popular questions on this topic.
Download For Free
---
How To Get Started with Visual Watermark
Check out Visual Watermark! It is a service where you can create a custom watermark and apply it to one or more videos at once. Our program allows you to work with video without the Internet. You just need to install Visual Watermark on your computer/laptop. This process will not take much time.
You can download the program here. We have a Visual Watermark installation guide. Use it if you have any difficulties.
The Visual Watermark program won't load the processor or slow down your computer. It'll watermark your videos, while you are performing other tasks on your device.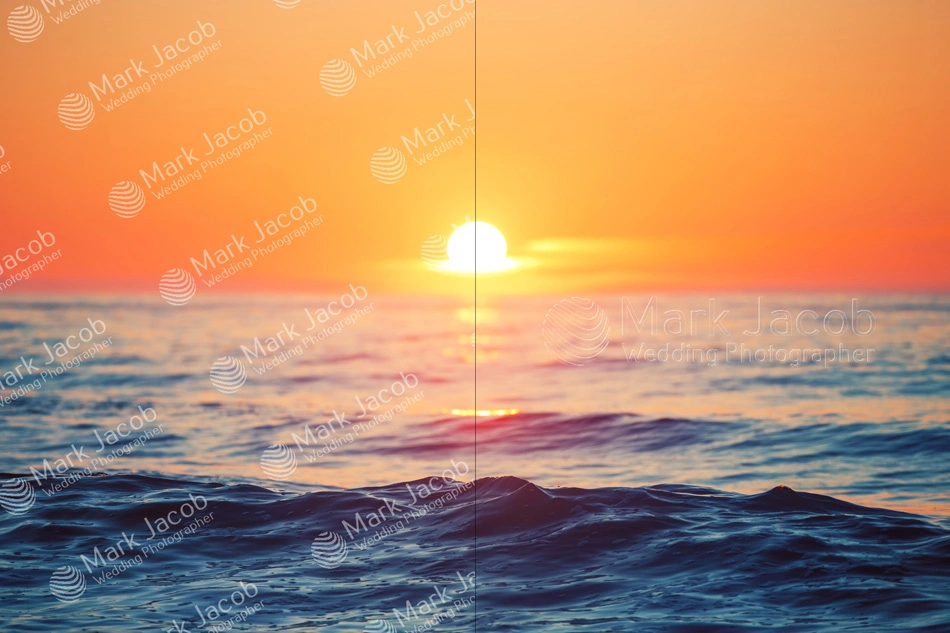 Download For Free
---
How To Add Watermark to Video: Detailed Instructions
Our tool to create and add watermark to video is very simple. The program interface is intuitive and has no unnecessary elements. In the software, there are built-in tools for editing. You can create a unique watermark for your videos effortlessly.
We suggest checking out our detailed step-by-step guide, so you won't have to play guessing games.
1. Adding Video to Visual Watermark
You can upload one or more videos for watermarking. Files can be dragged from a folder on a laptop/computer. Alternatively, you can click the "Select video" button.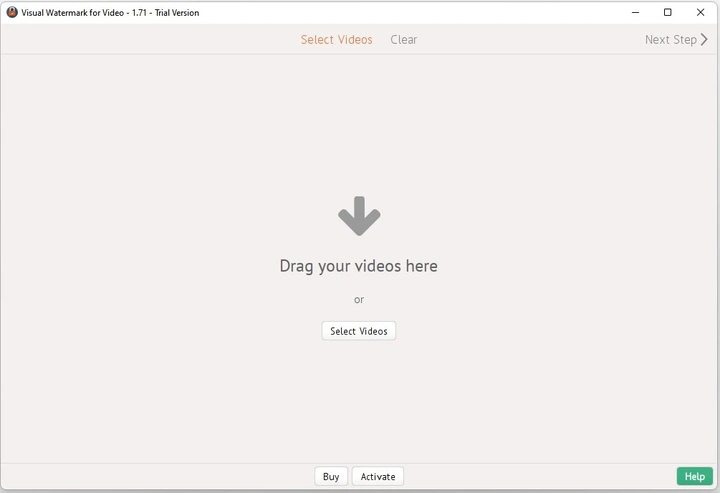 Uploaded videos will appear as small round previews. There are several more features available to users here:
Add video. This item should be used if you want to add more files.
Clear. This function allows you to delete all uploaded videos from the program.
Icon "Basket" (appears when hovering over a video). This feature allows you to delete one certain video file.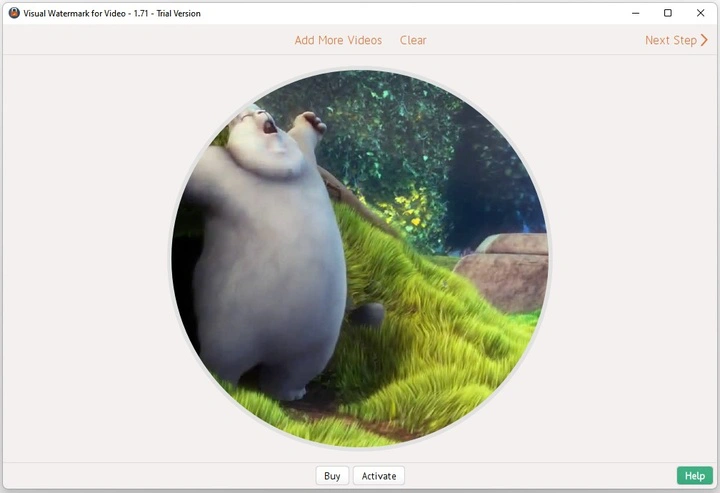 Once all the videos you need for work are loaded into the program, proceed to the next step. Click "Next" in the upper right corner.
2. Creating And Adding Watermark to Video
This is the most important and exciting part, where the final result depends entirely on you. We present a great variety of editing tools. Therefore, you will definitely be able to create a unique watermark for your unique works.
Visual Watermark has several options for creating a watermark.
Add text
When you select this function, the text "Sample" will appear in the frame. In the menu, there is an input area where you can write any text you need.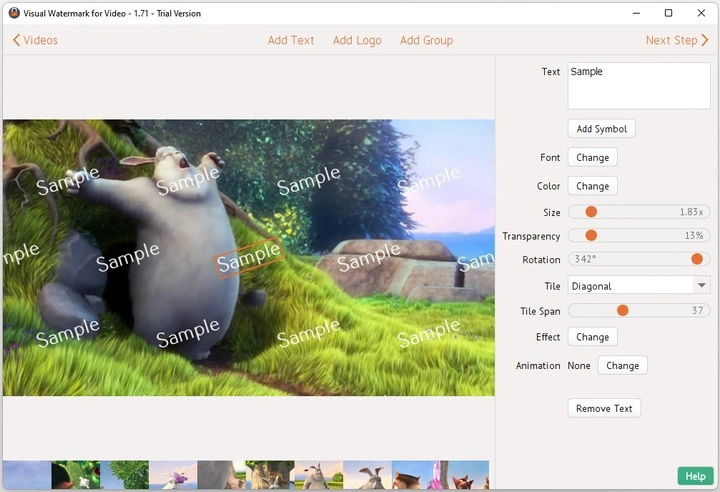 Here our program offers many tools for editing your text. You can:
Add a symbol: copyright sign, file name, date, year, number.
Change the font. The program provides over 900 fonts to choose from.
Change color. You can choose absolutely any shade on our color wheel.
Resize. Move the orange slider along the line to change the size of your watermark.
Decrease/increase transparency from 0% to 100%.
Rotate text. You can rotate text up to 360 degrees.
Fill up the video. This feature allows you to repeat the text across the entire frame.
Add an effect. You can select different shadows, solid backgrounds, gradients, etc. In total, the software has more than 300 effects.
Customize animation. You can add a fade animation, then set the seconds when you want it to appear and how often it should be repeated throughout the video.
Move your text anywhere within the frame with your cursor or arrow keys on your keyboard. Find the best position for maximum protection. Or make the logo as visible as possible if you want to promote your brand with a watermark.
Add logo
Click on this button, and you will see two options: upload a logo from a computer or select an icon from the gallery.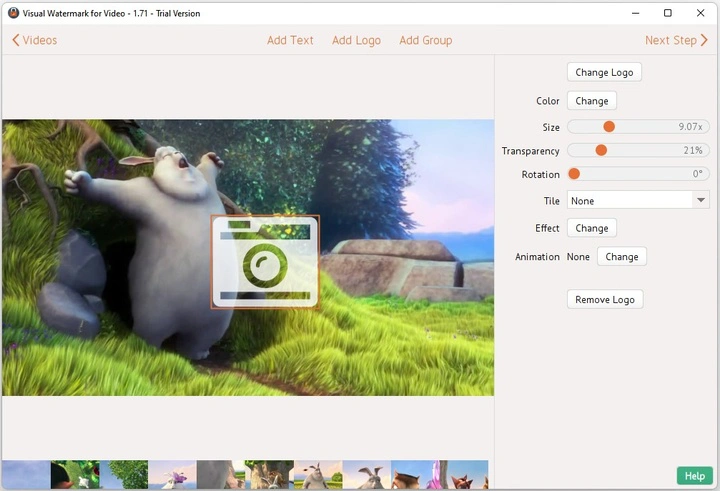 Our program allows you to upload files with a logo in different formats: JPEG, PNG, GIF, BMP, and TIFF. If your logo is saved in PNG format, it will have a transparent background when uploaded. There will be no transparent background if the file is in JPEG format. But you can easily remove it using the built-in function in our application.
The Visual Watermark gallery has 60 various logos some of which will surely be suitable for your business field.
Editing tools are also available. You can change the color, size, rotation angle, transparency, etc.
Add a group
Templates combine several elements: a logo and 1 or 2 strings of text. You will need to enter your text as well as upload your logo to make your personal, multi-component watermark.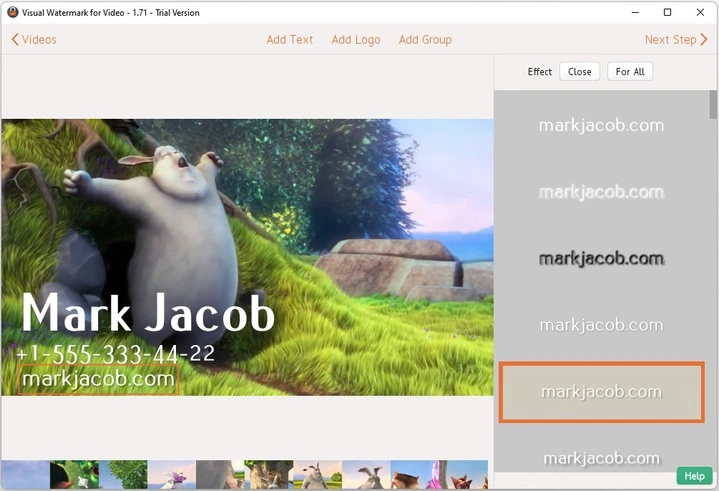 Visual Watermark has 10 built-in templates. You can add several templates to one video at once. There are no limitations!
Here, the entire toolkit will also be at your service.
3.Check videos with a watermark and export them
When you are ready to add your watermark to video, click the "Next" button.
Here you have the option to go to the "Preview" section and check the placement of the watermark on other videos in the batch. You can adjust its position as well as size and transparency, if necessary.
Once you are happy with how your watermark looks, exit the "Preview" section. Be careful with the Export settings. It might be better not to go overboard. The final result and the quality of the processed videos depend on it.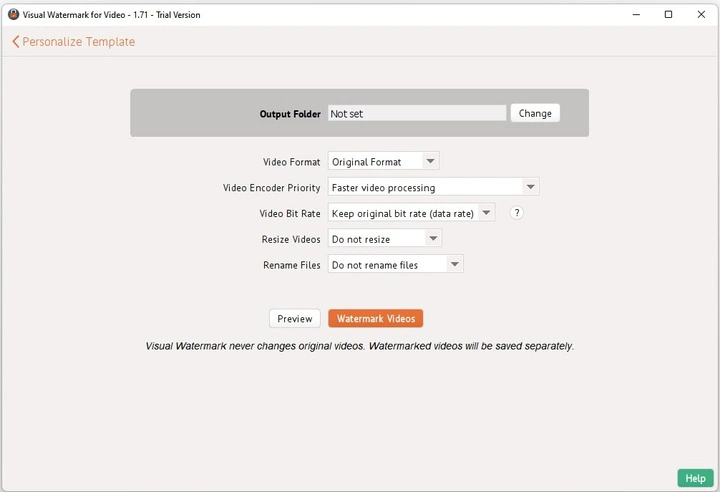 Our Export settings include:
Picking the required folder to save a file to.
Enabling your watermark to adapt to all videos in your batch automatically.
Choosing video format. If you uploaded a file in one format, you could change it to another when exporting.
Selecting your bitrate.
Changing the size. For example, fit in width.
Renaming a file so that you can easily distinguish it from the original.
4. Save Your Watermark Template to Reuse It
Once you set all Export settings, click "Add Watermark". The program will start watermarking. Upon completing this process, a new window will open. You will see two buttons: "Open Video Folder" and "Save Watermark Template". If you want to export your watermark as a file, click on the second button, then select a folder where it should be saved. Don't forget to give it a name not to lose it.
The next time you launch the program and upload a video, you will see your templates in the menu on the right, and you can reuse them. This is very handy if you work with videos all the time and need to add the same watermark.
Download For Free
---
Benefits of Visual Watermark
You can trust our program! We have thought through all the details: ease of use, functionality, and security. In addition, our application is available to all users for free. Each person can download and install the program on a computer and start working.
The main features of our tool that allows you to add watermark to video:
The program does not depend on Internet access. This is not an online application. It must be installed on a computer. Thanks to this, you will have access to all functions is 24/7. You can work with video anywhere, anytime. You can install the program on Windows versions 7, 8, 10, and 11, Mac OS X Mountain Lion, and newer versions. The application supports high-resolution Retina.
The program guarantees data security. Visual Watermark works offline and not in an Internet browser. You don't need to upload your files to the internet to watermark. This is a more secure way to ensure their privacy. User files are not stored in our program, so we guarantee their safety.
In Visual Watermark, you can upload videos of different formats: MKV, MOV, MP4, and AVI with H.264, H.263, and H.265 codecs. Dozens of videos can be downloaded at the same time. This won't affect the program's work or speed.
Our service has a paid and free version. Unlike many similar programs, all the functionality is available in a free trial version; except for access to some fonts and group templates. Another limitation – the words "Protected with a trial version of Visual Watermark" will appear at the bottom of your watermarked videos. If you want only your watermark to be on your visual content as you plan on using our program for commercial purposes, buy one of our paid versions. You will find all the details on this page.
Download For Free
---
FAQ
Below you can find answers to the most frequently asked questions about watermarking videos and how our program works.
How can I add a watermark to a video fast?
Install our Visual Watermark program on your computer and run it to upload video. Add a string of text, a logo, or a combination of both.
Use all the tools of our advanced editor to place your watermark in the right place, get the optimal level of transparency, and more. We offer 900+ fonts and various effects. You can save videos in different formats. All the details are above in this article.
Is Visual Watermark free?
Yes! You don't have to pay for Visual Watermark if you need it for personal use. In the free version, absolutely all the functions of the editor and other features of the program are available.
However, please, be aware that along with your watermark, the words "Protected with a trial version of Visual Watermark" will be added to your videos as well. If you don't want to be constrained by this limitation, you can buy one of our three paid packages. Either of them will surely get you a better user experience.
How can I create a watermark and add it to my video?
In our program, your watermark can be a logo, a string of text or a combination of both.
First, you need to decide what kind of a watermark you need. If you select "Add Logo", you'll have to upload your logo file or use our collection of various, multifunctional icons. If you select Add Text, you'll need to enter a string of text. For example, "Copy", "Confidential", etc. Finally, if you select "Add Group", you'll have to upload your logo and type in your text.
How to add a watermark to a video on Mac?
If you are using a Mac with OS X Mountain Lion or later, you can install our software and use it offline. You don't need to be connected to the internet to add watermarks.
Download the installation file here. Detailed instructions on how to add a watermark to a video are provided in this article.
How to make a transparent watermark?
The watermark should be transparent not to distract the viewers from what is happening in the video. Our editor has a separate tool that allows you to change the level of transparency from 0 to 100%. After you add text or a logo, a panel with editing tools will pop up on the right side of the screen.
Find the "Transparency" slider and adjust it to achieve the required level of opacity.
Download For Free
---
Summing Up
Now you know how to add a watermark to a video quickly. It will help prove your authorship if someone decides to pass off your work as their own. Also, a watermark will help make your brand recognizable. It is often used as an effective promotional tool. And it really works.
Download Visual Watermark from our official website and create unique watermarks so no one could steal your videos.