Step 1 – Select Videos For Watermarking
Visual Watermark for Videos can handle videos one-by-one and in batches. Drag and drop videos or entire folders into Visual Watermark's window, or click 'Select Videos' and choose required videos/folders in the 'Open File' dialog. To select all videos contained in a folder, press Ctrl+A on Windows or Cmd+A on Mac.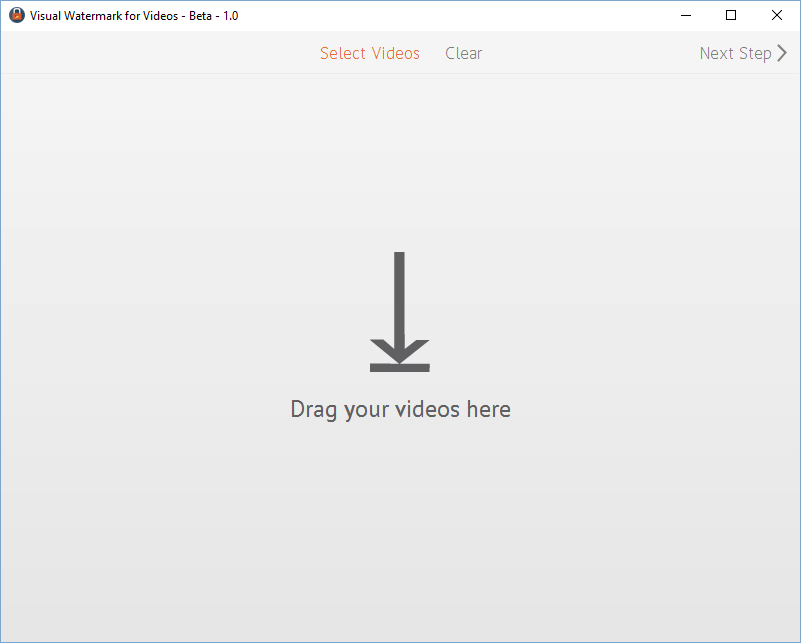 To reset video selection, click the 'Clear' button. This will unselect all videos previously selected for watermarking.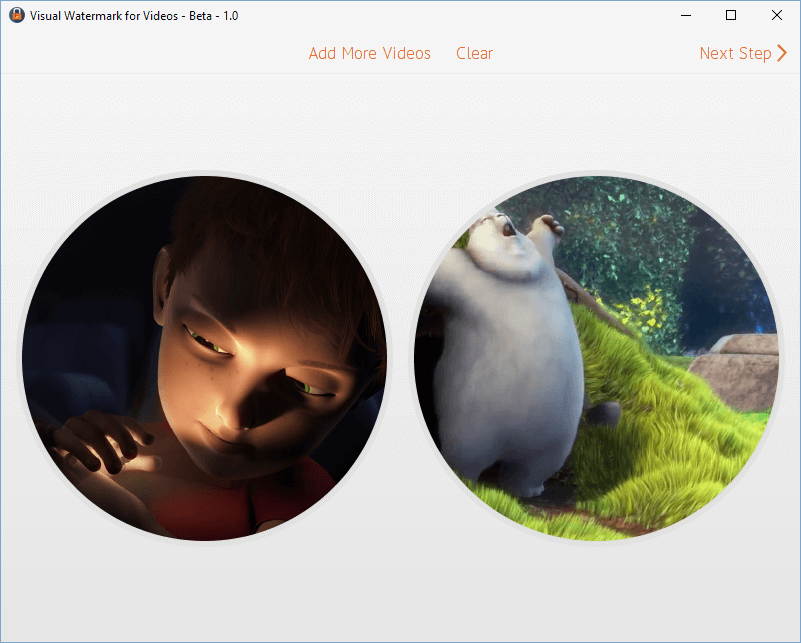 Click 'Next Step' button when you finished selecting videos for watermarking.
Step 2 – Design Your New Video Watermark
At this step, you can design a custom watermark (layout, position, rotation, opacity and auto-scale). You can add a logo (click 'Add Logo' button), text (click 'Add Text' button) or a combination of both (click 'Add Group' button).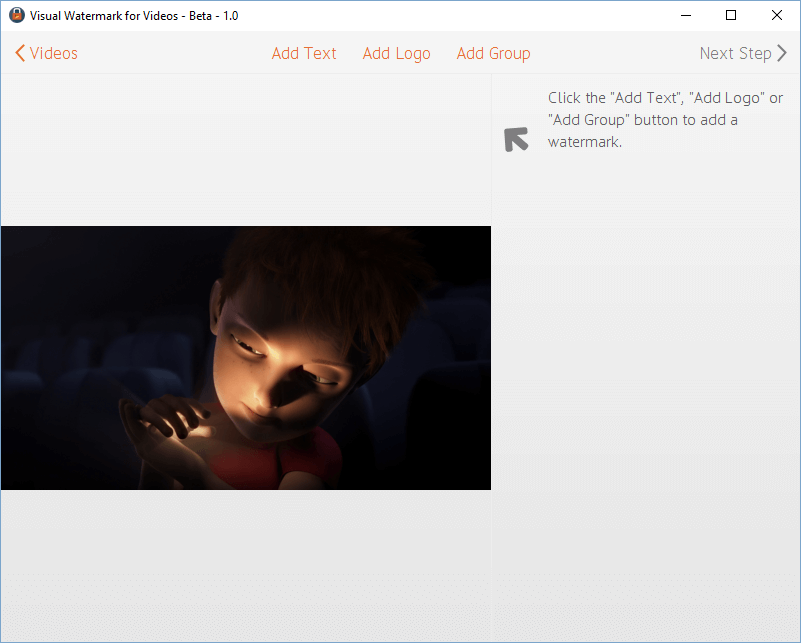 Visual Watermark for Videos contains 10 built-in watermark templates to help you quickly create your own custom watermark. A video watermark template can contain a logo and up to three lines of text. You can add as many watermark templates as needed at once.
Click a watermark element (logo or text) to select it. Its configuration options will appear on the right. Second click selects the entire watermark group (template).
Once the entire watermark or its element is selected, it becomes possible to change watermark position and customization options.
Click the watermark and drag it to change watermark position. You can use arrows on your keyboard to move the watermark as well.
All available customization options are displayed to the right of the watermark editor.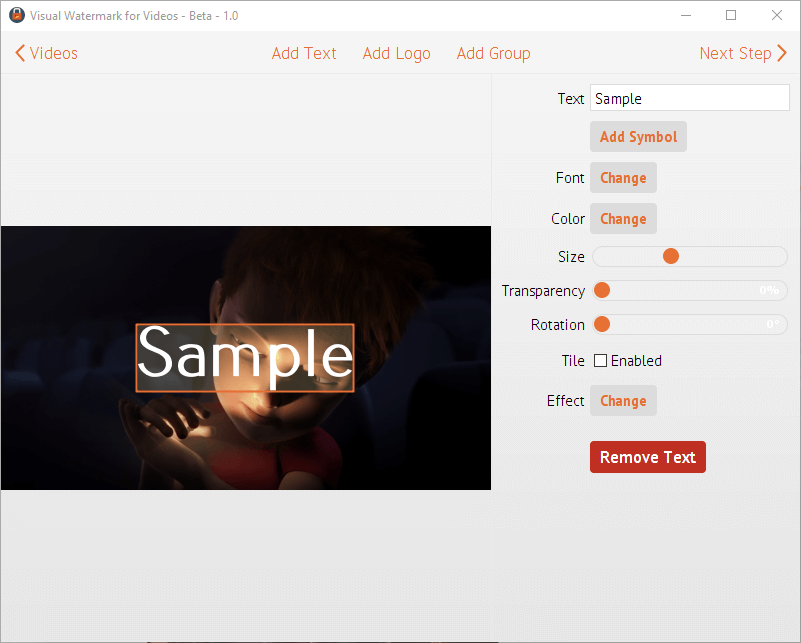 Video watermark customization options include:
Watermark size and rotation;
Opacity;
Font;
Color;
Custom logo;
Background removal tool;
Visual effects;
Tile option that fills video with your watermark.
Unfortunately, there are techniques that allow watermark removal. Read our guide to learn how to position a watermark for a better protection of your videos: How To Improve Your Watermark Protection.
Step 3 – Specify Output Folder And Apply Watermark To Your Videos
Visual Watermark for Video provides the following output options:
Output Folder. Click 'Change' and select a folder where to place watermarked videos. Note that Visual Watermark never changes original files.

Auto-Scale Watermarks. If this option is enabled, Visual Watermark automatically adjusts the size of watermarks if your videos are of different sizes.

Video Bitrate. Controls video compression rate. The higher bitrate, the better looking video you'll get. However, higher bitrate also makes your videos bigger. By default, Visual Watermark will try to match bitrate of the original video files.

Keep Folder Structure. This option appears automatically if you select videos from several folders. If this option is enabled, Visual Watermark will create the same folder structure in the output folder.

Rename Files. You can leave file names unchanged or provide new names to prettify camera file names.
Once all required output settings are specified, click 'Watermark' to start watermarking your videos.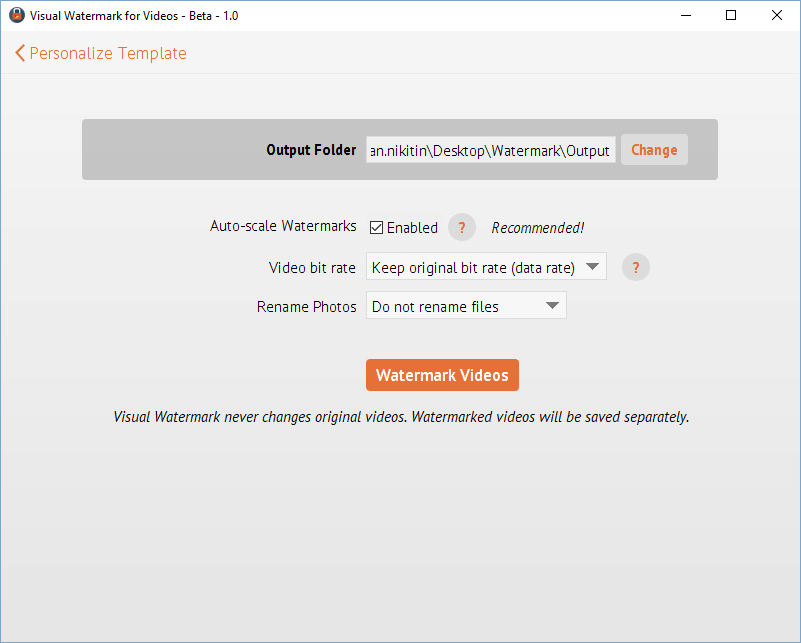 Step 4 – Save Your Watermark Template
Once the watermarking is finished, you can save your video watermark template into a file for later use. Click the Export Watermark Template button and specify a file name for the template file. Video watermark templates are stored in VWM4 format. To load the watermark, double click the template file. Visual Watermark will start and load your template.