Watermark thousands of photos in one batch. Add some text, a logo, or a combination of both to your photos. Protect your photos with a watermark of your own unique design. The process of adding a watermark to your images is so unbelievably effortless that you will surely enjoy it.
Please note that our app works online and offline, and you can watermark your images for free in both cases.
Visual Watermark allows you to add as many watermarks as you want. It runs on Windows, Mac, Android and iOS.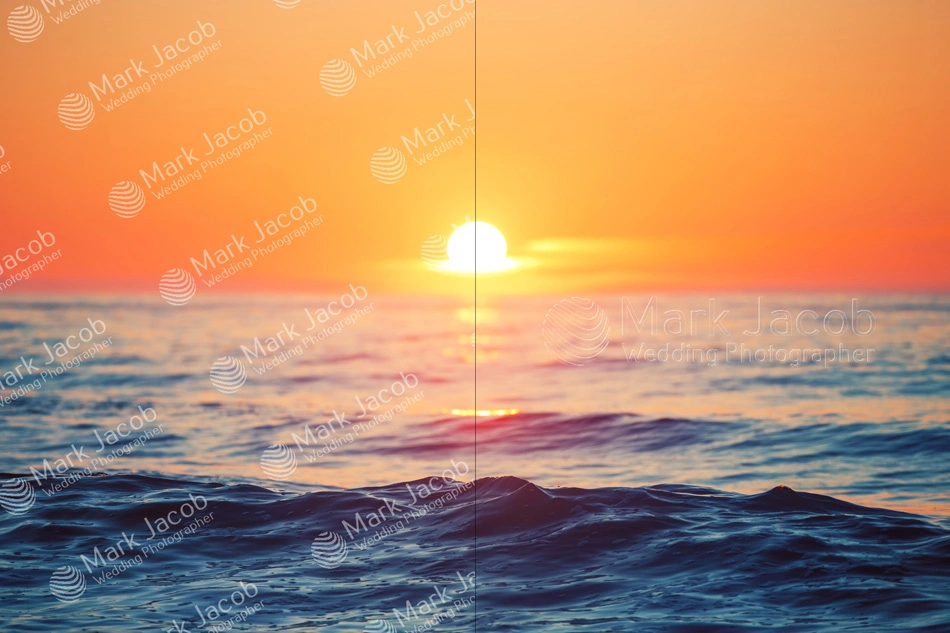 ---
How to Watermark Photos for Free Using Online App
Visual Watermark offers a wide range of tools for creating and adding watermarks to your photos, videos and PDF files. One of them is our online watermarking app.
Thanks to its user-friendly interface, it won't take you much time to master the app. It works for free, and you won't have to sign up or enter any other personal data.
Check out our video guide to learn how to watermark photos online or go directly to the app at the top of the page and start watermarking photos.
How to watermark photos online in 7 steps:
Launch Visual Watermark online app.
Upload all the photos you need to watermark.
Add some text or use one of your previously made templates.
Add your own logo or choose an icon from our library.
Edit your watermark.
Go to the Preview section to check what your watermark looks like on all the photos and add some changes if necessary.
Download the results.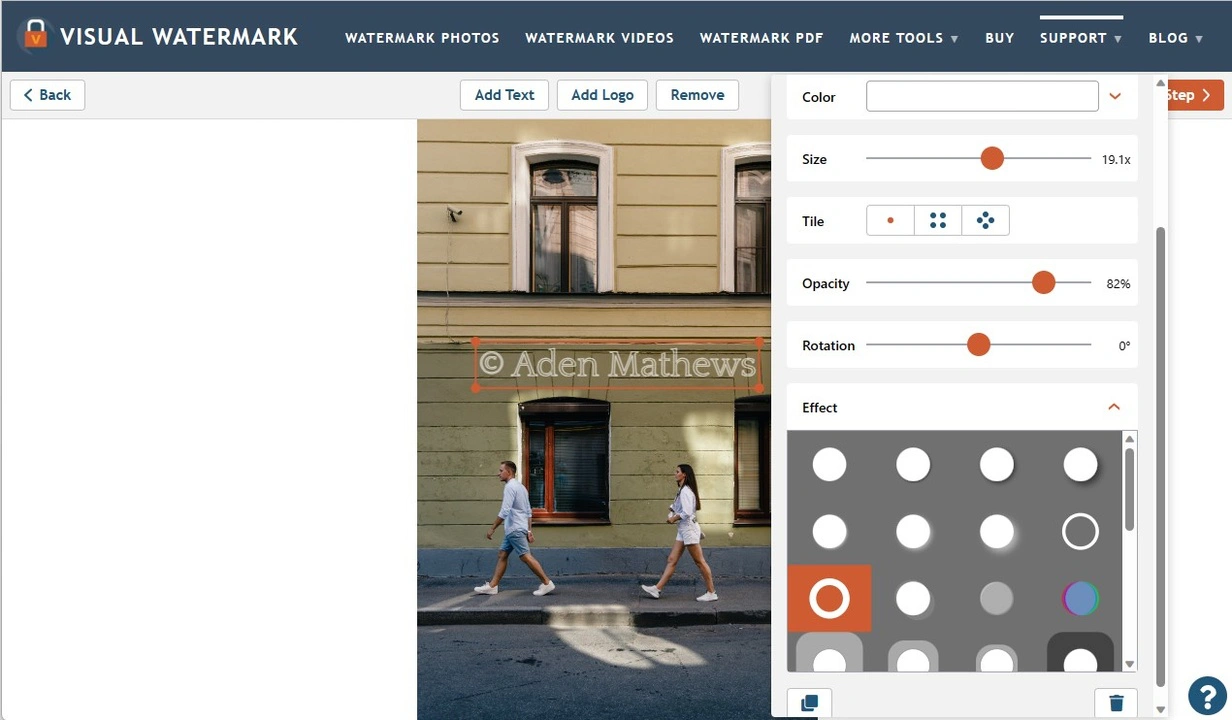 Main advantages of the app:
Allows you to process up to 2 000 images in one batch in a couple of minutes.
Allows you to rotate or crop photos right after uploading.
Offers more than 900 fonts with bold and italic variations;
Offers more than 90 color options, solid and gradient ones;
Size, position, level of transparency and angle of your watermark is easily adjustable.
Vertical and diagonal tile option for stronger protection;
36 effects including various shadows, backgrounds or a 3D look;
Allows you to save watermark templates for future use.
Adding a watermark to photos is free, but the Visual Watermark logo will be added to the processed files. If you want, you can remove it by purchasing the paid version of the program.
---
How to Watermark Photos Without Internet Connection
We also have a desktop watermarking app that can work offline. Even if you have slow Internet connection, or your computer is offline, you will still be able to protect your pictures.
Here is a quick demonstration of how to watermark photos with our software.
How to watermark photos offline:
Download Visual Watermark to your computer.
Drag and drop photos or entire folders into the app.
Create your brand new watermark by adding a logo, text, or a group of both.
Design your watermark. Position it anywhere you want within the frame. Choose a different color for it. Rotate it or lower its opacity. Add an effect, if necessary.
Specify the output settings and watermark your photos.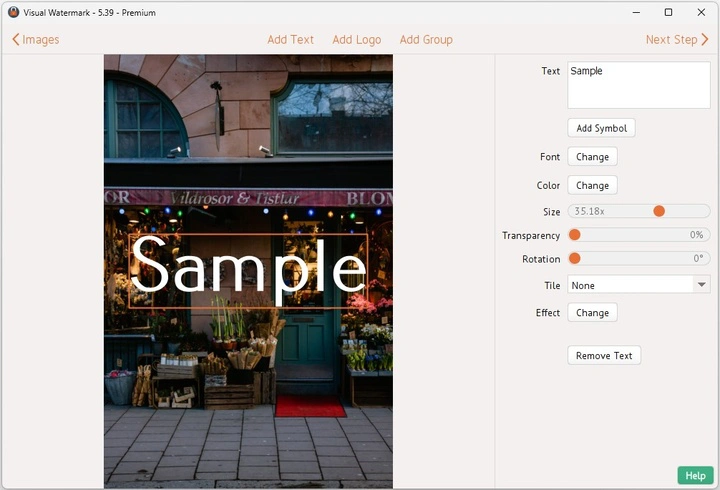 Main advantages of the desktop watermarking app:
Allows you to upload up to 50 000 photos at once.
Offers 10 built-in watermark templates to help you quickly create your own watermark.
Has protection against automated watermark removal. More details here.
Allows you to use your own fonts or fonts you get with Monotype or Adobe font subscriptions.
Automatically adjusts watermarks on images of different sizes and orientations in the same batch.
Allows you to resize and rename images if necessary.
Allows you to add your copyright and contact information to the image metadata (EXIF).
Watermarking photos offline is much faster than with the help of web tools. You can use trial version to watermark your photos for free. However, any photos you protect will have a "Trial Version" text added onto them.
Download For Free
---
Add a Watermark to a Photo with Visual Watermark
Our app offers all the necessary tools and features to make the watermarking process easy, time-saving and fun.
No matter which application you use, web or desktop, Visual Watermark guarantees:
Accessibility for all. Our app is for those who are looking for how to watermark photos for free in the simplest and most efficient way. No matter whether you are a novice or an expert in image editing, you'll be able to add your own text or company logo without much effort.
Uncluttered interface. You won't have any difficulties watermarking your photos and understanding what to do. If you are using the app for the first time, you'll see hints appear next to all the buttons.
Saving time and money. With Visual Watermark there is no need to hire a designer to make a logo for you. You'll easily create it yourself with the help of our toolkit. Experiment with the fonts and effects to design a professional-looking watermark.
Exporting in a different format. Before you export your watermarked copies, you can select a different format for them. There's no need to use any file conversion apps.
Others image-editing tools. Visual Watermark offers a great range of simple and basic image editing services – cropping, compressing, resizing and blurring parts of an image.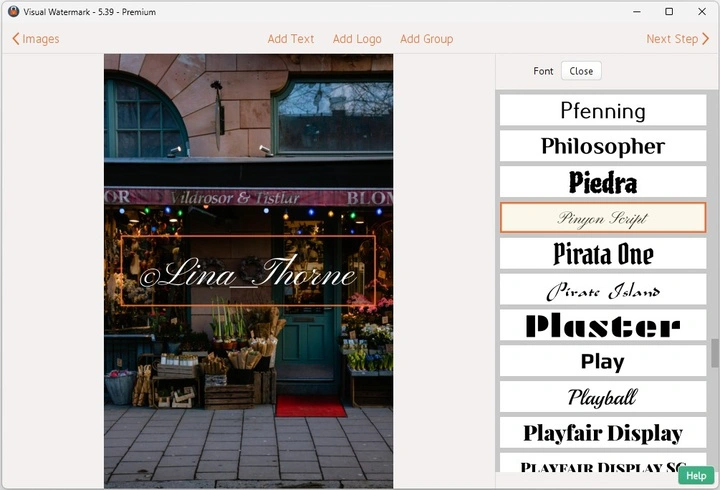 Download For Free
---
How to Watermark Photos for Better Protection?
Sometimes simply watermarking a photo doesn't mean that it's thief-proof. For example, on the images that you see below the watermark was successfully removed using photo editing software. Does it mean that watermarks are of no use? No, of course not. Watermarks can be quite powerful if you design and position them properly.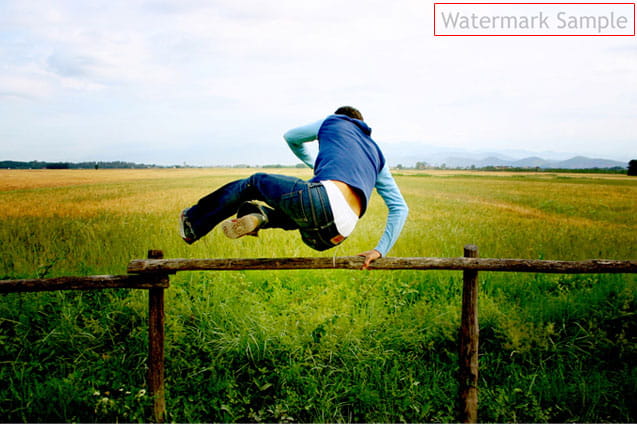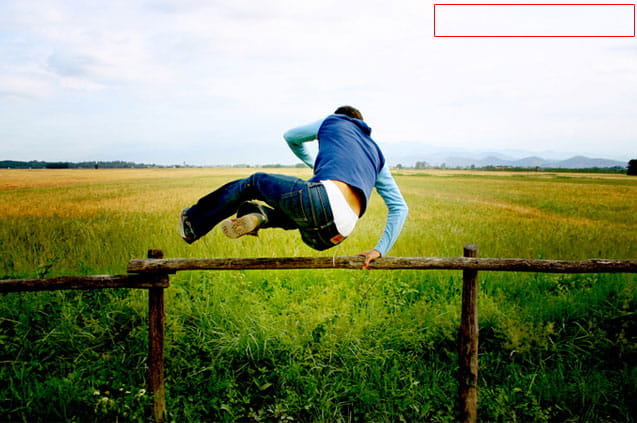 One of the key factors that can make your watermark exceptionally strong or useless is its position.
Let's learn how to watermark photos in the best way by splitting the image into three areas.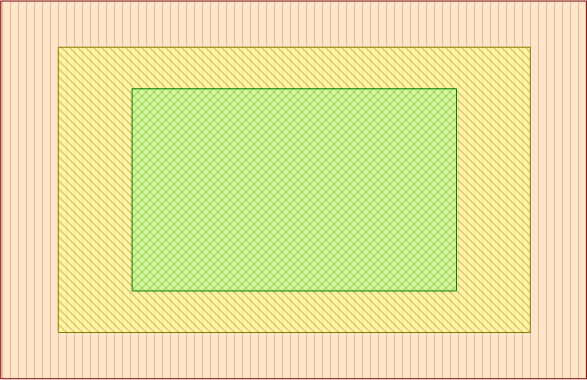 Placing the watermark in the corner of the picture (red area) provides the lowest level of protection. What's more, with this position, it's a terrible idea to reduce the size of your watermark. This placement is bad because thieves will be able to easily crop out your watermark in just a couple of seconds. The only advantage your watermark will have – especially if it's small – in this position is that it will be as unobtrusive as possible and won't draw any attention from what's in your image.
The yellow area is an excellent place for your watermark because it'll be harder to remove your watermark by cropping it out. It'll still be possible to erase it with the help of some advanced image-editing tools and, maybe even AI, but not without a challenge.
The center of the picture is the best place to put your watermark. This tends to be the most detailed part of an image. Therefore, it'll be nearly impossible to remove your watermark – even with the advanced tools. On top of that, it'll be hard not to notice your watermark and that'll scare away the majority of thieves straight away.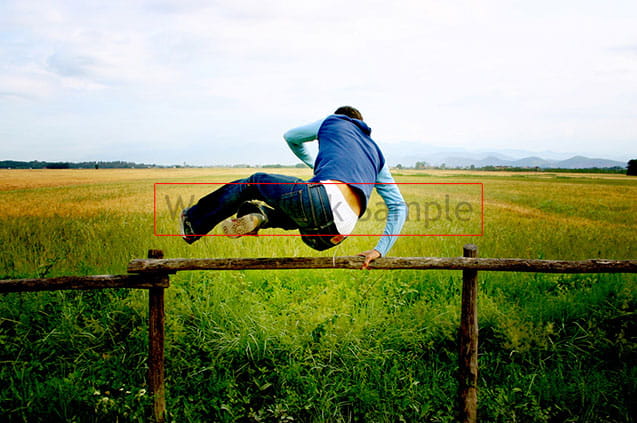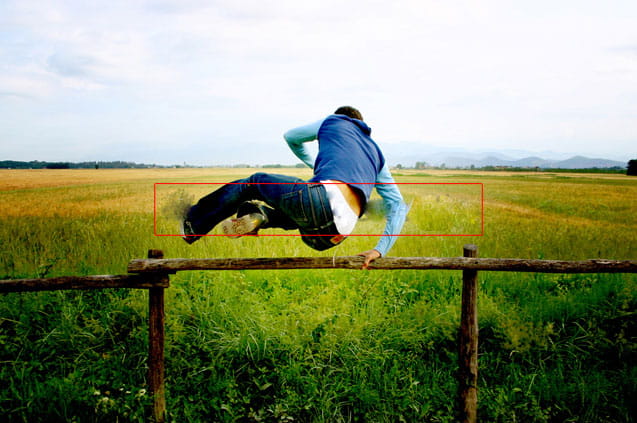 If you are worried that your watermark will be too obtrusive, as an option, you can significantly lower its transparency.
| | |
| --- | --- |
| | |
| Opaque watermark (no transparency) | Translucent watermark (70% transparency) |
Another crucial factor is how much space your watermark takes up.
Ideally, your watermark should be large enough to protect all the important details of your image. This way, it will be impossible to erase your watermark seamlessly. It'll be best if your watermark covers approximately 30% of your image.

Protected photo with bigger watermark

Noticeable artifacts after watermark removal
Another option to improve your watermark protection is to use the Tile feature in Visual Watermark.
Fill the photo with repeated watermarks with just one click. Adjust the space between them. Lower the opacity to make your watermark less obtrusive. This will ensure the strongest level of protection as it'll be almost impossible to remove your watermark.
Download For Free
---
FAQ
How do I watermark my photos quickly?
In order to watermark your photos quickly, you can use one of your previously made watermark templates. This can make things a lot easier as you won't have to create your watermark from scratch again. Visual Watermark saves up to 10 watermark templates and supports batch watermarking, so you can easily and quickly watermark a lot of images at once.
Should you watermark photos?
Yes, you should for two reasons - protection and promotion. The main purpose of adding a watermark is to copyright your photos and prevent any attempts of theft. Stock photography companies use repetitive watermarks across their images in order to protect them.
Watermark can also help with promoting your image. If someone randomly sees your photo with your name on it, they will know who the author is. They can look you up to see more of your works. It is better and safer to watermark your photos before posting them on social media.
How do I watermark a jpeg image?
JPG is the most common image format. The majority pictures that you see online are JPGs. In order to watermark a jpeg, you have to select your images, choose what kind of watermark you want to add (text, logo or group), edit your watermark, specify the output settings and click "Watermark" to watermark you image.
How can I add a watermark to my photo?
Use Visual Watermark. It guarantees instant processing of up to 2 000 photos online and up to 50 000 photos in the desktop version of the app. Just drag your photos into the app, choose one of the options "Add text", "Add logo" or "Add group" (if you use Visual Watermark offline), depending what type of a watermark you want. Then design your watermark: change the font, color, size, opacity and angle of rotation, add one or two effects and enable the Tile feature. Specify the Output Settings and click "Watermark Images" to start the watermarking process.
What does it mean to watermark your photos?
To watermark a photo means to add a text or a logo to your image in order to claim that you are the owner of this image. The transparency of your text or logo may vary depending on your preferences.
Where do I place a watermark on my photo?
The most common position of a watermark is in the bottom right corner. This way it doesn't take away the attention from your image. However, if you position your watermark in any of four corners, it makes it easier for thieves to crop it out. Watermarks work only if you use them properly. The best protection is achieved by placing your watermark in the center of the photo and make it cover at least 30% of your image. You can make the watermark semi-transparent for a better viewing experience.
How do I add a watermark to a photo for free?
You can watermark your photos for free with our online watermarking app. It allows you to process hundreds of files simultaneously. It is fast, easy-to-use and you don't have to install anything.
Another option is a trial version of Visual Watermark desktop app. However, any photos you protect will have a "Trial Version" text added onto them.
How do I add my logo as a watermark?
Go to Visual Watermark app, select one or more images you would like to watermark and choose "Add Logo". You can upload your own logo or choose one of 60 built-in icons. Remove background of your logo if necessary and then customize it to your liking. Remember that your logo can not only protect photos from being stolen, but also serve as free advertising for your brand.
Download For Free