If you are sharing your photos on the Internet, you will want to make sure you protect your rights to those images. Watermarking is the best way to protect your online digital photos before they get stolen or copied. Visual Watermark is a watermark software for Mac and Windows with the batch mode support allowing you to watermark 100s of photos at once. It comes with a variety of watermark templates and appearance options. With Visual Watermark, watermarking photos is easy like A-B-C and extremely fast. All you have to do is to perform three simple steps. And you are done.
Step 1 – Select Photos For Watermarking
Drag and drop photos or entire folders to Visual Watermark, or click 'Select Images' and choose required photos/folders in the 'Open File' dialog. To select all photos contained in a folder, press Ctrl+A on Windows or Cmd+A on Mac.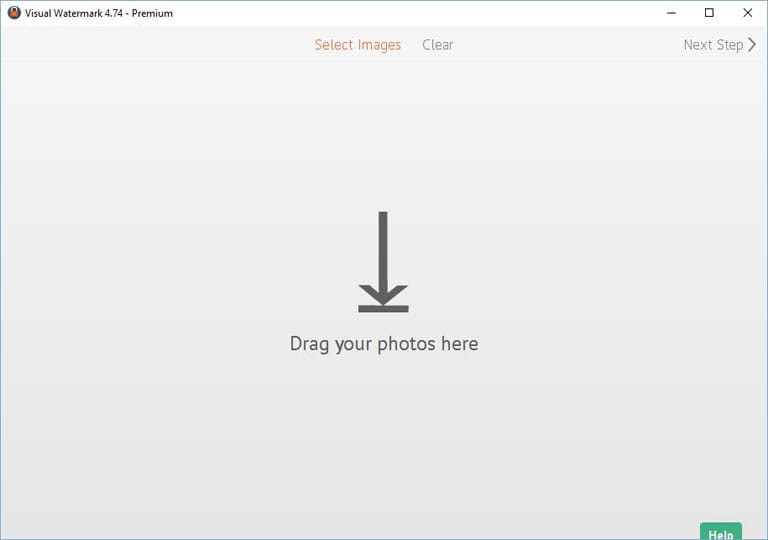 To clear selected images, click the 'Clear' button.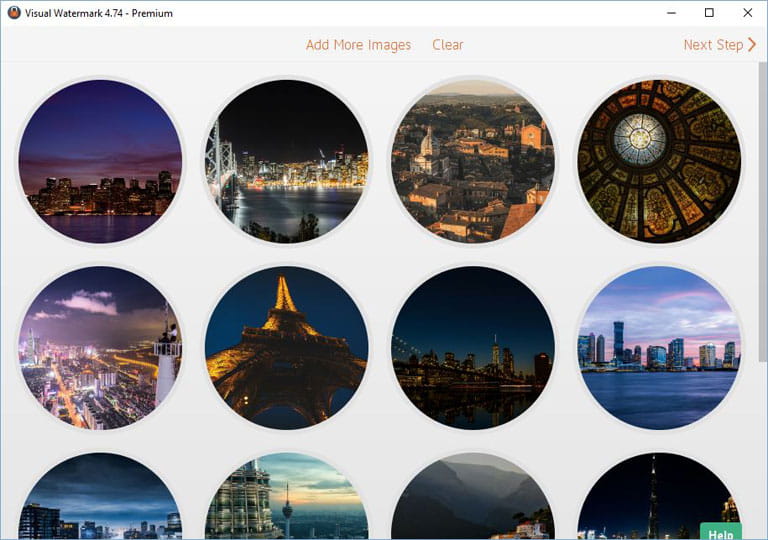 Step 2 – Create Your Brand New Watermark
At this step, you can customize the watermark (layout, position, rotation, opacity and auto-scale) and make it look personal. You can add a logo (Add Logo), plain text (Add Text) or a combination of both (Add Group).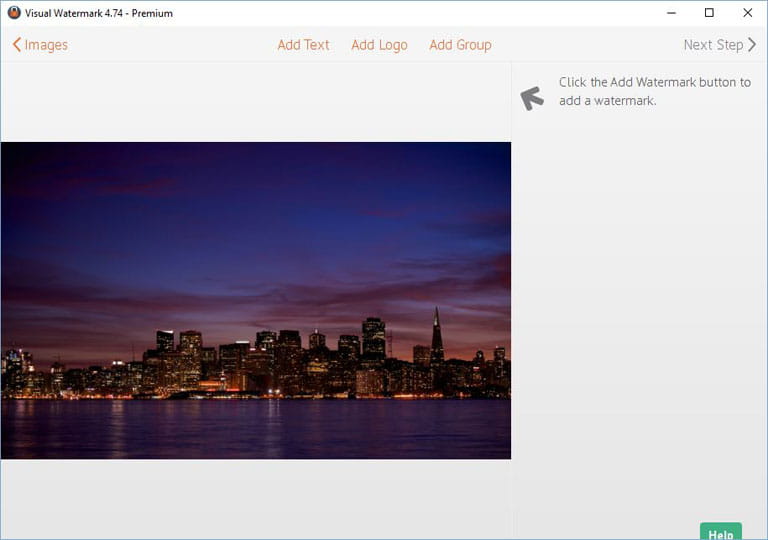 Visual Watermark puts 10 built-in watermark templates to help you quickly create your own watermark. A watermark template can contain a logo and up to three text lines. You can add as many watermark templates as required to compose your brand new watermark.
Click the 'Add Group' button and select the required template. To provide your own logo, select a watermark template with the 'Logo' glyph.
Depending on a template you have selected at previous step, you should specify your own logo and text (title and/or subtitle, phone number, etc.).
Click a watermark element (logo or text) to select it. The second click selects the entire watermark group (template).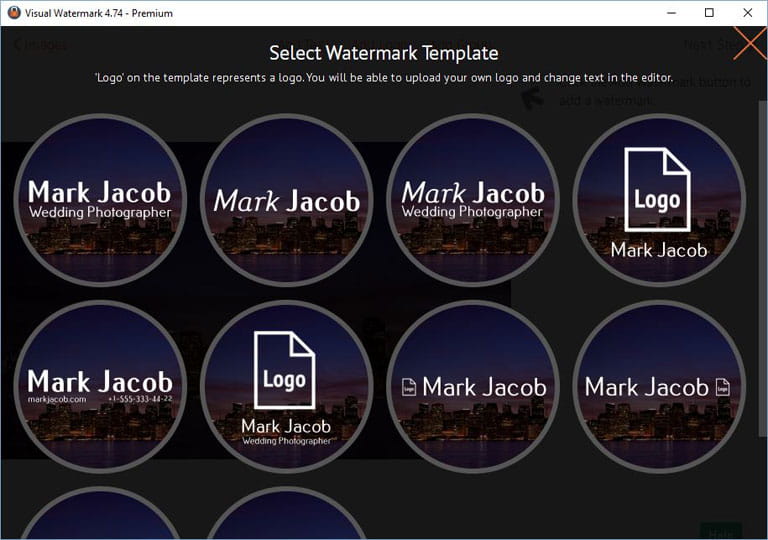 Watermark Position
Once an entire watermark or its element is selected, it becomes possible to change watermark position and customization options appear on the right. Click the watermark and drag it to change watermark position. You can use arrows on your keyboard to move the watermark as well.
Changing Appearance
All available customization options are displayed to the right.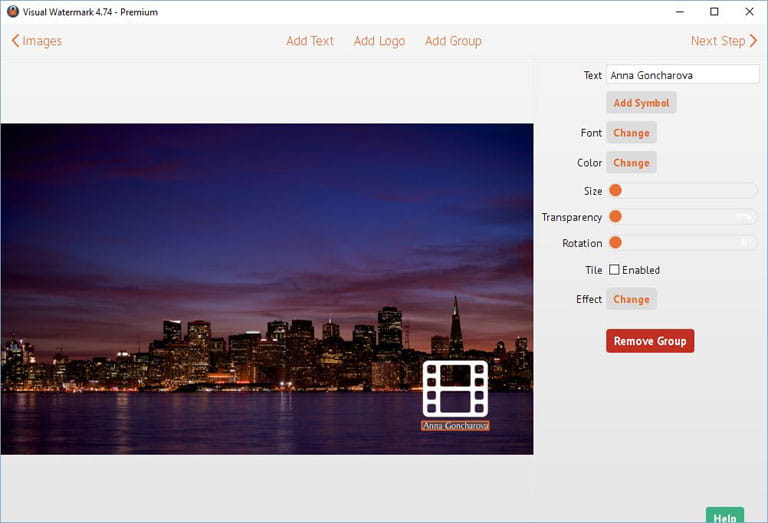 Watermark customization options include:
Ability to scale and rotate the watermark at the specified location.
Ability to specify the watermark's opacity from 100 possible levels.
Ability to specify 2 of 66 visual effects.
Enable the Tile option to fill image with your watermark.
Select one of 260 fonts.
Ability to specify the text brightness and color using the Color Wheel.
Ability to specify your own logo and remove the background color from it.
Read our guide to learn how to position a watermark for better protection of your photos: How To Improve Your Watermark Protection.
Re-using Watermark Templates
Visual Watermark automatically saves your watermark template. Next time you open the app, it will load previously used watermark template automatically. If you don't want to use the same watermark template again, click Remove Watermark button on the right.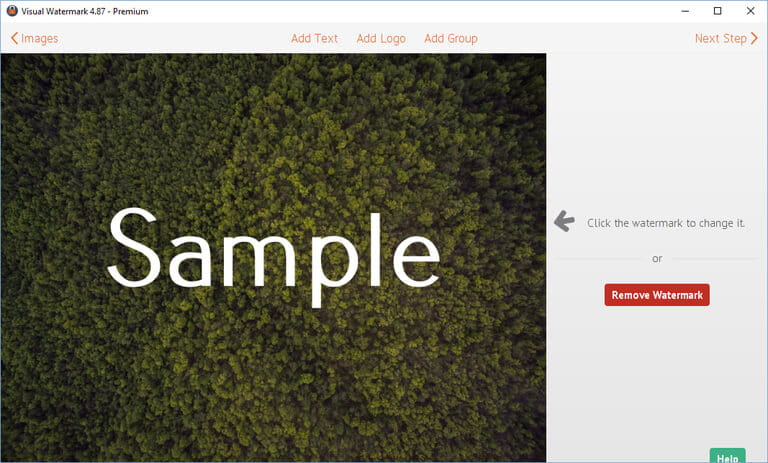 If you want to use older watermark template, click Next Step button in the top-right corner to go to the screen #3.
If your watermark template is empty, Visual Watermark will offer you to use one of older watermark templates or create a new one.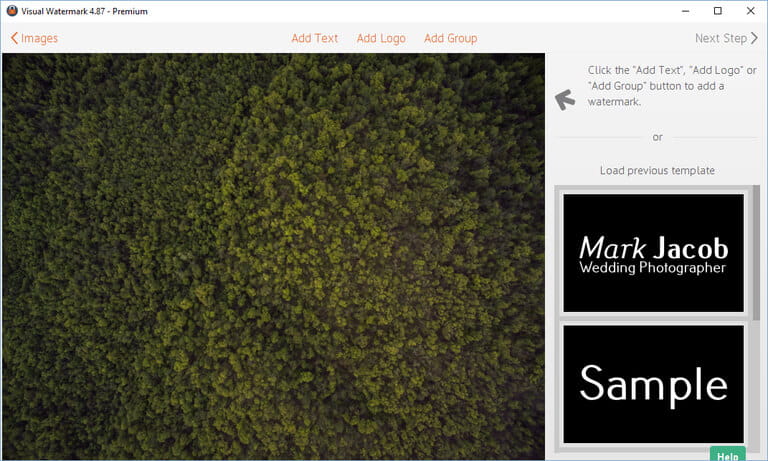 Visual Watermark saves up to 10 watermark templates. Simply click on the watermark template to load it.
Step 3 – Specify Output Settings and Watermark Photos
Visual Watermark provides the following output options:
Output Folder. Click 'Change' and select the required folder. Note you cannot export images to the folder which contains original images.

Auto-Scale Watermarks. If this option is enabled, Visual Watermark automatically adjusts the size of watermarks for cropped and hi-res images in the same batch.

Keep Folder Structure. If this option is enabled, Visual Watermark preserves image folders. This option appears automatically if you select photos from several folders.

Image Quality. Choose one of the following compression levels: Medium, Good, Superb and Maximum. The higher image quality (resolution), though, the larger the file size.

Resize Photos. Select one of the following resize methods: Do not resize images, Fit image width (to the specified number of pixels), Fit image height (to the specified number of pixels), Fit width and height (to the specified number of pixels). Don't publish high-res photos online to avoid them from being stolen.

Rename Photos. You can leave file names unchanged or provide new names to prettify camera file names.

Metadata Copyright. Allows you to specify your copyright and contact information. This information is added into the image metadata (EXIF) and isn't visible. It can be read using the file dialog (Windows) and Preview app (Mac).
Once all required output settings are specified, click 'Watermark' to start watermarking your photos.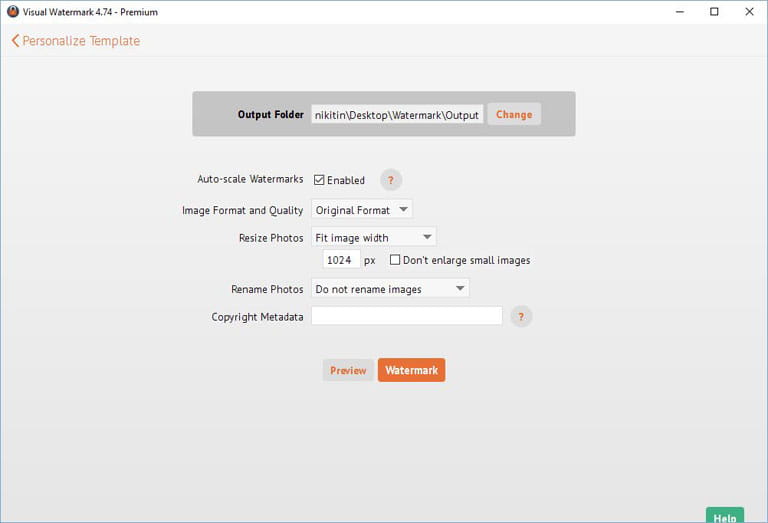 Step 4 – Save Your Watermark
Visual Watermark will automatically save your watermark template when you quit. Next time you open the app, it will load previously used watermark automatically.
Should you want to send the template to a different computer, save it to a file. Click the Export Watermark Template button, select the location and specify the file name. Watermark templates are stored in VWM4 file types. To load the watermark, double click a file with the required watermark. Visual Watermark will start and load your template.