With our app you can quickly crop several photos as well as change their size and quality; all in one go! It works fast and requires no editing skills. All changes will be applied only to copies of your original images.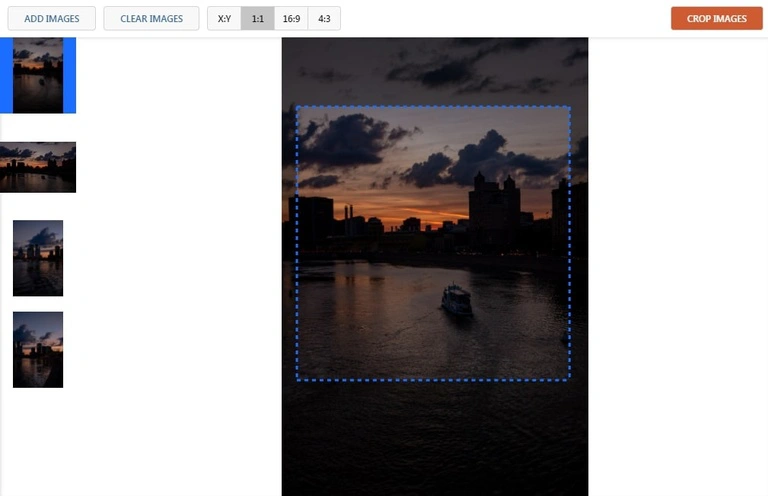 ---
Simple and straightforward
Our app is incredibly easy to use. To get started, click on "Select Images" or drag and drop your photos into the app. You will be able to upload images from your computer, Google Drive, Google Photos, or DropBox.
Choose one of 4 aspect ratios at the top of the app, then select and adjust the cropping area. Everything inside the blue borders will be kept, while the rest will be cropped out. Repeat this process with each photo in your batch.
Click on "Crop Images". Choose the quality and the size of your cropped copies. You can keep the original size if you want. To crop and download your cropped photos, click on "Crop Images".
---
Choose the aspect ratio
Our app offers 4 options of aspect ratios: 1:1, 16:9, 4:3 and X:Y.
With the latter option, you can adjust the cropping area freely, while the others - 1:1, 16:9 or 4:3 - will keep the ratio of width to height locked. For example, you need to crop a photo with its height equal to its width, so you chose a 1:1 ratio. If you make the height of the cropping area smaller, the width will change respectively as well. Buttons with aspect ratio options can be found at the top of the app.
You can select different cropping areas for each photo in the same batch. In the free version, you can crop 10 images in one go. If you want to process more photos, you can purchase the paid version and crop up to 1000 images at a time.
---
Fast and safe
Our web-based app can process batches of multiple images. Photos are imported and exported instantly, and the entire cropping process takes only a couple of minutes.
You don't need to download or install anything on your computer. This will save you time, and you won't put your device at any risk. A dangerous virus can be hidden in software from unknown and unverified sources. Neither ads nor pop-ups will disturb you in our free app.
The cropping process happens right in your browser. It means that we do not have access to your images, and they are not stored on our servers. Your photos are always yours.
---
Step-by-step guide on how to crop images:
To upload photos into the app, click on "Select images", or simply drag and drop them.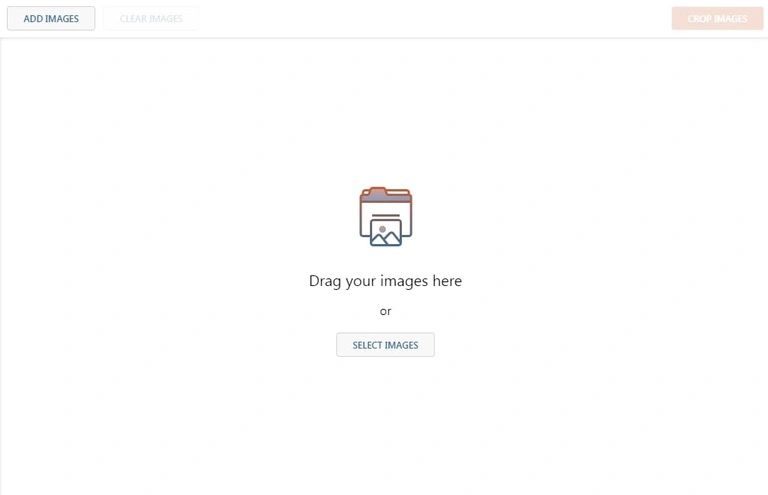 When you click on "Select images", a small menu of 4 options will appear:
from my computer,
from Google Drive,
from Google Photos,
from DropBox.
Choose one of them.
When you choose "From my computer", a dialog box will open up. Find the necessary folder and pick images you want to crop. Press Ctrl + A (on Windows) or Cmd + A (on Mac) to select all the photos in the folder.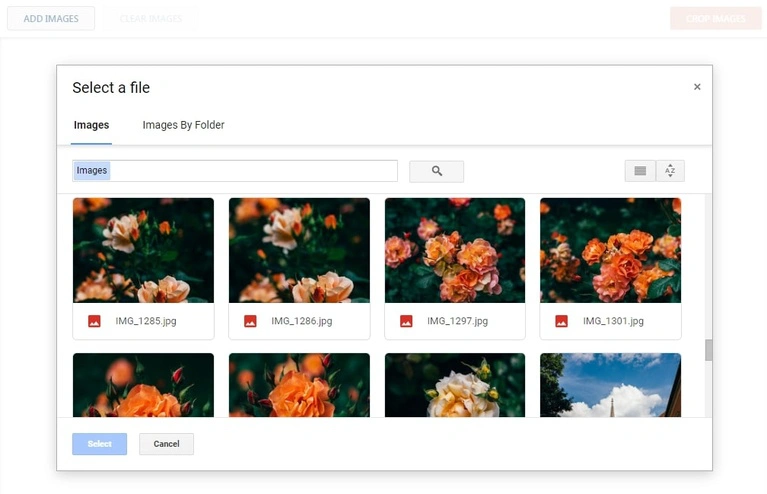 When you choose one of the cloud storages, you will see a dialog box asking you to give the app access to your storage. Allow access by clicking the "Allow Access" button. A new dialog box will appear, where you can pick images. To select several photos, click on them while holding Shift.
To add more images, click on "Add Photo". To remove all photos from the app, click on "Clear".
Select one of the aspect ratio options: X:Y, 1:1, 16:9, 4:3.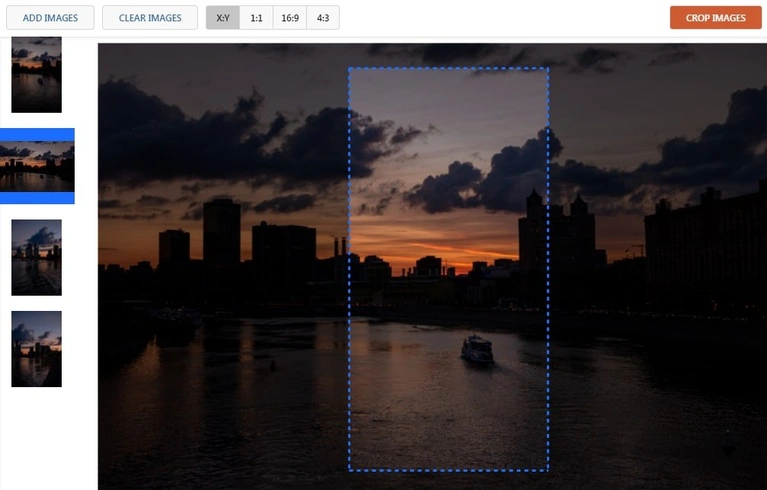 The X:Y option allows you to choose any ratio of height to width. Use the cursor to move the blue borders and adjust the cropping area. Once you're finished with the first photo, move on to the next one and repeat the process.
Click on "Crop Photo" to go to the output settings. In the output settings, set the quality of the cropped copies. Choose one of 4 options in the JPEG Quality: Best, Excellent, Good, and Medium.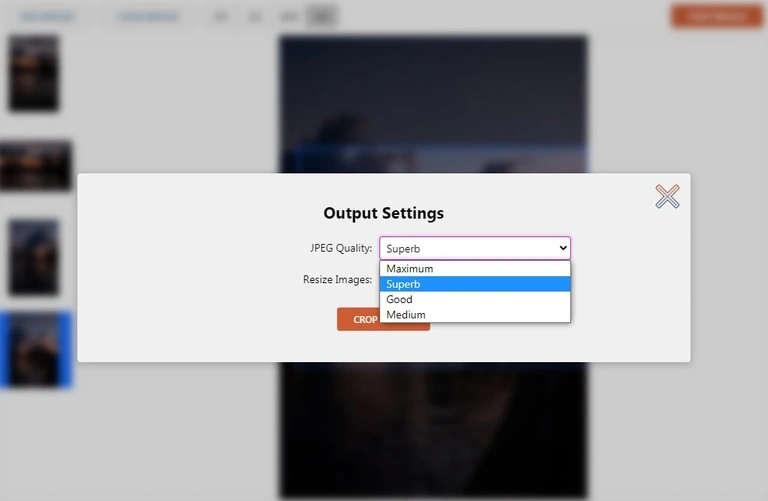 Also, you can change the size. Choose whether you want to resize by width, height, percentage, or fit into a rectangle. Enter the required number of pixels. Select "No" if you want to keep the original size.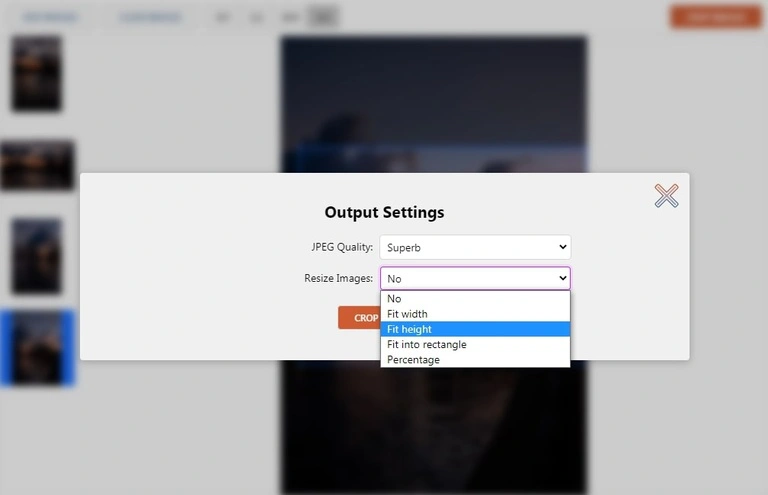 To start the cropping process, click on "Crop and Load Images".
Click on "Download All" to download a zip archive with cropped copies.