Visual Watermark allows you to crop an image as comfortably as possible. We present a simple and intuitive application where everyone can work. All tools on this site are free. Use our image cropper online and easily change the parameters of your pictures. You do not need to register or share any confidential information. You do not need to install the program on your desktop or download it to your smartphone. All functions are available to work through the browser.
In Visual Watermark, you can set the cropping options yourself or make the crop circle/square and set fixed ratios. The selected settings apply to all images. But you can also work with each photo separately and set individual crop parameters.
How to crop an image in Visual Watermark? Read the step-by-step instructions and more information about the application's capabilities.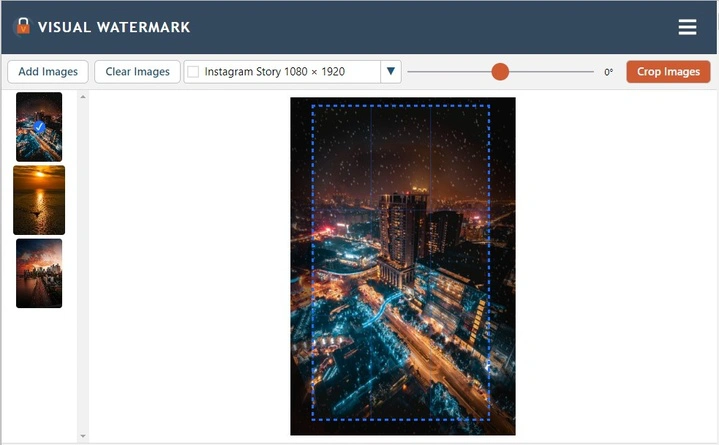 ---
Step-by-step instruction: how to crop images online
Working in our online image cropper is convenient. Run the application in a browser on a computer or smartphone.
The tool works great on IOS and Android devices. Here you can crop an image quickly – pictures are uploaded soon to the site, taking several minutes to select parameters.
So, step by step to easily image crop?
Step 1: Upload photos.
You have two options for downloading:
Drag and drop from a folder on a laptop/computer. A window with files will open in front of you. You should select a folder and highlight the pictures for processing. If you need to select all photos simultaneously, select them with the mouse or use the keyboard shortcuts. On Windows computers, this is Ctrl+A. On a Mac, Command+A.

Upload from a device, DropBox, Google Drive, or Google Photos. When you select this option, you need to give our application access to its storage. Then choose the desired images.
Select "Add images" if you want to add more photos. The button "Clear images" allows everyone to delete uploaded images. Every person can also remove a specific extra image. Please hover your mouse over it and click on the bucket icon.
Step 2: Start the online image cropper.
We offer several image crop options.
Self-setting cropping options. Choose the shape: square or circle. Start changing the blue border options as you see fit. You can move the blue line anywhere. It can be any direction. When cropping, everything beyond the blue line will be removed.

Fixed proportions. You can crop your pictures in the form of a square, banner, landscape, portrait, etc.

Cropping proportions for a specific social network: Instagram, LinkedIn, Facebook, etc.
If you need to crop an image to a specific size, specify them yourself in the unique "Desired size" window. You can write the desired aspect ratio (for example, 3:4) or parameters in pixels (for example, 800x1000).
Visual Watermark image cropper also has a function that allows you to level the horizon. There is an orange slider next to the "Desired size" box. To improve the image, move it to the right or left.
Step 3: Save the processed images.
Click "Crop images" button if you have finished processing. You will see the Output settings window. Here you can select "Preview" and see how the photos look with cropping options.
Close the preview window and select the format of the images to save:
For images cropped in the form of a circle: PNG or WEBP.

For images cropped in the form of a square or fixed proportions: JPEG (standard or maximum quality), PNG, WEBP. There is another option – JPEG and compress. Near each format, there is additional information about quality and size.
Additional feature: Add watermark to photo.
You can protect your pictures with a watermark. Check the box next to "Watermark images." Choose a symbol from pre-made templates (if you've used Visual Watermark before) or create one from scratch. Our watermarking tool is as simple as the "Crop an image" feature.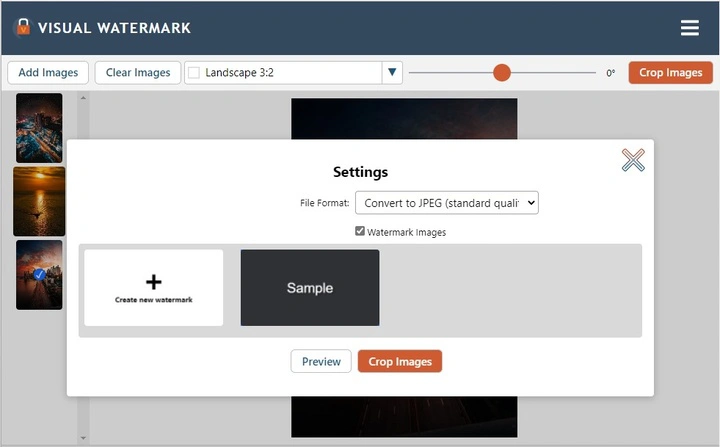 The last step to save the photo: Click "Crop images" button. A window will open in front of you in which you need to select the path to save the files. You can upload pictures to your desktop, Google Photo or DropBox.
In the free version of Visual Watermark, you can crop up to 10 photos at once. Buy a paid version of the application and process up to 2000 images at once. All details are here.
---
Learn more about the capabilities of the "Crop image" tool
The app presents different options for cropping images online. Let's look at them in more detail.
Square or circle
You will see two standard cropping shapes in the image cropper's menu: circle/square. You can change the shape of the square and get a rectangular image – it's very easy to do.
Form templates for crops do not limit the user's options in any way. When you specify the desired format for the crop, it will appear on the picture. The area that the tool cuts will be highlighted in blue. You will be able to manually move this area and change its parameters to achieve the desired size for the cropped photo.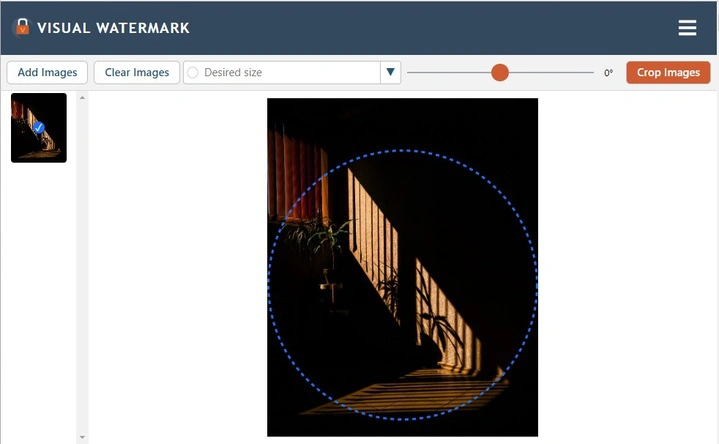 User Options
Each user can write the desired values for the image crop. Write them in the menu box if you know what height and width you need. To specify dimensions in pixels, write in a similar format "1800:900". You can also just set the aspect ratio. In this case, you need to write like this "3:5".
Exact aspect ratio
Our online image cropper presents a set of templates with a fixed aspect ratio. This can make your job much easier. Just choose the appropriate format:
Form of a square 1х1;
Landscape 3x2;
Slide 4x3;
Widescreen 16x9;
Portrait 2x3;
Banner 3x1;
Wide 2x1;
High 1x2.
Fixed proportions don't put you in a rigid box. Even when choosing strict ratios, the "image crop" function makes it possible to create the desired proportions of the picture.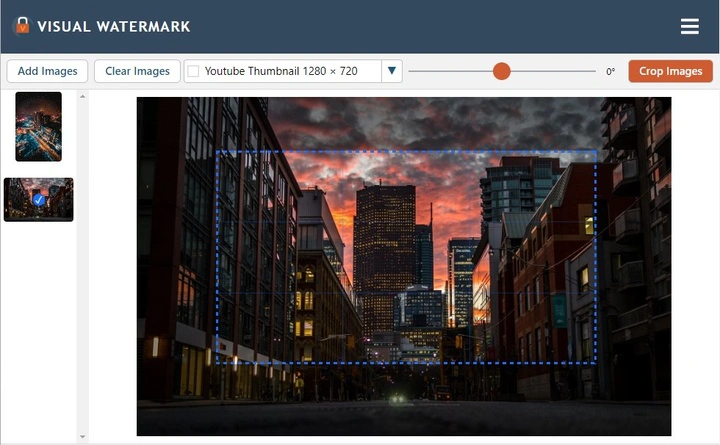 Important! The width-height ratio does not change with the self-adjustment of proportions. When you change the position of the blue line, the other sides will automatically adjust their position. It keeps the aspect ratio set.
Special sizes for social networks
Visual Watermark has a set of exceptional options that are required for posting pictures on social networks:
Instagram: image cropping format for posting, stories, and more in the feed.
Facebook: for page cover, posting, profile cover, etc.
Youtube: miniatures and covers;
LinkedIn: for profile and cover photo;
Twitter: for the cover photo.
A cropped photo with particular parameters will speed up your work and avoid mistakes. You can immediately set the correct aspect ratio for images to be accurately published on the platforms. The parameters are configured automatically – this greatly simplifies the process of processing images.
In our application, you can select one parameter for several photos at once or crop each image separately.
---
Benefits of Visual Watermark Image Cropper
Our application is a modern alternative to complex programs that need to be installed on a computer. We present a simple tool where you can crop your images, put a watermark, compress a picture, and more. You don't need to register to get started. Everything is available online and completely free.
Here are some more strengths of Visual Watermark.
High processing speed and security guarantee
As we have already said, here, you can work directly through your browser. We do not suggest installing the program on a smartphone or laptop. You do not need to worry about the safety of information on your media. No malicious or dangerous files! Everything is in the browser, and that's enough to work.
Just open the application, select the "Crop images" function, and work. It's fast, simple, and convenient for everyone. We guarantee fast loading of images even with a poor internet connection. We also promise that the saving process will be quick and not take much of your time.
The fast crop image process allows us to provide a slight limitation. When working, you cannot make the picture bigger or smaller. The actual size of the image is preserved when cropping. But you can verify this when you download the processed file. The reduced version of the photos at work allows us to reduce cropping time.
We guarantee the confidentiality of your files! They are not stored on the company's servers; we do not have access to them. We also guarantee that we do not receive data from your cloud storage when you open access to it. Everything that belongs to you is guaranteed to remain your property.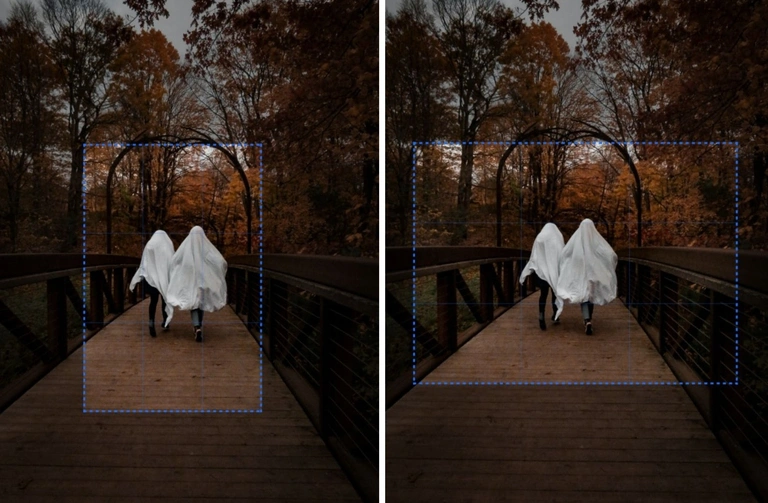 Free access
Each site visitor can work on the application. The image cropper is free for all users. You do not need to create an account to start processing. Just add photos and start the cropping process. We do not have pop-up ads and intrusive windows so that nothing will distract you from your work. If you want to expand your capabilities in Visual Watermark, buy the paid version. But for basic work with photos, the free functions of the application will be enough.
Saved crop settings
This advantage is helpful for those who regularly crop images for the same parameters. If this story is about you, we have good news. Our app helps make the crop process faster with crop templates.
All the crop settings you used earlier will appear in the menu below the standard formats. Templates are added automatically. If you have set new settings several times, all formats will be saved. You can choose the one you need this time.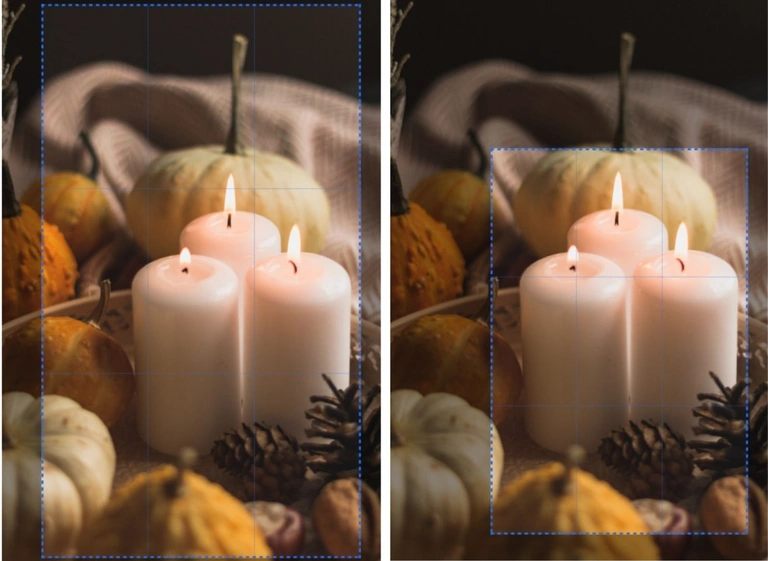 2in1 features
Our site presents various tools for working with photos. You do not have to leave the application for processing, for example, to crop an image and compress it simultaneously.
In addition you can add a watermark when saving. This is the last stage of image crop process. How it works:
The user clicks the "Save" button.
Then he selects the button "Add watermark".
Then the user creates a new watermark or chooses from templates (if you have already worked on our site, we will offer you previous watermark options).
What can be your watermark? We have two options – text or logo (in this case, you upload the file from your media).
We provide many tools for creating a unique watermark:
choosing a font,
choosing a size,
changing transparency,
changing the angle of rotation,
adding effects and more.
If your logo doesn't have a transparent background, you can remove it directly from the app. We also have a gallery of symbols. Here you can pick special elements to create a unique watermark for your theme.
If you uploaded more than one photo to the application, a watermark would automatically appear on each. You can check its location on each picture in the preview window. Here you can also edit the position of the watermark, taking into account the type of image.
Remember important! If you are using the free version of the application and add a watermark, when you save the picture, the inscription "Protected with Visual Watermark" will appear on it.
Any image formats
You can crop images of any format here. We allow images to be uploaded in popular formats such as JPEG, GIF, PNG, etc.
When saving, you can independently choose the format you want to get in the end, even if your photo was originally a JPEG. It can easily be converted to another format. You only need to choose from the options provided.
Horizon leveling
An uneven horizon line can spoil even the most beautiful photo. But with us, you can quickly fix it. Using the unique function of the Image Crop tool, you will be able to rotate the photo to align the horizon line independently. So, the objects in the picture will not be overwhelmed. Just adjust the position of the round slider (find it near the options menu). The limiting functionality of the function is a change in the angle of inclination from -7 to 7 degrees. This is enough to get the desired result and not lose good image quality.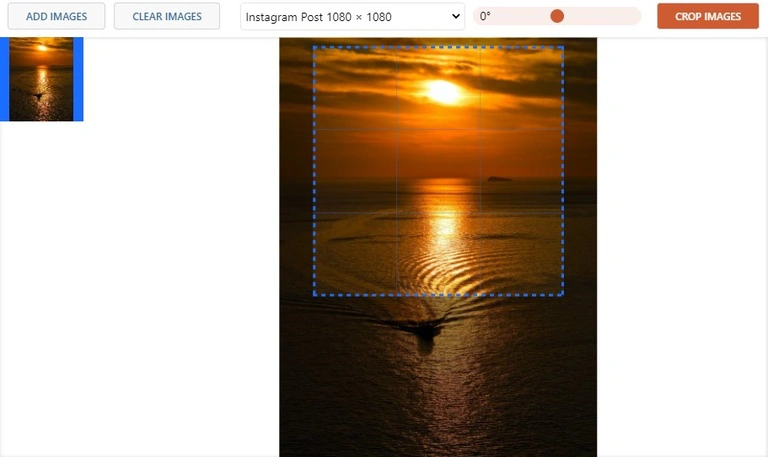 ---
Crop images for free with maximum convenience!
Our online image cropper does not require editing skills to work with images. The interface and functions are straightforward. You will not have difficulty learning the functions of the instrument. We have provided a step-by-step guide to help you easily navigate the Image Crop features.
If you urgently need to crop photos – do not wait and add the necessary files to the working window of the application. Just a minute, and the desired result is ready!