Visual Watermark allows you to crop an image with as little effort as possible. We offer a simple and intuitive application that anyone can master and afford. All tools on this website are free. Use our app to easily change the width and height or even a shape of your pictures.
You don't have to register or share any confidential information. You don't need to install the app on your desktop or download it to your smartphone. Visual Watermark works in your browser, which means you can get to work right away.
Do you want to know how to crop an image in Visual Watermark? Check out the step-by-step instructions and learn more information about the app's features.
---
Step-by-step Instruction: How to Crop Images Online
Our online image cropper is user-friendly and convenient. Run the application in a browser on a computer or smartphone.
The tool works great on IOS and Android devices. Here you can crop your images in no time – pictures will be quickly uploaded onto the website, and it'll take only a couple of minutes to choose and edit the cropping area.
Step 1: Open the app and upload photos.
You have two options:
Upload images from a folder on a laptop/computer. You can drag and drop your photos directly from a folder. Alternatively, you can click on "Select Images". This will open a new window, where you can pick your source folder and photos that you want to crop. If you need to process all photos in the folder, select them with the cursor or use the keyboard shortcuts. On Windows computers, this is Ctrl+A. On a Mac, Command+A.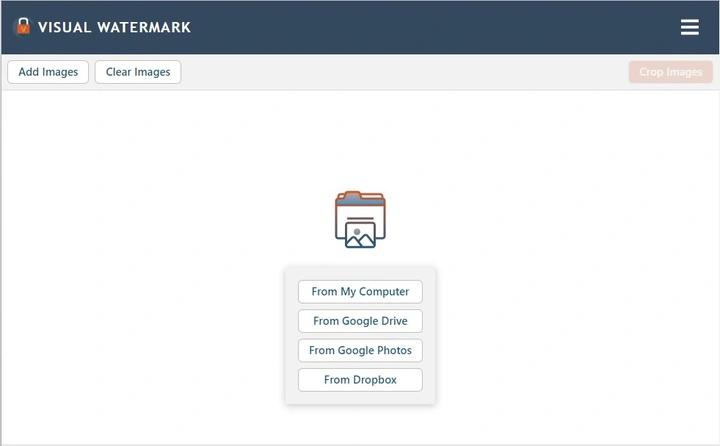 Upload from DropBox, Google Drive, or Google Photos. When you select this option, you need to give our application access to your cloud storage. Then select the necessary images.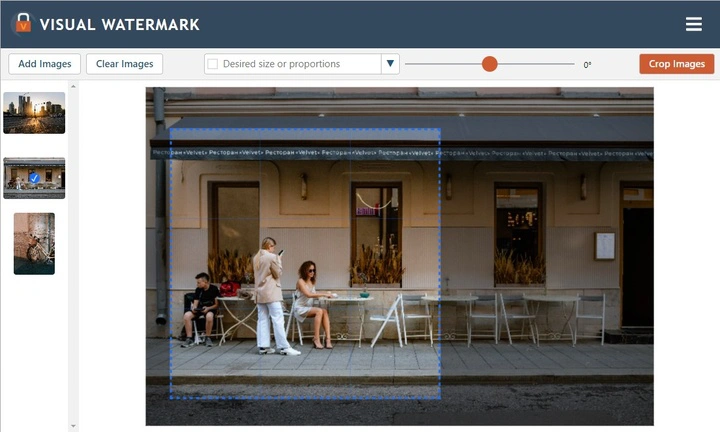 Click on "Add images" if you want to add more photos. The "Clear images" button allows you to delete all the uploaded images. It is also possible to remove a single image, if you changed your mind and don't want to crop it anymore. To do this, hover your cursor over a photo and click on the bucket icon.
Step 2: Choose and edit the cropping area.
We offer several cropping options.
Manually-set cropping area. Choose the shape: square or circle. Adjust the blue borders as you see fit. The aspect ratio isn't locked. You can turn a square into a rectangle. Make a circle as big or as small as you want.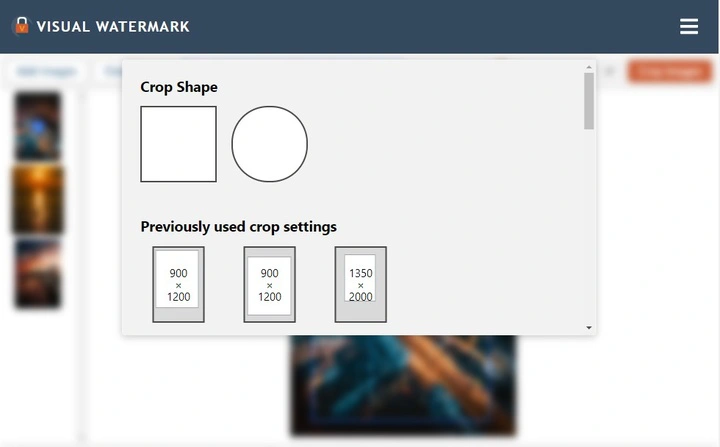 There are absolutely no limits! As soon as you choose a shape, the cropping area will show up on the first image in the batch. It is marked with the blue line. Everything outside will be cropped out. You can resize and move the cropping area to a different place. Its aspect ratio can be changed. You can edit it however you want to achieve the desired results.
You can also write the necessary values for how you want your image to be cropped. Type them into the menu box if you know what height and width you need. Dimensions in pixels should be written like this – "1800:900". You can also set the aspect ratio like this – "3:5".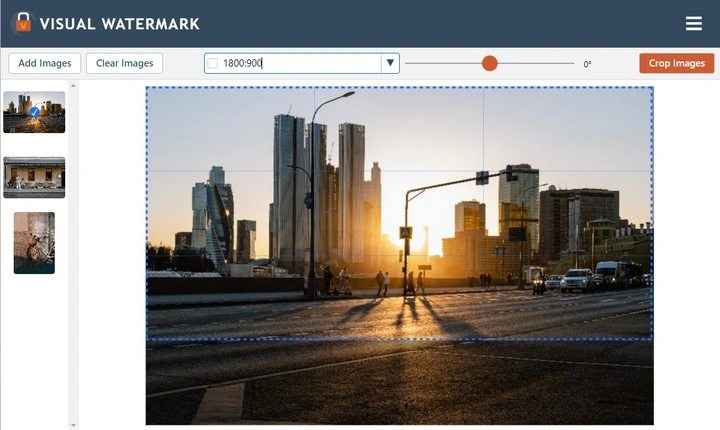 Locked aspect ratios. Our online image cropper includes a set of templates with various locked aspect ratios. They will surely make your job much easier. All you have to do is pick the option that suits your needs.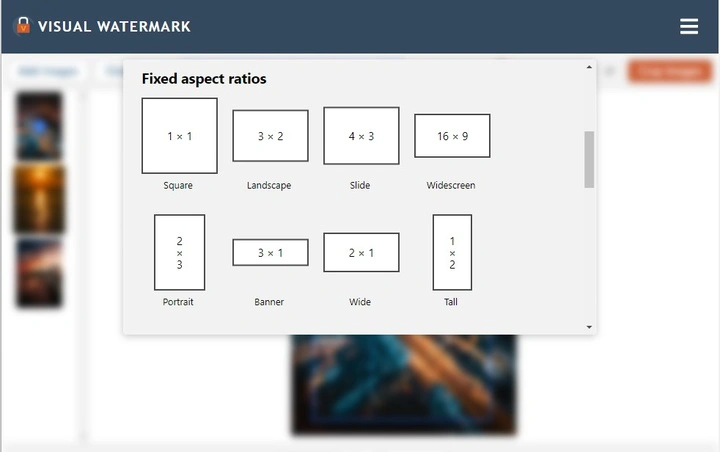 Don't worry! This option doesn't mean that you won't be able to make any alterations. If you choose one of the fixed aspect ratios, the app will still allow you to change the size and location of the cropping area. Please, keep in mind that the ratio of height to width will be locked. It means, that as soon as you make the image wider, its height will also change automatically.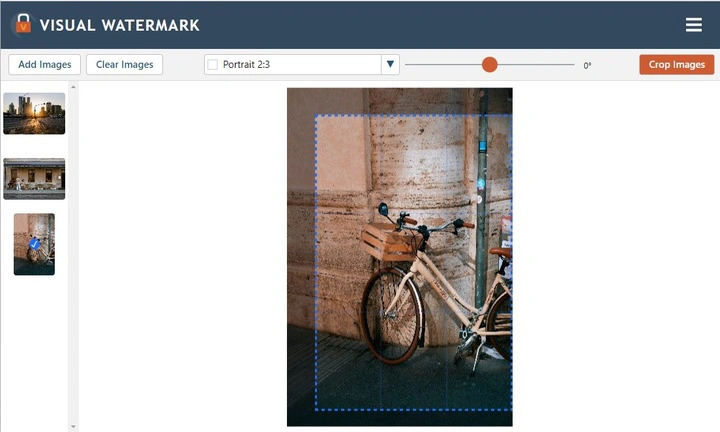 Popular dimensions for various social media. Visual Watermark offers templates with popular dimensions for some social networks. In other words, you can prepare your images for posting online in just a couple of clicks. Our app includes templates for:
Instagram: stories and different types of posts;
Facebook: posts, page, event, and profile covers;
Youtube: channel art and thumbnail;
LinkedIn: profile photo and blog post;
Twitter: header and post.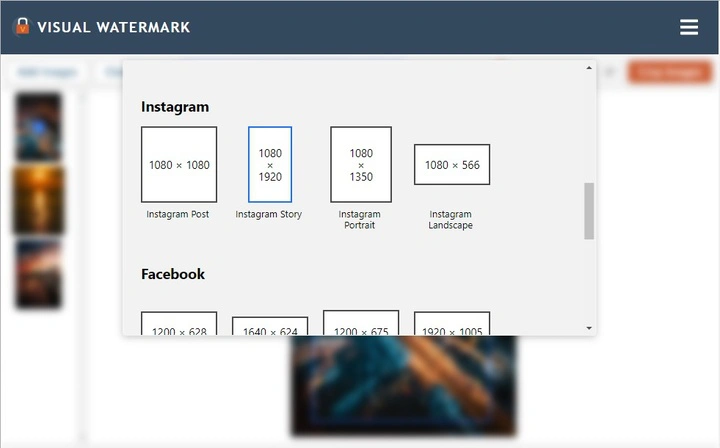 The beauty of our social media templates is that they speed up your workflow as well as ensure that your photos look great. You see, social networks usually compress all uploaded images to be a certain size.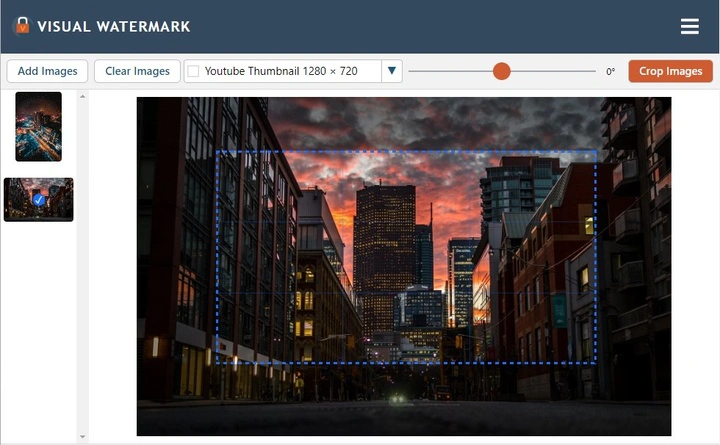 For example, if you upload an image of 5000x4000px, Instagram will automatically compress your photo to 1350x1080px. This will result in your image looking somewhat blurry and of poor quality. That's not good, is it? To make sure that your image looks sharp and crisp, you need to crop and resize it to 1350x1080px, then upload it to Instagram. If you choose one of our social media templates, your cropped copies will have the necessary dimensions that your social media platform requires.
In our app you can crop a batch of photos using one and the same template or choose different templates for each image separately.
Step 3: Export your images.
Click the "Crop images" button once you are finished with editing. The Export settings will show up. Here you can go to the "Preview" section and see what your cropped copies will look like.
In the Export settings you can choose a new file format:
For images cropped in the form of a circle: PNG or WEBP.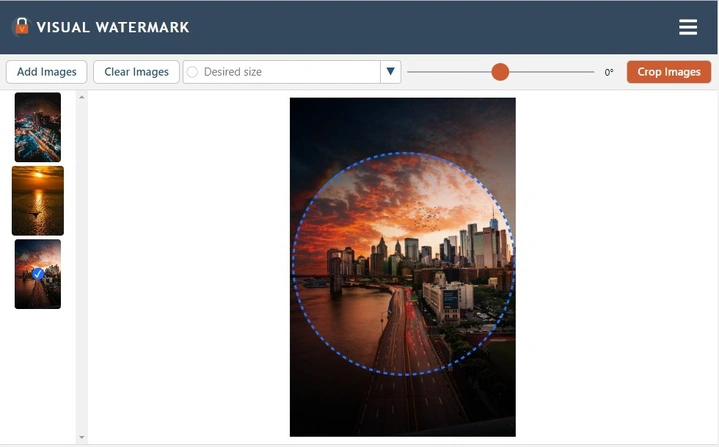 For images cropped in the form of a square or fixed proportions: JPEG (standard or maximum quality), PNG, WEBP. Your cropped copies can also be exported as compressed JPEGs. If you aren't sure what you need, the short descriptions next to each option will help you make the right choice.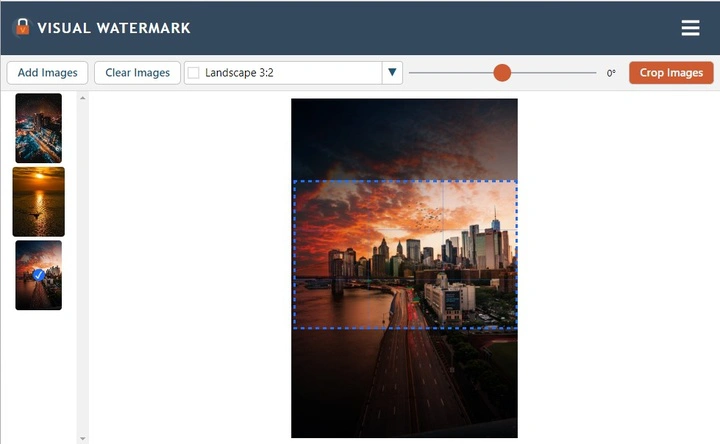 In the export settings you will find another feature: Add watermark to photo.
You can protect your cropped images with a watermark. To do this, check the box next to "Watermark images." Choose a watermark from previously used templates (if you've worked in Visual Watermark before) or create one from scratch. Designing a watermark is as simple as mastering our "Crop an image" tool.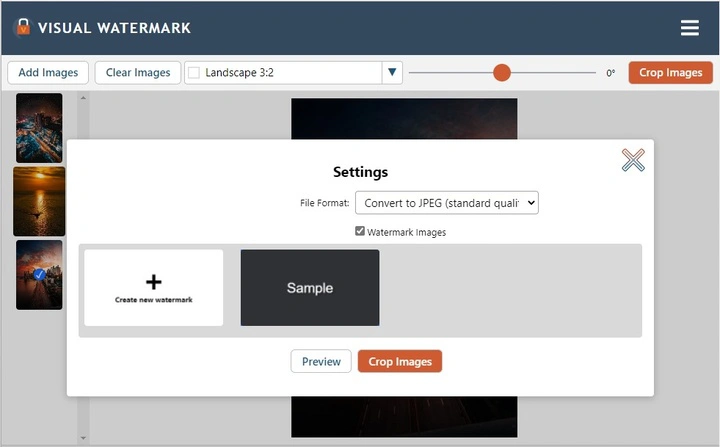 Final step: Click the "Crop images" button. A window will open where you'll have to select the export folder. You can download your cropped photos to your device, Google Photo or DropBox.
In the free version of Visual Watermark, you can crop up to 10 photos in one go. Buy the paid version and process a batch of up to 2000 images. Read more details here.
---
Benefits of Visual Watermark Image Cropper
Our application is a great alternative to complex programs that need to be installed on a computer. We offer a simple tool where you can crop your images, add a watermark, and choose your cropped copies to be compressed. In just a couple of minutes! You don't need to register to get started. The app is completely free and available online.
Here are some more advantages of Visual Watermark.
High processing speed and security guarantee
As it has already been mentioned, our image crop tool works online. You won't have to install anything on your smartphone or laptop. Since we don't have any accounts, you won't have to provide any personal information. Your images are processed right in your browser, which means they never get to our servers.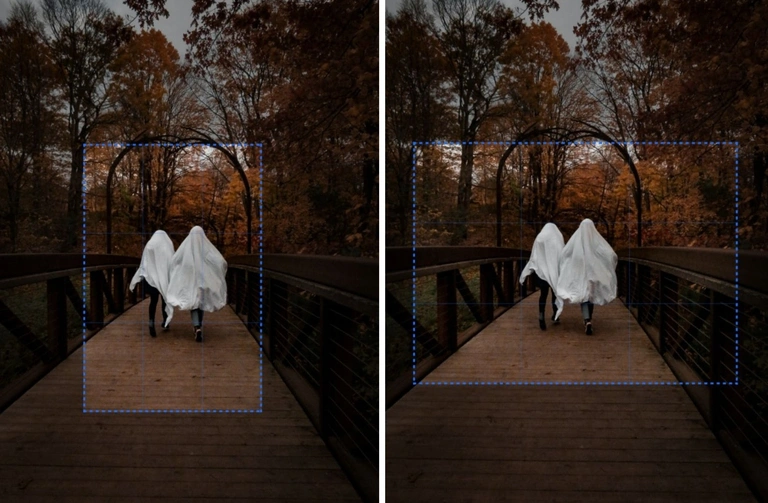 Our app is fast, intuitive, and easy-to-use; no matter what your editing skills you have. Just upload your images into the app, edit the cropping area on each photo, then click the "Crop images" button to start the cropping process. We guarantee fast uploads and downloads even with a poor internet connection. The original images won't be modified, and you'll get your cropped copies within a couple of minutes.
Please note that while you are editing your cropping area, you cannot zoom in or out of the image that you are working with. That's because medium-sized versions of photos allow our app to process files faster. Your cropped image can be viewed in the full size after you download it.
We never have access to your files or receive any data from your cloud storage after you grant access to it. With us, you won't have to worry about your privacy and security of your files.
Free access
Every visitor of our website can use the image cropper as it is free for everyone. You don't need to create an account – upload photos and start cropping right away. You won't be distracted by any annoying pop-up ads or intrusive dialogue boxes. If you want to throw off "shackles" of the slightly limited free version, you can buy one of our 3 paid editions. But if you have just a handful of photos to crop, the free version will be more than enough.
Previously used settings
This feature will be extremely helpful for those who tend to crop images in the same way. For example, if you need to regularly crop your images with a 4x5 aspect ratio. Aside from ready-made templates, the menu of our app also includes the "Previously used crop settings" section.
In this section, you will find an array of crop settings that you've used before. The settings are saved automatically after you export at least one photo with them. If you had a batch of several images and each had a different cropping area, all of the settings will be saved to the "Previously used" section.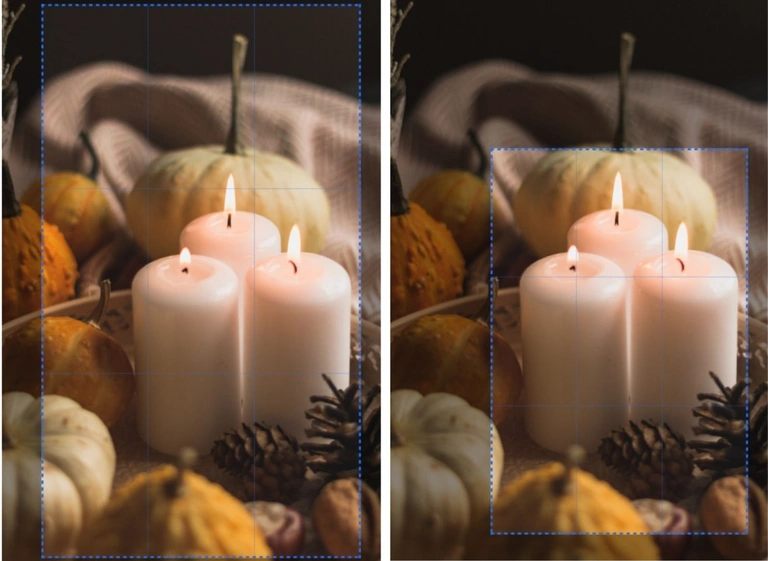 More than just a cropper
On our website you can find various tools for editing images. But there is no need to switch between them. Our image cropper allows you to crop an image and export it as a compressed JPG copy.
In addition, you can add a watermark. This can be done in the Export settings. Here's how it works:
Click on the "Crop Images" button.
In the settings, select "Watermark images".
Create a new watermark or choose on of the previously used templates. Please note that if you've never created any watermarks on our website before, you will have only one option of creating a watermark from scratch. As your watermark, you can add some text or upload a logo from your device.
Different image formats
You can crop images of any format. Our app supports all the popular formats such as JPEG, GIF, PNG, etc.
When exporting, you can choose a different format for your cropped copies; even if your original photos were JPGs. Your images can easily be converted. To do this, select a new format in the Export settings.
Horizon leveling
Crooked horizon can spoil even the most beautiful photo by making the viewers feel dizzy. But this can be fixed in just a second. Our image cropper allows you to straighten the horizon by rotating an image.
Next to the drop-down menu, you will find the orange slider. Drag it left or right to change the angle. Please note that your image can be rotated only in the range from -7 to 7 degrees. This should be enough to get the desired result without losing good image quality.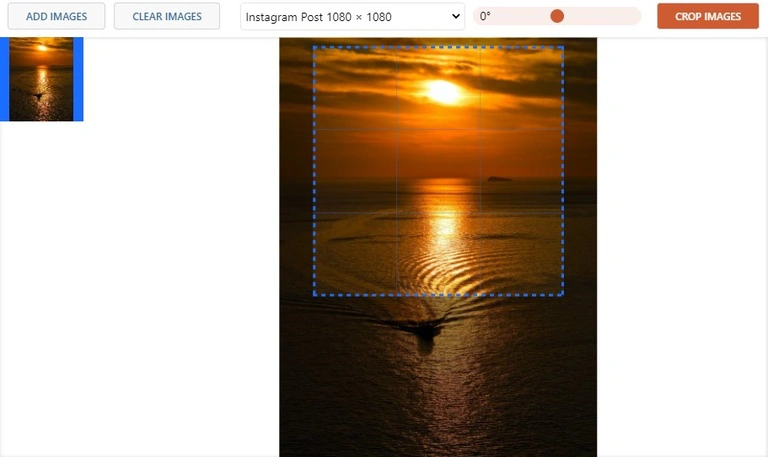 ---
Crop Images for Free with Maximum Convenience!
Our online image cropper doesn't require any image editing skills. The interface is straightforward and easy to navigate around. In addition, our step-by-step guide will help you master all features of the app quickly and without breaking a sweat.
If you need to crop an image urgently – don't hesitate and upload them into the app. You'll achieve the desired results in a snap of your fingers.