With our app, you can reduce the size of JPEG, PNG or GIF images. Our app tries to keep the quality of these files as high as possible during compression.
---
Why do you need to compress photos?
If your website or online store loads slowly, the problem may reside in large and heavy files on your server. You risk losing a potential client or a new customer when your website takes ages to load. Smaller files will take up less space on your server, which means your website or online store will load faster and you won't keep anyone waiting.
Our web app can compress multiple JPG, PNG and GIF images in just a few seconds. The compressed files can be opened in any photo-viewer or uploaded to a website and social media. There are modern formats like WEBP or HEIC that weigh less, but not all apps or programs can recognize them; unlike the popular JPEG. Compressed JPEG photos will be almost the same size as images in these modern formats.
In the free version of the app, you can compress 10 photos at a time.
---
Safety first
Our web app processes your photos in your browser. You won't have to download or install anything. This way you will save yourself some time as well as won't risk infecting your computer with a dangerous virus.
Our app is easy to use. You just need to upload your photos, click on the "Compress Images" button, and the compression process will begin immediately. You don't have to wait for your turn. The photo will be processed instantly.
Your images are compressed right in your browser. They don't get onto our servers and aren't stored on them. We do not have access to your files.
---
Compress JPG, PNG and GIF files to a specified size in Kilobytes
In the Output Settings, you can choose one of three options: "Better Quality", "Smaller Size", and "Specific File Size". If you want a stronger compression to free up more space, you need to choose the second option. The first one will make the app prioritize preserving the best quality, which means that the compressed files will be a little bigger than if you've selected "Smaller size". Nevertheless, in both cases, you will know the size of your compressed images only when the processing is done.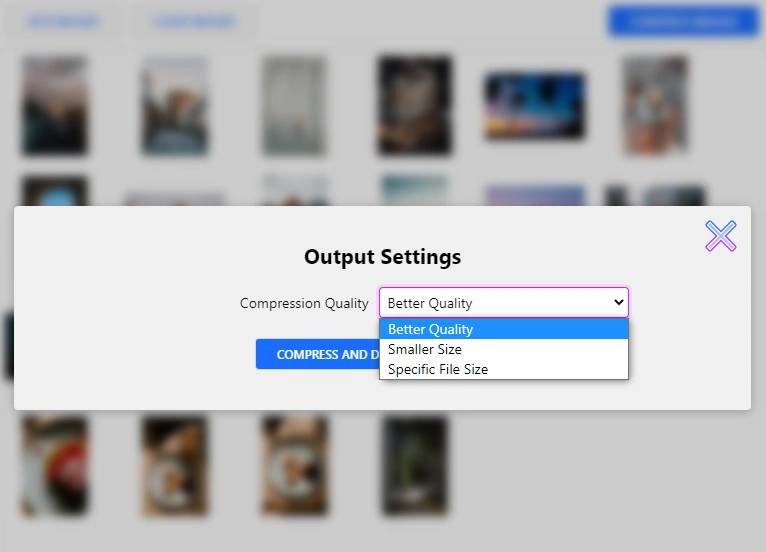 However, if you need to compress your files to a specific size, feel free to choose the third option. Instantly, the input field will appear, where you can enter the desired number of kilobytes. During the compression process, at first, your JPG, PNG and GIF files will be optimized. But if this is not enough, our app will reduce the size in pixels, and at the same time preserve the good quality as much as possible. We will make sure that your processed images are compressed to the desired size in kb and look as amazing as the originals.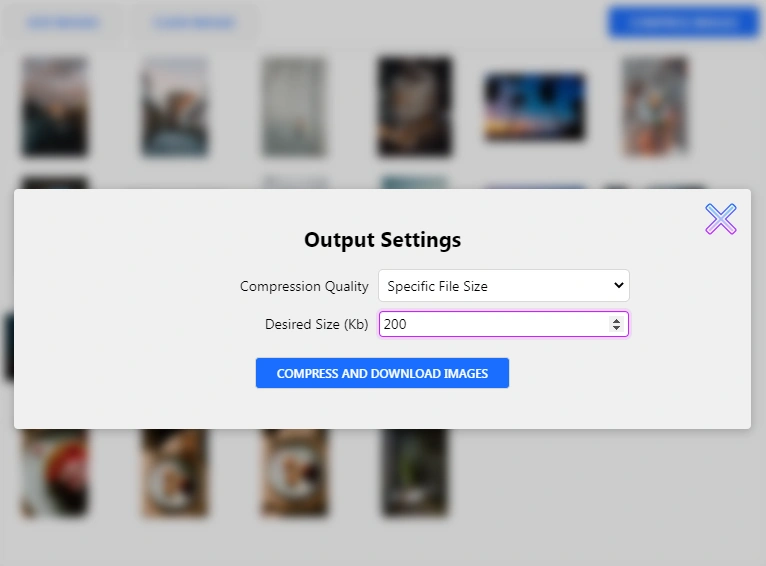 ---
How to compress images:
Simply drag and drop your photos or click on the "Select Images" button to upload them into the app.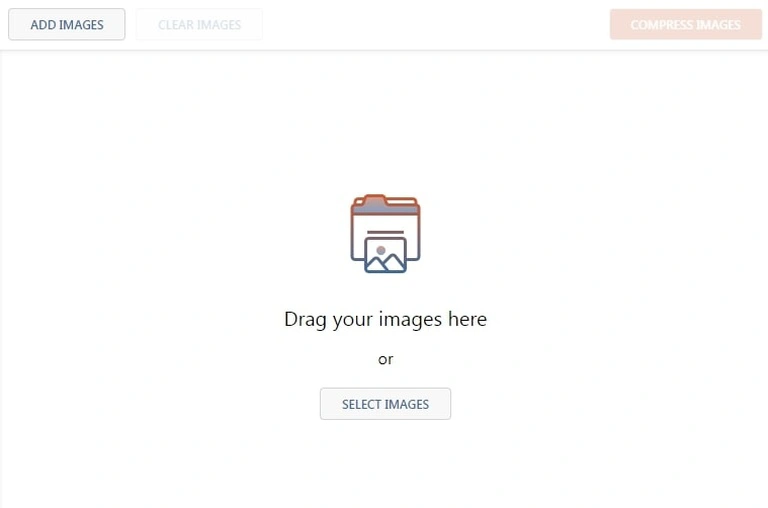 A small menu will open up if you clicked on "Select images". Choose one of 4 options:
From My Computer,
Google Drive,
Google Photos,
DropBox.
You will see a dialog box if you chose "From my computer". Find the necessary folder and pick your images. Press Ctrl + A (on Windows) or Cmd + A (on Mac) to select all the images in the folder.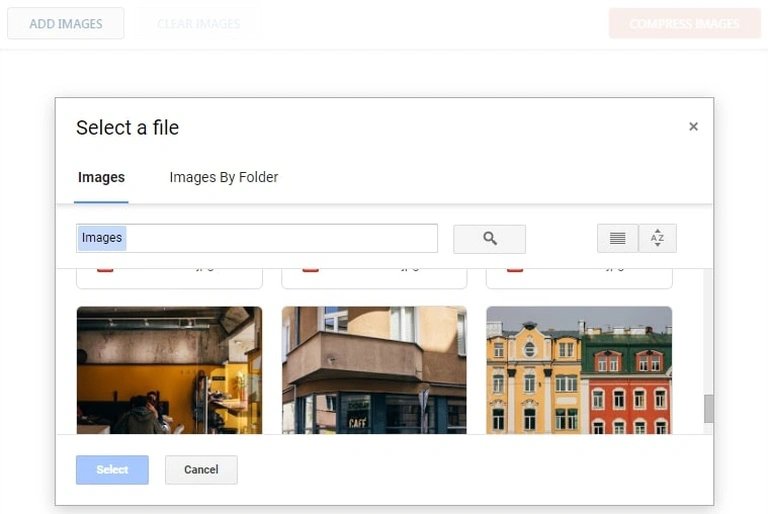 If you want to upload a photo from one of the cloud storages, choose your cloud storage and click on "Allow access" in the dialog box. After that, pick your photos. To select multiple images, click on them while holding the Shift key.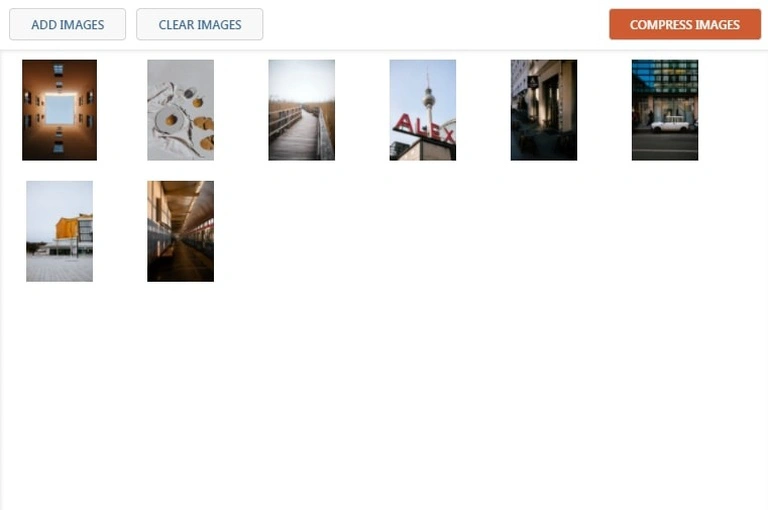 Click on "Add Photo" to add new images.
Click on "Clear" to remove all selected images.
Once you upload your photos into the app, click on "Compress images".
When the process is complete, you will see a list of image names and numbers of KBs. These numbers show how smaller your images have become. Click on the "Download All" button to download the zip archive with compressed copies.