LinkedIn is a social platform that is chiefly used for career advancement and business-oriented networking. There, you can publish your CV, if you are a job seeker, or post a job, if you are an employer or recruiter.
LinkedIn was launched in 2003 and now it's used by people in 200+ countries, which allows you to connect and establish fruitful partnerships with people all over the world. With its help, it's possible to find a job outside of the city or even country that you're currently living in as well as search for remote job opportunities.
LinkedIn grants you the amazing opportunity to find new business partners, expand your network of connections and get your dream job.
As you might have guessed, LinkedIn is quite popular – approximately 830 million users are registered on this platform, including 58 million companies. You have to actively interact with your community and visit the platform on a daily basis if you want to stay relevant. What's more, to reach new people, you need to promote your page – no matter if you are an employing company or a person in need of a job.
In fact, if you are looking for a job of your dreams, you might need to put some extra efforts into drawing as much attention to your profile page as possible.
Quite often, when people fill out their profile, they ignore or simply forget about one seemingly insignificant, yet quite important thing – LinkedIn background photo.
The right background photo has the power to clearly communicate what it is that you do and who you are as a professional as well as grab people's attention the moment they open your profile page. In this article, you will learn about its benefits and get some inspirational ideas.
Why Picking the Right LinkedIn Background Photo is Important
Your LinkedIn profile should be the perfect representation of who you are as a person and a professional. Providing some basic personal information, briefly mentioning your work experience, and attaching your CV isn't enough. You need to promote yourself and your portfolio, showcase your hard and soft skills. If you are looking for a job, potential employers should want to hire you or at least consider you as a candidate just by taking a brisk glance at your profile. If you are a business owner who's currently hiring, your page should make people want to apply for your jobs.
Moreover, it's important to keep in mind a couple of things in mind:
people nowadays have a shorter attention span;
none of us have a lot of free time.
According to statistics, people spend only 30 minutes a day looking for a job. Meanwhile, job recruiters usually spend only a couple of minutes to skim through a profile of an applicant before deciding whether they want to learn more about them or not.
You have to use all ways and methods to grab people's attention and spark their interest, if you want to get a great job or find the right person for an open position.
---

On LinkedIn you have to compete with millions of people. Each of them strives to show off their amazing skills and prove that they are worthy to be noticed. To make a strong impression in the online world, you need to create a profile that stands out from others. One of the things that will help you achieve this is choosing the right LinkedIn Background Photo.

---
With the help of the LinkedIn background photo, you can do two things:
Showcase who you are and what you do.

Make people stop scrolling and visit your profile to learn more about you.
Remember that for the background photo for LinkedIn to perform these functions, you can't just put any picture. After all, people pay attention to what is different from the standard and unimpressive.
If you want to make the most of your profile to promote your business or find the job of your dreams, you have to be strategic about which picture you choose as your background photo for LinkedIn.
---

Our brains not only process visuals 60 thousand times faster than text, but they also remember information presented in images better than the one written in words. Therefore, consider taking some time to design a smart and eye-catching background photo for your LinkedIn profile.

---
A lot of inexperienced people who has just signed up for LinkedIn tend to set a default background image, which is a fairly unoriginal choice. Not following the same path might give you a bit of a leg-up. A creative-enough banner will certainly attract more attention by showing people that you don't shy away from using different tools to achieve your goals.
---

Be intentional with what you write and what images you publish on your profile, and you will easily drive a lot of visitors to your page.

---
Top 10 Ideas for a LinkedIn Background Photo
So, you might be wondering what kind of an image you should put as a LinkedIn background photo. First of all, you need to decide who you want your profile to be noticed by. Secondly, you have to establish what you want to communicate to them right away. Do you want to show them what kind of a person you are or what it is that you do? What kind of professional skills you have? Or maybe you'd like to combine all of these things in one photo? Establishing your goal should help you to sift through unnecessary and useless option.
If you've figured out what your target audience is and what it is that you want to communicate, yet you still don't know how to choose a LinkedIn background photo, check out the following design ideas.
Idea №1: Service or Product
This one is quite straightforward – use a picture of your products or services as your background photo. If you own an online store, create a collage of your most popular products. If you offer SMM services, combine screenshots of your best works. This kind of a background photo will instantly show what people will be able to get from you.

Idea №2: Work Environment
You can use a picture of your office or workspace as the background photo for LinkedIn. It can display your individuality and professional expertise. If you work in an office, an image of a clean and well-organized office desk will show that you are a diligent and disciplined worker. Meanwhile, if you are a freelance painter, you may opt for a photo of your workstation to show off your creativity.
Alternatively, if you are a part of a large company, you can go for a photo of your office building. It will certainly evoke respect in people.

Idea №3: What You Work With
Your work probably involves usage of some tools or equipment. You can utilize a picture of them for your background photo for LinkedIn. If you are a writer, you can use a picture of a typewriter or a keyboard. If you are an artist, then photos of brushes, paints and canvases should be your choice. If you are a photographer, it might be a good idea to pick a photo of your camera – or better yet, you can take a creative selfie in a mirror and show yourself along with your camera.

Idea №4: Best Works and Accolades
Was your company awarded with an important prize? Did you get a great review from a client? Did you design a website that helped your customer's business grow? You can create a collage of your best works, accolades, reviews, and any other significant achievements, and set it as the background photo for LinkedIn to display the level of your expertise and experience. For instance, a dental clinic can use a picture of clients with broad, white smiles, while realtors can opt for a photo of happy people with keys in their hands.
Idea №5: Places
This option might be useful for travel and street photographers. For a background photo for LinkedIn, you can use one of your photography works. This will showcase your skills as well as draw people's attention since beautiful pictures tend to be like a magnet. If you are a person who loves their city, you can still use this idea and put a picture of the place you live in as your background photo. This way, a recruiter will see right away where you are from.

Idea №6: Workflow
You can use a photo of your work process as your background photo for LinkedIn. For example, if you are a copywriter, you may go for a photo of yourself typing a text on a keyboard. If you are a speaker, then it would be great to pick a photo of yourself giving a speech in front of an audience. This option is great as it can show your professionalism and passion for work as well as add a touch of personality.
Idea №7: Brand Logo
If you want to promote your brand, consider using its logo for your background photo for LinkedIn. Another idea is to pair your brand logo and name with the image of your products. You can make a bit of a collage or better yet, you can watermark your logo onto a collage of your products or services you provide. This will show you how much you care about your brand. Plus, if you have an original logo or an unusual brand name, they will be enough to pique people's interest.
If you work at a big company, you can use this idea for the background photo, too. It will show people that you love your job, and they will know right away where you work.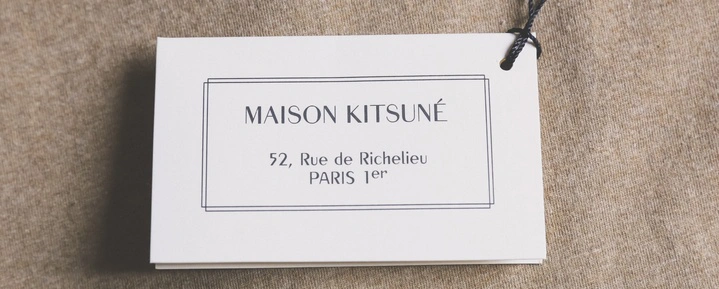 Idea №8: Solid Color or Abstract Image
LinkedIn's default background photo is blue. It's quite neutral and the opposite of attention-grabbing. Besides, keeping the default option might make some people think that you're lazy. If you want to avoid that and not be like everyone else, yet you don't have any decent looking photos, it might be better to simply set a different color as your background photo.

It's not that hard to find abstract images or some macro shots on free photo stocks. Therefore, you can also download and use them as your background photo. You can opt for a bright, eye-catching color or the color that you love to add a personal touch.

Idea №9: Photos of Yourself
On LinkedIn there is also a place for creative professions. So, if you are a model or an actor, you should use an image or a collage of images from your best photoshoots as your background photo. This way, you will show off your talents as well as good looks. Remember, that your photos should look professional and of good quality. You might put a creative spin on your collage to increase your chances of getting noticed – maybe arrange your photos in an unusual way or chose a cohesive color palette.
Idea №10: Experiment
Remember that there are no set-in-stone rules for what your background photo for LinkedIn should look like. So, have fun and experiment. Think outside of the box. If you really want to stand out, you need to take a look at what images other people use, gather some ideas and then…get creative. For example, you can add your favorite quote to a photo that you took, make reviews look like clippings from an old newspaper, etc.
---

It might be a good idea to add some text to your background photo for LinkedIn; no matter what it depicts. You can add what it is that you do, list some of your work experience and achievements, leave your contact details and handles of social media profiles.

---
But don't go overboard. Keep your text short and concise. Remember that the profile and the background photos are the first things that visitors of your profile will see. Thus, they should look good and complement each other. They should represent you and your brand perfectly so people would get a rough idea of who you are right away – and, at the same time, it should make them want to learn more.
The Image Size for a LinkedIn Background Photo
According to their official website, LinkedIn Background Photo should be in JPG or PNG format and have the pixel dimensions of 1584x396 pixels as well as a file size of no more than 8 MB. If you don't have a photo of this size and you don't have any image editing software, you can use our crop tool to crop your photo. There is a ready-made template called "LinkedIn Profile Cover" that has the necessary aspect ratio and pixel dimensions.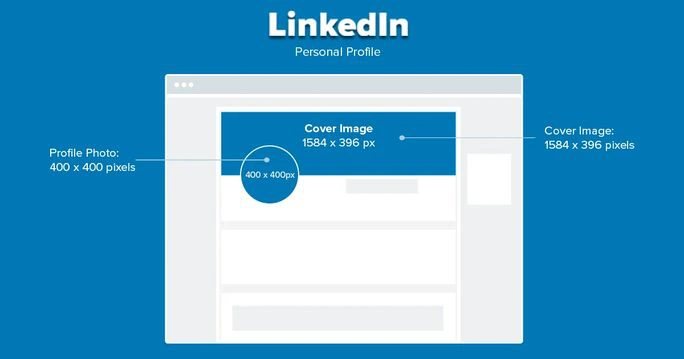 As it has already been mentioned, the right background photo can help you stand out from the crowd and make people remember you.
But to achieve maximum results, it should also:
Reveal just the right amount of your personality.
Highlight your professionalism. Remember that LinkedIn is a business-oriented platform.
Encourage interaction. LinkedIn is a place to socialize and interact with others. Don't wait for people to notice you. Reach out and talk to them – that's what will make you truly memorable and might even earn you a job.
---

Your image should not only make a striking impression on people on the other side of the screen, but also prompt them to reach out to you.

---
Your background photo for LinkedIn will be effective if it communicates:
Who you are
What you do
What skills you have
What value you can bring.
Where to Look for a Background Photo for LinkedIn
Ideally, you should create photos with the help of a professional photographer or, if you have some photography skills, do it yourself. This way, you will be sure that your photos are unique and one of a kind. However, if you don't have the means or time to hire a photographer and do a professional looking photoshoot, you can use stock images. There is a variety of free photo stocks like Pexels or Unsplash. There is even a broader choice of images on paid photo stocks where you have to purchase a license. For example, Shutterstock. You will surely be able to find something that will suit your needs there.
Another option is to use free, online image editors that will allow you to design a decent background image from scratch. Many of them even include special templates for LinkedIn that you can tweak and edit to add a bit more originality.
We hope that this article helped you understand why it's so important to choose the right background photo for LinkedIn as well as come up with a great idea for it.