Nowadays, it's almost expected of you to share photos from your trips or memorable events on your social media. And that's where you may face some danger. For example, you upload a few images to your Facebook account.
A week later, you see those same images on another website or social media account. You're more than sure that you've never uploaded your photos there and no mention of your name is anywhere in sight, which leads you to a horrifying conclusion – your photos have been stolen.
Unfortunately, content theft isn't uncommon – it's actually awfully widespread, especially on social networks.
Considering that downloading visual content from the Internet doesn't take much effort, trying to somehow stop people from doing so is both challenging and pointless – it would be much easier not to post anything at all.
You might be thinking: "I don't want my photos to be stolen, but I also want to keep sharing them online." So, what can you do?
Well, putting a watermark is probably the easiest and fastest way to protect your images. In this article, you will learn how to watermark photos on Android with our app, Visual Watermark.
Download watermarking app
---
Why Watermarking Visual Content Is Important
If you don't show who your photos really belong to, some ill-intentioned people may steal your works and pass them as their own. But by putting a watermark, you can scare some thieves away.
A watermark is a string of text or a logo that is added to images, videos and documents to indicate the authorship.
You can create a watermark of any design you want, but quite often, it's semi-transparent to be unobtrusive. By creating your unique watermark and adding it to your visual content, you can avoid copyright infringement. However, this isn't the only reason to add some text or logo to your images.
Three Main Advantages of Watermarks
Protection against theft. Watermarks were initially created to serve as a proof of authenticity and protection against forgery. Nowadays, they fulfill a similar function.
Free promotion. Since watermarks show who the author is, they don't just protect your images, they also automatically act as a promotion tool. No matter where your visual content ends up, people will always know that you created it. For example, when bloggers put a watermark on pictures, their brand name or logo will always lead their potential followers back to their blog.
Branding. The more people see your brand name or logo, the better they will remember it. By adding a watermark to all the content you share online, you will surely raise the brand awareness and attract some new customers.
Our mobile app has all the must-have tools to design a watermark of any style. You can import your brand logo, enter your slogan and add both of them to your images. Alternatively, you can pair up your brand name with a ready-made icon from our gallery. You won't believe how quick and easy this is!
Download watermarking app
---
Detailed Instructions on How to Watermark Photos on Android
Putting a watermark on photos in Visual Watermark can be incredibly convenient. Since our tool is on your smartphone, which you almost always carry around, you can watermark your images while you are commuting to your work or on your lunch break.
Editing a watermark can be a lot of fun. You can pick a font, change the color and the size of your watermark. You can also rotate it – for instance, you can turn your watermark to 90 degrees or even flip it upside down. It's also possible to fill up your entire image with repeated watermarks or add one of our effects, like a shadow-effect or a gradient.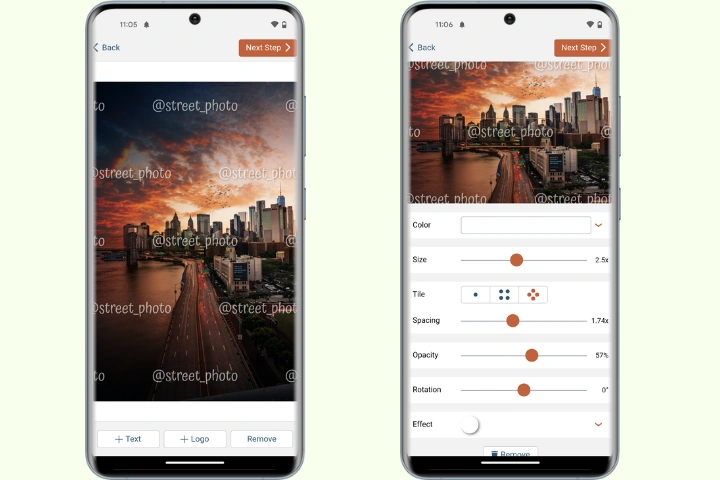 Select the images from the phone gallery and upload them into the app.
Create your watermark. Type in some text, add a logo or combine both.
Adjust the size, opacity and rotation of your watermark by moving the orange sliders in the toolkit.
Choose a font, color and effect.
Drag your watermark to a different place if necessary.
Tap on "Watermark Images" when you are happy with the result.
Afterwards, your watermarked images will be automatically saved to the gallery-app for Android .
Download watermarking app
---
Customize Your Watermark on Android
Using Visual Watermark, you can watermark your photos on Android absolutely for free with a full set of tools for editing. You may have several watermarks on one picture. The only limitation is that you can process only 10 images during one day.
Watermark as a string of text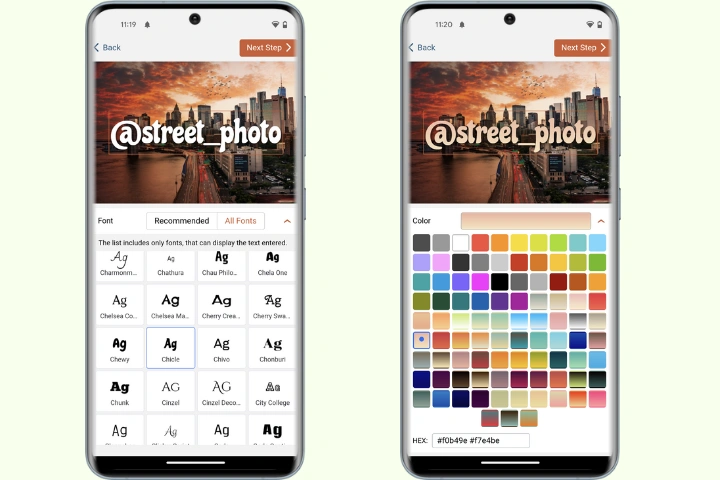 In case, your text is multi-lined, you can align it left, right, or center as well as adjust the space between the lines by using the "Line Height" slider.
While the text input area is still active, you can add a copyright symbol, image number, or both. Click on "+©" to add a copyright symbol. Click on "+IMAGE NUMBER" to add your image number. If you are adding a watermark to several photos at once, the image number is going to be automatically changed for each of them.
Our app includes more than 900 variously styled fonts. You are sure to find something that will match the mood of your images since it offers all kinds of styles: classic, cinematic, minimalistic, funny, or quirky. You can scroll through the list and click on the fonts you like to try them out. Some of them can be tweaked to be bold, italic, or bold italic, but you need to actually select a font to see if these options are available.
The fonts are grouped in two lists "Recommended" and "All" and also arranged alphabetically. If you happen to know the name of the font you need, you will find it easily.
In the "Color" section you will see a wide range of solid colors and several gradient options. It is also possible to type a HEX Code of the color to find a specific one quicker.
Watermark as a logo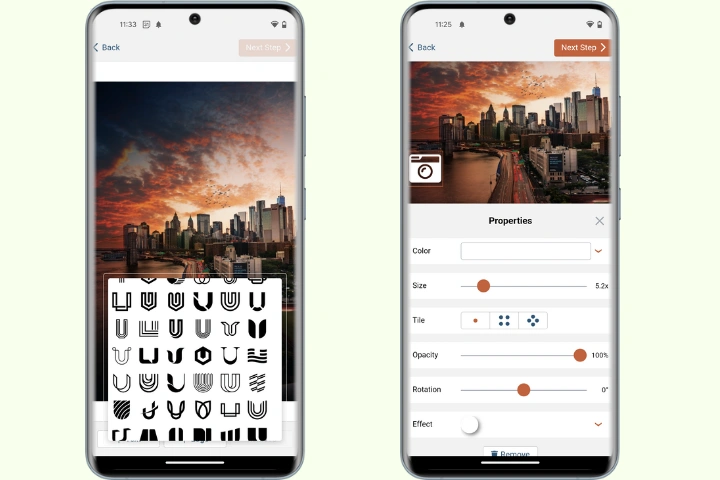 Visual Watermark allows you to add not only text but also upload your own logo, then customize it further by rotating it, changing its color, or adding one of 33 effects to it. For example, you can select the dropped shadow or the glitchy holographic effect.
In case, your logo has a monochrome background, that you don't like, our app will easily remove it for you. As soon as you upload your logo into the app, the "Remove Background" button will show up. Tap on it to make the background disappear. Quick and easy, isn't it?
Watermark photos on Android in a batch mode
If you need to process a batch of horizontally and vertically oriented images that also vary in size, Visual Watermark will automatically enlarge or shrink down your watermark, depending on how small or big your image is. You can disable auto-scaling of watermarks in the Export Settings.
If your watermark was edited on a vertical photo, the app will move it to a similar position on a horizontal one. But if you want to adjust the size and opacity of your watermark as well as drag it to a different place manually, you can do that in the Preview section. Don't worry, all the modifications will be applied only to the watermark on the selected image.
There are also two additional options in the Export Settings - "Place watermark in different places across images" and "Blur Faces".
Preview section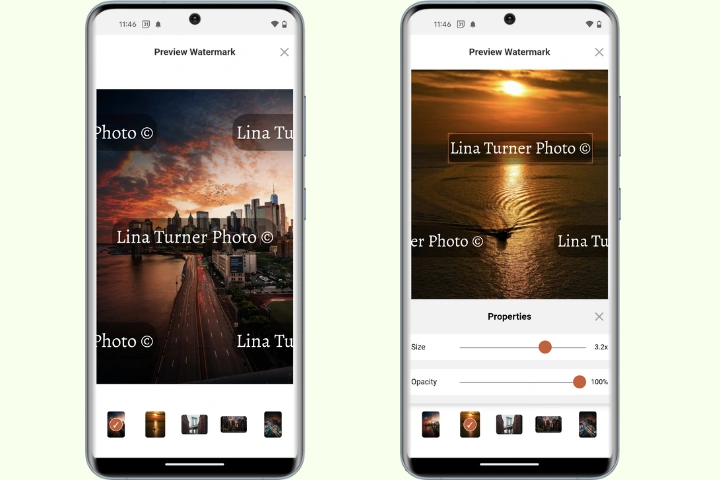 You can open the preview section before putting a watermark on photos. To do this, tap on the "Preview Watermark" button. Here you can click through your photos to check how your watermark looks on each of them. Change your watermark's position by dragging it to a different place within your image. If necessary, change its size and opacity using the "Size" and "Opacity" sliders.
Repeated watermarks for maximum protection
The "Tile" feature will help you maximize protection since it allows you to fill an entire photo with repeated watermarks that are either positioned parallel to each other or checkerwise.
To enable it, simply tap on one of the four dotted icons next to the word "Tile". The space between your watermarks can be adjusted using the Span slider while decreasing the size of your watermark will result in more repeated versions of it.
Recently used templates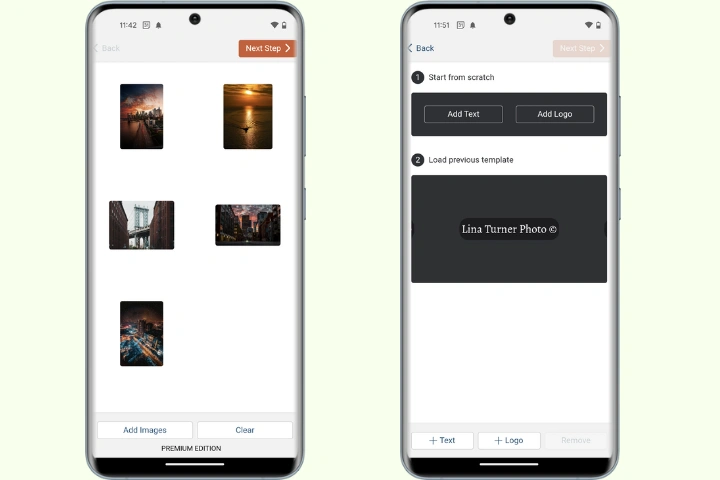 In Visual Watermark, you will find a list of 10 recently used templates, which was designed to speed up the watermarking process and make it more convenient for you. It will surely come in handy and save you some time if you have a handful of watermarks that you tend to constantly reuse.
Upload your photos, select one of the templates on the list, edit it further if necessary or simply drag it to a more fitting position, then tap on "Watermark Images" to apply it. The whole process takes only a couple of minutes, if not less.
Download watermarking app
---
Where Should I Place a Watermark?
When looking for the right place for your watermark, there are a few things to keep in mind. Your text or logo shouldn't be obtrusive and steal all the attention from the most important part of your photo – the scene or the people that are depicted in it. At the same time, your watermark can't be too subtle and unnoticeable – otherwise, there won't be much use of it. People won't see who the author is.
If you want to know where exactly you should put a watermark, then the answer is – it depends on its purpose. If your main goal is protection, it would be better if you place a big watermark in the center of the frame. As an option, you can also fill up your image with repeated watermarks.
Both of these options will ensure maximum protection of your visual content.
However, if you are more interested in promotion, you can make your watermark small and put it somewhere around the middle of the frame.
It's quite common to place a watermark in either corner of an image. On one hand, it doesn't distract from the contents of the photo. It looks neat and aesthetically-pleasing; especially, if the style of a watermark matches the mood of the image. On the other hand, this placement is weak protection-wise. In other words, getting rid of it would be incredibly simple.
You should place a watermark in the center or near the central area of the frame to make it more challenging to erase or crop out it.
Here are a few more tips:
for your watermark to be less obtrusive, make it monochromatic;
don't place your watermark on the most important parts of your image – for example, your main subject or people's faces;
the color of your watermark shouldn't match the background that it's placed on.
Download watermarking app
---
FAQ
How do I watermark my photos on Galaxy?
The best way is to install one of a free watermarking apps from Play Store. You can try Visual Watermark, cause it allows you to add your text or logo to your photos no matter where you are, and share your watermarked copies with your friends and customers right away.
How do you mark a picture on Android?
After you upload a picture to the watermarking app on your Android, add text or logo to it, choose the appropriate font and color, set the required size, opacity and position. When you are happy with the result, tap on "Watermark images". The watermarked copy of your image will be added to the gallery of your phone.
Can I watermark photos on my phone?
Yes, you can. You can add a watermark online. For example, you can go to the webpage of Watermarkly app, upload your photos and get to editing. Another option is to install Visual Watermark from Play Store. This way, you will edit your watermark right on your phone. All these options are free.
How do you put a watermark on photos?
With Visual Watermark you can put a watermark on photos on any device and any operational system. If you need to watermark your images offline, please download the desktop version of our app. If you you'd like to edit your watermark on your smartphone, install our watermarking app for Android. If you don't want to install anything, check out the online version of Watermarkly.