The main purpose of watermarks – and the reason why they were invented in the first place – is theft prevention. Stealing an image has never been easier, less time-consuming, and practically devoid of any effort as it is today. In most cases, you don't even need a special app to get a piece of visual content that somebody else has created and pass it as your own.
To avoid this, stock photography companies publish low-resolution photos, completely covered with repeated watermarks that are nearly impossible to remove. People have no other choice, but to buy a license, so they could download original images that they liked. Artists use a similar, yet subtler way of protecting their works: they sign one of the corners of their paintings. As you can see, adding your name or logo to your photos can be of great help, if you want to establish your copyright.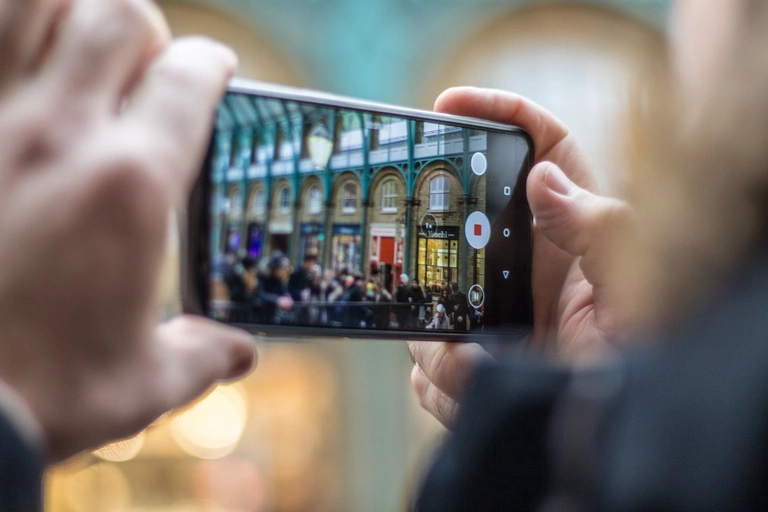 Watermarks can prevent your images from being stolen as well as promote your brand.
People are drowning in the overwhelming amount of information that's pampered out every single day, which is why it is not enough to hook your potential clients with eye-catching images, but you also have to provide them with an easy way to contact you. Surely, social media might offer a convenient solution for this, but it would be unwise to rely on it entirely. After all, the Internet is a peculiar and unpredictable creature.
You never know what corner of it your images are going to be washed out on. But by including your contact information in your visual content, you will make sure that your potential clients will always be able to get a hold of you.
That's when Watermarkly comes in.
With our mobile app, you can add text or a logo to your photos on the go, which makes it a perfect choice for the high-paced, ever-changing, modern business environment. Since the app is on your smartphone, which you almost always carry around, you can watermark your images while you are commuting to your work or on your lunch break. Your watermarked copies will be saved to your gallery automatically, but you can also share your images directly to your social media.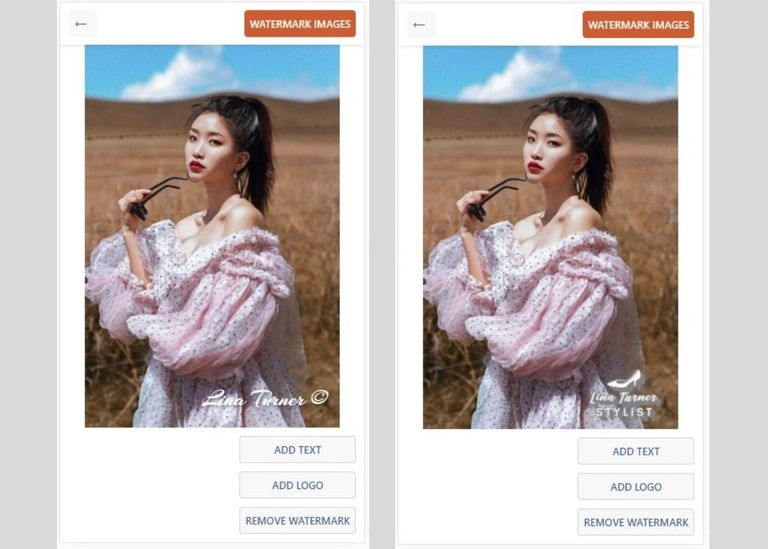 In our extensive library of over 1000 different fonts, you are sure to find something that will match the mood of your images since it offers all kinds of styles: classic, cinematic, minimalistic, funny, or quirky. You can scroll through the list and click on the fonts you like to try them out. Some of them can be tweaked to be bold, italic, or bold italic, but you need to actually select a font to see if these options are available. If you happen to know the name of the font you need, simply enter it into the "Font search".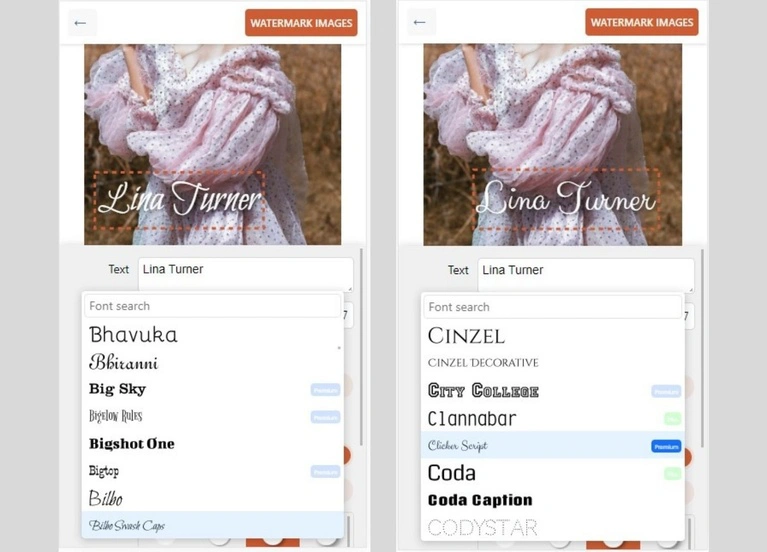 The "Tile" feature will help you maximize protection since it allows you to fill an entire photo with repeated watermarks that are either positioned parallel to each other or checkerwise. To enable it, simply tap on one of the four dotted icons next to the word "Tile". The space between your watermarks can be adjusted using the Span slider while decreasing the size of your watermark will result in more repeated versions of it.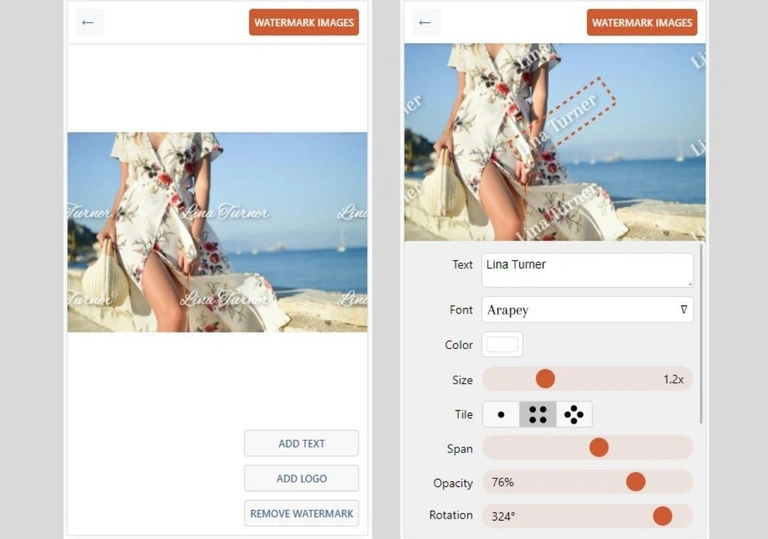 Visual Watermark allows you to add not only text but also upload your own logo, then customize it further by rotating it, changing its color, or adding one of 33 effects to it. For example, you can select the dropped shadow or the glitchy holographic effect. In case, your logo has a monochrome background, that you don't like, our app will easily remove it for you. As soon as you upload your logo into the app, the "Remove Background" button will show up. Tap on it to make the background disappear. Quick and easy, isn't it?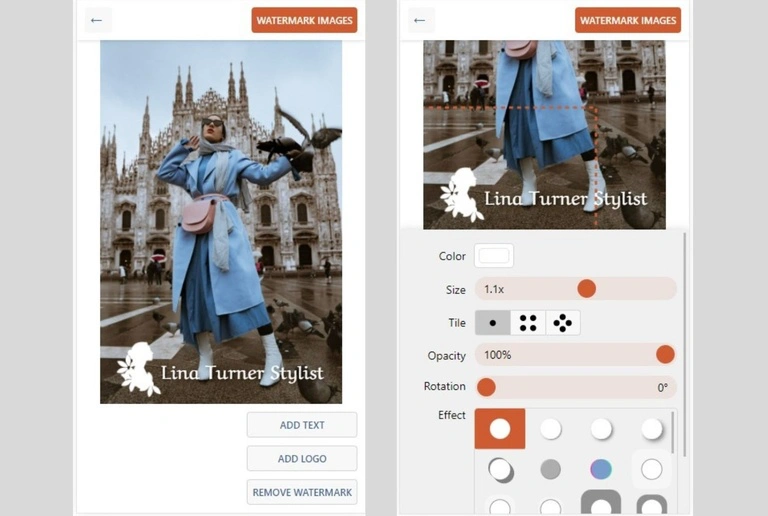 If you need to process a batch of horizontal and vertical oriented images that also vary in size, Visual Watermark will automatically enlarge or shrink down your watermark, depending on how small or big your image is. If your watermark was edited on a vertical photo, the app will move it to a similar position on a horizontal one. But if you want to adjust the size and opacity of your watermark as well as drag it to a different place manually, you can do that in the Preview section. Don't worry, all the modifications will be applied only to the watermark on the selected image.
In our mobile app, you will find a list of 10 recently used templates, which was designed to speed up the watermarking process and make it more convenient for you. It will surely come in handy and save you some time if you have a handful of watermarks that you tend to constantly reuse. Upload your photos, select one of the templates on the list, edit it further if necessary or simply drag it to a more fitting position, then tap on "Watermark Images" to apply it. The whole process takes only a couple of minutes, if not less.
Visual Watermark is not only convenient, but it is also incredibly easy to use.
Let's see how you can watermark your photos with our mobile app:
Once the app is open, tap on "Add Images" to upload your photos.
If you accidentally uploaded an image that you don't need, select it, then click on the cross in the upper right corner. If you want to remove all the photos and start over, tap on "Clear Images". To get to the editing stage, click on "Next Step".
Tap on "Add logo" and select one of 2 options: "From Gallery" or "From My Phone". With the first one, you will be taken to our gallery of icons. The second option allows you to upload your own logo from your phone.If your logo has a monochrome background, click on "Remove Background" to get rid of it.
If you tap on "Add text", the word "Sample" will appear. You need to tap inside the "Text" input area, erase the word, then enter whatever you want. In case, your text is multi-lined, you can align it left, right, or center as well as adjust the space between the lines by using the "Line Height" slider.
While the text input area is still active, you can add a copyright symbol, image number, or both. Click on "+©" to add a copyright symbol. Click on "+IMAGE NUMBER" to add your image number. If you are watermarking several photos at once, the image number is going to be automatically changed for each of them.
Our library of variously styled fonts can be found in the "Font" drop-down menu.
A wide range of solid colors and several gradient options are waiting for you in the "Color" section.
The "Size", "Opacity" and "Rotation" sliders will help you adjust how big or small, transparent or opaque your watermark is as well as change its angle.
Select one of the "Tile" options to turn your single watermark into an array of repeated ones.
Choose and apply one of the effects from the "Effects" section.
Once you are done with the editing, tap on "Watermark Images" to get to the Output settings.
Remove the blue tick to disable auto-scaling of watermarks, which is enabled by default.
Click on the bar next to "File format" and choose one of 3 options: "Original format", "Convert to JPEG" or "Convert to JPEG and compress". If you choose the last one, your watermarked copies won't take up a lot of memory space on your phone, and at the same time, they will look just as good as the originals.
In the "Resize images" drop-down menu you will find the following options: "No", "To fit width", "To fit height", "To fit into rectangle", or "Percentage". Depending on your choice, enter the necessary dimensions or percentages.
By tapping on the "Preview Watermark" button, you will open the preview section, where you can click through your photos to check how your watermark looks on each of them. Change your watermark's position by dragging it to a different place within your image. If necessary, change its size and opacity using the "Size" and "Opacity" sliders.
Once you're happy with the results, exit the Preview section and click on "Watermark Images" to start the watermarking process.
Your watermarked copies will be saved to your gallery automatically, but you can also tap on "Share Images" to share them to your social media platforms or messengers right away.
All done!
Watermarking your images has a lot of advantages; it can both protect them from being stolen as well as act as an ad and get your name out there. You don't need any editing skills to use Visual Watermark, because it is user-friendly, straightforward, yet effective. Our mobile app allows you to add your text or logo to your photos no matter where you are, and share your watermarked copies with your friends and customers right away.