In the past, it took a lot of effort, hard work, and, often, money to get people to see your art since there weren't many options of where you could display it. Nowadays, you don't even have to leave your house to share your works with the world; just tap a few buttons and send your images roaming the Internet.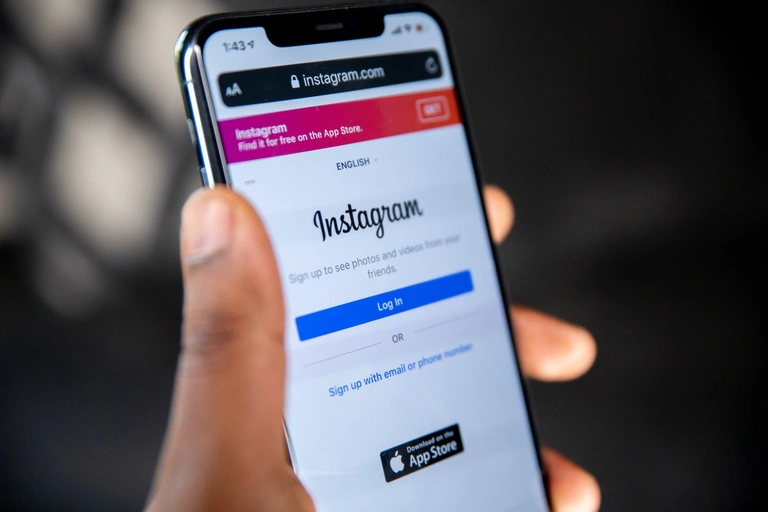 Instagram has nearly 1,3 billion active users from all over the world. Through this app, you can meet and bond with like-minded people, who will become your dear friends and most ardent supporters. It provides great opportunities to turn your passion into a profession by getting brand deals and finding new customers. This platform has helped hundreds of people to realize their dreams. Instagram has drastically changed the business scene and our lives in general.
However, the bad came along with the good, because this platform has also made it very easy for people to steal art. Fortunately, watermarks can protect your creative works and get your name out there, at the same time.
Image theft is alarmingly common on Instagram, and it usually happens for two reasons: to gain attention or to gain money.
Firstly, some people want to grow their accounts, but they don't want to put their time and energy into honing their photography skills. Why would they, when there is an easier and quicker solution? They can just rip off photos from different photographers and pose them as their own.
You might think that stealing an image from Instagram is tricky and difficult because there is no "Download" button. But in reality, an array of apps had been developed specifically for downloading photos from Instagram; the whole process takes just a couple of minutes. Yes, these people don't steal pictures to make a profit. Their theft isn't going to bring them any money. But they are still breaking the copyright law, while also getting exactly what they want. Believe it or not, sometimes big feature accounts, that are dedicated to a certain topic, notice stolen photos and post them on their feed, giving the credit and driving followers to the wrong person.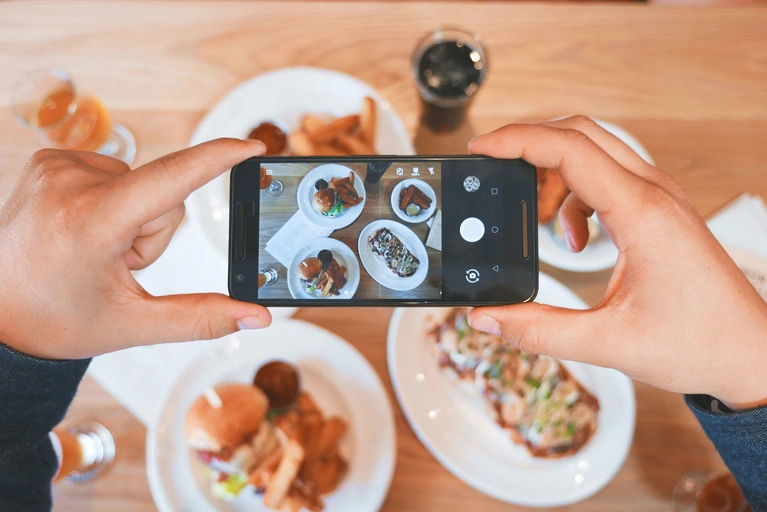 Secondly, Instagram is flooded with truly breathtaking and stunning visual content, and some businesses love to take advantage of that in a bad way. You'd be unpleasantly surprised how many cases of companies stealing a creator's artworks there have been. They put the stolen photo, painting, or design on their clothes, bags, and other merch, then put them up for sale. In this instance, it's not just about the copyright. The artists have put a lot of hard work and time into their creations, but they will get nothing. All the credit and all the money will go to the thieves.
If you think that you are in no danger, because you have a small following, you might think again. Unfortunately, companies tend to steal from small creators, due to the fact that they have small communities. Hence, the chance of them finding out about theft is quite slim. Yes, it's possible that one of their followers or the creators themselves will come across a T-shirt or a bag with their stolen artwork. But it's going to take a while, and in the meantime, the company would already make some profit.
No matter what goals image thieves pursue, you can add watermarks to your photos to deter them from stealing your work.
Nevertheless, not everyone on Instagram wants to rip off your visual content on purpose. Pinterest is another popular platform, where people save images to their boards for ideas and inspiration, including photos from Instagram. And sometimes things can get glitchy. It may lead to a person saving your work without any clickable link to your account. Another scenario is a Facebook community sharing your photos without asking for your permission or giving you credit, yet stating that they hold no copyrights to them. In both of these cases, your works are going to float namelessly in the vast ocean of the Internet, which may cost you some potential clients.
A watermark with your name, logo, or contact information on your images will make sure that people know who the author is and give them the opportunity to find you.
Our standalone mobile app for iOS and for Android can batch-watermark your photos for Instagram within a couple of minutes. It includes all the necessary tools to design your ideal watermark. It allows you to add a multi-line text and adjust its alignment as well as the amount of space between the lines. No matter what font style you prefer – calligraphic, futuristic, minimalist, quirky, or classic – you are sure to find it in our library of 1000 fonts.
If you don't want a textual watermark, you can select a logo from our collection of icons or upload your own and remove its monochrome background by clicking on the "Remove background" button. In our mobile app, you can make your watermark big or small, position it anywhere within the image, rotate it to any angle, and set the level of opacity. We have a great selection of colors with several gradient options. By enabling the tile feature, you will fill up your entire image with repeated watermarks, which will guarantee maximum protection.
In the Output settings, you will be able to choose the quality of your watermarked copies as well as resize them. You can also select if you want to auto-scale your watermark or not. If you have a mixed batch of horizontally and vertically oriented photos, you can reposition your watermarks as well as change their size and opacity in the Preview section; watermarks on other photos won't be affected.
Download Watermarkly for Android
Instagram is an insanely popular platform that has all kinds of people – good and bad. For this reason, watermarking photos that you post there is important and, sometimes, even crucial. Placing your name or logo on your visual content will ensure protection of your works from evildoers with malicious intentions or accidental thieves. It can also help with promoting your art by tracing your potential clients and admirers back to your account. With our app you can watermark your images quickly and easily, while also having some fun during the editing process.
How to watermark your images for Instagram:
Open the app and upload your photos by clicking on "Add Images". Tap on "Clear Images", if you want to remove all the uploaded photos from the app. If you want to remove a single image, tap on it, then tap on the cross that will appear. Click on "Next Step".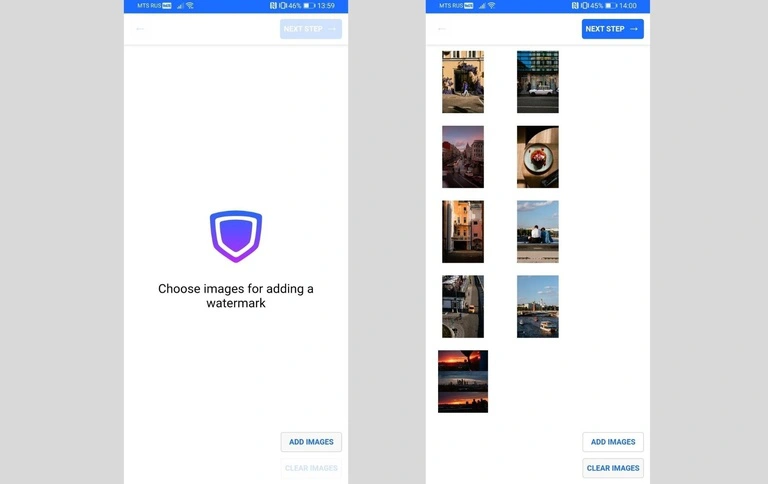 Tap on "Add logo" to add a logo. Choose "From Gallery" to select one of our icons or "From My Phone" to upload your own logo.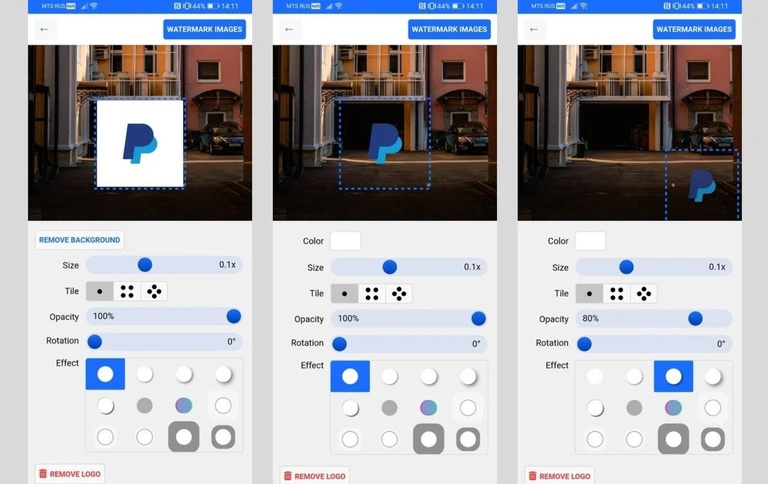 If you want to add a text, click on "Add text". You will see the word "Sample" appear on the screen. To change it, click inside the "Text" input area, erase the word, and type in your text.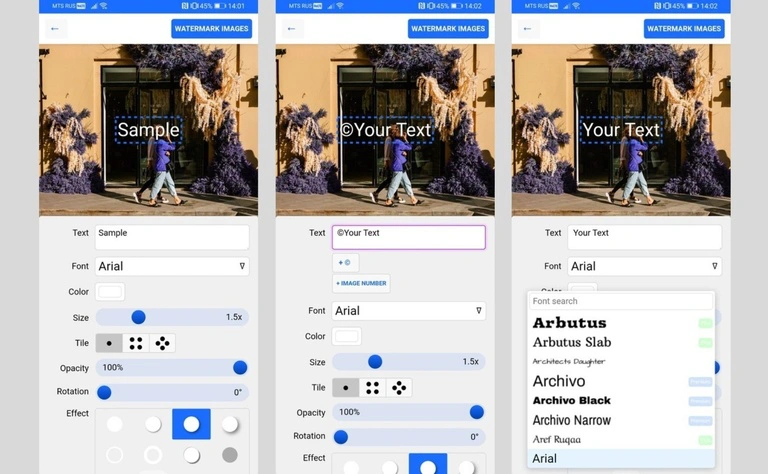 Tap on the "Font" bar to open the drop-down menu. If you know the name of the font you want, you can type it into the "Font search". Click on the rectangle next to "Color" and select a color that you like.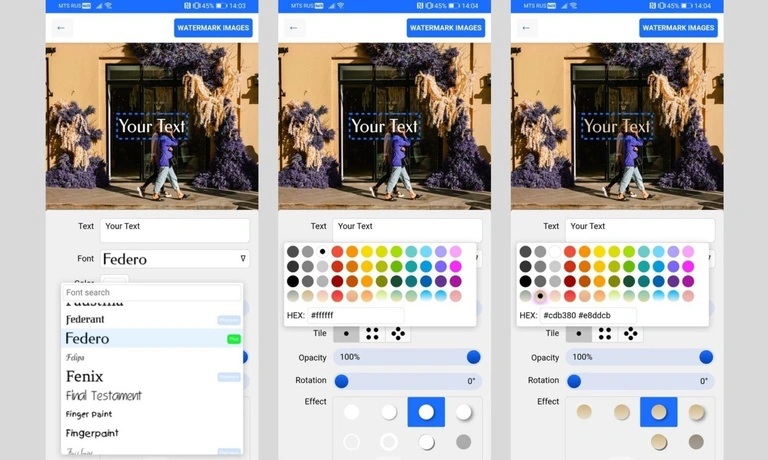 You can change the size, opacity, and rotation by adjusting the "Size", "Opacity" and "Rotation" sliders. Tap on one of the four dotted icons next to the word "Tile" to fill your image with repeated watermarks. The square-looking option will produce a parallel tile, while the diamond-looking option will result in a checkerwise tile. Choose one of 33 effects in the "Effects" section.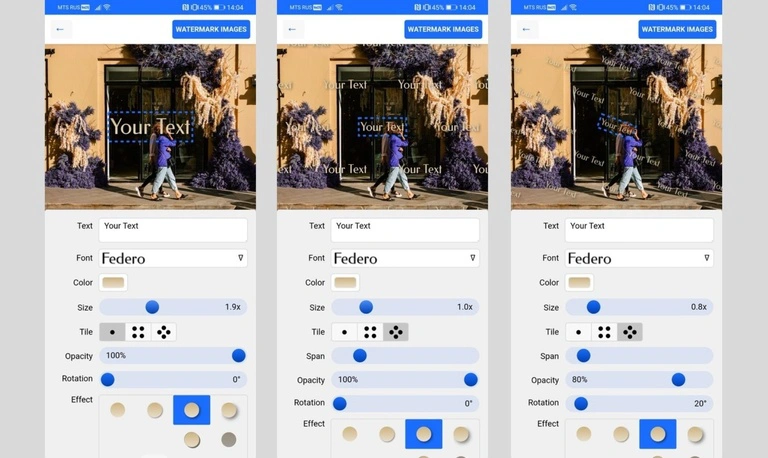 Once you are done with designing your watermark, tap on "Watermark images". Auto-scaling of watermarks is enabled by default, but you can remove the blue tick to disable it.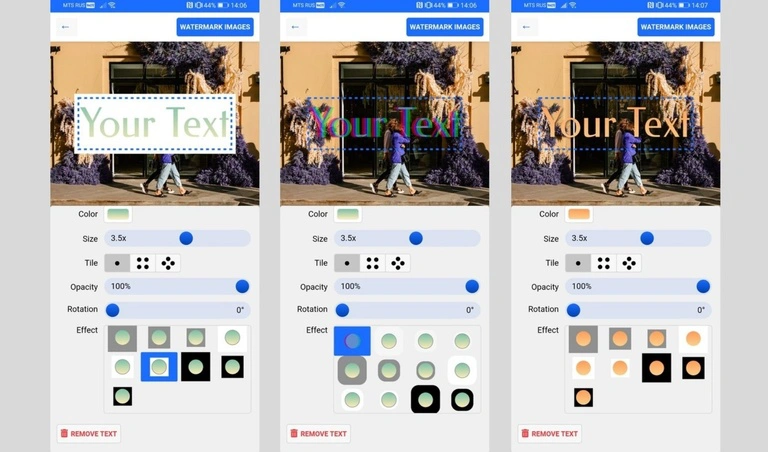 Click on the bar next to "JPEG Quality" and select one of four options: Maximum, Superb, Good, or Medium. Tap on "Resize images" and choose one of the options: No, To fit width, To fit height, To fit into rectangle, or Percentage.
To go to the Preview section, click on the "Preview Watermark" button. Click through the images to see how your watermark looks on each of them. Drag your watermark to a different place to change its position. Adjust the "Size" and "Opacity" sliders to change size and opacity of your watermark. Tap on the purple cross in the top right corner to exit the Preview section.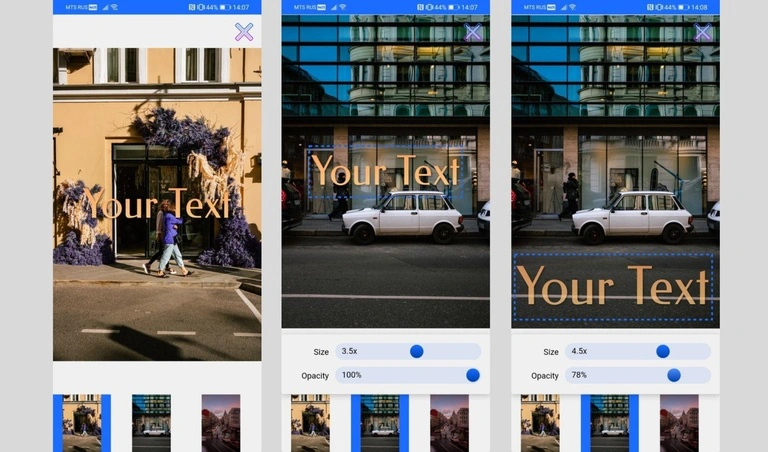 Click on "Watermark Images" to start the watermarking process. Your watermarked copies will be saved to your gallery automatically. To send your watermarked photos directly to your Instagram, tap on the "Share Images" button and select "Instagram Stories" or "Instagram Post".
You're done!