In the world overflowed with visual content it is hard to grab the attention of seen-it-all viewer. Fortunately, a witty phrase or an inspirational quote can do the trick. Intertwining the art of word and the art of imagery has proven to be quite effective in making your works stand out. It's not as difficult as it may seem and there are tons of tools to help you. Take a look at the list of the best apps for adding text to photos.
How to Choose an App to Add Text to Photos
Despite the fact that each app on our list is accompanied by a comprehensive description, it won't come as a surprise if some of you may still struggle with choosing the right online tool to use.
We recommend answering the following few questions, before we dive into exploring the best Add Text to Photo apps:
What kind of result would you like to achieve? This question is quite important, so give it some thought. Do you want to add any effects to your text? For example, a subtle shadow to make the text stand out. Should your text be of one solid color or gradient? Are you looking for the ability to repeat your string of text throughout the entire image? A set of tools in apps tend to vary. Therefore, you need to determine what you need to narrow down your search.
What device will you use to add text to photos? Some apps have only the offline desktop versions, while others are available across all devices – computers, tablets, mobile phones. If you are an Android user, you might've run into an issue when some cool app can work only on iOS phones. Once you determine what device you are going to use, you will study the descriptions more carefully and filter out all the unfit options.
Are you familiar with image editing programs? As it has already been mentioned, different apps offer different sets of tools and features. Some of them are complex and more suitable for professionals. But there are also apps that are designed for everyone, including people who have never done any image editing before.
Have you found the answers to these questions? Great! Then, it's time to learn about the best apps to add text to photo. We are sure that our list will help you find exactly what you're looking for.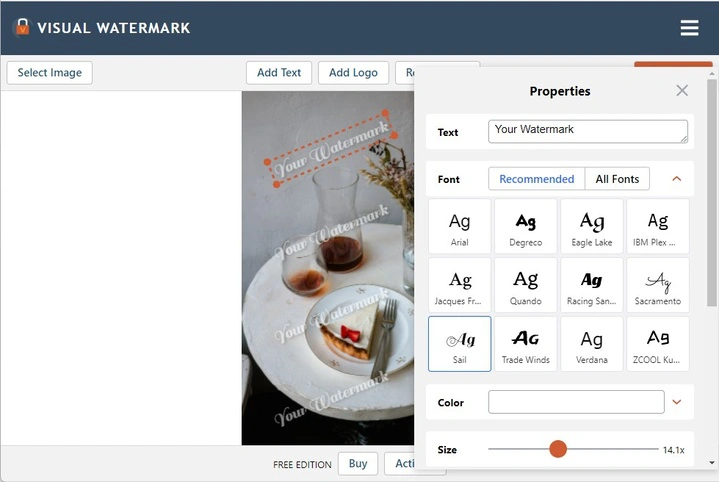 You may be surprised, but you don't have to use Visual Watermark for only creating watermarks. Essentially it is an effective, easy-to-use typography editor, which is perfect for a quickly adding a text to your photo. All you have to do is import your photos and begin working straightaway.
You can add a text, a logo or a group of both. If you've chosen the latter, you can customize the group as a whole or its elements separately. There are more than 926 built-in fonts - quirky, classic, funny, minimalistic, bold. You are sure to find exactly what you need. Although, if nothing had caught your eye, you can always use your own fonts - all you have to do is install them on your computer. As for adding a logo, you can choose one from the collection or import your own.
Would you like to make your text more tridimensional? The shadow effect is perfect for that. Do you want to make to add a gradual change of color? No problem! Visual Watermark allows you to use two effects simultaneously. Also, you can enable a tile option to fill the entire image with your text and adjust its span. Visual Watermark's straightforward interface will help you achieve some great results without wasting too much time on thinking how everything works. Now you can apply text to Videos as well!
Visual Watermark works on both Mac and Windows. There is a free trial version, but it watermarks your finished images until you buy the full version. You can choose from three one-time payment plans - basic ($19.95), plus ($29.95) or premium ($39.95).
Pros:
There is a free version in which all tools are available.
The application works online through a mobile browser on a computer/laptop/smartphone.
The program interface is simple. Even a user without any experience will understand it.
The app has various editing tools.
Can upload photos from computer and cloud storage.
Cons:
If you work in the free version, the signature appears at the bottom "Protected with Visual Watermark" when you save the picture.
Not all fonts are available without a subscription.
Instasize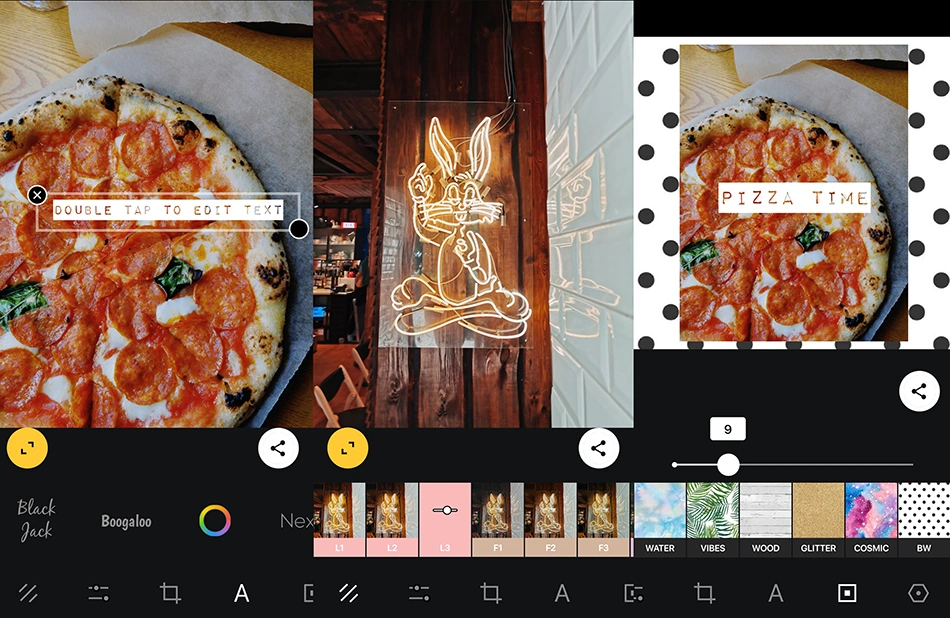 If you don't want an app that is solely focused on typography, Instasize is exactly what you need. This is a full-featured editing app that is perfect for Instagram and TikTok lovers and anyone who actively promotes their business on social media platforms since it works both with photos and videos.
Their editing toolkit includes more than 20 different, engaging fonts that will suit nearly any style: vintage, neat, quirky, or elegant. Add as many blocks of single or multi-layered text and drag them to any place within the image; it's all possible with Instasize!
This all-around app offers a broad selection of stylish, adjustable filters as well as all the basic editing tools such as exposure, sharpness, saturation, and contrast to make your masterpieces look even more captivating. There is a feature of adding borders, too. You can opt for one of the patterns from their diversified library, select your own photo or use a plain, monochrome color for a more clean, polished look.
Instasize has a free version and is available for iOS and Android. However, to tap into its full set of features, you will have to buy a monthly subscription to Premium for $4.99. Premium users get access to all the border patterns, fonts, and filters as well as new tools that are constantly added by the developers. If you want to make sure that this app suits your needs, there is a 7-day free trial.
Pros:
The quality of exported images is perfectly preserved.
There are various additional functions for editing photos.
You can create different collages.
Cons:
No photo retouching.
Some features are only available with the purchase of a paid version.
Phonto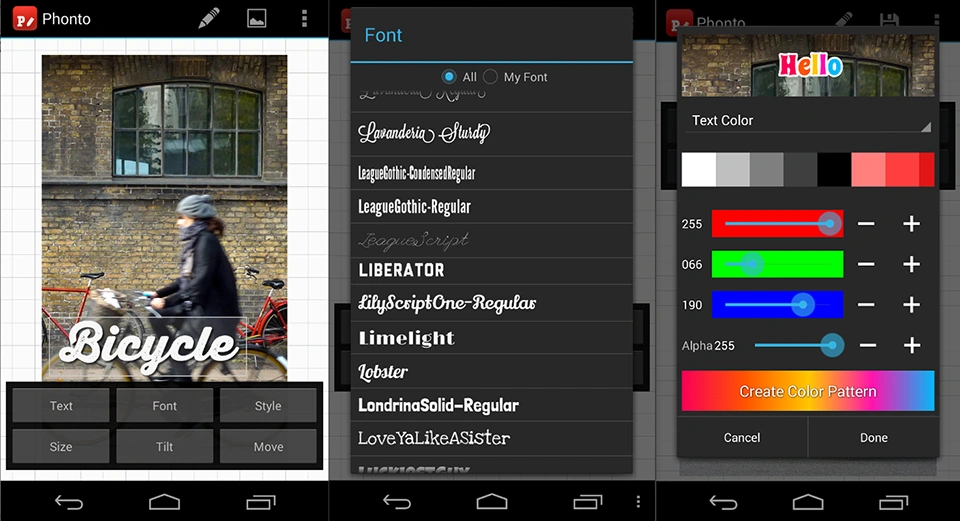 It is brilliantly designed, user-friendly app for adding text to your photos, which is available for both Android and iOS. It is very easy to use: snap the shot or import an image into the app, add the text and tweak it to your liking. Phonto offers 400 built-in fonts; with this vast collection you are sure to find the perfect one for your photo.
In addition, it is possible to import your own fonts to the app. Another interesting feature is the ability to add text in thought babbles, placards and some other funny shapes. You can move elements around, tilt them, change the size with your fingers or the arrow keys. Phonto allows you to curve the text or erase parts of it. Plus, when you're done, you can share the finished product on your social media straight away. As of now Phonto supports only English (US), Chinese and Japanese.
The app is free to download, but there are a few in-app purchases that you want to consider: Ad-Free version ($2), Phonto Image Pack ($2) and Text Style Kit ($1).
Pros:
Great for beginners.
More than 400 fonts are available.
You can change the angle of the text.
There are various ready-made templates.
Cons:
You have to pay for some features.
Pop-up ads.
PicLab - Photo Editor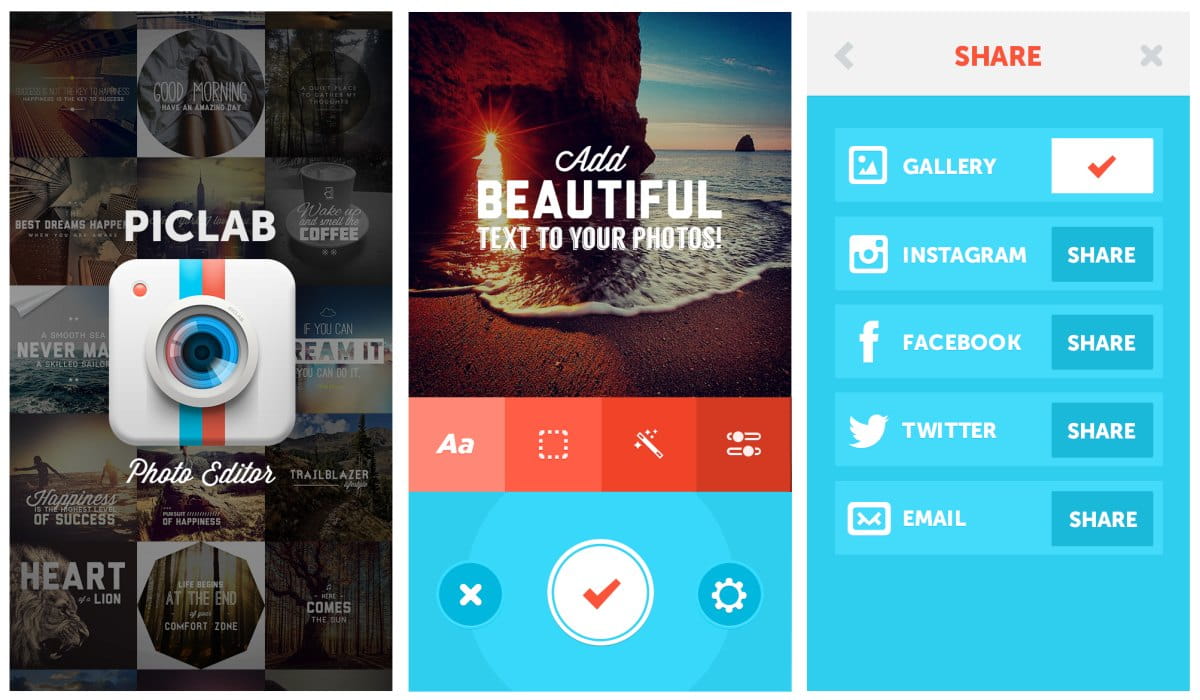 This is a full-fledged, all-in-one editing photo-app, which allows you to add text to your photos among other features. Aside from typography, you can also add textures, borders or throw one of their 20 creative filters on your images.
The app allows you to resize, rotate ,adjust opacity of the text and use multiple text layers to create a stunning masterpiece. Moreover, if you want to showcase your writing to make your image more personal, there is a drawing tool featured, which can help with the task at hand! The most notable feature, though, is the ability to create collages, using Phontos's great selection of collage templates, and add text on top of it.
Available on both iOS and Android the app itself is free. However, the free version adds the PicLab watermark to processed images, which you can get rid of by paying $2. On top of that, you'll have to pay around $15 to unlock the entire bundle of features.
Pros:
An all-around photo editing application.
Layers are available, so you'll have more control.
There are built-in layouts and templates.
Cons:
In the free version, a branded watermark is added to each photo.
The app may take up a lot of space in your phone's memory.
Font Candy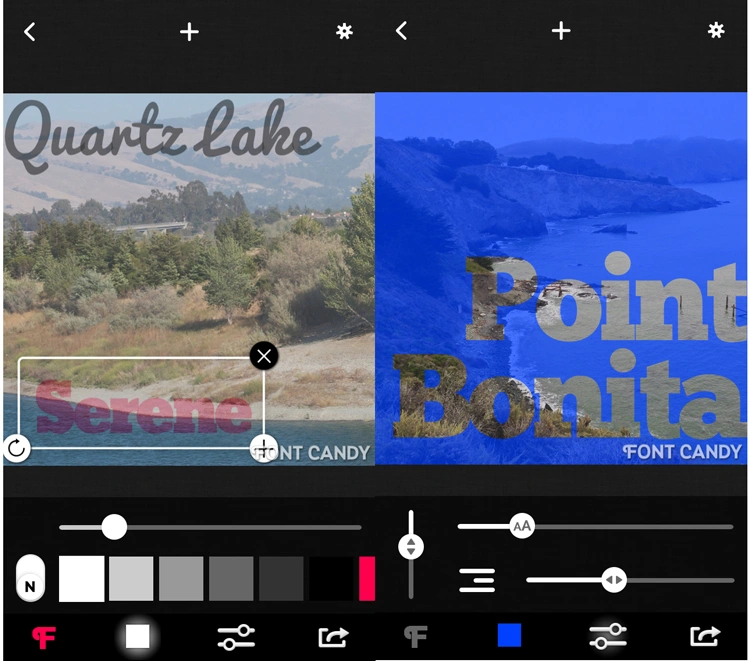 This app, which is available only on iOS, has a wide range of photo-editing features, yet it focuses its main attention on typography. Font Candy makes it easier to express yourself in a creative way and add something extra to your photos with eye-catching texts. There are over 45 artistic fonts at your service paired up with powerful text editing capabilities, which include text curving, opacity controls, and shadow.
There are built-in Artworks and Quotes designed for you along with some fun animations, in case you want to make a quick, yet striking edit. Font Candy allows you to save designs and watermarks to the app, which will make your editing faster and simpler. The Masking Tool will help you create stunning effects like placing pieces of an image into letterforms for that artistic, old-fashioned look. Isn't that cool?
You can download the app for free, however you will need to make some in-app purchases in order to enjoy its full potential. Also, a small watermark will appear on your photos if you keep using the free-version. Removal of the watermark will cost you $0,99, while you'll have to pay $1,99 for Pro Subscription.
Pros:
45 fonts.
There are built-in animations and text templates.
A masking tool is available.
Cons:
Can only be installed on Apple devices.
Over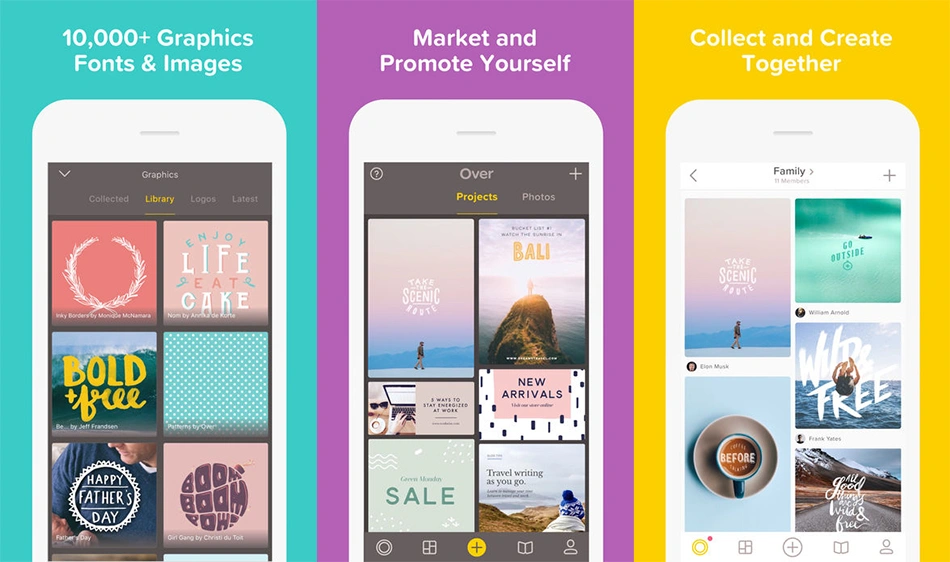 The reviews in the AppStore - unfortunately, Over is only for iOS - clearly show how much users love it. Currently it is rated number 65 in Photo&Video and there are several reasons for it. Over has a brilliant gesture based navigation and a great selection of tools to create an amazing text.
Over is one of the most versatile mobile typography apps out there. You can add a text or an artwork, pick a template or start from the scratch. Over works with both photos and videos and allows you to customize color, opacity, size, kerning and alignment.
There is a vast choice of templates, graphics and fonts, created by brilliant designers and branding experts. Obviously, you can share your photos on the social media, but Over also offers scheduling. You can schedule when your post is going to be published, which is an incredibly useful tool for busy people.
The app is free to download with some in-app purchases. Over Pro offers two auto-renewing subscription options: $14.99 per month and $99.99 per year.
Pros:
Easy navigation.
A large number of tools for editing.
There are various templates.
Cons:
Typic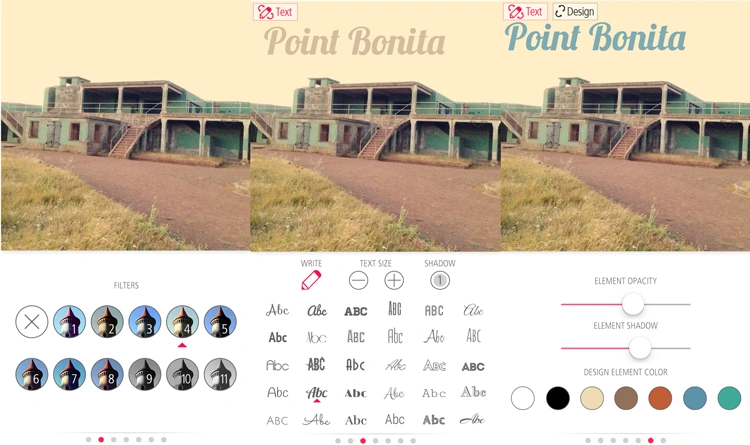 This professional, iOS-based typography app has around 5 million users and has a high customer satisfaction rating in AppStore. Typic offers you more than 500 artworks and over 300 fonts along with filters, light leak effects and frames. Their functional Tool Kit will definitely inspire you to create a true masterpiece.
With this app you can make a meme or a greeting card as well as breath-taking artistic pictures. One of its notable features is adding your logo to your photos; Typic allows you to add up to 4 versions of your company or personal logo, which you can store in the app and use to sign all your photos. This cool feature is great for promoting your business!
Overall, Typic is a useful, user-friendly and highly-functional app, which will cost you $3,99. It is a good value for money.
Pros:
Over 300 fonts for you to use.
You can use various effects and add a logo.
Ready-made templates are available to users.
Cons:
The interface may seem complicated for beginners.
For iOS only.
Word Swag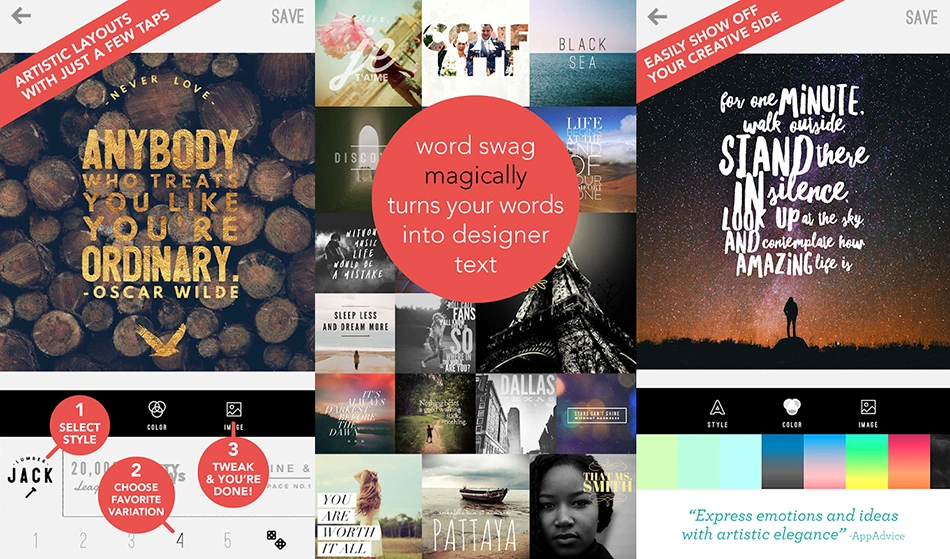 If you want to add some swag to your images, Word Swag is the answer to your prayers. This app includes hundreds of captions and 1.3 million completely free backgrounds from Pixabay along with some eye-catchy text effects like gold foil, stamp and watercolor.
There is a large collection of graphic fonts designed by world-class artists. Word Swag offers the freshest font and layout combinations, making it easier for you to create a beautiful piece of art. It is a perfect tool for bloggers of any caliber. You can put logos on your images or make high resolution graphics for printing, however, these notable features are only available in the pro-version.
Word Swag is easy to use. All you have to do is select a style, then choose a variation and pick a color; that's it! You can also choose the transparency and the brightness of the background.
Probably, the only drawback of this app, available for both iOS and Android, is the price: it costs $4,99. But Word Swag is worth it.
Pros:
Includes popular templates for social media.
Great for influencers and bloggers.
Allows you to create high resolution graphics.
Provides a large number of fonts.
Cons:
Many features are only available with a subscription.
GIMP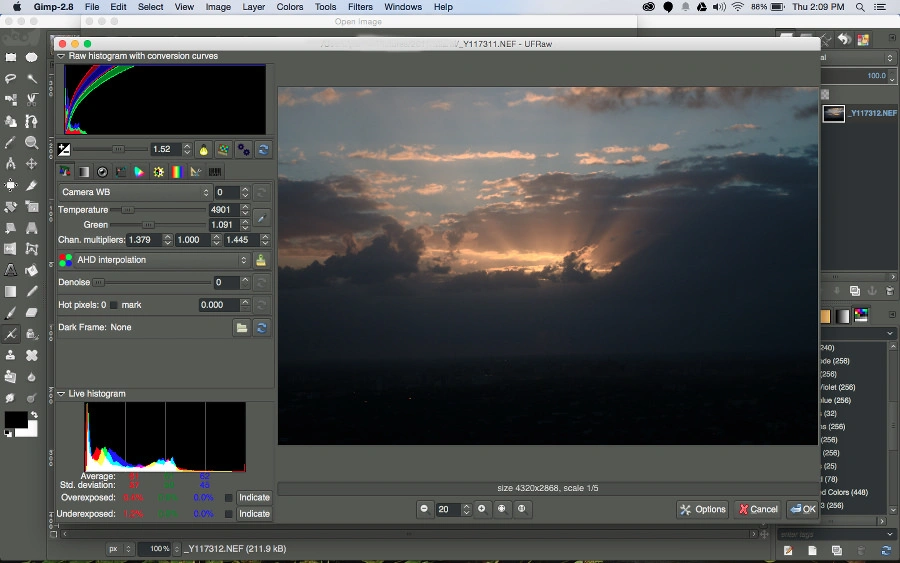 GNU Image Manipulation Program (GIMP) is a free image editor available for GNU/Linux, OS X, Windows and more operating systems. You've probably already heard of it ones or twice, because it is basically a counterpart of Photoshop without annual subscription. Consequently, you will have a wide-range of tools at your disposal, including typography related ones. GIMP will help you achieve great results and you will be able to manipulate your text and graphic designs in all ways possible. It sounds amazing, but GIMP has the same problem as Photoshop - it can be a bit challenging to work with and requires some knowledge.
In order to add a text to your photo will have to do the following:
Open your image.
Select the Text Tool by clicking the Text tool icon from the main toolbox.
Click within the image, where you would like the text to appear.
Enter the text. At this stage you can also manipulate the text however you want.
Would you like to change the font? You'll have to select your Text layer and make sure that the Text tool is still selected on the main toolbox as well. Then go to Dockable Dialogs - Tool Options to open the Tool Options dialog. There you can change the font and tweak the settings of your text.
Overall, If you have some experience with graphic editors, GIMP might be the chose for you.
Pros:
The program is free for everyone.
Provides a large number of tools for professional image editing.
Cons:
Not suitable for beginners.
Wondershare Fotophire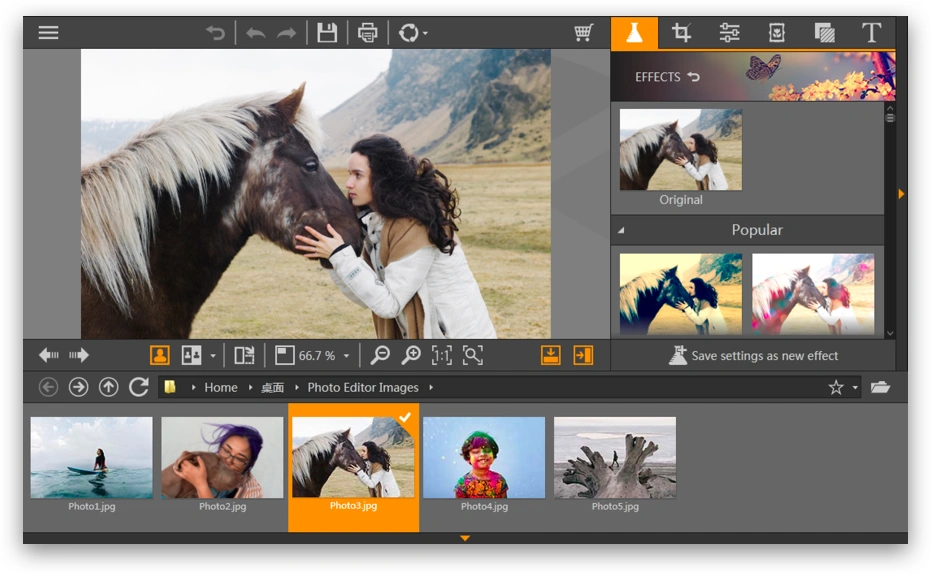 Wondershare Fotophire Editing Toolkit is the editing software available for the windows OS. The Toolkit offers you Photo Editor, Photo Cutter and Photo Eraser, but you'll only need the Editor to add text to your photo. The interface is straightforward and doesn't have a lot of bells and whistles to distract you. As it is an actual photo editor, you can apply filters, work with colors and add frames. There are some great blend modes and artworks to work with. On top of that there is a batch processing feature, which will make the exporting of your images easy and quick.
Adding text in Fotophire is rather easy too. Once you've opened your image in the Photo Editor, head to top right side of the interface and click the large "A" button. Select the desired font and click on the area where you want to add text. Write the text in the textbox. All done!
This windows software can be directly downloaded from Wondershare website without any cost. But the trial version runs for a couple of days and then you will have to buy the full version. Lifetime license on a single computer is $79.99, while the one-year subscription costs $89.99. Unfortunately, the Mac version is yet to be developed.
Pros:
Simple and uncluttered interface.
A complete photo editor with a variety of features.
Batch processing of pictures is available.
Cons:
Free version is provided for a few days.
Canva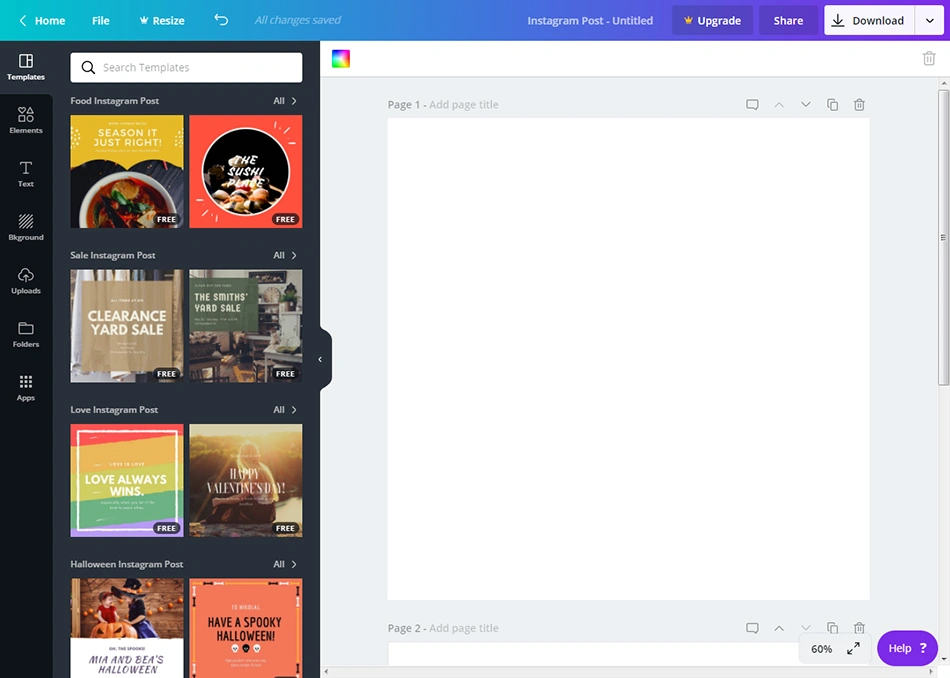 Canva is an online app with tons of filters and design tools to ensure your images look incredible. You'll have to create an account to use it, but setting it up is not going to take a long time. In order to add text to your photo all you have to do is click on "Add text" and customize it to your liking.
Canva offers pre-designed templates of quotes and words, but you can always make your own headlines. Aside from a great collection of different and popular fonts, what's more interesting is the ability to blur your background photo. That way your text is sure to stand out and draw attention. In addition to everything mentioned above, Canva has tutorials on their website, which will make you get a hang of things pretty quickly.
Canva's basic platform is free. However, its potential is limited. There are two more packages: "Canva for Work" - $12.95/month or $119.40/year plus a 30-day free trial - and "Canva for Enterprise", but you'll have you contact Canva to get more information about the pricing.
Pros:
A lot of fonts and text templates are available.
There are various tools for working with text.
Many features are available in the free version.
You can work with images of different formats.
You can immediately share pictures to social networks.
Cons:
You can change the size of the picture only if you purchase the paid version.
You need to create an account to use the app.
Why You Should Add Text to Photos for Social Media?
This section will be helpful for those who promote their services/products on social networks.
You can add text to the visual content that you publish on different social media platforms to:
Inform your audience about the topic of the post. For example, you can write "Top 5 useful tips" on the picture. This will prompt people to stop scrolling and read your post.
Announce something. When bloggers do giveaways, they tend to add the word "Giveaway" to the photo that accompanies the post. It draws the attention as well as helps followers to easily locate the post in the blogger's profile.
Share the wise thoughts of great people or tell a joke. Who doesn't love beautiful pictures with inspirational or funny quotes, right?
Tell people about the prices or features of the product/service. Thanks to this, you won't have to answer the same questions over and over again. For example, if a new client asks about your pricing, you can just send them the link to the post. This information will also filter out people who aren't your target customers.
Designate a certain status of the goods. Let your clients know that something is on sale or, on the contrary, a part of a new collection!
Our list of apps to add text to photos should've helped you with finding the right tool for your needs. However, if you want to design something original and eye-catching for your social media, but still haven't picked an app, you can start with this free online tool. Just go to its webpage and start creating!
Conclusion
The ways of using text on images are limitless. You can make posters with inspirational quotes or calls-to-action for your social media, announce news or drive more traffic to your blog posts. You can create a thumbnail for your YouTube video with the help of Canva, for instance; you don't even have to download it.
Take a look at mobile text-editors, if you are always on the go. You can make a stylish image for your Instagram right on your phone while having lunch or going to work. For those, who like simplicity and user-friendliness paired up with efficient functionality, we recommend Visual Watermark. Adding text puts a new spin on your images and it can be done on whatever platform is more suitable for you. We hope our list would be of great help. Good luck!