The internet had become a vast, international platform for artists. There is no need to rent a gallery to showcase your paintings. There is no need to limit yourself to one particular area, when you can reach out to hundreds and thousands of people all over the world.
All you have to do is to post your paintings on the suitable platforms - like DeviantArt or Instagram. It sounds amazing - and it is - but the downside of being exposed to such a large community increases the chance of your work being stolen. There had been cases when a popular b rand of clothing steals an artist's painting and prints it on their piece of clothing without giving any credit to the author. Usually, it happens to artists with a small following, who don't have enough popularity and resources to fight back. But don't be afraid. There is a solution. You need to watermark your paintings before posting them online! Sounds interesting? We have compiled the list of 6 best apps for watermarking your pictures.
Visual Watermark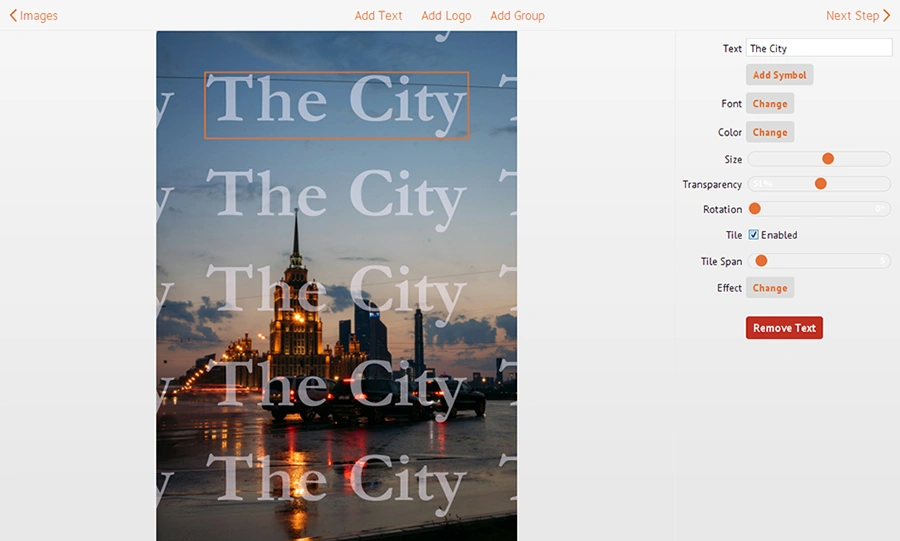 Visual Watermark has a simple, uncluttered and intuitive interface, that you will easily master in a matter of minutes. There are more than 926 built-in fonts, plus the ones that you already have on your computer. If you found an interesting font on the internet or you have a font designed for you, all you need to do is to install it on your computer and it's going to automatically appear in the app. This means you can create a perfect watermark for your picture.
In addition to 60 built-in logos/icons, it is possible to import your own. There is the editing toolkit that includes adjusting size and color, rotating your watermark. On top of that, to make your watermark look more interesting and coherent with your painting, you can add a shadow effect or gradient, or both at the same time! In order to move your watermark you can use two options - either adjust it by using arrows on your keyboard or by clicking with your mouse on it and then dragging it to the desired position. If you plan on watermarking multiple paintings at once, Visual Watermark has the batch processing feature and you don't have to worry about your pictures being all the same size. If there is a smaller or larger file in your batch, the watermark will be automatically scaled down. Last, but not least - Visual Watermark offers protection against automated watermark removal, which is essential for artists, who spent hours of hard work creating their masterpiece.
Visual Watermark is available on Mac, Windows, iOS and Android. You can choose from three one-time payment plans - basic ($19.95), plus ($29.95) or premium ($39.95). There is a trial version for you to get a taste of the app.
Download Visual Watermark for PC or Mac Run Visual Watermark for Android and iOS
Star Watermark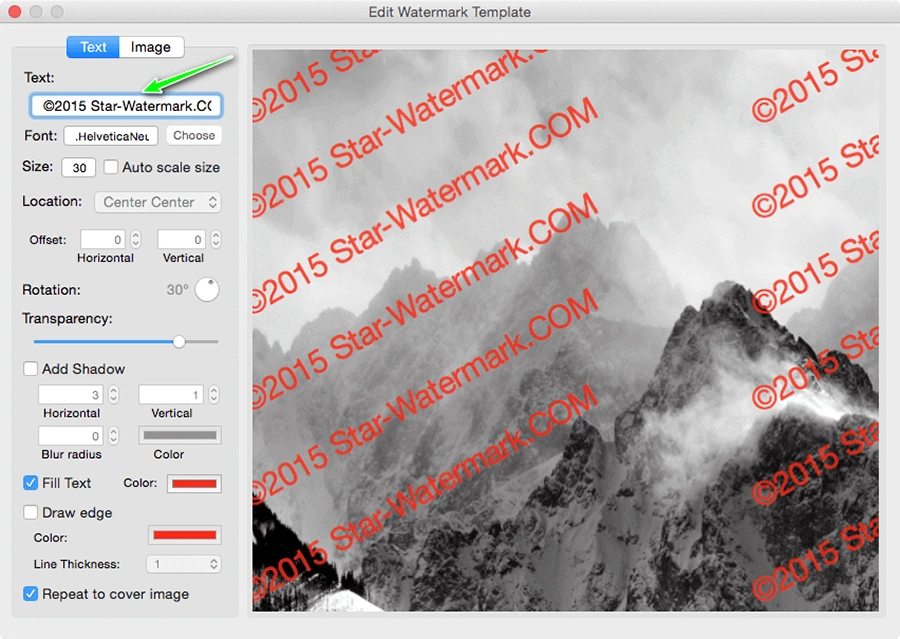 Next on our list is a desktop watermarking app available on Mac and Windows. Star Watermark allows you to add a text or an image watermark, which you can then customize to your liking by modifying color, size, orientation and the angle of rotation. Unfortunately, in this app you can't simply drag and drop your watermark to a desired place - you need to chose an option from 9 predefined positions. Some alterations are measured by pixels, allowing you to be as precise as you want. However, it may be confusing for some users. The choice of fonts is decent, yet limited. The problem is that you can see only the names of the fonts, but not how they actually look like before applying to your watermark. The interface consists of a lot of settings and buttons, and can be puzzling to novice users.
Star Watermark offers some effects that you can add to your watermarks along with the flexibility to adjust them. For instance, you can choose colors for the Gradient effect separately. The app works with the following formats: JPEG, BMP, PNG and TIF.
Batch watermarking is also available in Star Watermark. There are three versions - Free, Professional ($18,99) and Ultimate ($28). The Free version has an incredibly limited toolkit - it includes only 8 basic features out of 19 total. Professional version offers all the features except for adding multi-layered watermarks and gradient text - these can be found only in the Ultimate.
Download Star Watermark for Mac
Download Star Watermark for Windows
Mass Watermark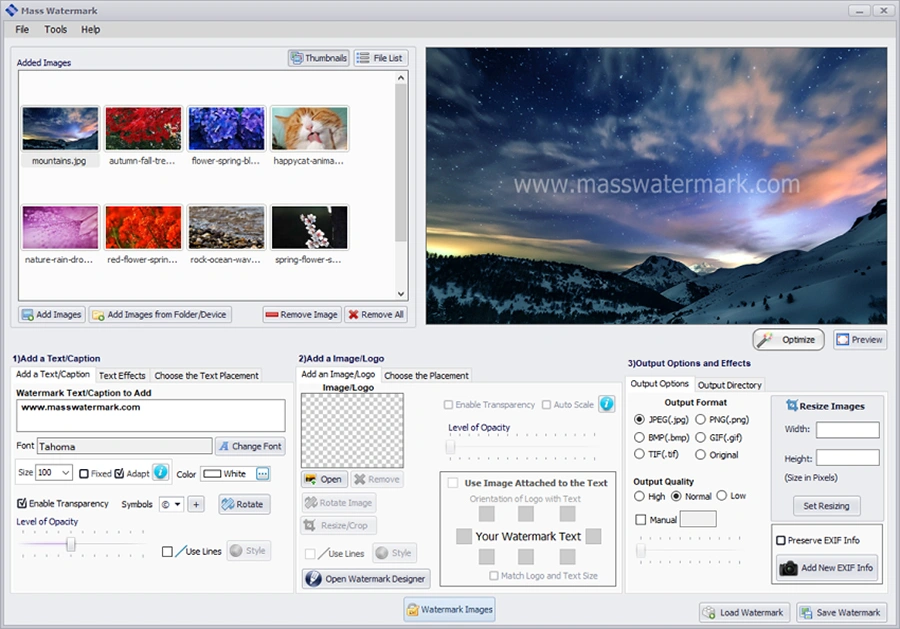 MassWatermark is available for both Mac and Windows and has only one paid version, which costs $30. There is a trial version, if you want to test the app first and see if it fits your needs. Mass Watermark does not have much of bells and whistles, but it can offer you everything necessary for protecting your painting from theft. With this app it is possible to add a text or an image/logo to your picture, but there is no option of adding layered watermarks. You can choose one of the preset placements of your watermark, just like in the previous watermarking app, or position it manually.
The Inbuilt Watermark Designer offers basic editing tools such as choosing font, color and size of your watermark. The downside of MassWatermark is cluttered interface, which does not allow you to properly see your picture, while you are editing the watermark.
In addition, Mass Watermark has an Image Optimizer. With its help you to lightly retouch your pictures. For instance, you can boost the contrast of your drawing, if it looks a little bland on the screen of your computer. As for the exporting, Mass Watermark allows you to upload your watermarked images directly to Flickr or Picasa - this is a plus for artists, who love sharing their works on these platforms. It can save you some time. There is also an option of creating a zip archive of all the processed files as well as the feature of batch watermarking.
uMark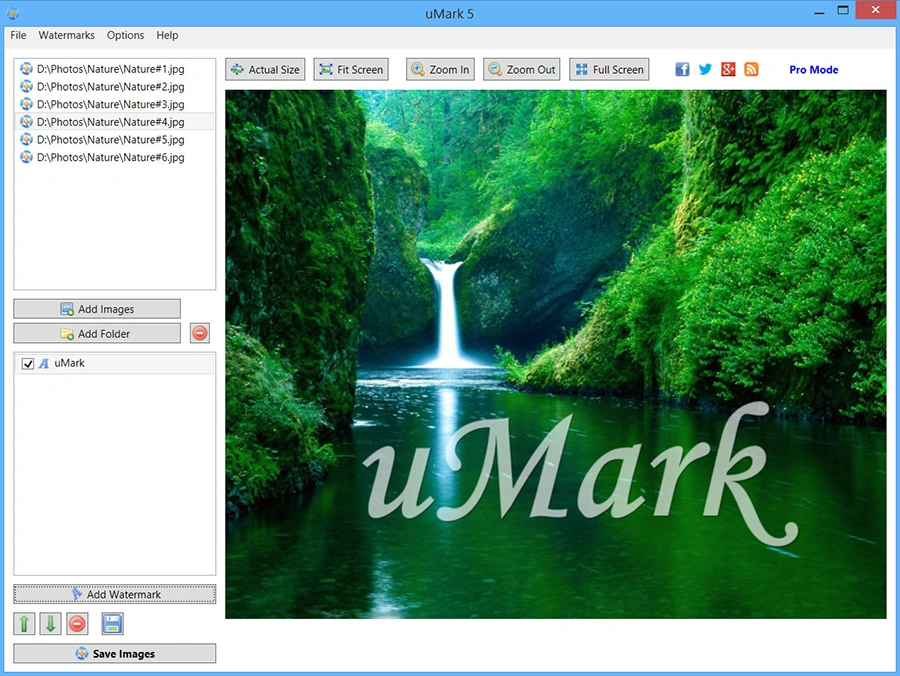 Another notable app is uMark, that is available across all the platforms - Windows, Mac, iOS and Android.
With this app you can add a text or an image to your picture, and then customize it to your liking using the editing toolkit with all the necessary elements like adjusting the opacity and color, choosing the font; there is also an option of resizing your watermark to be proportional to your picture. If you want maximum protection for your drawing, you might choose a horizontal or vertical tile - it makes your watermark fill your entire picture. Now, your painting will definitely be safe from stealing! There are three options of placing your watermark. You can select one of the 9 predefined positions or put the watermark by specifying top, left coordinates or it is also possible to simple drag and drop your watermark. There is a good and varied choice of special characters and fonts, which you can preview before applying. The amount of effects is rather limited and many alterations are pixel-based. uMark can boast with the ability to generate QR codes, which you can fill with your personal information. There is also an option of formatting the date in macros, so now you can type in the exact date of when your pictures were watermarked. In case you want to reuse the template of your watermark later, you can save it on your computer.
Apart from adding watermarks, uMark allows you to add borders onto your drawings - it may be useful to some artists, which love adding something extra to their works. There is a free and Pro version ($29). In the free version, for instance, you can only choose 9 predefined position, whereas in the Pro version the placement is fully customizable.
Salt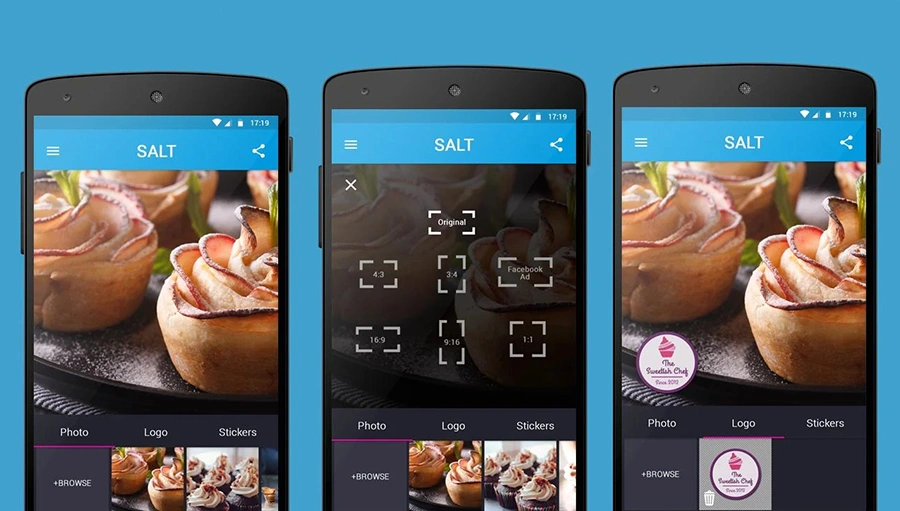 Let's move on to the realm of apps that are only for phones. With the help of Salt you can easily add text watermarks and then select a font from the app's vast collection - they have everything from fancy, handwritten to sleek, stylish and minimalistic. Don't want a text watermark? There is also an option to add a logo - you can choose one of the built-in template or upload your own. However, the customization of a logo watermark is very limited. Positioning of the watermark is convenient as you can simply drag it with your finger to the desired placement. The Salt's toolkit includes everything you might need to make a watermark look pleasing without distracting it from your masterpiece and protecting it at the same time. This app allows you to resize and/or crop your pictures in a verity of sizes: 1:1, 3:4, 4:3, 9:16, 16:9; or you can make them match the Facebook Ads, Facebook Cover, Page Post or YouTube Art format. This is perfect, if you are watermarking your paintings before posting them on social media. In addition, once you're finished with editing, you can share your watermarked pictures on all major social platforms, without leaving the app.
Salt is free to download from Google Play Market. However, as it is mentioned in the reviews, you have to use a credit every time you save a picture. Thus, if you decide to watermark a bunch of your drawings, it might cost you some money.
iWatermark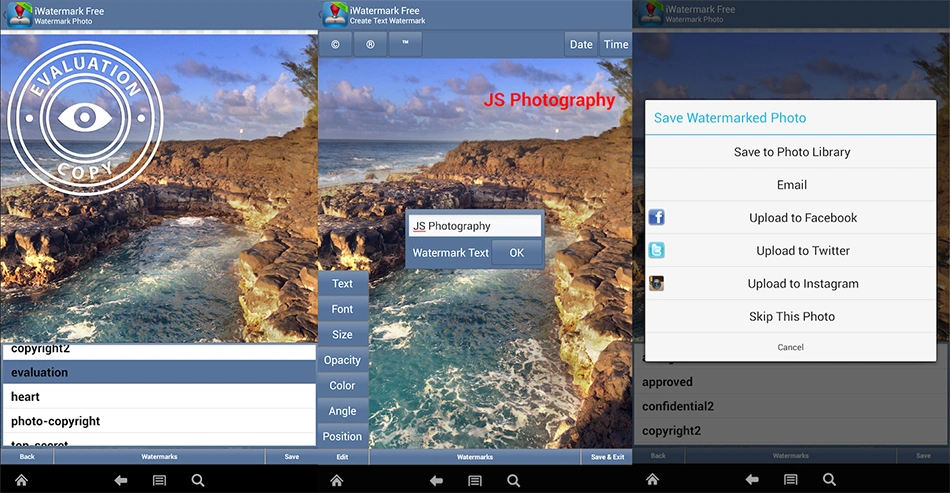 This last app on our list is called iWatermark and is available on both iOS and Android. It allows users to add a text or graphic watermark like a logo or a signature, but on top of that you can also create a QR code to add to your drawings. You can encode pretty much anything
in there: your website or/and your phone number, for example. The beauty of QR codes is that they don't have to occupy a lot of place, while providing a great deal of information. iWatermark allows you to rotate it, change placement and size and choose one of about 150 fonts. You can use pinch/zoom to expand/contract the size of the watermark, while in order to rotate it you will need to touch the screen with two finger; as you can tell, iWatermark is quite gesture-based. However, the interface is not very elegant and sometime counterintuitive.
There is an option of batch processing, so you can watermark a bulk of your drawings at once and iWatermark offers a wide range of direct sharing to social media platforms, including Instagram, Flickr or Twitter. The price of iWatermark is $1.99.
Download iWatermark for Android
Watermarking your pictures is important, if you wish to promote your brand and don't want to see your works being used without your permission. All the apps on this list are good at what they were created for - watermarking pictures. Some are better at refining watermarks to make them fit almost seamlessly into your paintings. Desktop apps are generally more precise, flexible and do not mess with the quality of your pictures, while phone-based ones are an excellent choice who have little time. However, only you can determine which app suits your needs best. We only hope that we managed to narrow down the choice for you.