New York City or as it is also called «The Big Apple» is located on the shore of the Atlantic Ocean. It is a city of hopes and dreams, bright lights and dizzyingly tall skyscrapers. New York City has appeared in multiple American movies and served as a source of inspiration for thousands of photographers. If you are about to go on a trip to this legendary city, you have to be prepared that your hands are going to reach for the camera all the time, because almost every single street in New York City is picture-perfect. In case you get lost in such a diverse scenery, we offer you the list of 8 spots, where you will definitely take the most beautiful and interesting images.
DUMBO
Dumbo is short for Down Under the Manhattan Bridge Overpass and this neighborhood is located in the northwest of Brooklyn, between two bridges - the Brooklyn Bridge and the Manhattan Bridge. At first sight it may seem unremarkable, but many tourists and photographers come here to take the iconic shot. From the Washington Street there is an amazing view of the Manhattan Bridge framed by buildings. Dumbo can also offer you the Empire-Fulton Ferry park nearby the Brooklyn Bridge and if you go to the Manhattan Bridge, you'll find yourself in the Main-Street park. Walking along the waterfront of East River, you can take a picture of yourself with these two worldwide renowned giants. Although, you'll have to do it separately, as the distance between them is rather big. Last, but not least, you should take a look at the Archway under the Manhattan Bridge - there you can find different installations, which change all the time. You won't leave this place without a couple of great shots under your belt.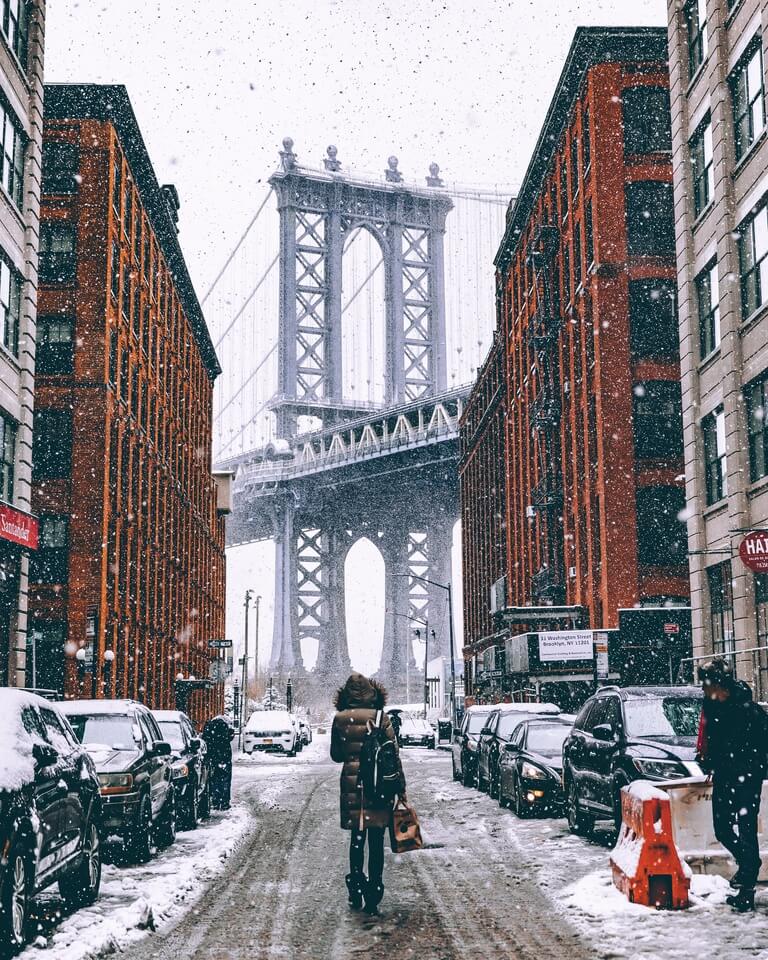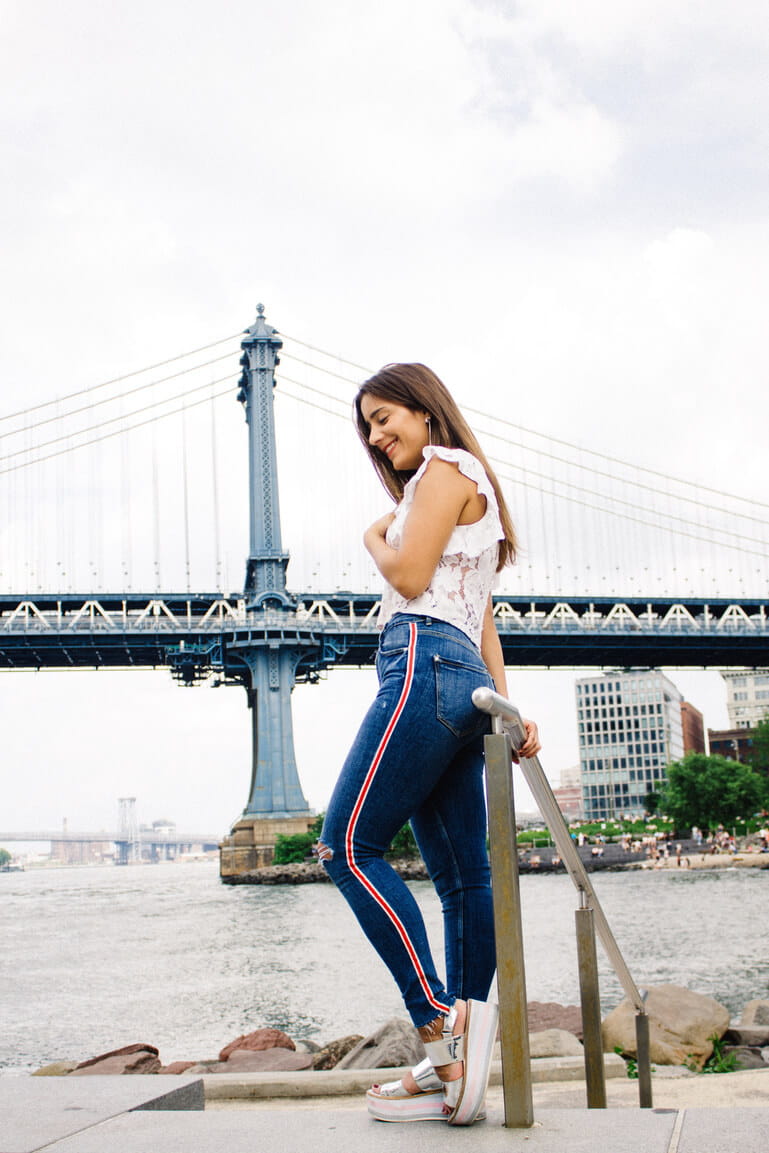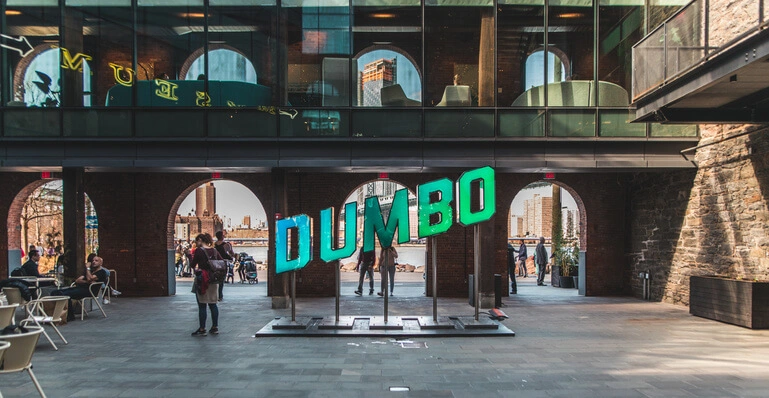 Location on the map:
Times Square
Many people think of Times Square, when they think of New York City. New Yorkers usually don't like this place because there are always lots of tourists and traffic jams. Times Square is an interesting spot to visit at any time, but it will be better if you come here at sunset or at night, when numerous screens transform the square into a dazzling kaleidoscope of colors. In order to take an iconic like-from-a-postcard image, you have to stand with your back turned to the Duffy square and you'll get an amazing view of the colorful posters and blindingly bright TV-screens. A nice little touch that you can add is to wait for a yellow taxi to enter your frame and snap the shot. If you happen to see a puddle nearby, come up to it and hold your lens as close to the water as possible, trying to fit both the buildings and their reflection in one shot. Just be careful with your camera!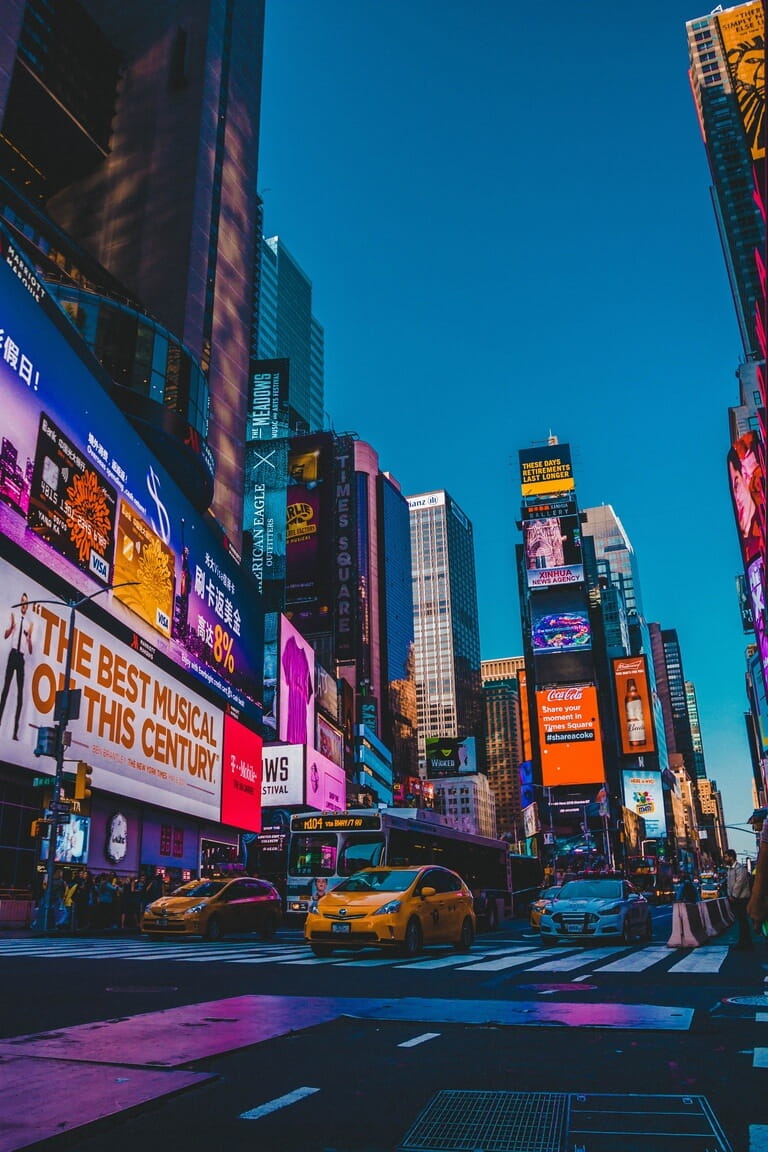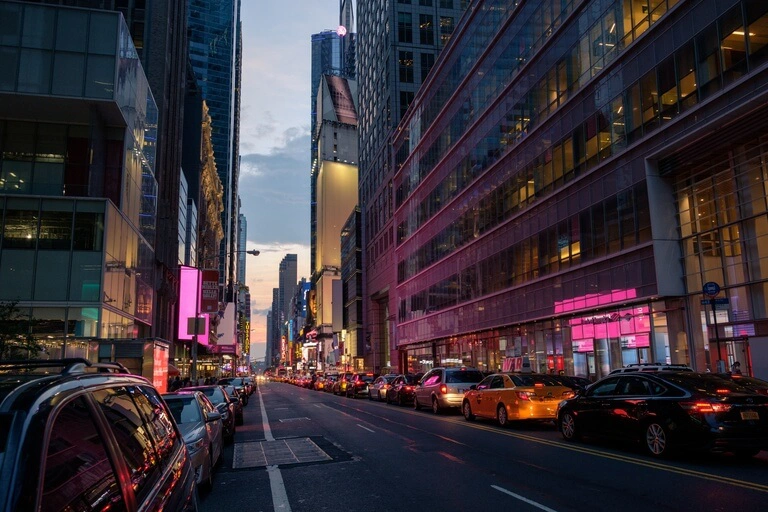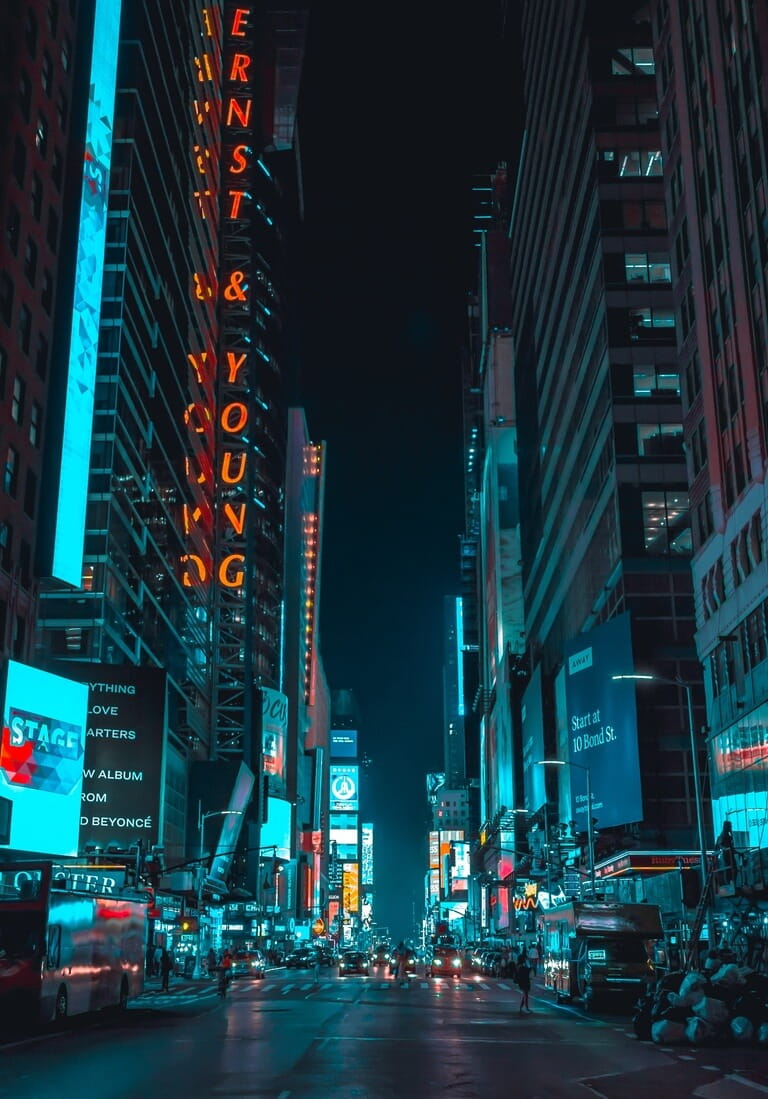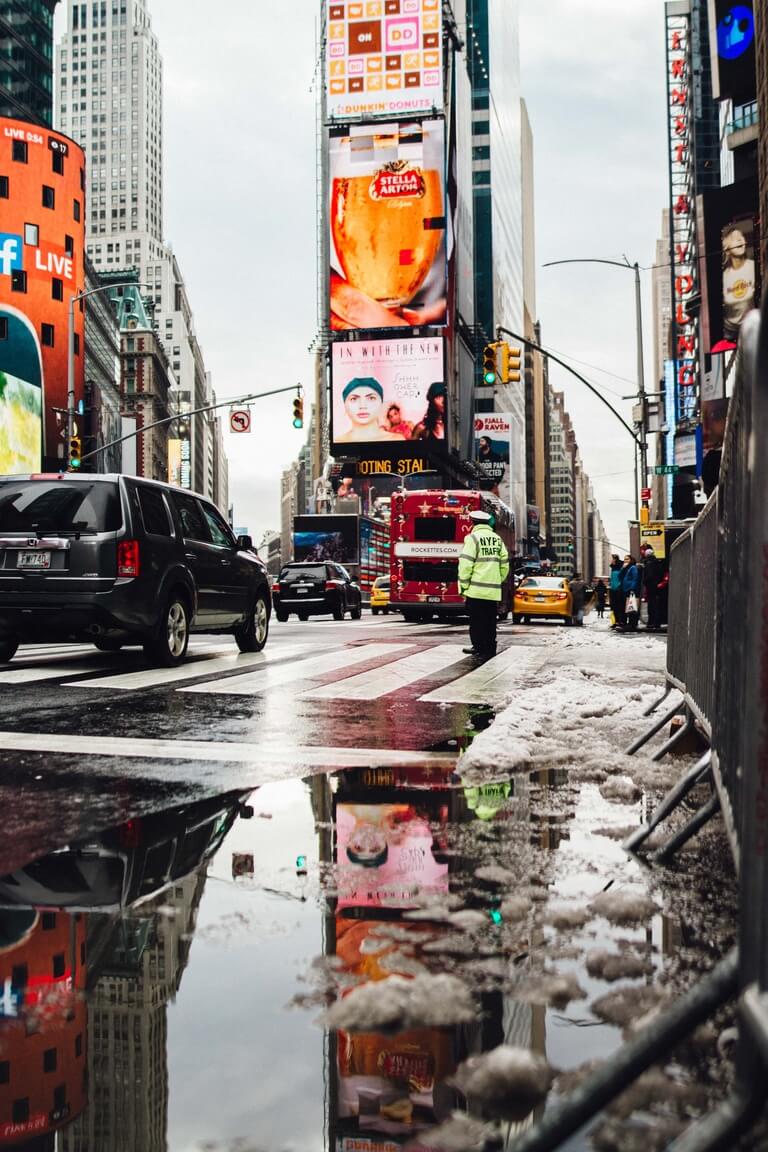 Location on the map:
If you took a good picture, I recommend to watermark it before you publish it online or on Facebook. Watermark protects the photo from copying and let everybody know who's the author of the picture. The easiest way to watermark photos is to use Visual Watermark software. It can watermark a group of photos at once and includes many fonts and effects to help you design a custom watermark.
Central Park
A giant rectangular green island that had spread out in the upper Manhattan - this is the Central Park. If you start to feel like concrete jungles are too oppressive for you, come here to enjoy the nature. From the left south side of the park there is a good view of the Columbus Circle and from the right one - a view of the luxurious Plaza hotel. Heading deeper in the park, you will find the famous Bethesda Terrace and Fountain, which had appeared in dozens of American movies. Photographers love the arcade on the ground level for symmetrical arches, which is why if you want to shoot a portrait, you should place your subject near the exit to the fountain, so that the arcade would be in the background. Not far from the Bethesda there is the white Bow bridge, which has great view of the lake and tall buildings of the Upper East-Side. And it is perfect for portraits too! You will be impressed with the size of Central Park and find hundreds of beautiful spots for photos, so you should allot at least half a day for its exploration.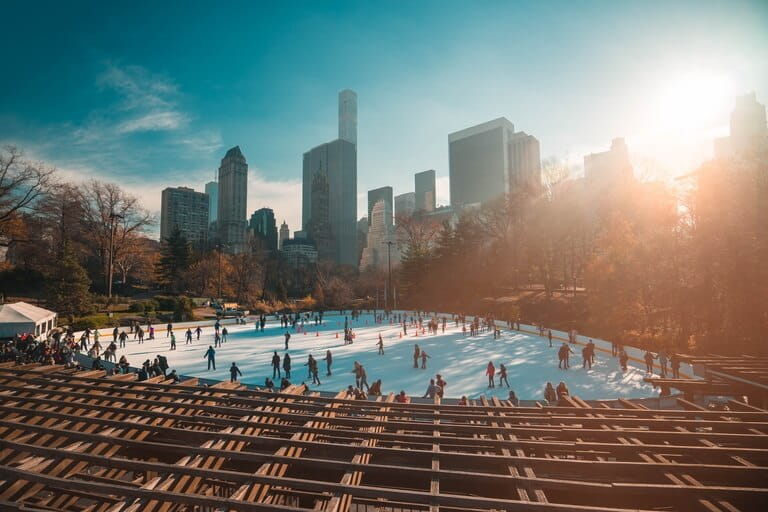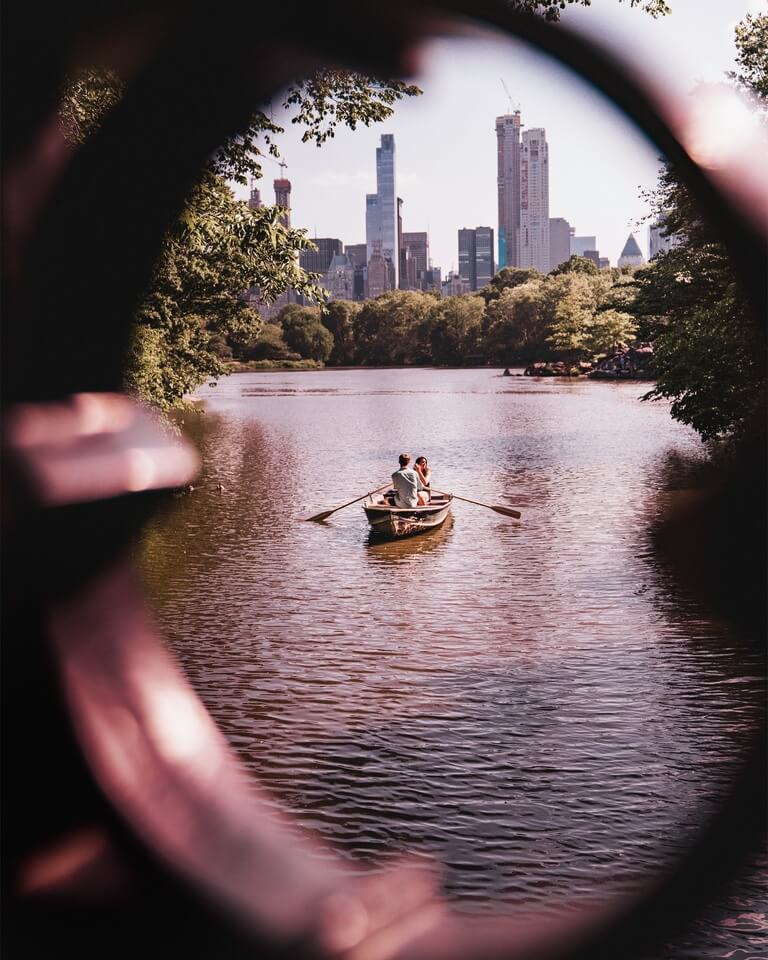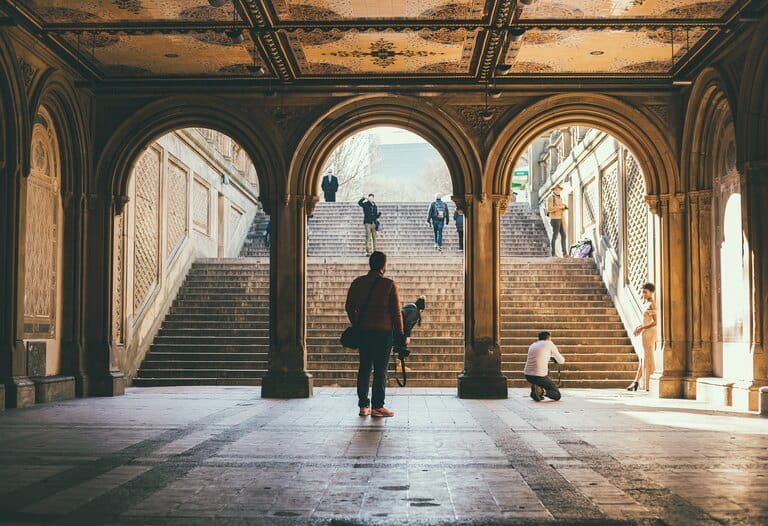 Location on the map:
Grand Central Terminal
This is the oldest railway terminal in New York City and it has inspired many generations of photographers to create visual masterpieces. When you get to the main concourse, don't forget to look up - there is the starry ceiling with the painting of the Milky Way. There are interesting shots hiding everywhere, ready to be take, but the best angle for you is out in the open - you should walk up to one of the stairs at the farthest sides of the hall. From there you can see a crowd of people rushing somewhere. If you wish to shoot a portrait, you should place your subject not far from the central entrance with their face turned to three huge windows. The exterior of the Grand Central Terminal is equally impressive. Thanks to its Beaux Art architecture it has a drastic contrast to the surrounding skyscrapers. Another advantage of this spot is that the famous Chrysler Building is nearby. You can try and fit in two landmarks in one shot!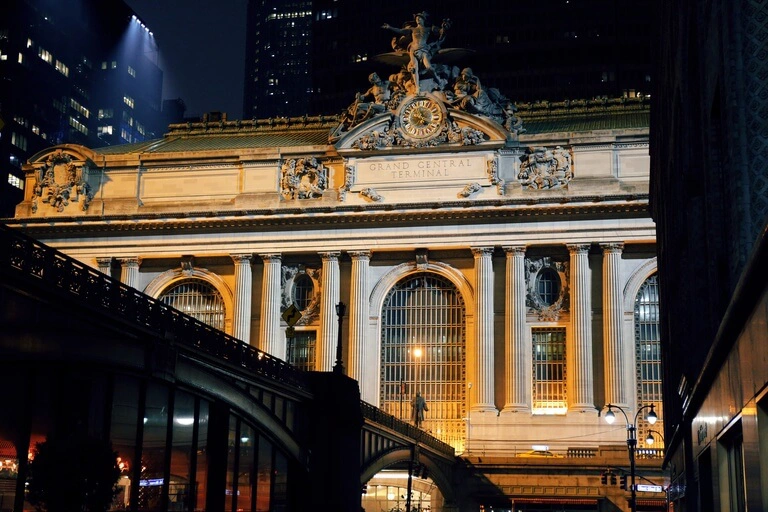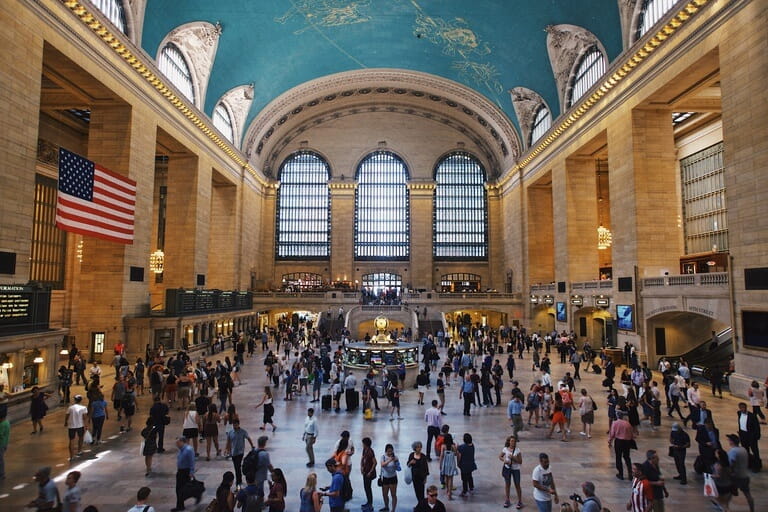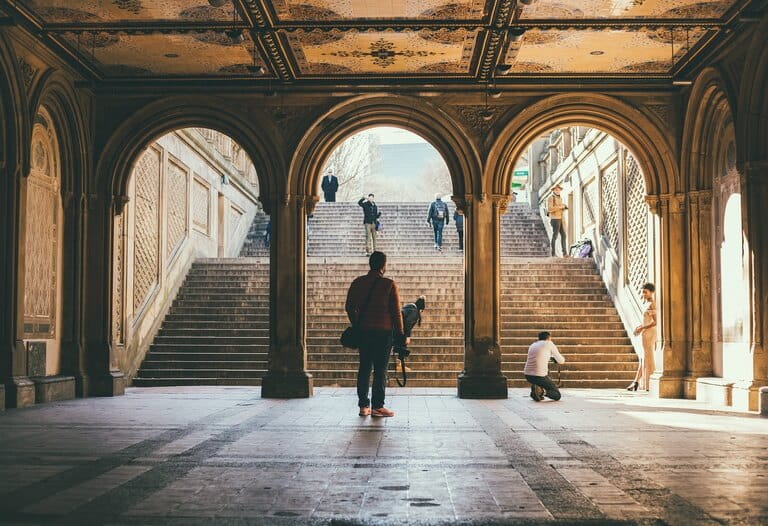 Location on the map:
One World Trade Center
The construction of the One World Trade Center was completed not so long ago, but it has already gained popularity among tourists and photographers. At the moment Freedom Tower - another name for the Center - is in the Top-10 highest skyscrapers in the world. First of all, you should photograph it a couple of blocks away, framing it with rows of buildings. Near the center you'll see the National September 11 Memorial with two large fountains, where the demolished towers used to be. You can stand at the farthest corner of any of them and try to fit in the fountain along with the blue skyscraper in your shot or you can come up to the glassy giant, look up and take a picture. There is another peculiarity in this complex - a white construction, which looks like a skeleton of a leviathan. This is a transportation hub Oculus. You can get an interesting shot if you photograph the Freedom Tower through its white "bones". In the One World Trade Center there is an observation deck with an entrance fee. If the price is not too high for you, you should visit it, since it is a unique opportunity to look at the city from the height of the hundredth floor.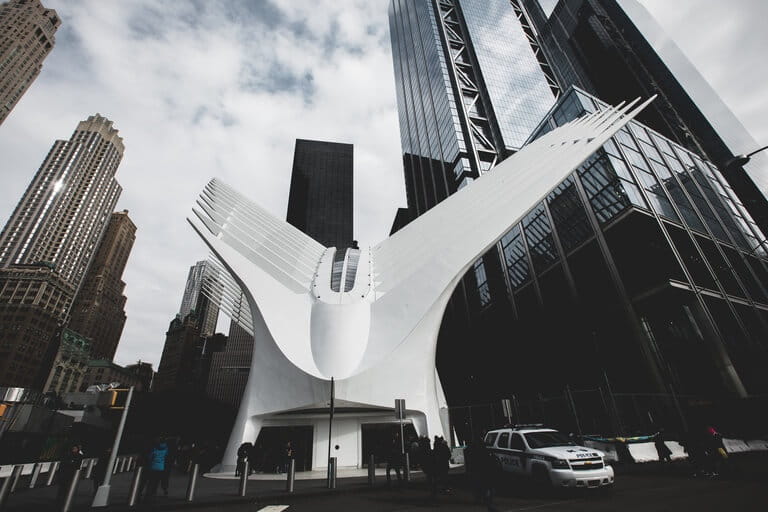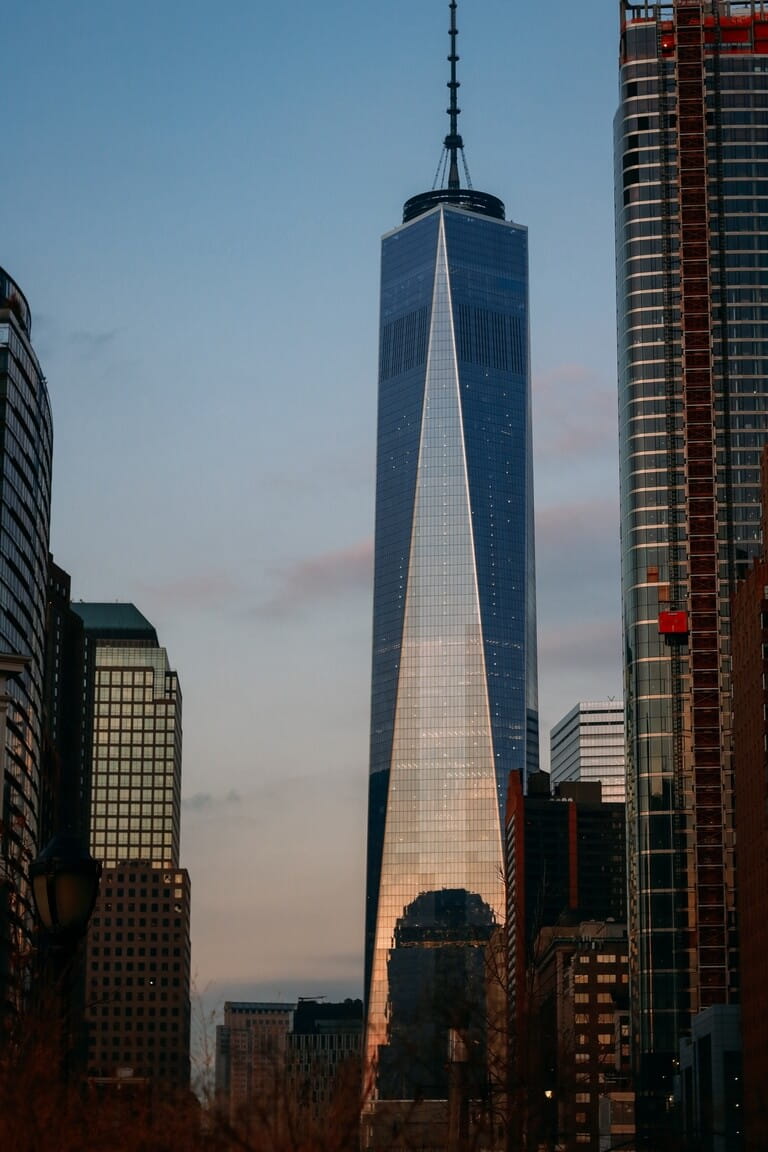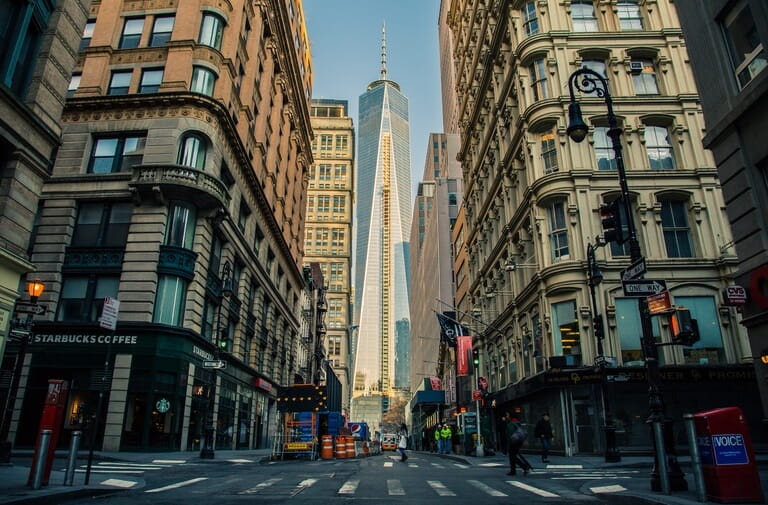 Location on the map:
Chinatown
Located in Lower Manhattan Chinatown is packed with dozens of colorful signs, written in Chinese characters, making you feel like you're walking along the streets of Beijing or Shanghai. Shops with eastern souvenirs, cafes and restaurants, red Chinese lanterns, street vendors selling fruits and trinkets - this neighborhood is a real treasure for photographers. It is a perfect place for shooting street photography, but this peculiar neighborhood can also serve as an amazing background for portraits; all you need to do is to find a narrow street with pretty, bright signs and stand in front of them, so that your photographer could fit you and them in one shot. You can also pose with golden lucky cats. Bonus tip! You should go up the Manhattan Bridge: there is a walking path on the South Side. Here you can enjoy a picturesque view of colorful streets of Chinatown and some skyscrapers in the background.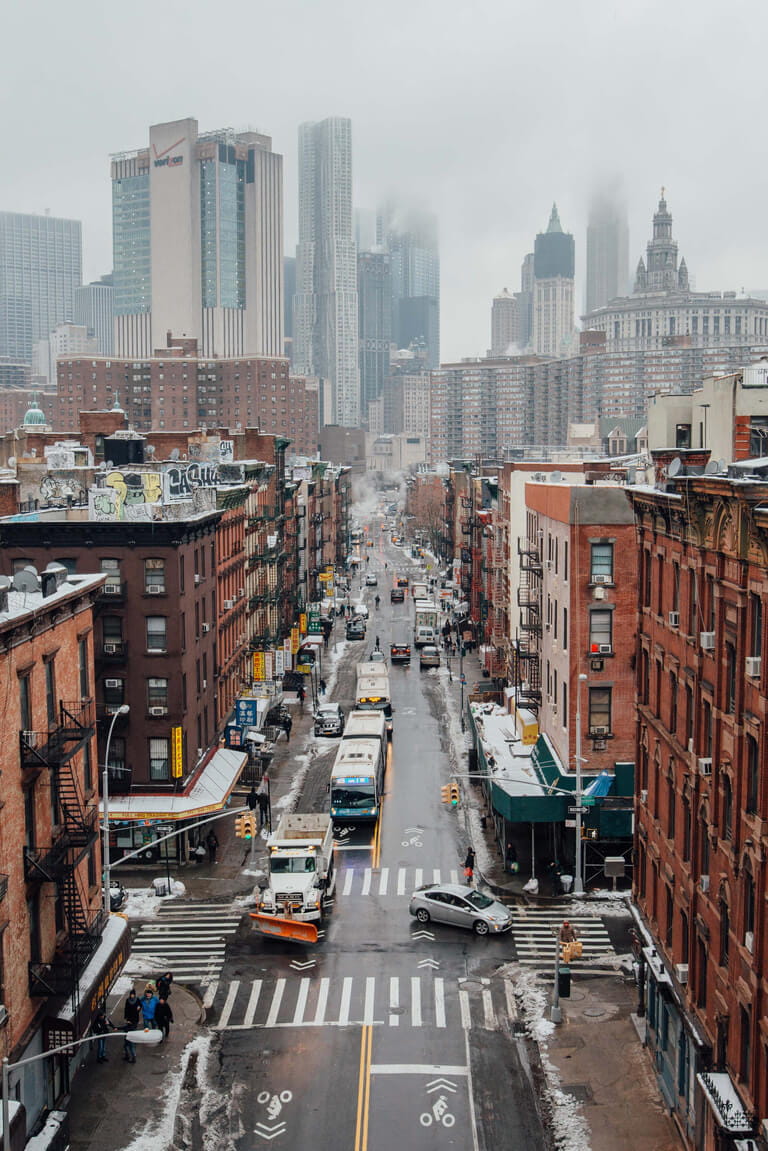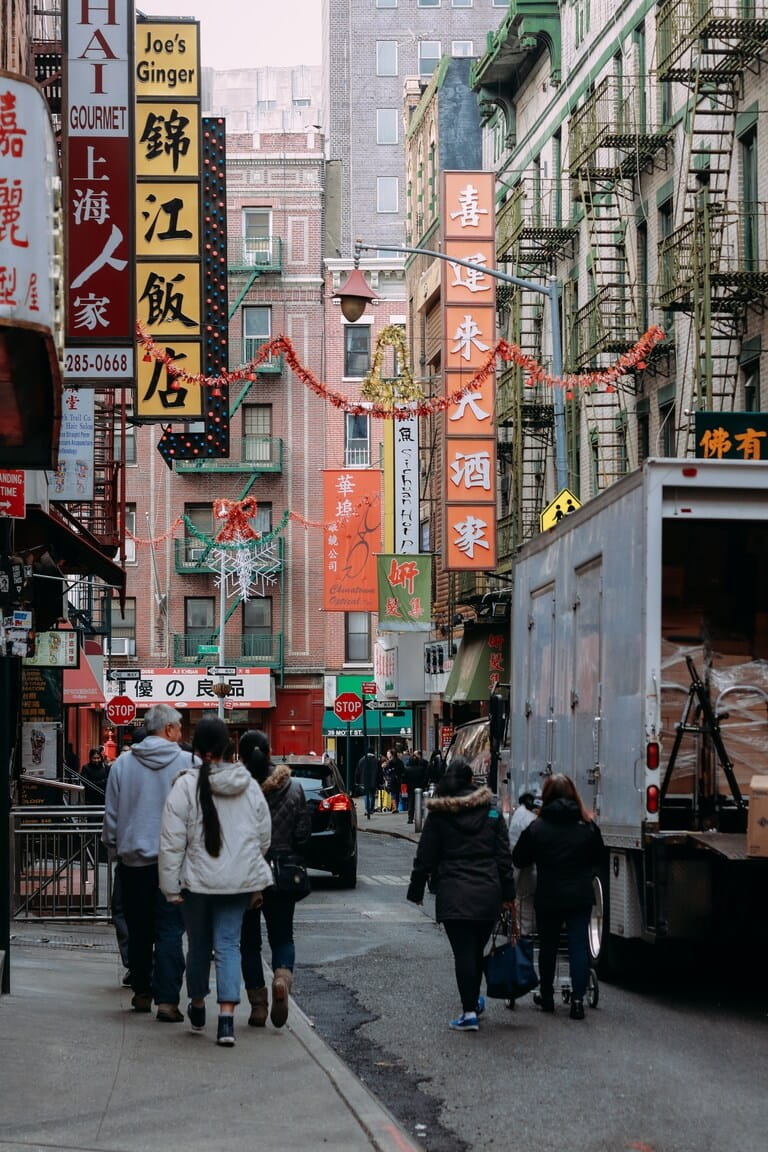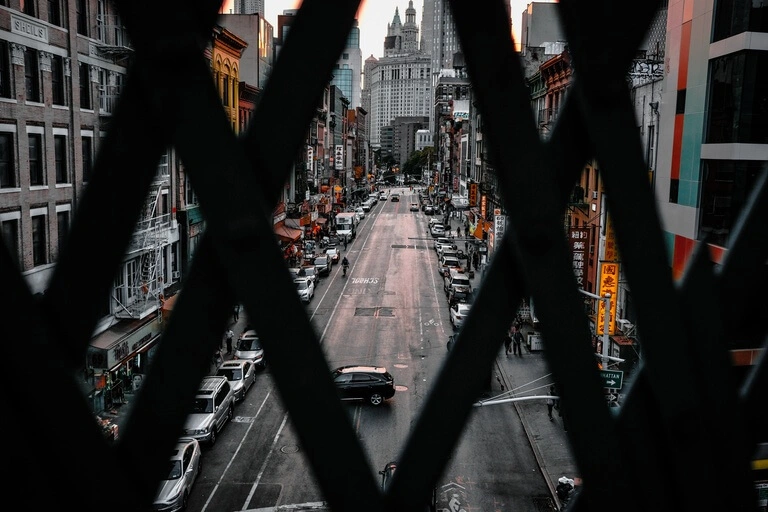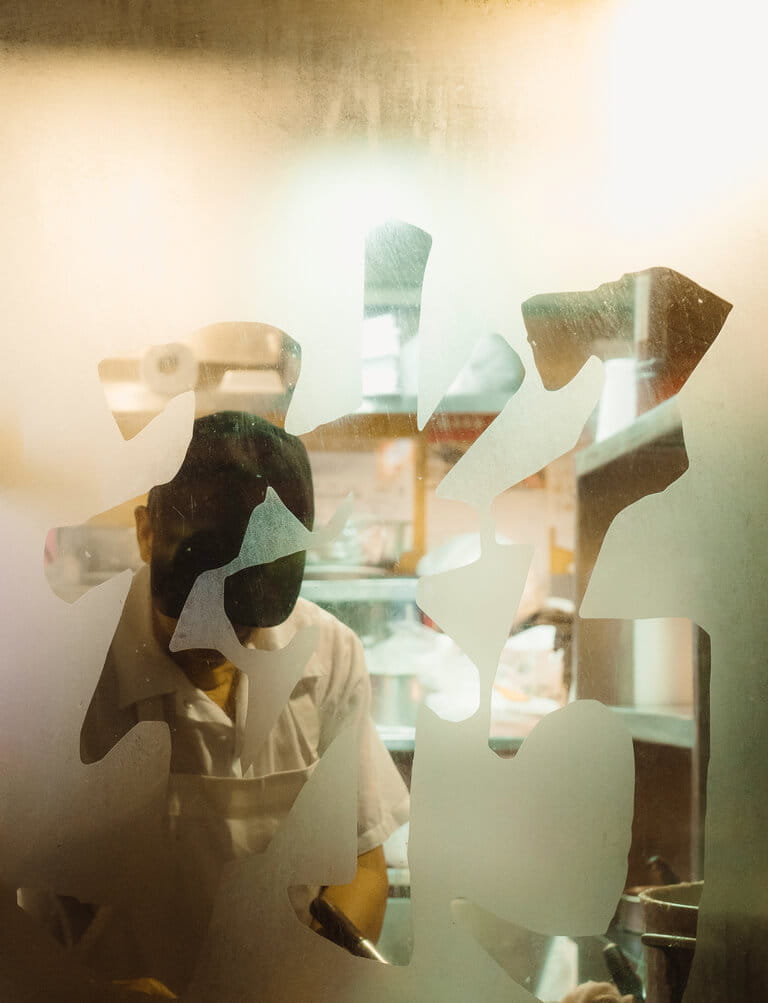 Location on the map:
The High Line
The High Line is a unique park created on the former elevated railroad. Its length is almost two and a half kilometers (1.45 miles) and it stands ten meters (32.8 feet) above the ground. Walking along this manmade miracle, you'll feel like you are in a peaceful oasis in the middle of concrete jungles of high-rises. People come here to eat their lunch under the open sky, read a book or just take a break from the hustle and bustle of the city. Photographers are attracted to the High Line mainly because you can get amazing views of the streets, crossroads and prospects of Meatpacking District and Chelsea neighborhood. The entrances to the park are located on several streets and you can find the complete list on the High Line's official website.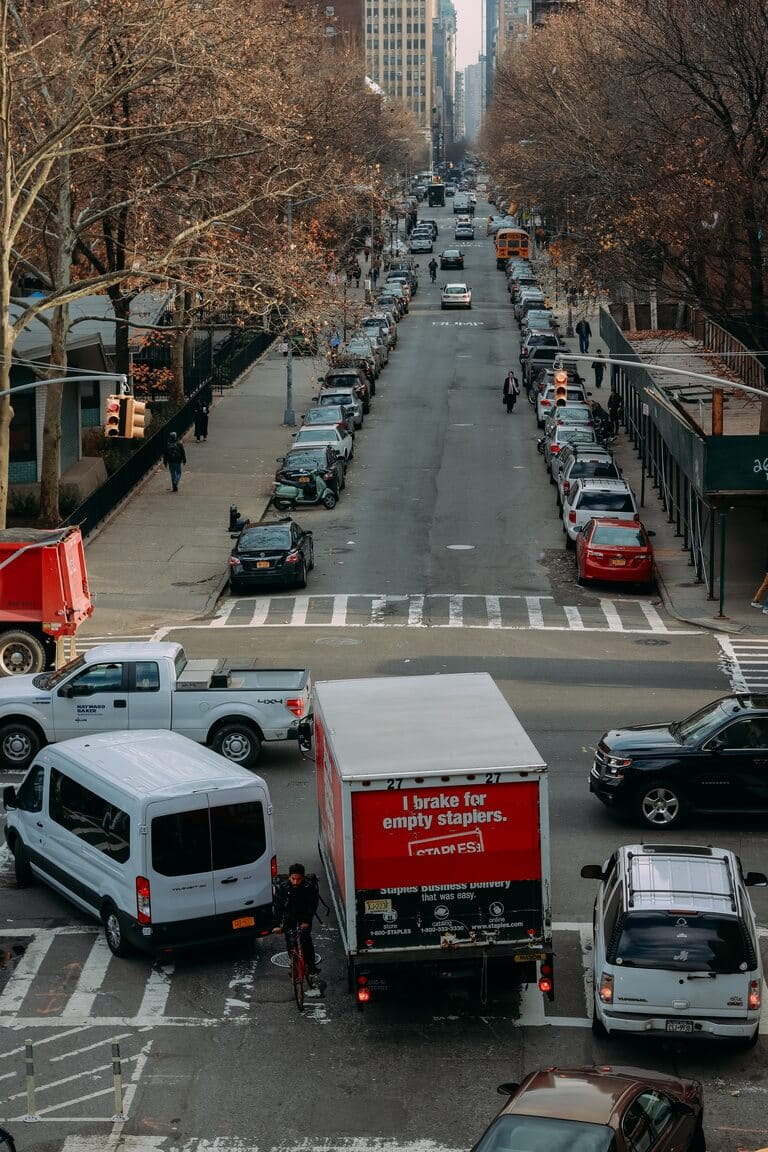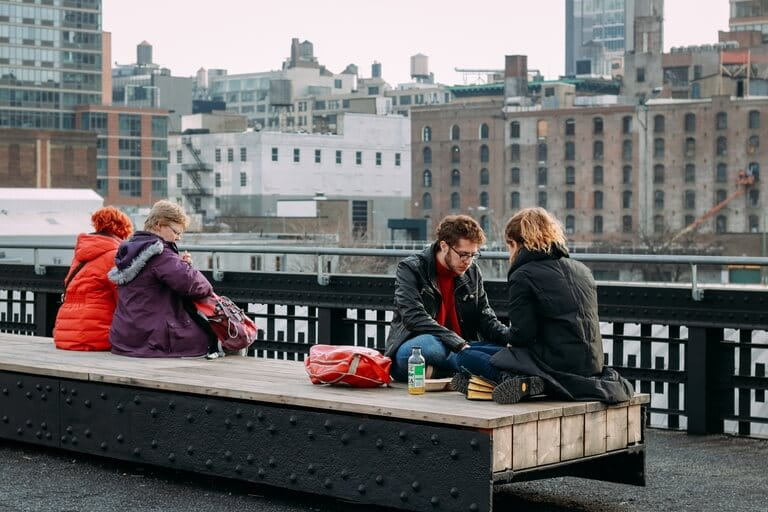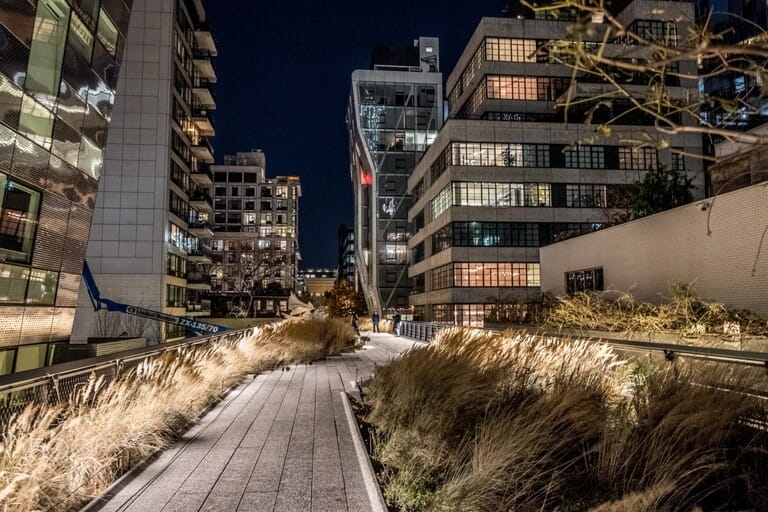 Location on the map:
SoHo
You won't find any famous landmarks like Empire State Building in here, but don't cross it off your list of must-visit places. At the end of the last century this neighborhood was a hangout of artistic Bohemia and now it's swamped with numerous shops, bars, cafes and restaurants with stylish facades. Photographers love SoHo mainly for old buildings with zigzag fire escapes. Many of these houses are even listed to have historical importance. SoHo is one of those beautiful, picturesque neighborhoods, every corner of which you would want to photograph. It can be a perfect background for a portrait and those, who love street photography will be inspired by its vivacity and liveliness. In the windows of shops and cafes you can take an interesting shots of reflections.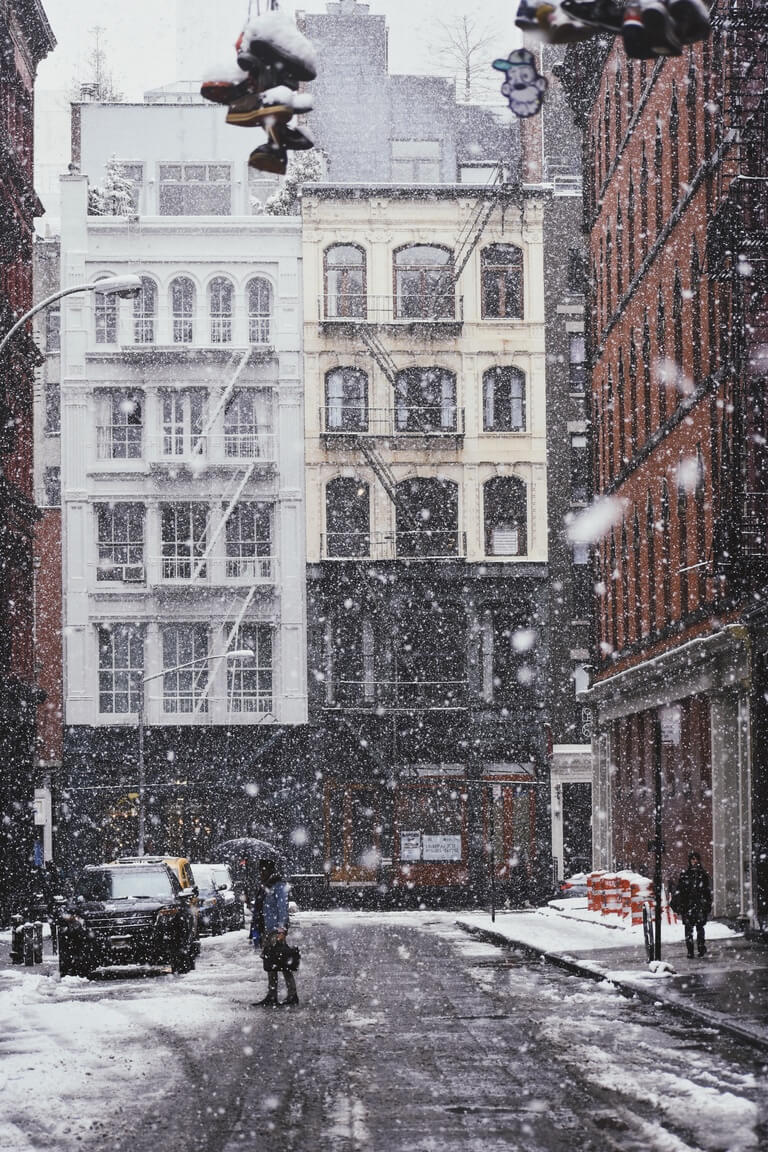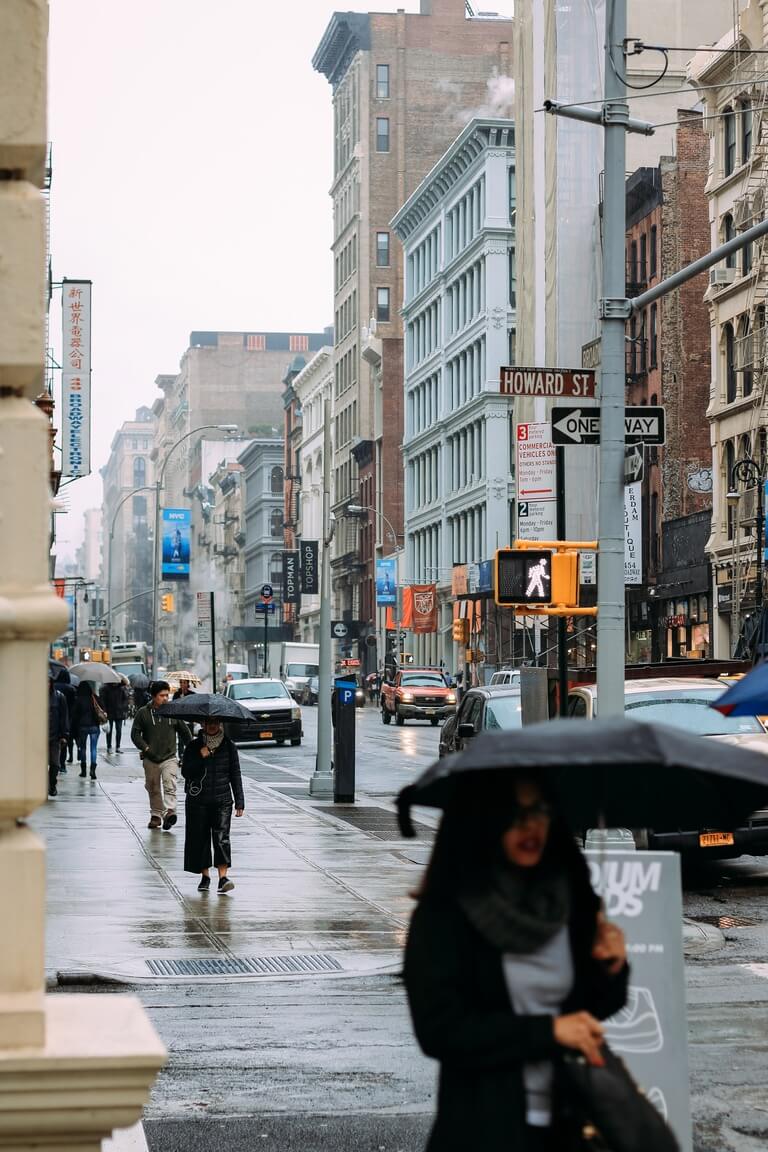 Location on the map:
Obviously, there is an overwhelming amount of landmarks, nice parks and beautiful streets in New York City, and the list of must-visit spots could easily stretch to a hundred. But it is impossible to cram so many things in one trip, so we hope that this list will help you to plan your journey. In order to protect your photos from the Big Apple, remember to watermark them before posting on your social media. We wish you lots of luck and exciting experiences!