If you ask professional photographers which photo editing product they use, many will tell you that the tool they love and use daily is Adobe Lightroom. You would probably ask why? Because Lightroom is built and optimized for photographers. It offers a powerful and feature complete set of image post processing, managing and organizing tools, with simple and non-destructive workflow.
Each time Adobe announces a new version of Lightroom, be ready to see something really cool. Lightroom 5 isn't an exception. It's new features include: mobile version, advanced healing brush, Upright, radial gradient, ability to share your work in elegant video slide shows, support for new lens profiles and many new cameras.
Lightroom Mobile a new combination of smart device software and cloud-based sharing. With Lightroom Mobile you can access, edit and organize your images anywhere, anytime on iPad, even RAW files. All your edits will be automatically synchronized with Lightroom 5.4 on your desktop. Let's deep inside Lightroom Mobile's features.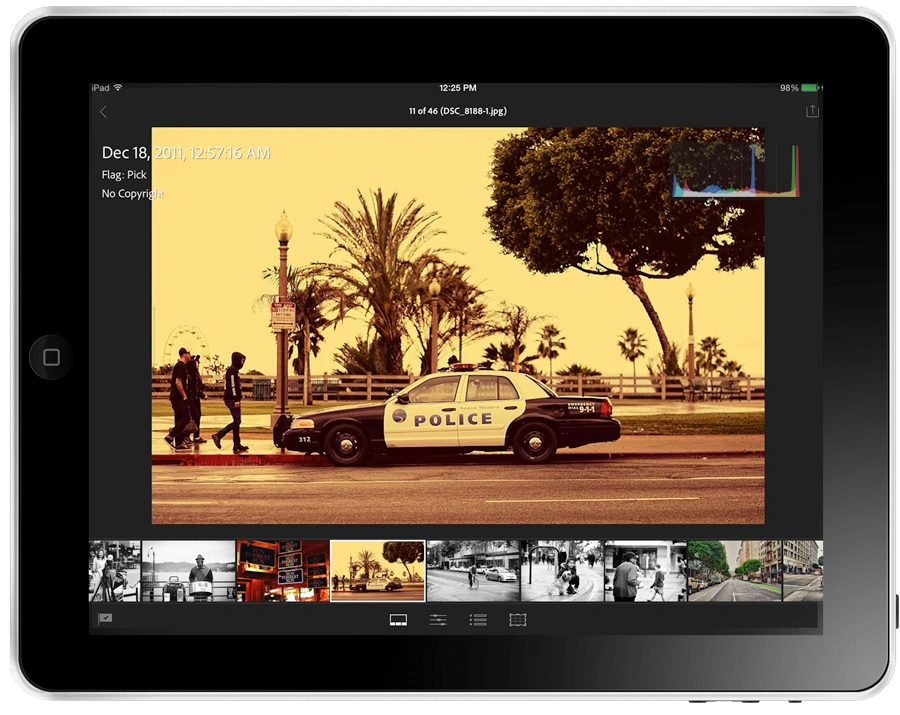 Because RAW Matters
With Lightroom Mobile for iPad, you can edit large RAW files remotely. Have you ever heard about Smart Previews? Smart Previews are heavily-compressed, downsized DNG versions of the original photos generated by Lightroom 5 on Mac or PC (e.g. Adobe states that 14GB RAW files will typically shrink down to 400MB).
You can work with Smart Previews on the iPad with familiar RAW toolset. Smart Previews live in Adobe Creative Cloud, and carry your edits between Lightroom Mobile and Lightroom on your computer. Edits and any changes are seamlessly applied to the higher-resolution RAW file.
Availability
Lightroom Mobile is a 41.6MB tablet app (http://www.adobe.com/products/lightroom-mobile.html). It's free but requires the recently updated Adobe Lightroom 5.4 and a subscription to either Creative Cloud ($29.99-$69.99 per month) or Photoshop Photography Program ($9.99 per month). Lightroom Mobile requires iOS 7.0 or later (iPad 2 or higher).
Get Started
The first time you run Lightroom on your iPad, you'll be asked to log in to the app with your Adobe ID and sync your photos between your tablet and desktop using Adobe's servers. The iPad client can also pull from an iPad's Camera Roll.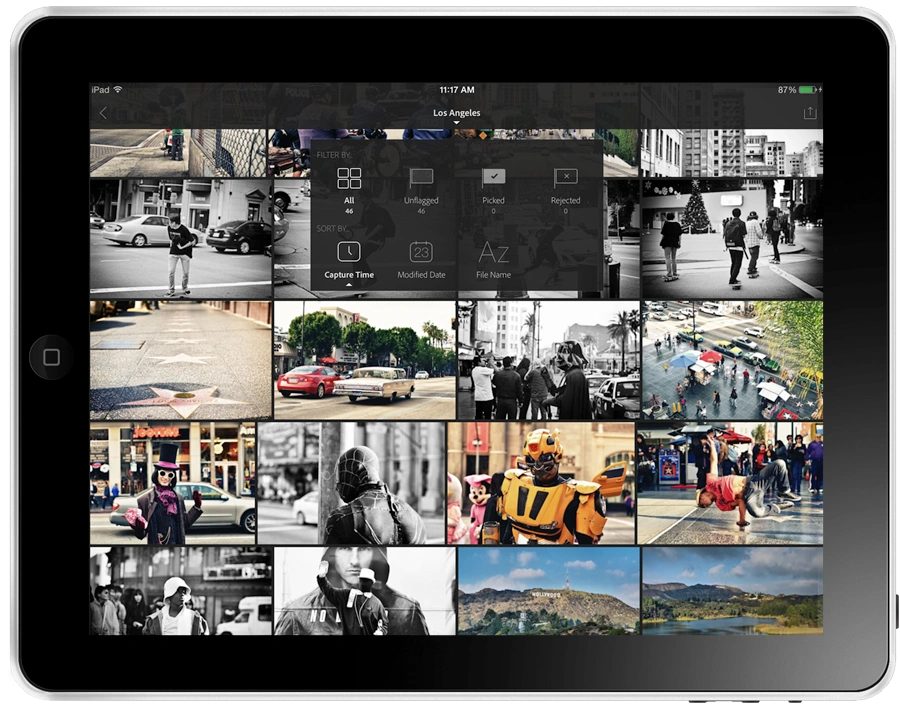 Lightroom Mobile creates a copy of any photos imported from the Camera Roll. This method is not ideal for high quality photos that could be massive in size. I expected that it would be much faster to import photos from the Camera Roll. For example, it took Lightroom Mobile 20 minutes to import 230 photos. Anyway, maybe it is not so slow but I wish it would be faster.
Lightroom Mobile is amazingly intuitive with beautiful flat design. Its options include: WiFi sync, the list of gesture shortcuts, ability to clear the cache, disk usage indication and some more.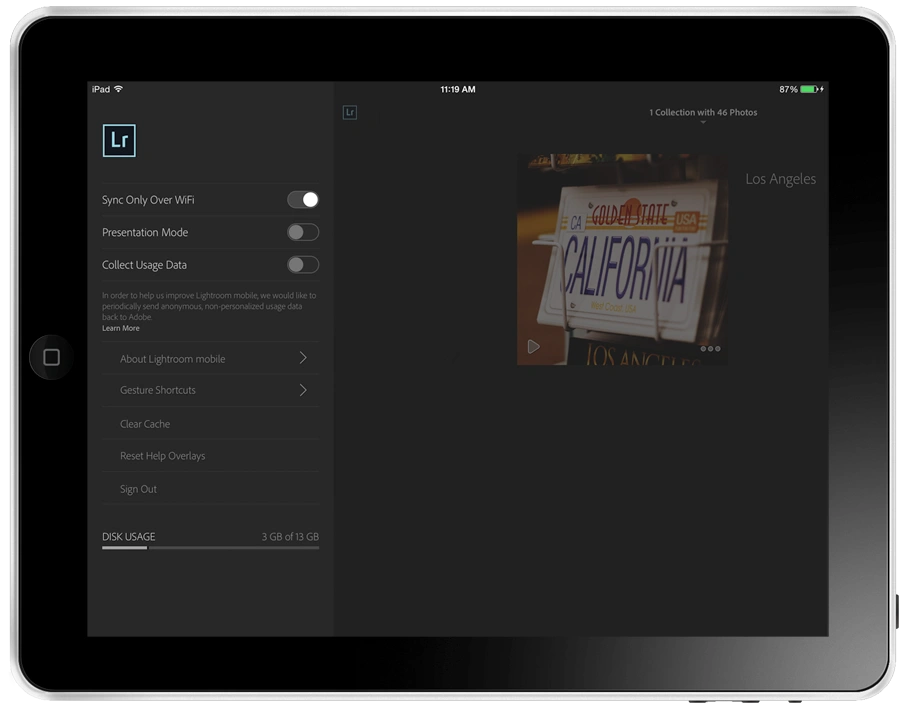 Image Editing Tools
All customization options are arranged into three groups: basic adjustments, built-in presets and crop tools.
Adjustment options include: white balance, temperature, tint, auto tone, exposure, contrast, highlights, shadows, whites, blacks, clarity, vibrance and saturation.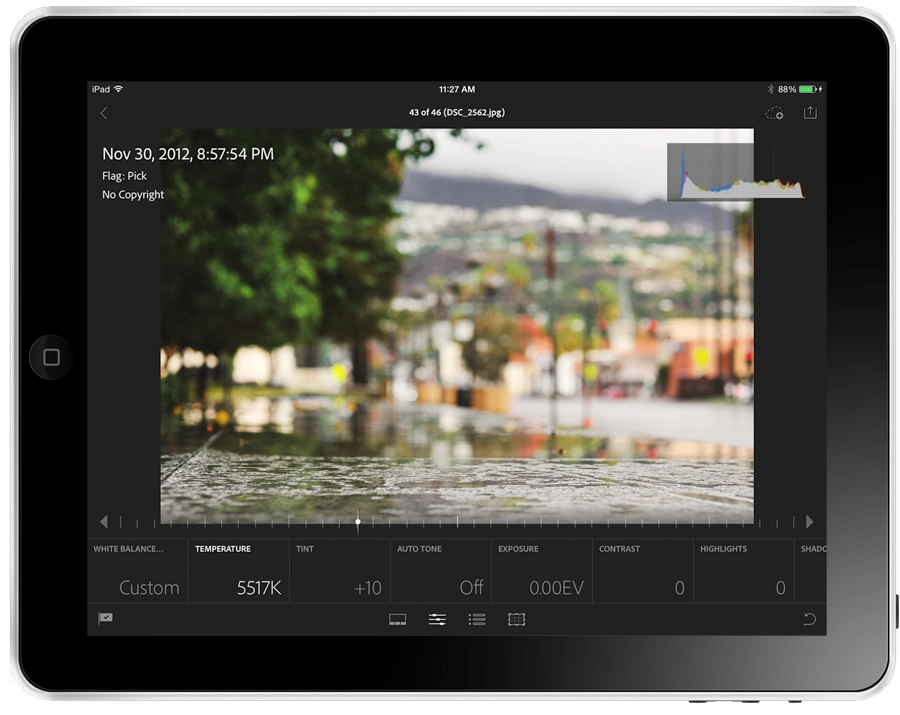 You won't find such important features like curves, sharpening, noise reduction. The most important features missing from Lightroom Mobile are adjustment brush, graduated filter, HSL and split toning.
Lightroom Mobile comes with 40+ built-in presets. The current version doesn't allow you to import your own (custom) presets. Adobe says they are working on the ability to sync your own presets which is extremely important for professional photographers.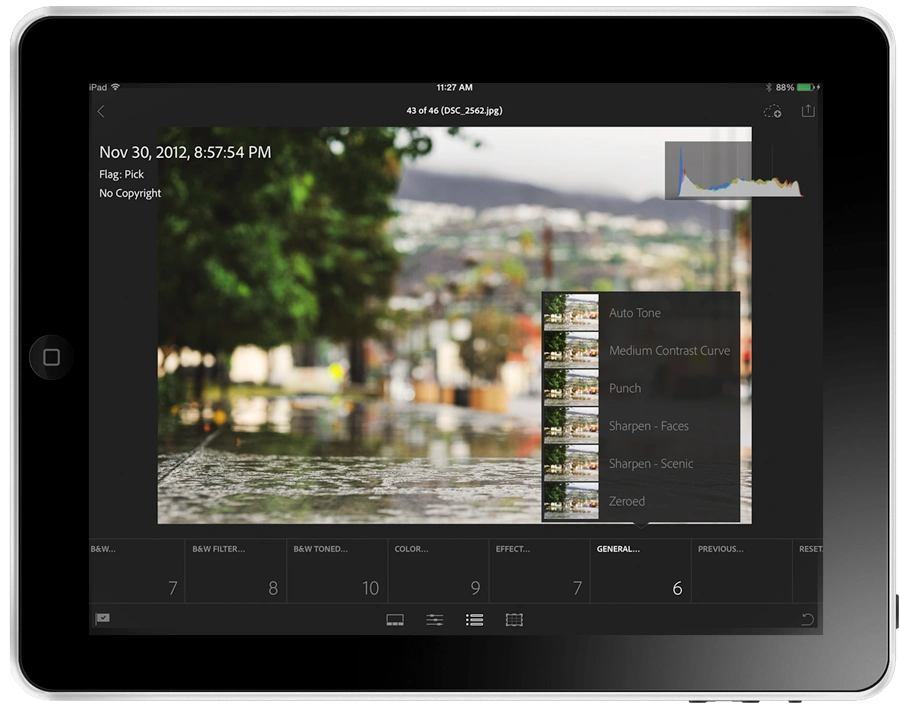 Crop options include the most common aspect ratios (1?1, 5?4, 3?2, etc.) and a custom crop function.
Any change you make is easily undo-able.
Everywhere. Anytime.
With Lightroom Mobile you can work on photographs even when your iPad is offline. There's no need for a live Internet connection. Your changes will be synchronized when a connection becomes available.
Share Your Photos Online.
Lightroom Mobile offers a number of ways to share photos online. Social networks like Facebook, Twitter, and Flickr have built-in sharing support. Lightroom Mobile also has native support for sharing photos to other devices with Apple's AirDrop feature. As part of the Creative Cloud subscription service, users can also host photos privately or publicly online at Lightroom.Adobe.com on the web interface.
If social media services such as Flickr, Twitter, and Facebook aren't available in Lightroom mobile's Share menu, sign in to each service via iOS Settings.
The mobile version offers a slideshow functionality with three transition options (cross fade, wipe and flip). You can also set the slide duration.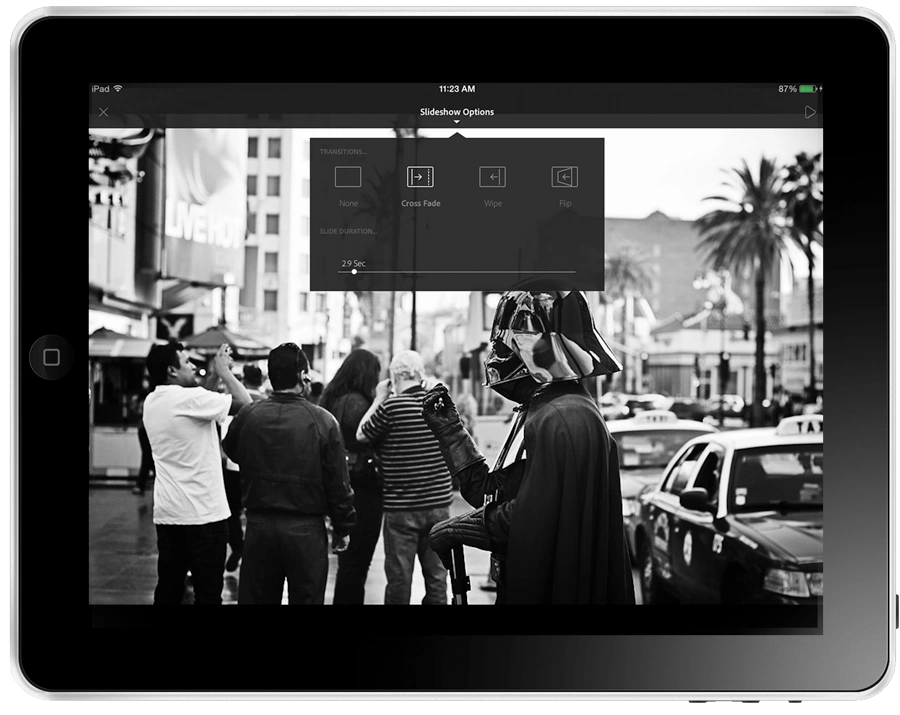 Pros and Cons
Like
Remote editing of RAW files via Smart Previews.
Seamless sync between desktop, mobile and web.
Camera Roll compatible.
Offline editing with further synchronization.
User-friendly and beautiful design.
Built-in slideshow.
Don't Like
NO advanced photo-editing features like curves, local adjustment tools, etc.
NO ability to use custom presets.
Necessity to have a Creative Cloud or Photography Program plan.
Import from the Camera Roll is too slow.