Selling your property online is a competition and there's a lot of noise for potential buyers to get through. Taking better photos isn't the only way you can improve visibility, but your potential customers will want to see the product. A picture really is worth a thousand words. The more high-quality images you can make the better. It's especially important because so many people rely on the Internet for first impressions.
Great, attractive and high quality images help draw a buyer's attention and get your property the purchase price it deserves. Follow these five simple and essential tips, and be ahead of 90% of realtors in your market.
1. Choose the right stuff.
Photography is so personal and each photographer has such different requirements that it's really hard to talk about what you should have in your bag. If you value high quality real estate images, I suggest you the following baseline to start with.
Camera and Lens
Pro real estate photographer equipment
Cameras evolve so quickly, new models appear yearly, and everyone has a different level of photographic skill. However, real estate photography is possibly less demanding of the camera itself. You don't need the latest and greatest camera to get good shots. Just make sure the model you get has a lens that zooms out to the widest focal length of between 24 and 28mm (35mm equivalent). An ultra-wide angle lens is the key to real estate photography success. The perspective provided by these lenses includes the entire room and makes viewers feel as if they are actually in the home.You'll benefit from a camera with good high ISO performance, and the more recent the camera, the better performance you will likely experience. Sellers, for instance, may request night photos in order to showcase their properties.
Cameras like the Panasonic LUMIX DMC-GF3 Body are perfect for this use. Its specification highlights:
12MP Micro Four Thirds format CMOS sensor
ISO 160-6400
Exposure bracketing
GF2-style touch screen interface
All-area AF point selection
Pinpoint AF mode (magnifies focus point to allow confirmation and fine-tune of AF position)
Photo Styles (same color response presets as used in G3)
And here you can find lenses that will work nicely for taking real estate photographs:
Tripod
You should have a tripod with extra-long legs for achieving a high perspective in some of the photos. Whichever tripod you choose make sure you get a ball head for shooting creative shots with easy adjustments.
2. Take unique photos. Plan out each shoot itself.
Perfect outdoor photo
Shoot from a low angle to create a very unique perspective for the exposure. Consider the sunlight when scheduling your shoot. The best time of day to take photos of any outdoor object is the early morning where natural light is crisp and clear, or the early evening. In both instances, the light should come in from the side which highlights the house.
Exterior photos
Shoot the Room, Not the Furniture. All buyers want to get a sense of the overall feel and dimension of the home. Note that less is more. If a house is cluttered, tactfully ask your seller to have the house as clean and organized as possible. Dive into the scene. Setup the tripod and begin composing the scene in a way that showcases the beauty of the home. Make the house look large, bright and clean. Give a better overall view of the exterior shots using the super wide angle lens. Show more of the living space.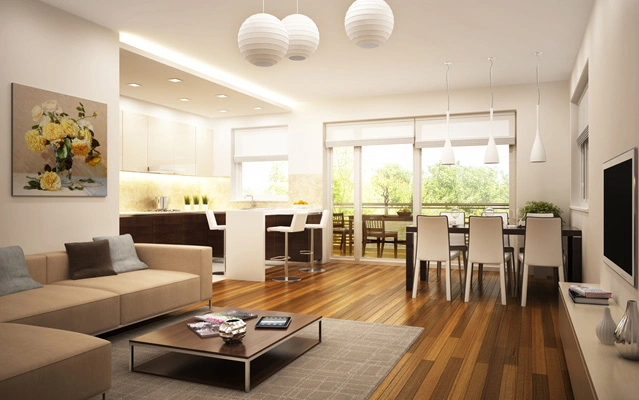 Find out the hours of the best light falling on the exterior of the home, and take advantage of it, show windows. Keep things centered or level. Most tripods come with some method of leveling in the form of a circular bubble level. If your tripod isn't equipped with a level, one can be purchased cheaply at most any hardware store. Anyway, the horizon can be adjusted later via photo editing software (e.g. Adobe Photoshop, Adobe Lightroom, etc.).
Close-ups
These photos are often omitted by realtors. It is one of the reasons why it is important to include close-up pictures.
Panoramic View
Real estate panoramas are often made from a collection of separate overlapping shots stitched together using software that analyzes the overlapping parts of the individual images (e.g. ArcSoft's Panorama Maker 5 Pro). Websites such as CleVR allow you to upload your images and stitch them for free online.
Real estate photographers recommend holding the camera vertically while taking the photos to capture more of the scene. Using a tripod and turning off auto-exposure on the camera can also improve results. Some cameras (e.g. Nikon Coolpix) include a panorama mode.
3. Don't Use the Flash (if possible).
Shoot in natural lighting with your camera in Aperture Priority mode. This will allow you to avoid unnecessary shadows and make the scene look naturally. Start at f8, then start making exposure adjustments. The longer your lens's focal length, the more camera shake will occur. Mount your camera on a tripod and use the camera's timer to create the sharpest shots. Two-sec timer will work perfectly.
Most cameras today have a built-in exposure bracketing mode, usually known as Auto Bracketing. You shoot photos from the same spot, but with varying exposures. You'll take photos that range in brightness and darkness in order to merge them later. Software like Adobe Photoshop or Photomatix allows you to merge photos and combine the highlighted and shadowed regions in order to capture a huge range of exposure (High Dynamic Range (HDR) photography).
Read more – Fine-Tune Your Property Listings with Realistic HDR Photographs
4. Enhance Your Final Photos
Improve your photos. A basic understanding of good photo-editing software can go a long way toward improving your final image. Enhance the colors and the main look of the photo. Make your photos look attractive, clean and professional by removing unnecessary objects.
There are many photo editing software options ranging from free online versions like pixlr.com to professional tools like Adobe Lightroom or Adobe Photoshop.
5. Always Copyright Your Photos
Hosting your real estate photos on websites, you run the risk of someone stealing your work to claim as its own. Copyright protection involves the authentication of digital content and ownership. The most common method to prevent copyright infringement is to watermark photos you post online. Visible watermarks make unauthorized use of your photos much difficult.
Visual Watermarkprogram is the professional choice in copyrighting your photos by adding visual watermarks. It brings you advanced options to create out of the box watermarks, modify existing watermarks and save them for further use, watermark photos in a batch mode and much more… So you can copyright your every shot.