Blog is one of the keys to successful content marketing within the framework of your own website. This is why its promotion is vital for almost any business, including photography.
How to reach out to the audience? Fifty years ago television was the only tool that had the most powerful impact on people's mind. Nowadays many of us don't even have a TV set. Instead we have social media.
Benefits of using social media
Percentage of those who have a profile in social media is much higher than of those who look for relevant content in the Internet by means of search engines only. How many of your friends are on Facebook or Twitter? I bet you are more likely to remember those who are not.
Such a vast network can provide huge amount of leads if you manage to make your blog attractive enough.
Your comments can have influence as effective as your photography. Though social media present great opportunity to share your images, don't underestimate the power of words. Repost articles from your blog, since the story and idea behind some of your photographs are what most people are interested in. Share professional tips and gain public trust and recognition.
The power of social media today is unquestionable. If you don't want to discover that all of your content has been created in vain, share it actively via this modern and highly effective promotional tool.
What is your best bet?
First of all you need to make a crucial choice and decide which social media you are going to join. Each social network has slightly different audience. Some of them are more appropriate for your goal than others. How to choose the right one?
Pinterest gathers image-driven crowd, which makes this platform good for photographers. The site even has a special page for the "Best of Pinterest Photographers". Many of its users are ready to use the platform as a kind of online store. You can simply add links that allow buying your prints. It is possible to categorize photos by theme as well.
After Facebook and Twitter, Pinterest is the third most popular social network. Pinterest currently gets well above 20 million unique monthly visitors.
Flickr is an "interest network", focusing on sharing images as well. It has a huge unique user base. It might be a good choice if you are looking for print sales, but nowadays you need some more social media sharing for support.
Facebook is another good option. It suits most portrait, wedding and sports photographers. But if you shoot landscapes or nature, you'd better opt for other social networks, like Flickr, Google+ and 500px. They are also a great source of inspiration and provide quite a lot of photography communities to join.
500px is a phenomenal network to promote your best photos and get inspired by some other talented people. Unfortunately, you cannot sell your works there technically. But using 500px to host a custom portfolio is certainly a nice idea.
Instagram provides mobile sharing experience. It is fairly simplistic, but for many people this is the main advantage. You can distribute your everyday shots there without undermining your reputation of a professional photographer.
As a photographer, you'll need something visual to attract potential clients. That's why sites like Pinterest, Instagram and 500px may be the most relevant options.
Google+ is a great tool if you want to educate yourself on photography. Despite being not very productive in terms of promoting your photos, Google makes all public posts searchable in their search engine, which is a huge advantage for you.
Twitter allows instantly connect with different persons, but it's quite limited to a certain user base. If you choose Twitter remember that the purpose of sharing through this platform is not to amaze with visual content, but to trigger casual conversations and maintain closer contact with your audience and potential sponsors or customers.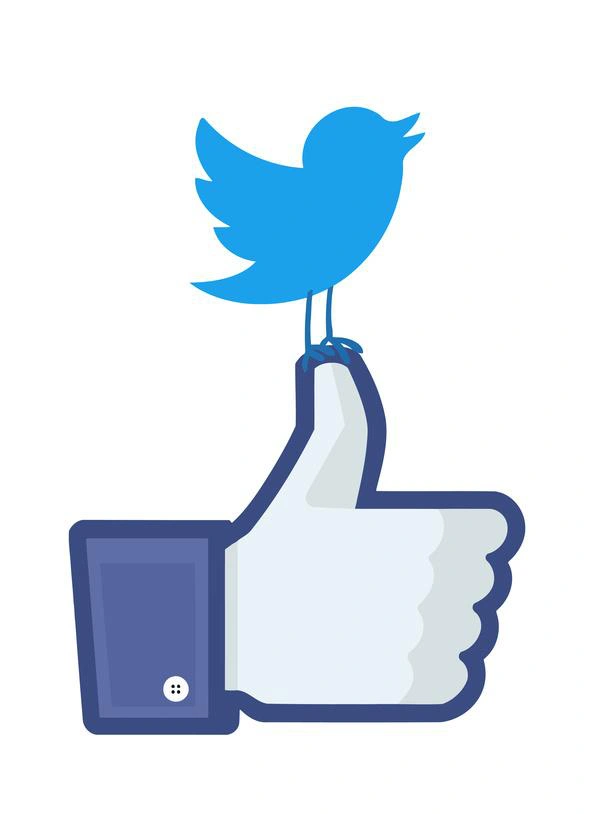 Let your works be shared through various social networks. Just do not forget to
create a watermark
for them.
Image © Artistan Fotolia.com
General tips:
Spread your blog content across various social networks. It doesn't require too much time, so why to set limits? Expand your influence and become popular!
Your posts will be shared more actively if you use relevant hashtags, especially on Twitter and Instagram.
If you post a long article or a list of tips, chop it into a set of short segments to make each of them a tweet and publish one bit at a time.

Make it easy to share! Sharers may not necessarily read the whole post or article, but some of their followers will. If you want readers to share your content via social networks, put social sharing icons at the top and/or bottom of every post. Make them noticeable but not obtrusive. Also, attach a Pinterest button to each image which is appropriate to share.

Highlight data points or useful quotes in posts.

Create attractive infographics. Infographics are by nature highly shareable and attract plenty of inbound links. Pin them on Pinterest, too.
Followers don't need endless photographs, no matter how wonderful they are. Your friends are willing to examine your personality, for this is what distinguishes you from other photographers.
Social media are called social, because the point is not only to be constantly in the limelight. The point is to engage in conversation and connect with your audience and potential customers.
Make sure that you spend enough time distributing and promoting your blog posts through social media. It's not that you have to dedicate hours a day to this task. The key is to do it routinely. Spending twenty minutes a day on it is much more productive than three hours once a week.
Remember:
Engage in conversation & maintain contact
Update regularly
Watermark your photos
And good luck!