Isn't it great when some expert cites your blog? This one link can give you hundreds of leads! The process of getting links to your website is called link building and is actually a crucial part of increasing your blog's rank, no matter what your occupation is. Developing your link building strategy should be the next step after you've managed to make your own site.
The question is how to get such a link quickly and free of charge?
Slip into the slipstream
One of the most effective ways to do that is to catch a so-called "link slipstream". It implies asking some top blogger or social media influencer to make a link to your post. But your post should be beneficial for the blogger as well, so you need to think properly about what material to suggest. You should write something really worth mentioning for this particular author. Such a method allows you to just slip in behind the leader, like in car racing.
This approach is far cheaper and more beneficial for both sides than using paid links. Google will automatically flag your website down after it detects paid links, despite of quality content you may have. On the other hand, "reciprocal" links between relevant websites are not disregarded by search engines.
But how to reach out to top bloggers, for what it's worth?
Link them first! And do that BEFORE you ask for a favor. One good turn deserves another, though there's never a guarantee.
Then you need to get in touch with the blogger. Surprisingly, one of the quite underrated strategies is just to email him. As long as you keep recommending topics of interest, your emails with such relevant material will be a blessing to bloggers. Try to put yourself in their shoes and remember: you're asking for a favor. Be careful about not being annoying or rude in your emails.
By the way, many blogs and websites have a "Useful links" section. Sometimes you should give it a go and suggest your blog as a resource of helpful and entertaining information on the subject.
The key, as you see, is finding relevant websites. If you keep a blog on photography, you need to look into a site of a famous photography blogger. After some analysis you'll realize that his posts often link to certain topics, for instance, computer-aided photography or photo sessions all around the globe. If you'd like to hop into his "slipstream" you've got to write an article that mentions new tendencies, probably in the sphere that blogger never heard of. That would be a sure-fire way to draw his attention.
There're a lot of other opportunities for a photographer to get links to his blog. Write photography exhibitions reviews, reviews of new gadgets, tips on how to choose scenery for shooting and other "how to" guides of all kinds. For instance, you can offer an article about how to watermark photos in the web to the author who often writes about internet promotion for photographers.
Of course, such a way of getting links to your blog is time-consuming, but really rewarding.
The main ingredient
As you may have already guessed, in the world of Internet-marketing the content is king.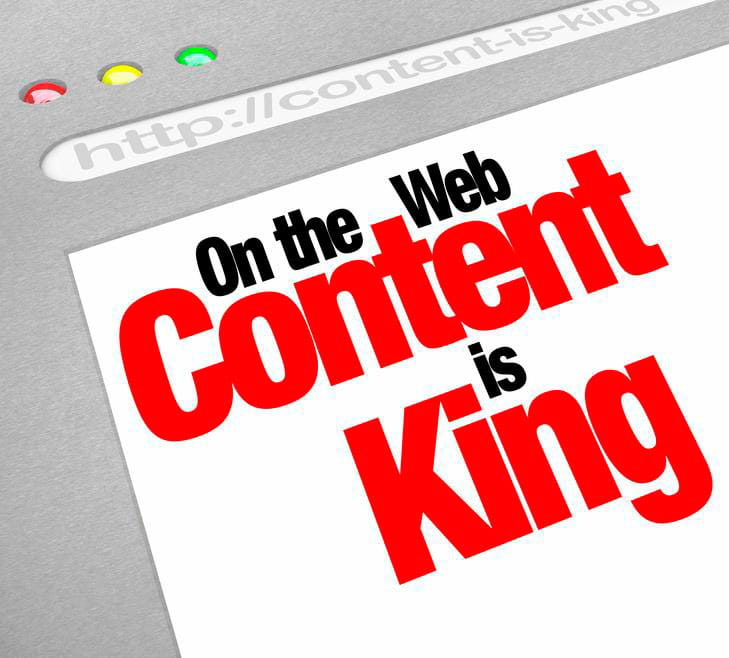 You've been told that the client is king? Well, that's true too.
Image © iQoncept Fotolia.com
All the methods of attracting clients by means of a blog involve good quality content. You have to keep readers hooked on your content if you want to get links. No one will share posts they don't read.
So, content is always the key. Note that the uniqueness of content is not as important as its relevance. You need to reach the balance between these two factors to attract more readers.
Write catchy pieces with headlines featuring collocations like "101 list", "10 easy tips", "5 popular myths" and so on. People tend to like things like that. The headlines contain numbers, that in a way confirm their credibility. Don't forget, content should back up your awesome headline! You don't want to disappoint your loyal followers, do you?
The more creative your content is, the better the links are likely to be.
Other ways to reach popularity
Post thoughtful comments; you might be able to type the address of your page into one of the filling positions for commenting
Include a link to your blog in a genuine comment on discussion forums
Supply your social media profile with links to your website so that people won't even need to ask you for them. Do reposts, but don't make them too numerous.
Do reviews on your blog. Review anything that's interesting to you and cunning enough to get attention back from the readers.
Post interviews on your blog. Whenever you interview someone, you gain a reader (the person interviewed) who will probably link back to that interview to promote himself.
And don't forget to use metrics and look at your analytics data; there's no other way to know the statistics of the most clicked-through links. This can be crucial to making decisions. Take a look at the keywords people use to get to your blog and learn about other peculiarities.
After all, getting inbound links boils down to a few basic things. Your blog should feature something that people will find worthy of linking to. You also need to be actively involved in online networking to get the attention of bloggers that can link to your resource.