The naked human body has been drawing artists' attention from time immemorial. Artistic nudes were often usually allusions to goddesses and nymphs. The advent of photography triggered a new wave of nudity art cult. Beauty criteria and moral principles vary in different periods of time, so many images of this genre understandably raised controversy.
Nude photography should be distinguished from erotic photography though: objects in nude photography are not necessarily sexual alluring or erotic. And one of the challenges of this genre is to reach the balance between revealing and concealing and to avoid making a purely provocative photo. Unless, of course, this is not a photographer's primary goal.
Nude photography has an unmistakable place in the history of Czech photography. Here are some of the most prominent examples and other photos of famous photographers.
Taras Kuscynskyi (1932-1983) – Czech photographer. Though not very well-known, he had a unique vision of female beauty. He skillfully linked women's inner world to their natural eroticism and enchanting appearance. Taken in open nature, his photographs symbolized freedom and disengagement during that politically harsh time.
Jan Saudek (b. 1935) – another photographer from Czech Republic, maybe the most controversial figure in this country. Exhibitions of his works were held on all continents except Antarctica. Extreme, scandalousness and sexuality are the hallmarks of his photographs. Another zest of his works is that they're colour-tinted in a quite special way. They somehow resemble tragicomic films or surreal dreams. Some of Saudek's photos were also used as covers for CD albums of some bands.
Antonin Tesar (b. 1963) is his countryman. Tesar used to say: "For me, nothing was more beautiful or uglier than human beings". Light-and-shade scheme in his images correlates with that of the classical paintings. But that's the only thing they may have in common; Tesar's works combine concepts of life and death, beauty and disgust, adoration and perversion.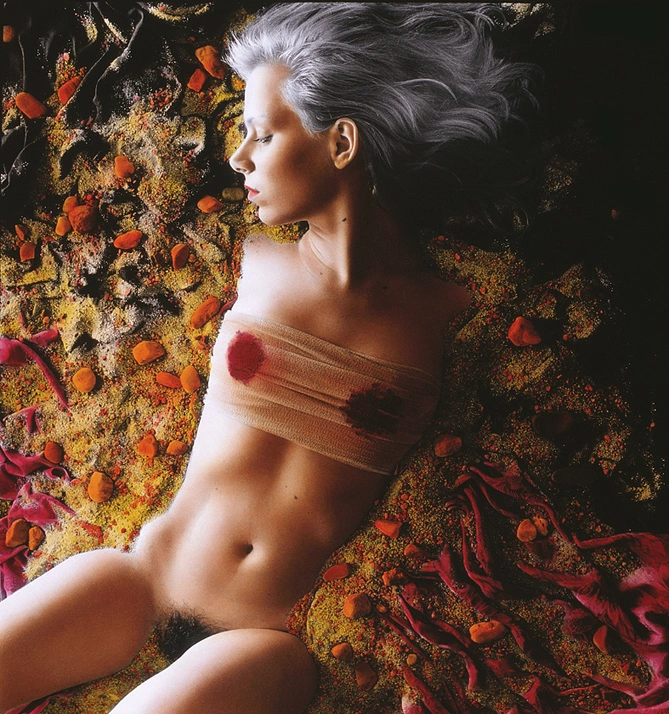 Amazon (1993) © Antonin Tesar
Pavel Brunclik(b. 1950) After graduating from the faculty of mathematics and physics and having studied film direction and screenwriting, he took up photography in 1980. He is a freelancer and focuses in his work on body's natural perfection, regular shapes and muscular grace.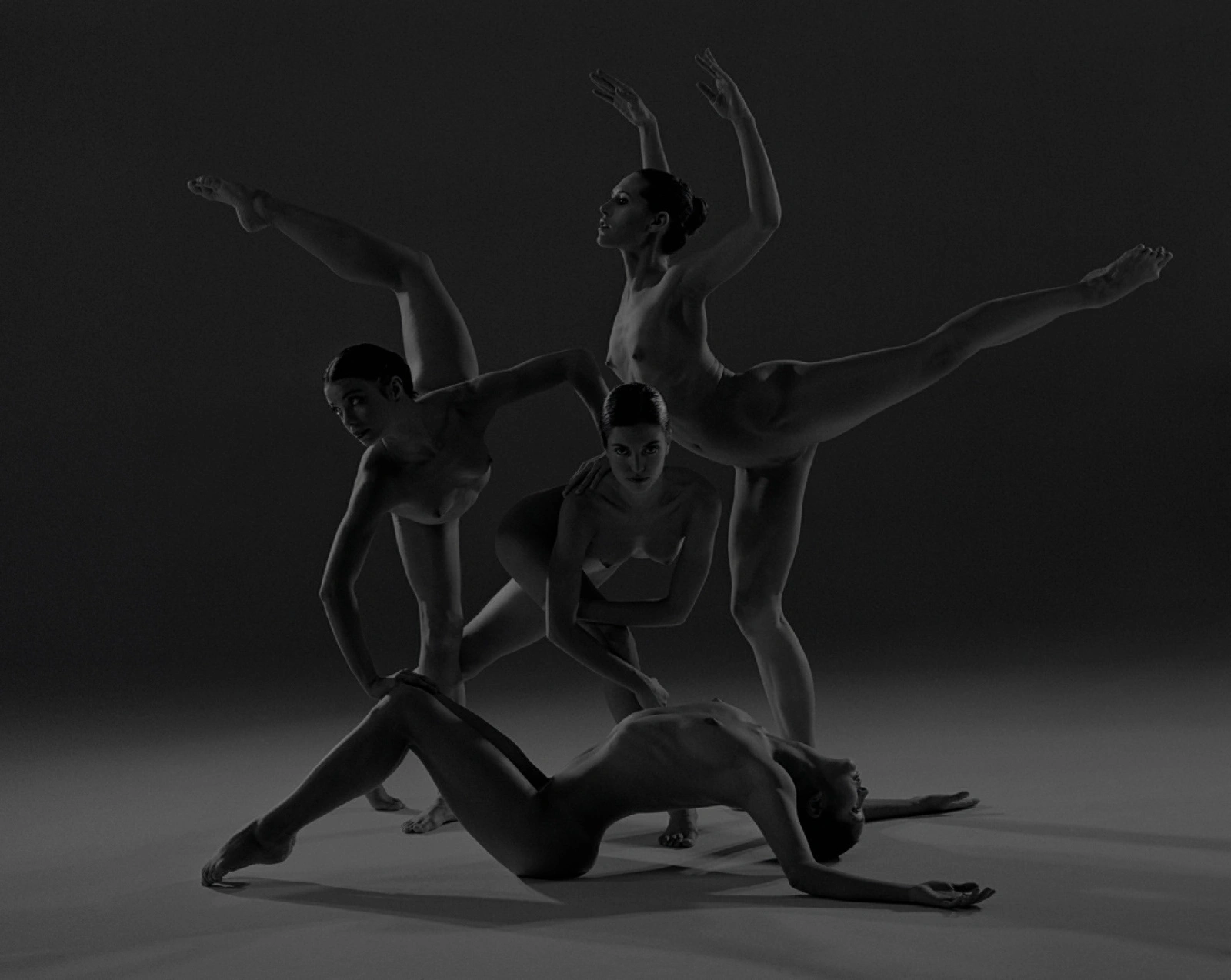 "From The Geometry of nudity" (2006–2007) (dancers of the National Theatre ballet in Prague) © Pavel Brunclik
Sam Haskins (1926-2009) – British photographer, who was born and raised in South Africa. He began his career as an advertising photographer in 1953. He is known worldwide by the four books on nude models' photography he later published. At the beginning of the twenty-first century he focused on fashion photography. He always had a true passion for photography. He worked mainly in black-and-white technique. He was a key figure in the photographic movement in the middle of 20th century and played his part in the sexual revolution of the 1960s. He was influenced by the best in this field and had, in his turn, an impact on many other outstanding photographers. His signature style – sharp black-and-white and single exposure.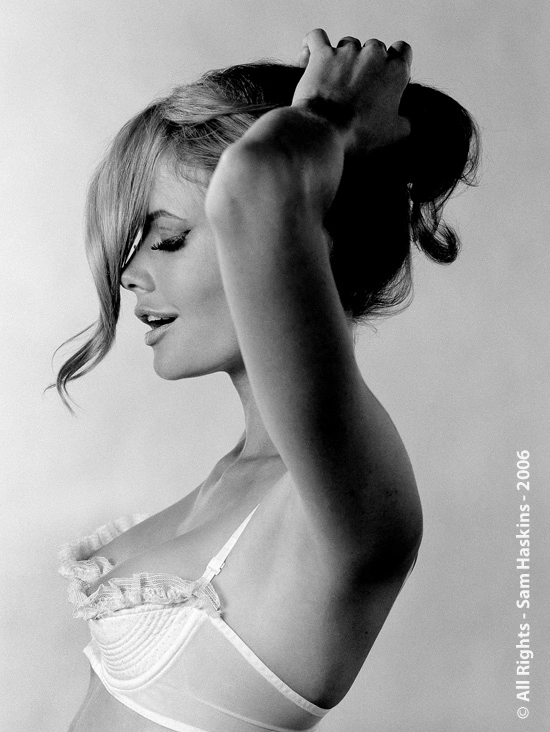 Gill (1962) © Sam Haskins
"A photographer went to a socialite party in New York. As he entered the front door, the host said 'I love your pictures – they're wonderful; you must have a fantastic camera.' He said nothing until dinner was finished, then: 'That was a wonderful dinner; you must have a terrific stove." – Sam Haskins
Joyce Tenneson (b. 1945) A highly respected American photographer famous for her gentle and sfumato style. Her works resemble paintings indeed. Critics called her one of the most interesting "portrayers of the human character". Sensual and mystical images reflect the photographer's perception of outer appearance which she said is immensely connected with "inner reality". Among others, she portrayed a lot of celebrities, including Jodie Foster and Demi Moore.

If I had to pick a single word to describe what my pictures are all about, I would say 'secrets.' As a child I always had a secret world and my favorite book was "A Secret Garden." – Joyce Tenneson

Annie Leibovitz (b. 1949) An American living legend among celebrity photographers. She photographed for "Rolling Stone" magazine for ten years and later for "Vanity Fair". Her cover photos are known worldwide. Probably the most famous is the one of pregnant Demi Moore. She also worked as the concert-tour photographer for Rolling Stones band. And almost everybody knows her famously controversial picture of John Lennon and Yoko Ono. Such an artist actually deserves an extensive description, but in a nutshell – she's one of the best and greatest.
Robert Mapplethorpe (1946-1989) He was an extremely important American photographer focusing in his work on the male body. He created great controversy around his photographs. Some of the most shocking of them went beyond the scope of what the audience would consider to be art. Mapplethorpe is also famous for taking the cover photo of the Patti Smith album "Horses".
Todd Essick (b. 1961) is very well known for his fascinating and unparalleled underwater nude photography. He strives to fuse the beauty of the ocean with that of the female body, using an allusion to Venus, the goddess of beauty. His works are really sophisticated, and immerse a viewer in a totally different reality.
Ruth Bernhard (1905-2006) is a German-born American photographer. She moved to New York at the age of 22. She was highly influenced by the works of famous Edward Weston, who became her mentor. She's mostly known for her images of nude women, all of whom look strangely innocent and sometimes resemble the sculptures of ancient Greece.
These key figures of nude photography will definitely inspire even more photographers of the future. Probably, the next legend is you! What's important on the way to fame is to watermark your photos properly.