Photographers nowadays seem to be everywhere. Digital technology made it possible virtually for everyone. Levels of competition in this field are constantly rising. Taking photos has become simpler than ever. But only technically. Creativity, artistic taste and talent are still an essential part of becoming a success as a photographer.
If you are looking for the fame and appreciation of your pictures and want to become a famous photographer, here's how.
First and foremost, you should be a good photographer. Let's assume you've already achieved this level and are quite sure about your abilities. The next step is to identify your market. What type of photographer should you become? Who makes up your perfect audience? It's a good idea to be a bit picky even in the beginning, because this decision would set the tone for your whole career. If you have always been taking photos of children and puppies, you have a slim chance of switching to nude models. And don't make a mistake of thinking that you are targeting "everyone". That's a lost cause.
Most often you need to launch your own business to become famous. This means you have to establish your own niche in the market. But remember: success in any business field depends mostly on your business skill, no matter how talented and skillful you are in your professional domain. Fortunately, this is not an obligatory factor of becoming well-known, so if you feel that running your own business is too much for now, you'd better go without it at all and focus on creating process.
Strange as it may seem – don't make fame the primary reason to create a masterpiece; it should come as a result of your vision and marvelous works.
Here are some other tips for becoming a sought-after photographer.
Practice makes perfect. Hard work comes before fame. Make a habit of never leaving your home without a camera. You never know where your best shot could come from. Everyday experience can bring you an opportunity to take a photo which is going to make you world-famous.

Creating a hit. What makes a photographer great enough to become famous? If you think about some outstanding photographers you'll realize: they are not that famous. Actually several of their best pictures are very popular. In order to make a truly well-known photographer you should work towards creating a masterpiece people are going to identify you with. It's hardly possible to recall a famous photographer without his shot that's a particular hit. Pick 10 to 12 most amazing pictures and build an attracting portfolio. Don't forget about proper photo watermarking! That's a great starting point. Once a single photo is associated with your name, the trick is done.
The only reason to take loads of pictures is to choose the best ones, not to just have more of them.
Market yourself and promote your ability. Start with running your own blog or a website. Your potential clients should be able to find your photos easily. Social networks can also provide great support. Organize free exhibitions in your town – this is one of the most powerful promotion tools. These methods will help you boost your recognition within the photography community.
Never stop learning. And learn from the best; have a role model, a famous photographer to inspire you. Try not to mimic their style, though. Do not blindly follow others, have your own path and vision. Consider reading books and attending a course in photography; become as competent in the subject as possible.
Practice is the best way to become successful
Establish contacts. Forging ties with the right people can sometimes be half the battle. Inspiring and helping others can also bear rich fruit for your future career.
Don't be afraid to fail. Be patient and persistent on the way to fulfilling your dreams and ambitions.
"Your first 10,000 photographs are your worst". – Henri Cartier-Bresson
Invest in your skills. Invest in quality professional equipment (cameras, tripods and lenses), but don't go over the top with it! You may well display great abilities with only one camera and one lens, but at the same time need a guidebook on a certain aspect you are eager to master.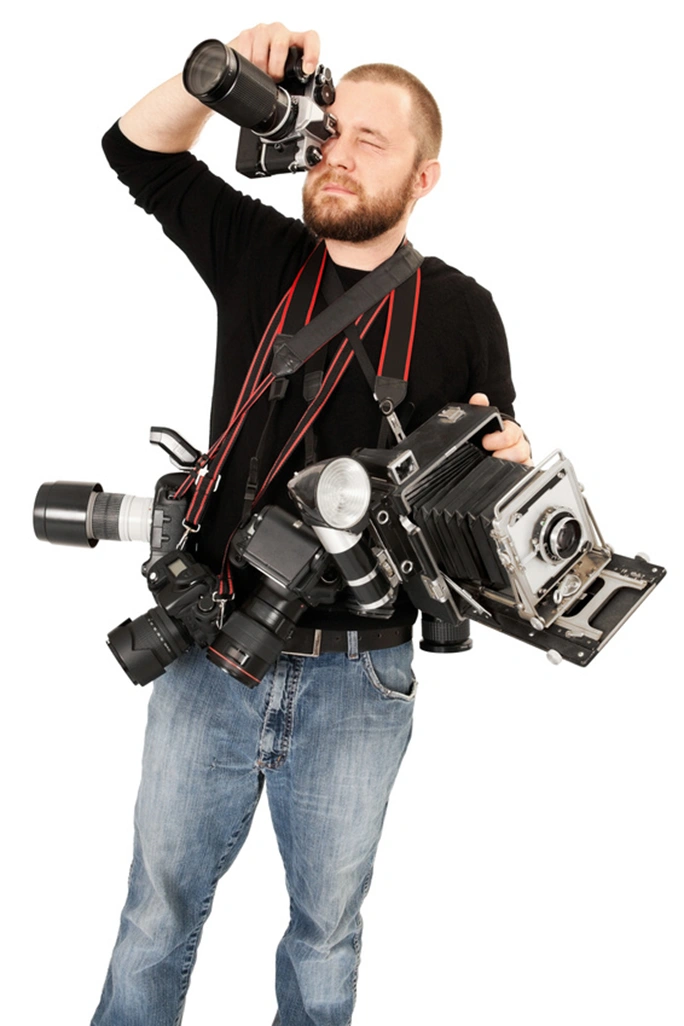 © sumnersgraphicsinc – Fotolia.com
Don't be obsessed with the gear: having too much equipment is the best way to take the worst photos, some experts say