The history of photography as well as of any other kind of arts was witness to total failures and great masterpieces. As a rule, the majority of bad images immediately fade into oblivion just after their appearance. While outstanding works practically always make a profound impact not only on arts, but also on the whole mankind.
The photo of legendary Cuban guerrilla Che Guevara by Alberto Korda can easily be called one of such fateful works. Its story is a vivid example of how a random shot helped an unknown newspaper reporter to become a famous photographer. It also tells about consequences that may appear because of absolute unselfishness and neglecting of copyright protection.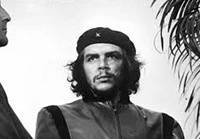 Original version of the legendary picture
Just by a lucky chance
Alberto Korda worked as an employee of Revolucion newspaper and as a personal photographer of the Cuban leader Fidel Castro. But at the memorial meeting dedicated to the sailors burial, Korda gave attention not to Castro, but to his ardent friend Che Guevara. Korda was deeply impressed by his facial expression that reflected the mixture of inflexible will, anger and heartache. A few seconds were enough to make three clicks of camera. This is how the symbol of the twentieth century was born on March 5, 1960. The photo became the iconic picture at once.
While preparing the material for publication a newspaper editor chose other Korda's pictures. Firstly, Che Guevara's photos were rejected. However, the photographer insisted saying that this image represented the ambiguous nature of the revolution hero and the breadth of his inner world most accurately. Alberto processed the image and hung it in his studio.
In the autumn of 1967, the Italian publisher Giangiacomo Feltrinelli (he was the first to publish "Doctor Zhivago", one of the most famous Russian novels in the world) saw this shot. Feltrinelli was dazzled by its inner power and urged Korda to make a copy for him. Alberto agreed and took nothing for the picture.
As a true photographer Korda was not concentrating only on Cuban political leaders or events. He received many awards and arranged a lot of personal exhibitions all around the world. Korda is the winner of the 5th International Underwater Photography Award in Italy (1979). His works always attracted the attention of many connoisseurs of photography.
The destiny of Korda's masterpiece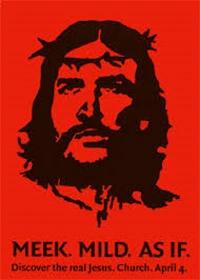 Adaptation of Che Guevara's photo, officially admitted by Alberto Korda
In October 1967 the CIA officially announced Che's execution in Bolivia. Meanwhile Feltrinelli used Korda's photo in order to create a limited series of posters for Italian students who sympathized with the ideas of "world revolution". More than one million of such posters were printed within three months.
Since that time the photo with hidden energy has been considered as the embodiment of the official protest. For example, Parisian students used the image of Che Guevara during their massive demonstrations in 1968. A year after participants of the Woodstock Festival (the epochal event for hippie subculture) decorated their clothing with his image. And even now any anti-globalization demonstration can't be held without this photo.
Something about royalties
Giangiacomo Feltrinelli's photo could be freely used for almost any purpose because the Cuba had not signed up to the Berne Convention that protected copyright. People of all professions and nationalities did not fail to take advantage of this possibility. Che Guevara's image was used to promote the variety of products and brands. For example, this photo adorned T-shirts, watches and baseball caps; ads of Mercedes cars in Germany, Apple digital technologies in Poland, coffee in Iceland and ice cream in Russia.
In fact, Alberto Korda could have become a real multibillionaire if he had proved his authorship of this image especially when the Iron Curtain fell in Cuba. But like a true patriot of his country he preferred not to do it. Korda believed that the best reward for him would be if people remembered Che's ideals looking at his picture.
Alberto Korda always told to budding photographers: "Forget about cameras, forget about lens. Forget it all. Even the camera that costs 4 dollars can make great pictures".
Only in 2000 the photographer complained to the court for the first and only time. Smirnoff company posted his picture on bottles of vodka. Korda explained that Che himself would never have approved of this. The court took the author's side and ordered the alcohol producer to pay royalties in the amount of 50,000 dollars. Alberto donated all money to the Cuban health care services. By the way, a year earlier the photographer gave official permission to adapt his photo to one Britain religious organization. When Alberto Korda died in 2001, his heirs stated they would try to bring to justice all those who used Che Guevara's photo for advertising purposes.