New updated version of this article is available here: https://www.visualwatermark.com/help
If you often post content on websites and social networks and share pictures with followers, and your content has never been stolen, you probably live in a fairytale. The real life is much more cruel. If your content is more or less valuable, useful or actual, be sure it will likely appear on other users' websites.
Besides infinite possibilities, the internet creates positive environment for stealing content and copyright infringement. Both things are very unpleasant. Just imagine you've worked so hard on an article or have taken the best picture ever. Then suddenly your content becomes the property of somebody else without your permission. The thief didn't even notice your name and didn't put the hyperlink to the original source. What do you feel? Anger, irritation, desire to restore justice, right? Well, it's ok. Such impudence may put anybody out of temper. Calm down, we are going to help you.
There are several ways to prevent your intellectual property from stealing but none of them can guarantee you the total security. Nevertheless, it's better to take vitamins beforehand in order to reduce the risk of illness. We've already given you some valuable tips about copyright protection in previous posts.
If precautionary measures didn't work it's time to treat the problem seriously. The majority of internet users do not suppose that copying content is something wrong or illegal. Meanwhile every intellectual product is protected by the copyright law from the moment of its creation. If pirates do not know this fact it does not mean they can continue freely using your content.
Ways to have your copyright back
First of all you should gather the evidences of the infringement. Make screenshots of the page with a stolen picture and the address bar of the pirate's website. If it is possible open the image and copy its URL. If your photo is posted on Facebook, select the item Report/Spam and notify the Facebook administration of the pirated content.
Connect with the copyright infringer (if it is possible) and inform him that you are the right holder of the stolen content. Maybe he or she just does not know that the author is against using his property on other websites and will gladly agree to remove it. You will be a lucky man if the story ends here.
Take note: while emailing your offender try to be polite and objective (but not too humble). There is no need to use rude words or threatening phrases. You can blandly offer to publish your content for some payment. Otherwise, he should remove your blog post or picture from his site in the nearest time.
Usually thieves silently delete the content that infringes copyright if you requested this politely. But if he refuses to do so you need to go further and contact with the provider that hosts the pirate's website. Find out infringer's domain information by the help of the Whois service.
Take note: you must be polite, objective and able to clearly describe the problem. A hoster is obliged to deal with such sort of troubles, because if he refuses to delete the pirated content he automatically becomes one of the infringers.
One pleasant note waits for those who suffered from content pirates. Search engines are on your side and they also fight with illegal use of intellectual property. Use online support tools of Google (here), Facebook (here) or Yahoo (copyright@yahoo-inc.com) and inform them of the DMCA infringement by the takedown notice. The search engines will stop indexing the pirate's site that will prevent you from losing traffic.
Write an online complaint to the Internet Crime Complaint Center that is the partnership of the FBI dealing with internet pirates.
If none of those methods did not help and you still intent to prove your rights then petition the court. Be ready to provide real evidences of your rights.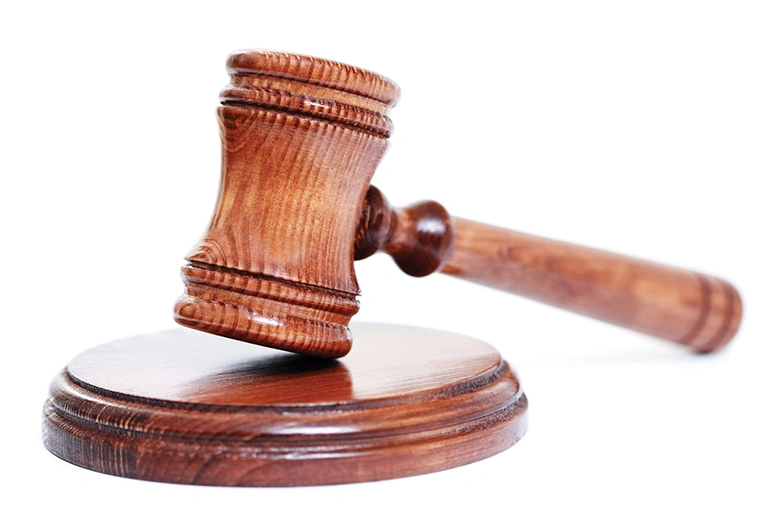 Sometimes only the court is able to stop content thieves
You may also regard the copying of your content as a compliment and allow its free distribution on the internet. But we still recommend you to register your copyright, because hosters, search engines, the FBI or the court may ask for the affirmation that you are the real right holder. You also should add the copyright sign and make watermarks for your pictures (these measures will stop at least the laziest plagiaries). Moreover, this process is very easy especially with Visual Watermark program. Enjoy our quick and useful software and protect your content!