Facebook announced October 3 an algorithm update that allows you to promote your posts to a wider audience outside your fan base.
As exciting as it may sound, this does not come without some headaches for photographers who use Facebook to promote their services and attract new customers.
Read further to find out the implications of the new Facebook update, what it actually means and how can you – as a photographer – tackle the situation and use other tools to promote your business.
1. What Are Facebook Promoted Posts
Promoted Posts is a new Facebook feature that smaller businesses (from 400 to 100k fans) that allow them to reach more of their fans and friends of their fans by being pushed up the rankings in the News Feed.
Your promoted post would look like a typical page post in the News feed and labeled as "sponsored", giving people the option to "Like" your page in the top right-hand corner of the post.
One reason why this may seem like a good investment is because with a Fan Page you can reach only your most advocate fans. Their News Feeds are usually cluttered by other people's posts, so your updates are only seen by a small percent of your followers – maybe by just 15-20% of your fans, according to Gokul Rajaram, Facebook's Product Manager for ads.
In order for you as a photographer to reach your audience beyond the 15-20% percent, you must run paid campaigns like Promoted Posts, which last longer in your fans' News Feeds and therefore more people get the chance to interact with your posts.
As your content is "Liked", commented and shared by more users, your fan base expands, until you will eventually reach most, if not all, the relevant users.
In a nutshell, here are the arguments for using Facebook Promoted Posts in your marketing campaign:
To boost engagement with existing fans.
To reach mobile users (sponsored ads don't appear on Mobile devices).
To inform people who may ignore Facebook ads on the side.
To get in front of people who haven't seen your posts in awhile in the News Feed.
This new ad format also allows you to promote your posts to users that have no affiliation with your brand and reach an entirely new audience of users who may have never heard of you before.
The more people see you post – the more people like it, talk about it, comment on it – the more people would feed your new post to their friends' News Feed. In other words, the more engaging your content is, the better
2. The Downside
As good as it may sound for professionals to expand their reach across Facebook, the update stirs some mixed reactions. A major question arises: why should you have to pay for something that was once already a part of the site?

This feature of promoting certain announcements beyond your own fan base is especially good for photographers. However, the fact that Facebook cuts organic reach and asks to pay for promoted posts is pissing many people off. It's not just that – studies reveal that brand pages are getting fewer views than before the update was implemented.
If you have been using your Facebook page to promote your services, you might find that you simply won't reach your fans, unless you pay Facebook per post.
According to a report (full story is no longer available – Jun 2013) in the Financial Times, a number of brands running Facebook pages are finding their reach has dropped in interaction since the social network changed its algorithm 4 weeks ago. Other Page owners claimed that they also encountered severe losses to their Viral Reach.
An analysis by EdgeRank Checker confirms that something is going on – out of approx. 3,000 sampled pages, only 332 claimed that they noticed an increase in organic reach since the update was implemented.
They also found that organic reach has dropped 25%, viral reach has decreased 45% and engagement dropped 17%, while virality marginally improved by 7%.
3. Is It Worth It For You?
It's time to decide whether you want to pay for the service and what can you do if you don't want to. To decide you should estimate an amount of profit you generate from Facebook and calculate how much it will cost you to post a Promoted Post every 3 days, for example. (Post promotion lasts 3 days).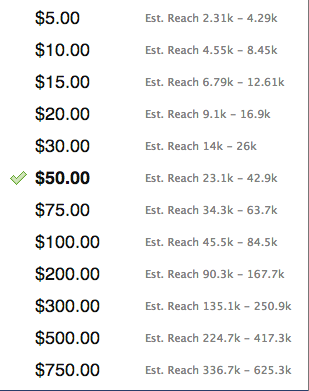 Here I have attached a graph to help you build an estimate. Facebook seems to charge less if they cannot reach your numbers. From my experience, it's about $4 for 1000 views from US, UK and Australia (it's a number if they charge less than promotion budget).
Also, there are constraints on people who can promote their posts. If you're a person, you should have no more than 5,000 fans to be able to promote a post. If you have a Page, you should have no less than 400 fans on it. Otherwise, you cannot use this tool.
While it may seem like Facebook is holding the cards to your organic reach, you as the page owner can try to adapt by increasing relevance to drive interactions and increases your chances of showing up on the News Feed.
The average cost of promoting a sponsored post ranges from $5 – $75 if you're looking for a reach of 2000- 69,000 people. Buying a $5 post every day is just $150 a month, less than what you earn shooting a single wedding.
Ideally, you should measure if Facebook brings you enough revenue to pay for the sponsored posts. Ask your customers where did they hear about your services and see if they come from Facebook.
4. What Other Options Do You Have?
If you decide not to pay for the sponsored posts, here are some other options you can use to promote your business:
a. Build Your Own Website / Photo Blog
Create your own content. You don't own Facebook, just like you don't own your operating system. You "rent" space on Facebook; instead, why not setup your own web space and publish your work on your own property?
A website or a self-hosted WordPress blog is a great asset that gives you total control over the content and images, without having anyone pulling the rug from under your feet.
Here is a great tool to help you build your photo blog and another good guide by Haje Jan Kamps at Photocritic.com to creating your own photography blog.
b. Setup a Google Plus Account
Even if Google Plus doesn't over kill Facebook, you should join if you want valuable networking with fellow photographers. Norwegian brand & content professional, Morten Myrstad, announced the following numbers, just over a month ago:
These are the social network numbers (in million visitors) for June, including the percentage change compared to May:
Facebook 158,6 (+1,0%)
YouTube 153,8 (+0,75%)
Twitter 42,6 (+0,9%)
Google+ 31,9 (+43,1%)
Linkedin 24,6 (-6,5%)
MySpace 21,9 (-8,0%)
Tumblr 21,6 (+0,1%)
Pinterest 19,4 (+0,4%)
As you can see, Google Plus is seeing a huge raise in popularity. And Google Plus's elegant lightbox design is extremely appealing for photographers – huge oversized photographs that load extremely fast are encouraging users to check out your work even more.
Here are the four steps to getting you connected to other photographers on Google+:
Set up your Google profile – This is the key to allow other like-minded people to find you. Include your real name, occupation, city, hobbies and any other relevant information that gets conversations going.

Start your stream – At first, no one is following you, but every time you add a new contact to one of your circles they'll get a notification. One you add a couple of photographs or share a photography-related article, you'll likely end up in some photography circles.

Create catchy titles and descriptions for your photos – Write interesting and engaging titles. Don't upload something as DSCF12345. Give it a good compelling title of one or two nice sentences.

Jump in the conversation – Once you've set up a good photography circle you'll be able to see what other photographers are talking about and sharing in your stream. Feel free to "+1″ (equiv. to "Like") photographs, leave comments, answer people's questions, reply with some of your own questions and enjoy the conversation!
Here is a great list of 2000 awesome photographers who use Google Plus. And another cool list of photographers to add to your circle right now!
c. Join 500px
All the great photographers are taking their photographs over to 500px due to its simple portfolio sharing tools and easy-to-use interface. It also has a good social of social network sites – you can have your photographs "Liked" on Facebook, tweeted to the Twitterverse and more.
d. Use Twitter
Twitter is an excellent way to connect with people, see fresh work and interesting links and also to reach potential clients. Once you become part of a community, your tweets start getting in front of to thousands of people through retweets and mentions.
To expand your base of followers, you must get involved in conversations, look at what other people are tweeting about, check out their posts and reply, retweet, ask questions and… engage.
Use hashtags (#) to "tag" your tweets around a topic, so people can easily find them and respond to what you have to say. Some of the more popular hash tags among photographers are #togs, #photog and #camera.
Use Tweetdeck to filter out the people you want to follow closely and use Twitter Search to pull out the conversations you really want to follow.
5. Final Thoughts
As you can see, you gave many other self-promotion tools beside Facebook, so ultimately, the decision whether to pay for new Promoted Posts is depending on your business goals.
If you want to reach more of your current fan base (and their friends) that you may not be reaching, then running Promoted Posts every now and then might be a great investment.
What are your thoughts? Have you explored Promoted Posts and got positive results? Poor results? Let me know in the comment section below!