"Add Watermark to PDF" from Visual Watermark is primarily an online service for those who are not familiar with complicated PDF editors, such as Adobe Acrobat, etc. If you just need a quick, simple, and straightforward tool for watermarking your PDF files, "Add Watermark to PDF" is the perfect choice for you.
Let's have a look at the features of the app so you can see why this tool is more convenient, more useful, and even safer for you than other apps.
---
1. Watermark multiple PDFs in one go
If you need to add the same watermark to all PDF files at once, nothing could be easier. Just upload your files to the app and start creating a watermark.
No matter what PDFs you've added, whether it is a single document with several pages or a few separate pages, your watermark can be added to all pages simultaneously.
Or, as in all popular editors, you can choose which pages you want to be watermarked. It might be all pages, only the even pages, only the odd pages, or only specific pages that you can select.
In the Preview section of the "Add Watermark to PDF" tool, you can also see how your watermark will look on each page of the document, and you can make some adjustments to the position, size, color, opacity, and rotation of the watermark on a page.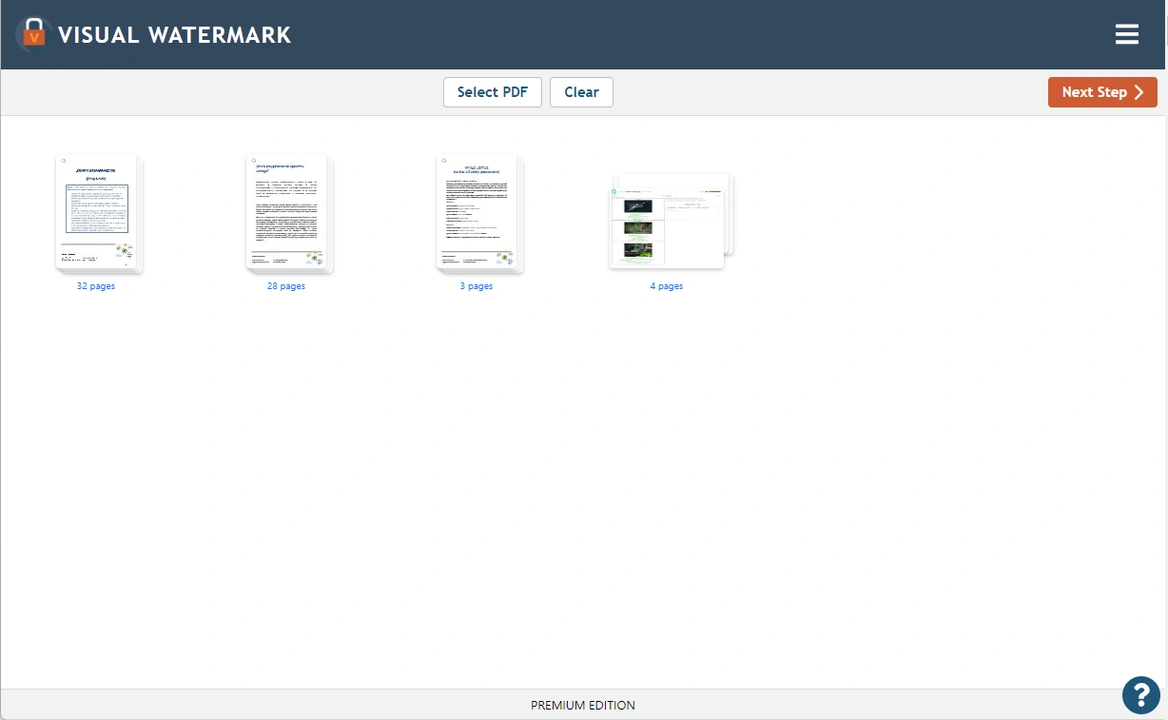 ---
2. Upload logo or image in any format
There are no limits on the format type of images and logos that you can upload to the app as a watermark. "Add Watermark to PDF" supports JPG, PNG, SVG, HEIC, and WebP.
If your logo has a background, you can remove it. It can make your watermark look more graphic and will not distract attention from the main content.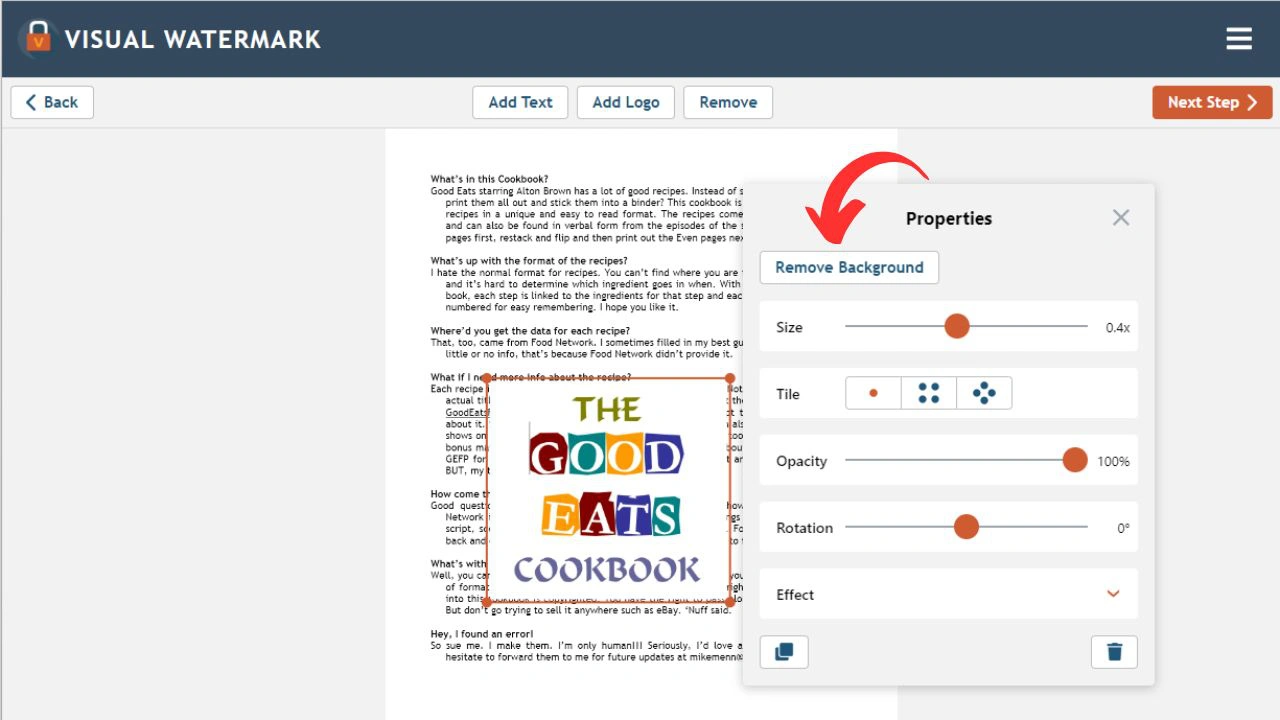 ---
3. 100% safe for you
"Add Watermark to PDF" is a free web app. Everything works online, right in your browser. You don't need to install anything to start watermarking your PDFs. What's more, you don't need to sign up or log in with your social accounts.
We won't ask you to provide any personal data. The app's interface isn't flooded with ads and annoying pop ups. Nothing will distract you from the creative process.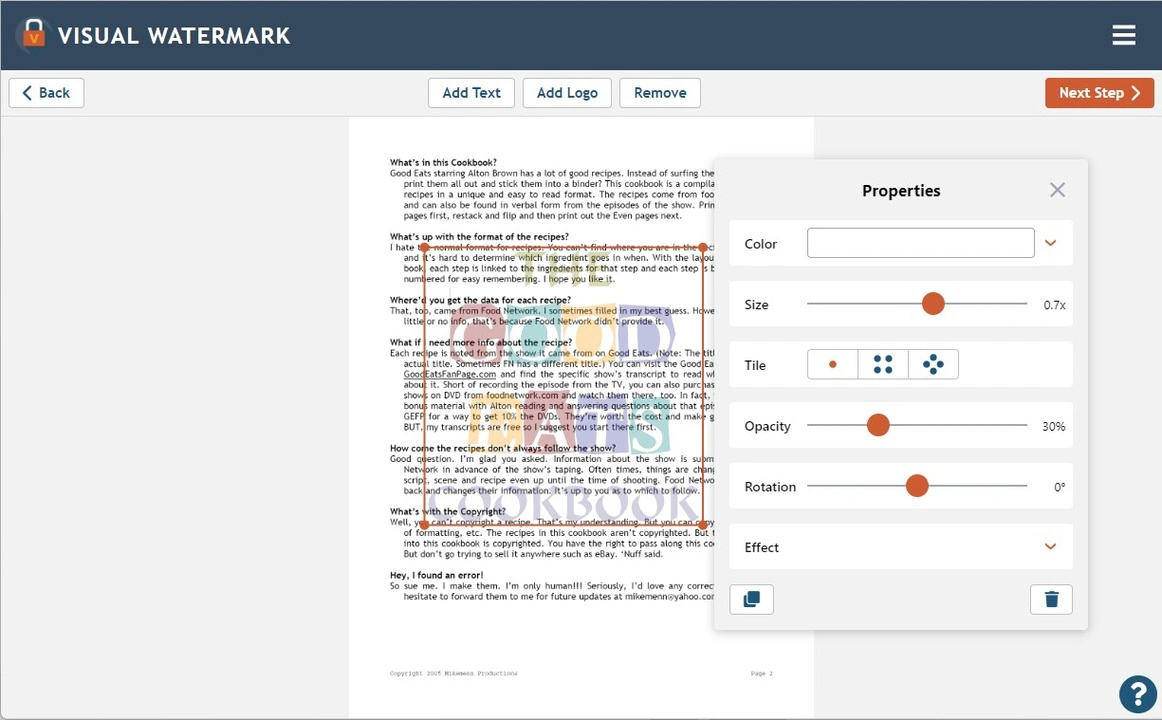 ---
4. Add as many watermarks as you want
You can add several watermarks during one session. It is possible to combine text with an image or logo. Or, you can add multiple textual watermarks to different parts of one page.
There is no need to create separate layers for that. Just click on the "Add Text/Logo" button to insert more watermarks into your PDFs.
All changes are made in one place!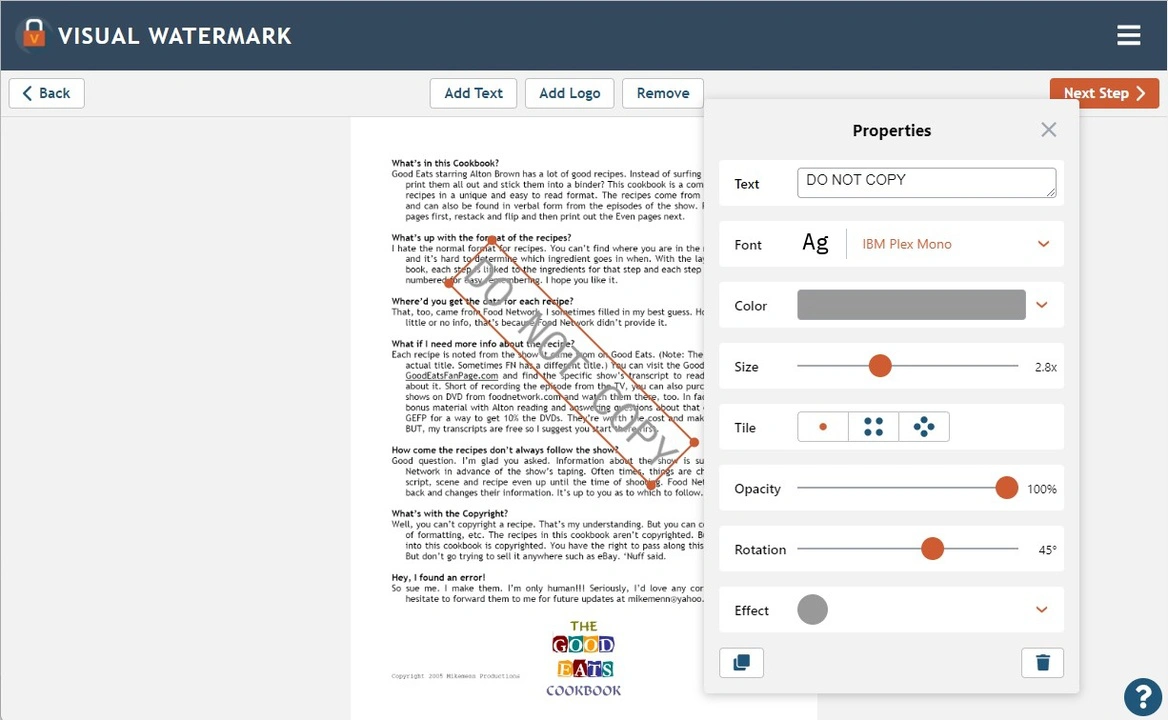 ---
5. Intuitive interface
The app's interface is intuitive and straightforward. You can handle it without any instructions or YouTube tutorials. All the editing options are found in the Settings box right near your watermark.
It is important to note that simplicity does not, by any means, equal poor editing functionality. On the contrary, you have a wide range of tools for customizing your watermark in PDF.
"Add Watermark to PDF" includes the following set of tools:
Fonts: more than 900 fonts of different styles
Color: over 100 solid colors and gradients, enter a HEX color code for precision
Size: resize your text or logo by dragging the slider or with a double click on the number next to the "Size" slider and entering your size
Tile: fill up an entire document with repeated watermarks, adjust the spacing between the elements
Opacity: make your watermark opaque or semi-transparent, and choose any percent of transparency from 0 to 100%
Rotation: rotate a watermark on a PDF from -180 to 180 degrees
Effect: more than 30 various effects that will embellish your watermark and make your text or logo stand out.
You can always see how your watermark looks. And you can make changes in real time in the app's window.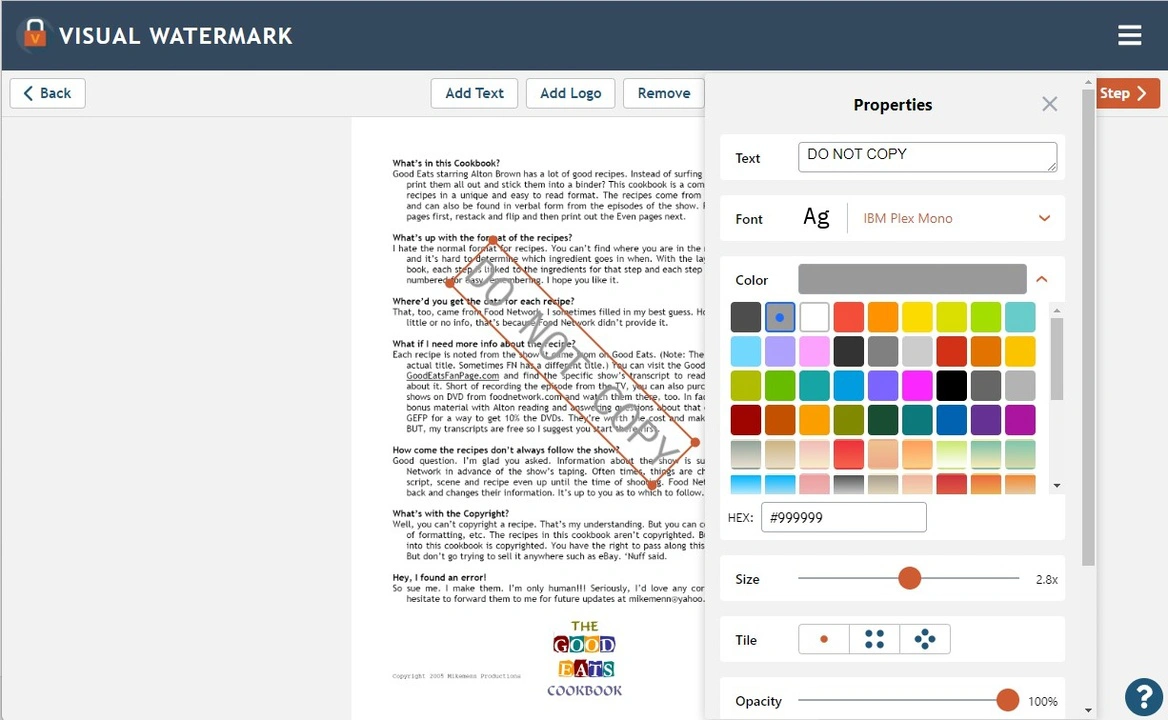 ---
6. Speed up your watermarking process by using previously-used templates
The app remembers the last 10 watermarks you've applied to your PDFs. This can be very handy if you want to add the same watermark to different documents.
There is no need to create a new watermark and edit its position, opacity, etc. Upload your PDF files and use one of your previously-used templates. This way, the watermarking process will be quicker and much easier.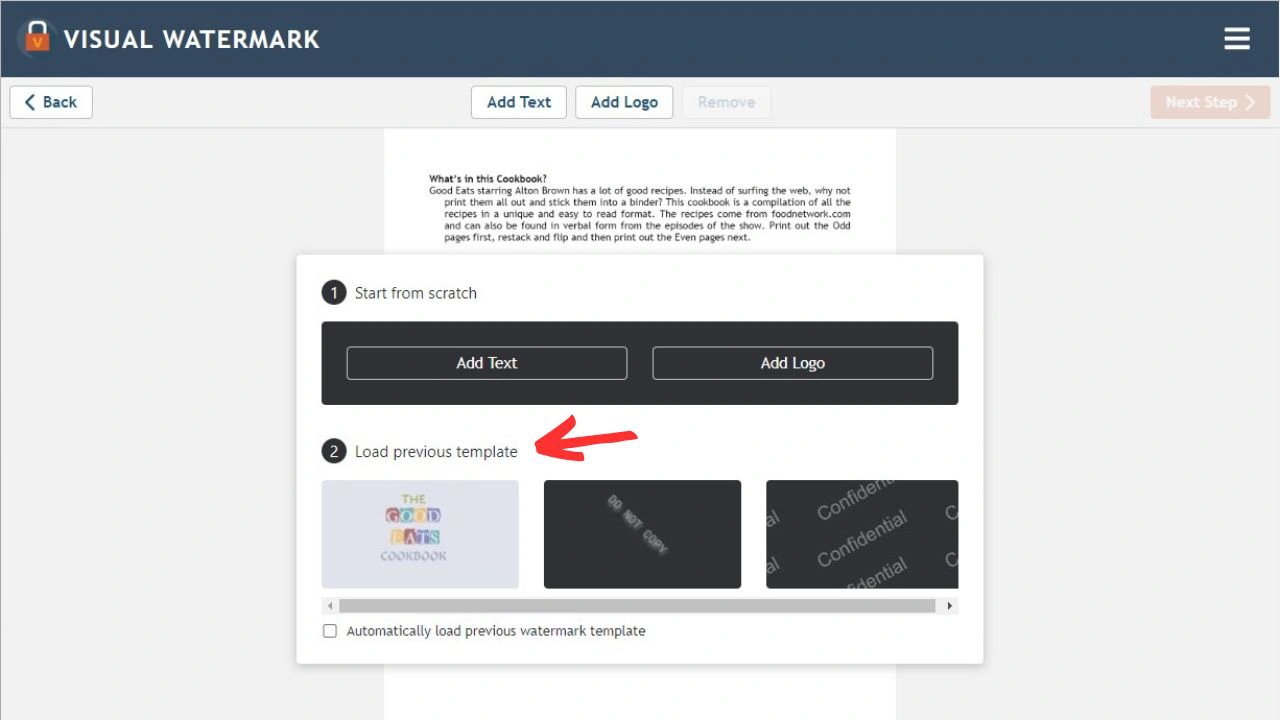 ---
7. Try it for free
You can watermark PDFs using the app for free. Check out the editor's interface, the downloading speed, the finished PDFs. You can upload any number of files.
There is only one restriction with the free version of the app - a Visual Watermark logo is added to the bottom of your PDFs. If you need to remove it, you should buy an upgrade.
---
How to add watermark to PDF in 3 steps with Visual Watermark
Step #1 Select the files
You can upload your PDFs from the computer, Google Drive, Google Photos, or Dropbox. Drag & drop or click on the "Select files" button.
If you've added a file with several pages, you'll see the number of pages in the app's window.
Step #2 Create a custom watermark
Type in text. Improve the way it looks by choosing the right font, color, size, opacity, shadow, and other effects. Use the Tile option if you need to increase your watermark protection. Rotate your watermark and find the best place for it.
If you need to add more than one of the same watermarks to your PDF, click on the "Duplicate" icon.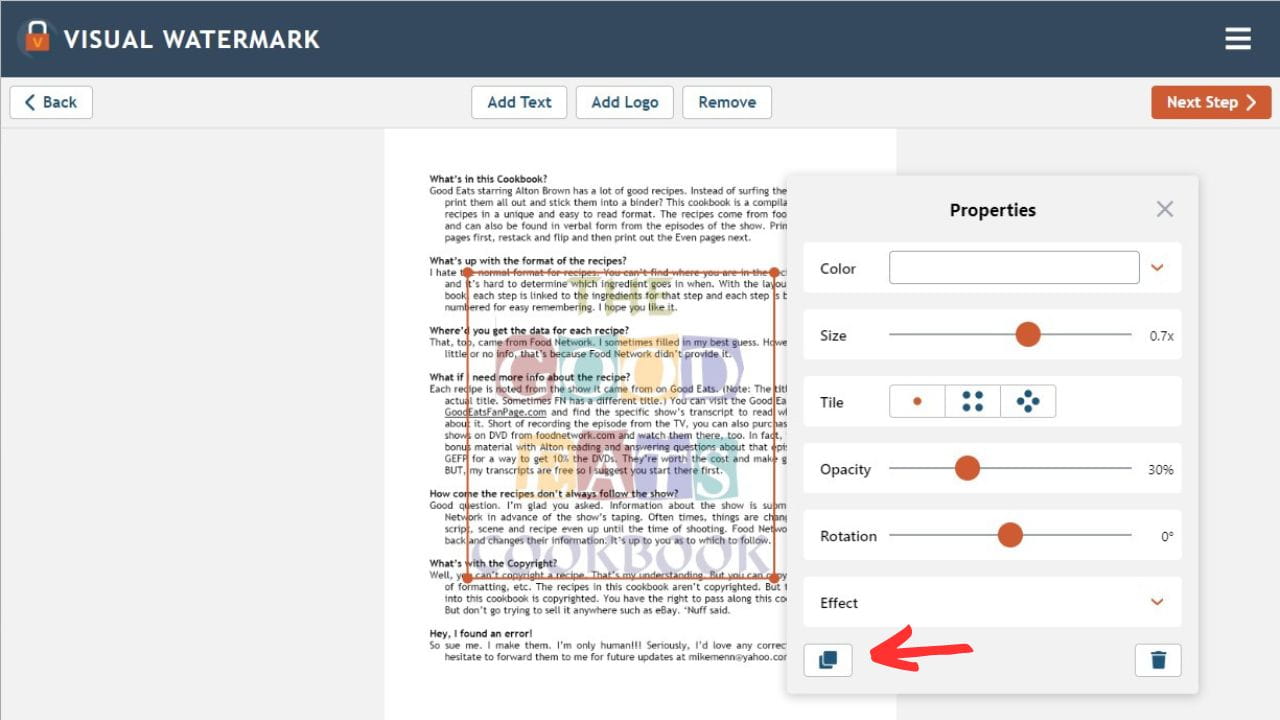 If you need to add an additional textual watermark or a logo, click on the "Add Text" or "Add Logo" buttons.
Once your editing is done, click on "Next Step".
Step #3. Preview & adjust your watermark
Click on the "Preview & Adjust" button in the Settings section. This step is very important.
First, the app allows you to set which pages should be watermarked. Click on the square icon in the top right of the app.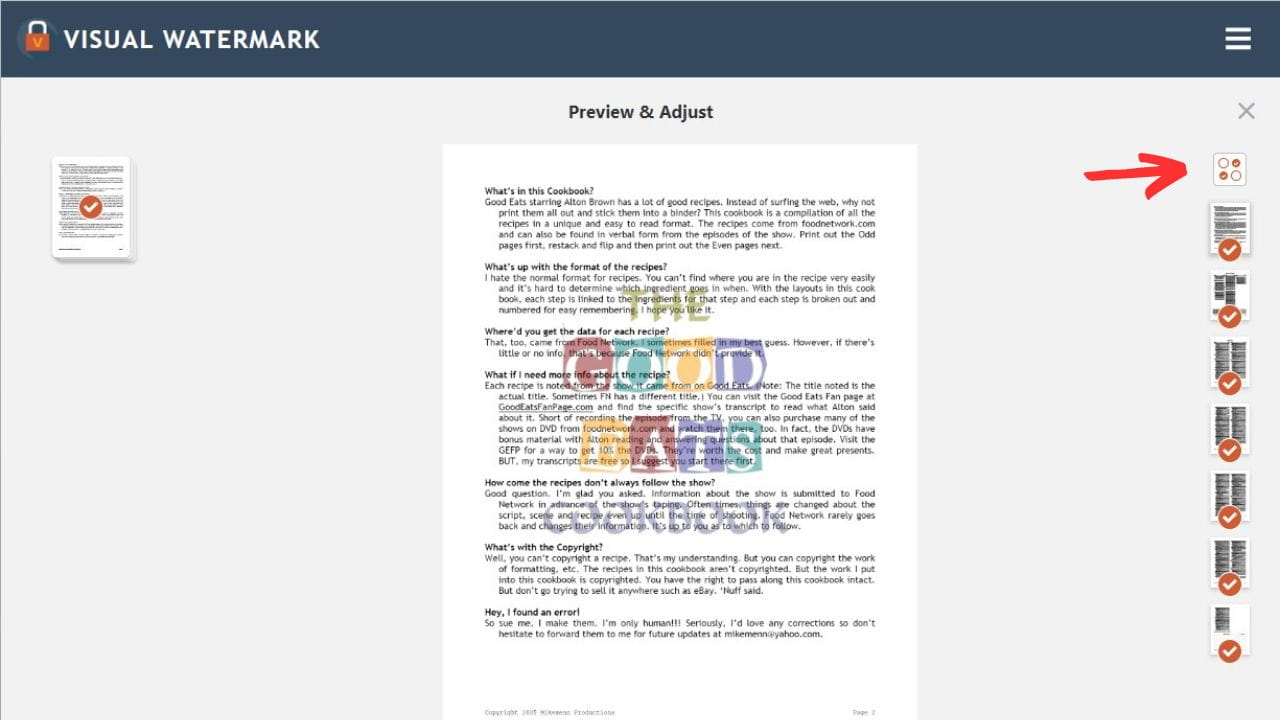 You will see the menu "Page Range Options". It is possible to watermark the entire PDF document or just specific pages you've selected.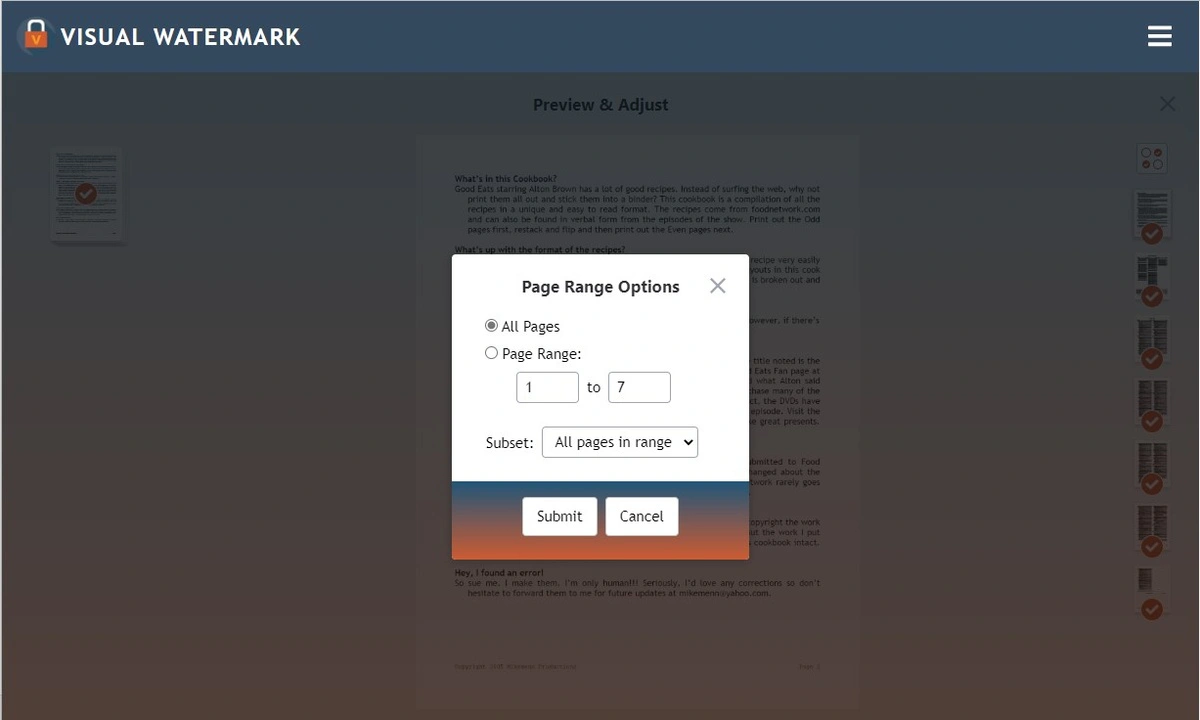 Second, you can preview every page with a watermark in your PDF file and adjust the design of it, if necessary. You can also zoom in on the file for better viewing.
Therefore, you can see the result of your work before downloading the files.
The Visual Watermark app also has the option to place watermarks below the text in a PDF document. Tick the box in Settings to do this.
If you're happy with how everything looks, click on "Watermark Files". Your PDFs are ready to be downloaded.
Visual Watermark can be used for watermarking PDFs on Windows, Linux, macOS, and Android. Regardless of the device you use, the entire process will be uncomplicated and time efficient from start to finish.
---
When you should add a watermark to a PDF
In the modern world, PDF is an indispensable format for working with digital documents. It grants companies the opportunity to easily share files among employees, send newsletters to customers, receive resumes, and so on. Even in every-day life, you can come across this format quite often – for example, if you purchase an online cooking class, there is a high chance that you'll receive all the instructions and recipes as PDF files.
You can use PDF for a variety of purposes. But remember, when you send a file to someone, you give them access to its contents, which can be risky. There's also a possibility of hackers breaking into your company's system and stealing a bunch of classified documents.
If you want to keep your file safe, you need to watermark a PDF. It will be next to impossible to remove your brand name or logo, which will provide protection from plagiarism and theft.
A personalized, semi-transparent watermark can help you avoid copyright infringement. If you don't want people to copy and use your digital assets without your permission, add a logo or your name to your files.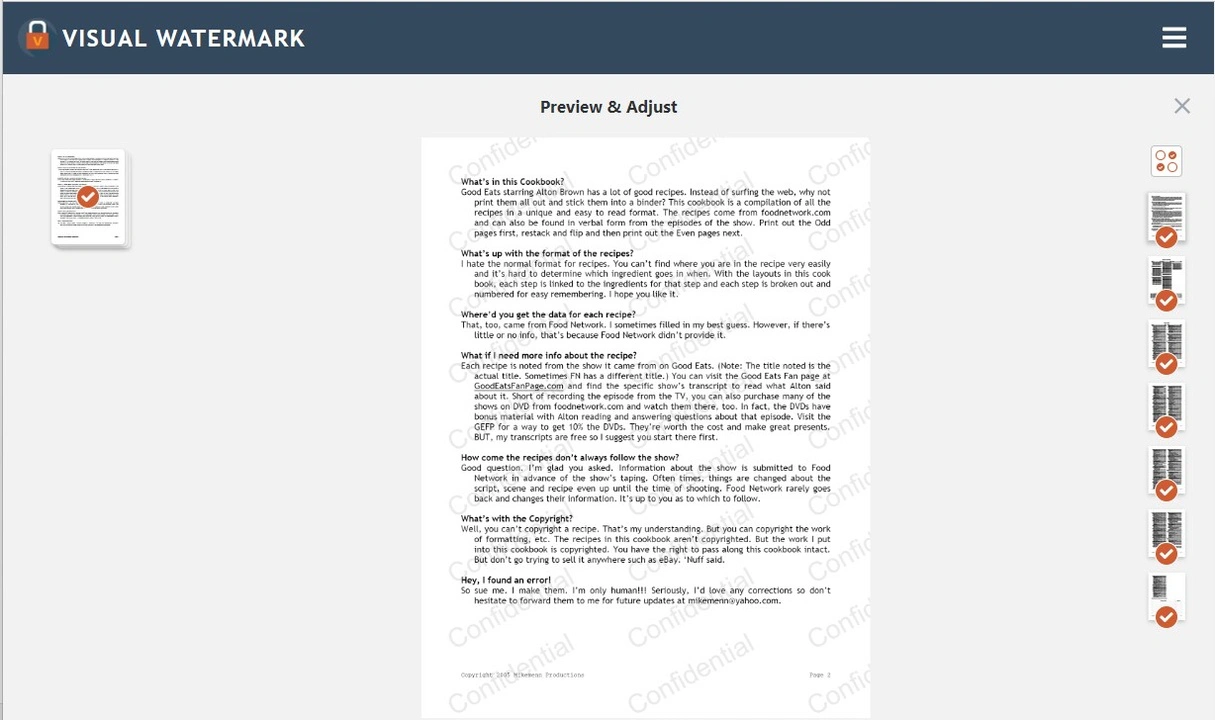 Other benefits of watermark on PDF
Make the brand more recognizable. Believe it or not, but watermarks are extremely effective in marketing. Some brands add a logo or their name on all the files that they send to customers and clients. If people see your logo or name often, they will remember it much better. Therefore, your brand will always linger at the back of their mind.
Categorize your documents. A watermark doesn't always show who the owner of the file is. It can be used for a different purpose. Companies mark their PDFs with such words as "Confidential", "Original", "Copy" and so on. This demonstrates to people what type of file they received as well as greatly aides in bringing some order into the document circulation.
Share your contacts or any other type of information. Textual watermarks are basically just some text that is added to your PDFs. Thus, technically, you can write whatever you want. You may add your phone number and website address to your files, so that people will know how to contact you. It is also possible to write a comment for the coworker, who you will send the file to.
---
Useful tips on how watermark a PDF
In conclusion, we'd like to share a few tips on adding watermark to PDF:
If your document contains a lot of important information, make your watermark as transparent as possible. But keep at least some level of opaqueness for the watermark to do its job. Your watermark shouldn't distract the viewer or make it impossible for them to read the text.
It's better to make your watermark relatively big and place it where it cannot be easily removed or cropped out by an image editing app. This means that you should avoid putting your watermark in a corner of the page or on a plain background. Small watermarks won't be noticeable, which kind of defeats their purpose. Instead, you should place your watermark somewhere in the middle or even fill up your entire page with repeated watermarks.
If you want to add a watermark to a PDF for classification purposes, it should be as visible as possible. For example, if you want to label a document with the word "COPY", make it large and semi-opaque.
Pick your color wisely. Remember to avoid any bright colors – unless they are a part of your brand – for your watermark. Your logo or text should be noticeable without stealing all the attention or making the document look unprofessional.
Use our app to create and apply watermarks at any convenient time for free!
---
Frequently Asked Questions (FAQ)
We have gathered all the popular questions regarding adding watermark to PDF and answered them.
What is a watermark on PDF?
A watermark is a logo, icon, symbol, or text that show who the file belongs to or communicates some kind of information – for example, how to contact the owner of the document or what line of business they have. In most cases, watermarks have a certain level of transparency to be unobtrusive. They never make the contents indecipherable, but at the same time they deter thieves from unauthorized copying.
Do watermarks protect PDF documents?
Yes, they do. But there is one crucial thing you need to keep in mind – your files are protected as long as no one can remove or cut out your watermark. Therefore, it's vital that you choose the correct place for your watermark on your file. For example, there is no point in putting your logo or text against a monochrome background without any details, where it can be erased, or in a corner of the page, where it can be cropped.
How to add a watermark to a PDF document?
You can add a watermark to a PDF file in our Visual Watermark web application. The app allows you to upload files from your computer, Google Drive, Google Photo, or Dropbox. You don't need to download or install it on your device to use it – our app works online! All the tools and features are available for free. You can design a textual watermark from scratch or import your logo file.
How to add a watermark to a PDF on Android?
You can install a mobile version of the Visual Watermark app. It allows you to watermark both photos and PDFs.The set of editing options is the same. If you want to insert watermark in PDF for free, allow the app to use ad tracking.
Does my watermark has to be in a form of text?
No, not at all. You can watermark PDFs with your brand logo, if you have it. This will also show people who the file belongs to. If you don't have a logo designed for you, you can pick an icon from our gallery. However, since they are ready-made, your watermark won't be unique. So, you'll probably have to pair up your icon with a string of text. Figure out what goals you want to achieve with your watermark, then use your imagination and Visual Watermark to design it.