A watermark is a logo or text that has a certain level of transparency and is placed on a document, photo, or video. A watermark can be applied for a variety of reasons – you want to protect your content from being stolen, raise brand awareness, sort your documents into categories, or make it easier for your potential customers to contact you.
You can design an attention-grabbing or subtle and simple-looking watermark with any level of opacity and add it to digital assets in a variety of formats, including PDF. This article will explore why it is crucial to add a watermark to a PDF and how to do it. Here, you will find detailed instructions on how to work in our online app, Visual Watermark, and some other useful information.
---
PDF Files and Their Features
PDF is one of the most popular formats. Text, images, hyperlinks, and other elements in PDFs can be displayed on any device correctly. This format was developed to make it easier for people to share files. For this reason, it is so popular in the corporate world – no matter what device your colleagues have, they will be able to open and view the documents you send them without any awkward and unwanted changes in structure, layout, or content.
PDF is used for exchanging, storing, and archiving digital documents. Pretty much any type of a file can be in PDF – books, guides, leaflets, letters, documents, resumes, etc. It can be a document that you send to a printing center or share with a coworker or a client.
Main Advantage of PDF:
Your files will have the same layout, structure and content on any operating system, or device - no matter what app you'll open them with.
You can easily leave a digital signature on a PDF file. It is also possible to fill it out – for example, if it's a questionnaire or an application form.
You can also add notes and comments on a PDF – and they won't change the structure or contents. The file will look exactly the same. This feature is perfect for teams working on a project together and leaving feedback for each other.
This format allows you to set up various levels of protection. For example, you can prohibit copying of your content or set a password to open a file. However, even with all these layers of protection, you shouldn't neglect adding a watermark to PDFs as well. You will soon learn why.
Usually, the size of PDFs isn't that big, which is why it will be easy to send them by email.
PDF is a great format to utilize for business or personal use.
This format does have some drawbacks, but there aren't that many of them. The major disadvantage is probably the fact that it's really challenging to edit PDFs; after all, this format was developed to preserve the contents and their structure as much as possible. But if you want to add a watermark, you don't have to worry about that.
---
When You Should Add Watermark to PDF
In the modern world, PDF is an indispensable format for working with digital documents. It grants companies the opportunity to easily share files among employees, send newsletters to customers, receive resumes, and so on. Even in every-day life, you can come across this format quite often – for example, if you purchase an online cooking class, there is a high chance that you'll receive all the instructions and recipes as PDF files. You can use PDF for a variety of purposes. But remember, when you send a file to someone, you give them access to its contents, which can be risky. There's also a possibility of hackers breaking into your company's system and stealing a bunch of classified documents. If you want to keep your files safe, you need to add a watermark to PDFs. It will be next to impossible to remove your brand name or logo, which will provide protection from plagiarism and theft.
A personalized, semi-transparent watermark can help you avoid copyright infringement. If you don't want people to copy and use your digital assets without your permission, add a logo or your name to your files.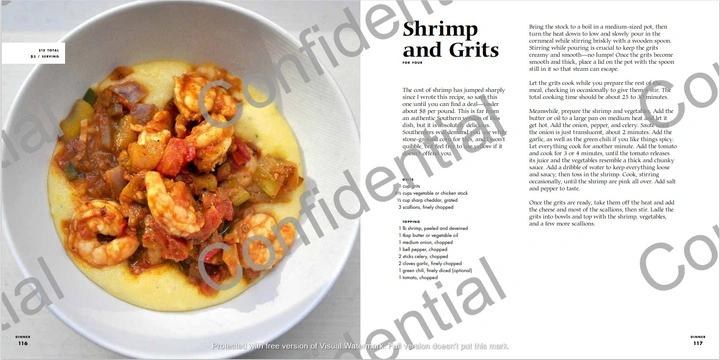 Other Benefits of Watermarks
Make the brand more recognizable. Believe it or not, but watermarks are extremely effective in marketing. Some brands add a logo or their name on all the files that they send to customers and clients. If people see your logo or name often, they will remember it much better. Therefore, your brand will always linger at the back of their mind.
Categorize your documents. A watermark doesn't always show who the owner of the file is. It can be used for a different purpose. Companies mark their PDFs with such words as "Confidential", "Original", "Copy" and so on. This demonstrates to people what type of file they received as well as greatly aides in bringing some order into the document circulation.
Share your contacts or any other type of information. Textual watermarks are basically just some text that is added to your PDFs. Thus, technically, you can write whatever you want. You may add your phone number and website address to your files, so that people will know how to contact you. It is also possible to write a comment for the coworker, who you will send the file to.
---
Where Can You Add a Watermark to a PDF file?
Since PDF is a widespread format, there is a vast variety of software and online apps where you can edit your files. However, not all of them have the feature of adding a watermark. Another thing to keep in mind is that programs from unverified sources can contain viruses or malicious code that will infect your computer. You have to be extra careful and cautious. Searching for the suitable, safe, and secure app can take an insane amount of time. Fortunately, we have an answer for you.
If you need to add a watermark to a PDF quickly, you should use online apps. There will be no need to download and install them to your computer, which also usually takes some time.
Online apps are convenient, fast, and easy to use. One of them is our free app, Visual Watermark. It works in your browser and allows you to add a watermark to a PDF in a matter of minutes.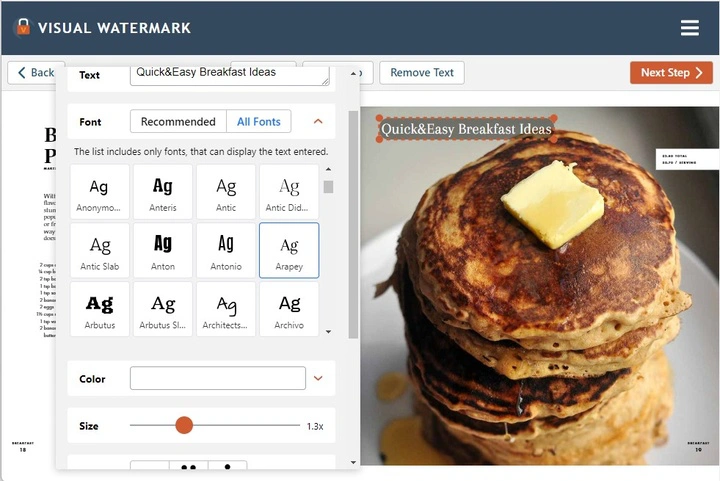 Our app offers an amazing, full-fledged set of tools and features for designing a personalized watermark – be it a logo or some text. It doesn't matter what operating system you have. Visual Watermark can be used for watermarking PDFs on Windows, Linux, macOS, Android and iOS. Most importantly, the entire process, from start to finish, will be unsophisticated, uncomplicated and time-efficient – whatever device you choose to use.
---
How to Design and Add a Watermark to PDF in Visual Watermark
With our online tool, you can add a watermark to a PDF in the form of text or a logo.
How our app works:
Go back to the app window at the top of the page.
Drag and drop the necessary files from the folder on your computer or upload them by clicking "Select Images". Our app allows you to import files from your computer, Google Drive, Google Photo or Dropbox. In the free version you can work with a batch of up to 10 documents. But if you need to watermark dozens of PDFs, consider buying one of our paid editions.
Click "Next step" to start designing a watermark for PDF.
Select "Add Logo" to import a logo that you already have. Pick "Add Text" if you want to create a textual watermark.

Our app can import logo files only in PNG and JPEG format. If your logo doesn't have a transparent background, you can easily remove it in our app. Once your file is uploaded, click on the "Remove Background" button, which you can find in the toolbox. The background will disappear.

You will have an almost identical set of tools to edit text and logos, which will help you create an ideal watermark for PDF. Visual Watermark includes the following:

Font. Since there are over 900 of fonts in our app, you will surely find the one that suits your brand the best.
Color. Our app offers over 100 solid colors and gradients. It is also possible to enter a HEX color code to get the exact shade and hue that you want.
Size. You can easily resize your text or logo by dragging the slider until you get the desired result. Alternatively, you can double click on the number next to the "Size" slider and enter the size you need.
Tile feature. It is possible to fill up an entire document with repeated watermarks that are positioned checker-wise or parallel to each other. This will ensure maximum protection of your files.
Opacity. You can make your logo or text opaque or semi-transparent. It's possible to choose any percent of transparency from 0 to 100%. This way, your watermark won't overlay the important information, making it unreadable.
Rotation. Our app allows you to rotate your watermark in the range of -180 to 180 degrees. This means that you can position it horizontally or vertically, and even turn it upside down. You can also enter the exact angle after double clicking on the number of degrees next to the "Rotation" slider.
Effect. Visual Watermark offers a set of more than 30 various effects that will embellish and make your text or logo stand out. Have fun and experiment until you find the perfect effect.

Export watermarked copies to your device or cloud storage. Once you designed your watermark, click on the "Next Step". If you had just one file, the watermarking process will start right away. If you had a batch of documents, you can go to the Preview Section to see how your watermark looks on each PDF. If you want to, it's also possible to reposition and resize your watermark in this section.
---
Advantages of Our Watermark Maker
Our app is available to everyone for free. You don't have to waste your time on signing up to add a watermark to PDF. We won't ask you to provide any personal data. What's more, the interface of Visual Watermark isn't flooded with ads, and no annoying popups will distract you from the creative process. All you need to do is open the app and import your files from your computer or cloud storage. But please note that if you choose the latter option, you will need to log into your Google or DropBox account first.
We value your privacy and guarantee confidentiality of your data.
Unlike other apps, Visual Watermark gives you the opportunity to use all the tools and features even in the free version. However, it does have a couple of limitations. One of the downsides of the free version is that you can only work with a batch of up to 10 files at the same time. The other - not all fonts are available. But the major drawback is that the words "Protect with Visual Watermark" will appear on your PDF after the export. If these limitations don't bother you, you can use Visual Watermark free of charge anywhere, at any time and on any device you want.
The only thing you'll definitely need to use our online app is access to the Internet.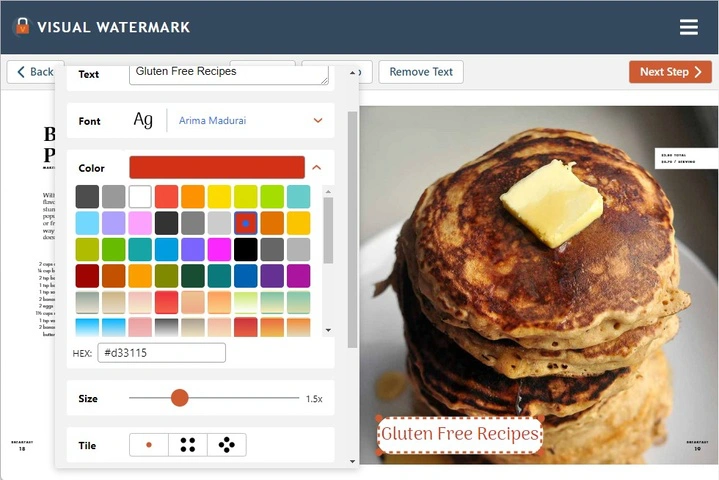 Other Key Features:
You can use Visual Watermark on any device. As it has already been mentioned, our app allows you to add a watermark to a PDF on any operating system. You can even open our website on your smartphone or tablet via mobile browser.
You can save your watermark template for later. All the watermarks that you create and add to your PDFs are automatically saved to the list of previously used templates. In addition to that, you can also download all of the watermarks from this list as files and store them on your device. This will speed up the process of watermarking your files as you won't have to recreate your text or logo from scratch.
Visual Watermark includes a gallery of over 60 built-in icons which you can make great use of if you don't have a logo yet. You'll find variously-shaped capital letters, symbols and icons like houses, cameras, or hearts. They will be perfect for real estate agencies, photographers, stores, etc. To view all the options, click on "Add Logo", then choose "From Gallery".

Icons from our gallery are fully editable as you will have access to the same toolkit that you can use for text and logos. You will be able to change color, size, or opacity. With Visual Watermark, your possibilities are endless.

Our app can protect your watermark from automatic removers. When you work with a batch of files, Visual Watermark slightly changes your watermark on each file. Don't panic just yet – those changes are very subtle and barely noticeable with a naked eye. However, they are enough to trick the AI algorithms, making it impossible for them to remove your watermark.
Visual Watermark offers an array of online tools that you can find and use on our website. It is possible to not only add a watermark to PDF, but also crop photos, change their size, compress them, and add some text to a single image. We also offer an offline app for adding a watermark to the video.
---
Frequently Asked Questions (FAQ)
We have gathered all the popular questions regarding watermarking PDFs and answered them.
What is a watermark on a PDF?
A watermark is a logo, icon, symbol, or text that show who the file belongs to or communicates some kind of information – for example, how to contact the owner of the document or what line of business they have. In most cases, watermarks have a certain level of transparency to be unobtrusive. They never make the contents indecipherable, but at the same time they deter thieves from unauthorized copying.
Do watermarks protect PDF documents?
Yes, they do. But there is one crucial thing you need to keep in mind – your files are protected as long as no one can remove or cut out your watermark. Therefore, it's vital that you choose the correct place for your watermark on your file. For example, there is no point in putting your logo or text against a monochrome background without any details, where it can be erased, or in a corner of the page, where it can be cropped.
How to add a watermark to a PDF document?
You can add a watermark to a PDF file in our Visual Watermark web application. The app allows you to upload files from your computer, Google Drive, Google Photo, or Dropbox. You don't need to download or install it on your device to use it – our app works online! All the tools and features are available for free. You can design a textual watermark from scratch or import your logo file.
How to add a watermark to a PDF on a Xiaomi phone?
Visual Watermark can be used via mobile browser. No matter what operating system you have or what brand your smartphone is, you can effortlessly add a watermark to a PDF in a matter of minutes. The process is unbelievably uncomplicated: you have to import your documents, design your watermark, then export a watermarked copy of your original PDFs. Just make sure that you have enough memory on your phone to download the file.
What is the main purpose of watermarking PDFs?
A watermark is usually used to protect against unauthorized copying and theft. However, you can watermark your documents to pursue other goals. For example, you can add your logo to PDFs to make your brand more recognizable and memorable. Textual watermarks can also help with categorization of documents. For instance, you can add the word "Original" to a letter or a document to show that it's not a copy and thus, this file has to be treated with care.
Does my watermark has to be in a form of text?
No, not at all. You can watermark PDFs with your brand logo, if you have it. This will also show people who the file belongs to. If you don't have a logo designed for you, you can pick an icon from our gallery. However, since they are ready-made, your watermark won't be unique. So, you'll probably have to pair up your icon with a string of text. Figure out what goals you want to achieve with your watermark, then use your imagination and Visual Watermark to design it.
---
Useful Tips for Watermarking PDFs
In conclusion, we'd like to share a few tips on watermarking PDFs:
If your document contains a lot of important information, make your watermark as transparent as possible. But keep at least some level of opaqueness for the watermark to do its job. Your watermark shouldn't distract the viewer or make it impossible for them to read the text.
It's better to make your watermark relatively big and place it where it cannot be easily removed or cropped out by an image editing app. This means that you should avoid putting your watermark in a corner of the page or on a plain background. Small watermarks won't be noticeable, which kind of defeats their purpose. Instead, you should place your watermark somewhere in the middle or even fill up your entire page with repeated watermarks.
If you want to add a watermark to a PDF for classification purposes, it should be as visible as possible. For example, if you want to label a document with the word "COPY", make it large and semi-opaque.
Pick your color wisely. Remember to avoid any bright colors – unless they are a part of your brand – for your watermark. Your logo or text should be noticeable without stealing all the attention or making the document look unprofessional.
Use our app to create and apply watermarks at any convenient time for free!