Add lines of text or various logos to a single image using our online tool in a matter of minutes. Create unique captions or upload your ready-made logo. The app is easy to use and absolutely free.
All you have to do is follow these steps:
Drag a photo into the app with your cursor or click on "Select Image".
Enter some text or upload a logo.
Have fun and experiment with the settings. Stylize the text however you want. Our visual editor is very easy to use: just click on the text and drag it to any place within the image.
Click on the "Save Image" button to download a processed image.
The original photo will remain unchanged.
---
Edit Your Text Whatever You Like
With our free online app, you can edit your logo or text in a matter of minutes and without facing any difficulties. All settings are located next to your text, which means there's no need to move your cursor around the entire screen. You can add as many text blocks as you want.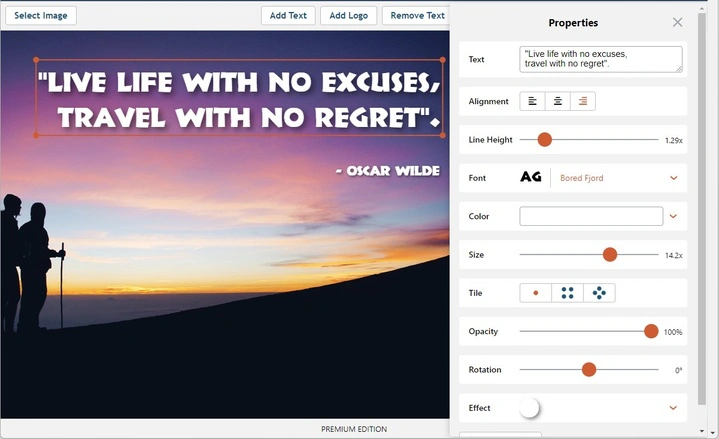 Here you will find everything you need to make a caption look exactly like you want. You can:
Add multiline text and adjust line height,
Choose one of 926 different fonts,
Fill the entire photo with repeated text,
Use one of 33 effects, including the shadow effect,
Change size and opacity level,
Remove background from your logo,
Find a suitable color hue.
---
Free and Secure
"Add Text to a Photo" is a free online application. You do not need to download and install anything on your computer. Installation of additional plugins is not required. Simple and intuitive interface is not clogged with ads.
No one will get access to your original image. We do not store photos on our servers. None of our team has access to them.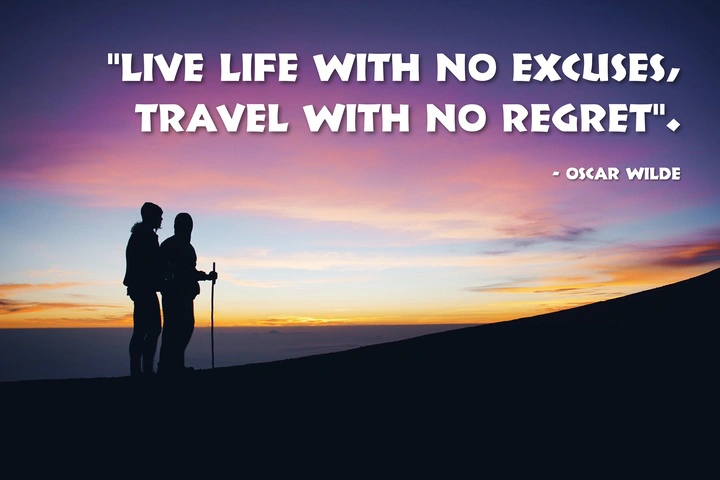 ---
How to Add Text to a Photo with Visual Watermark
Open your image in "Add Text to a Photo" by dragging it into the app or clicking on "Select Images" and choosing the photo to work with. You can upload your picture from your device or a cloud storage like Google Drive, Google Photos or Dropbox.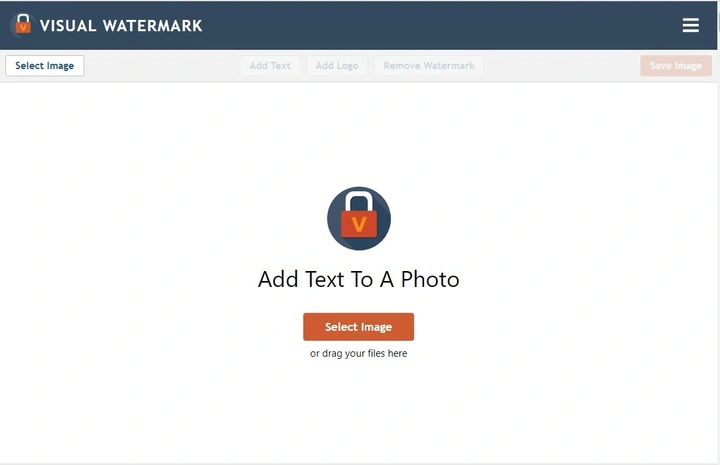 In the top part of the app click on "Add Text" if you want to add a string of text into your image. You will see words "Your Watermark" appear in the center of your photo. It means that the text is added, and now you can modify it to your liking.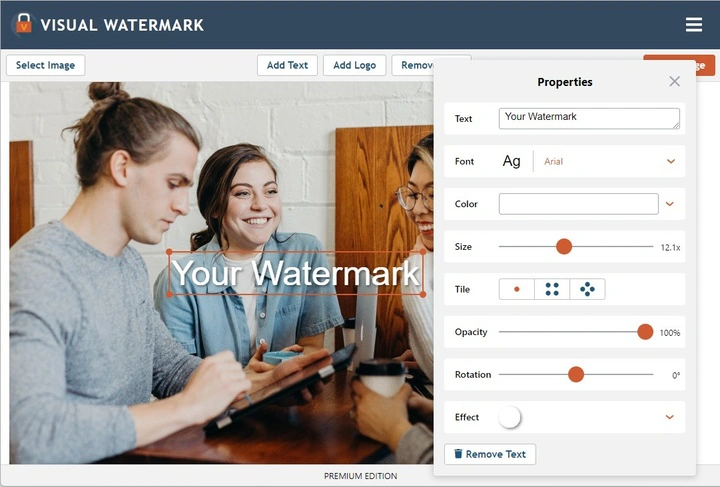 Naturally, you'd want to change the text. Go to the "Text" bar, click inside the bar and type in anything you want. You can change the position of the text by selecting and dragging it with your cursor or using the arrow keys.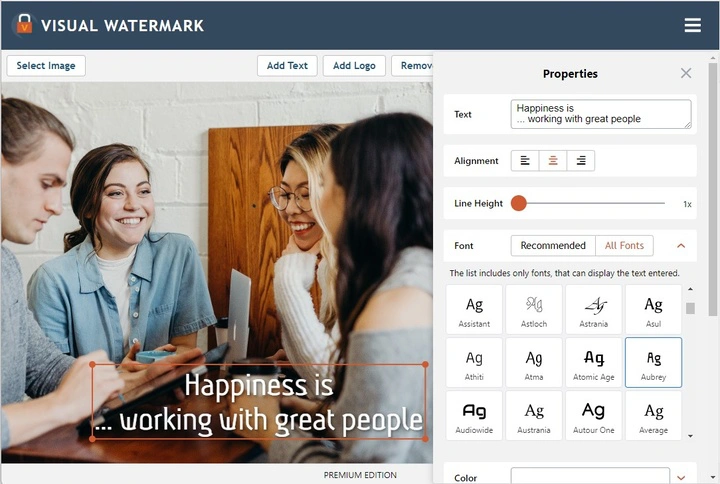 You can also add multiple elements to an image. It can be several lines of text with different styles, a combination of text and a logo, or just a logo.
In the latter case, click "Add Logo", remove the background if necessary and adjust its design.
---
Customize Text on Photo
Let's move on to the customization part. Fonts come first.
As it has been already established, the font has to flow perfectly with the mood of your image and since our app offers 926 built-in fonts, you are sure to find the perfect one for your photo. Just scroll through the display of fonts and click on the ones you like to try them out.
There are all kinds of fonts you can find here: classic, funny, fancy, minimalistic and cinematic. Some fonts can be made bold, italic or bold italic - click on the font to see if either of these options is available.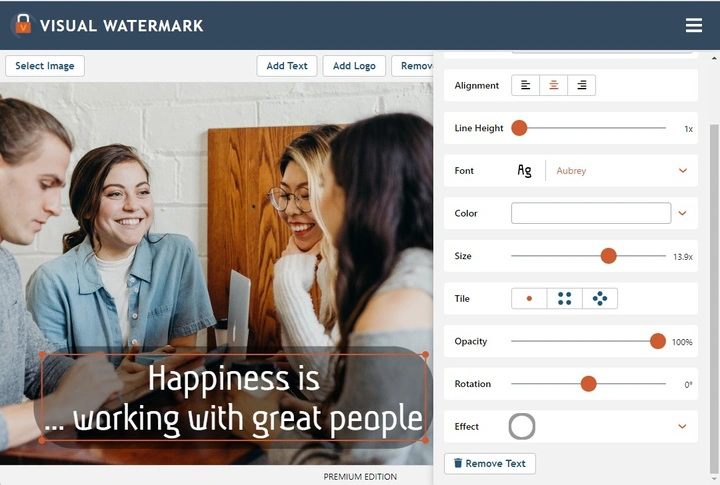 In the free version of the application, you will be offered 12 recommended fonts.
Let's add some final tweaks. In order to change the size of your text, you'll need to drag the small orange circle to the left to make the text smaller or to the right to make it bigger.
The similar method works with "Transparency" - the left side is 100% and the right side is 0%; and "Rotation" - the left side is -180 degrees angle, while the right side is 180 degrees angle.
If you feel like your text is missing something, you can also add some effects from our diverse collection. For example, you can make your text more tridimensional by applying the shadows effect.
As soon as you are happy with the added text, click on "Save Image" to download the picture.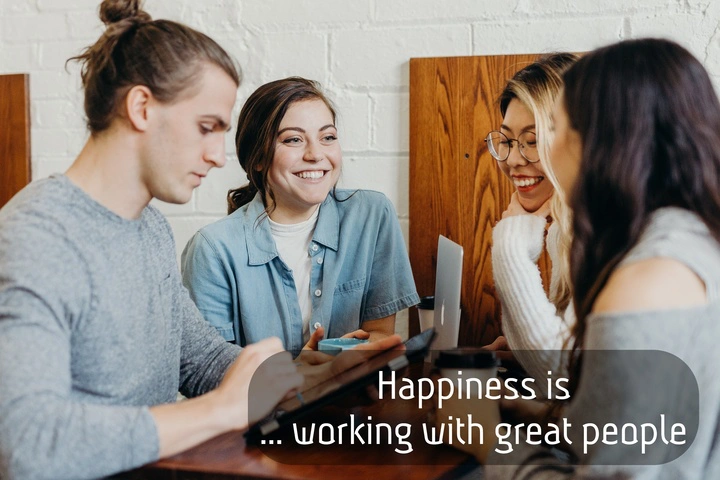 All done! Easy, isn't it?
Now you have all the tools and knowledge to make your photos more powerful and memorable with the help of "Add Text to a Photo".
---
Add Text to Multiple Photos at Once
Our online app allows you to add one image at a time. If you need to add text to several images at once, use our desktop app "Visual Watermark".
Visual Watermark is a desktop tool for adding text to multiple photos at once. It works right on your computer and processes photos really quickly. It also allows you to use your own custom fonts.
---
FAQ
How do I put text onto a photo?
Open "Add Text" app from Visual Watermark in your browser on a computer, upload a photo, click on "Add text" and start creating the caption you need. You can save the final image with the text for free. The whole process will take a couple of minutes. If you'd rather work on a mobile device, you should download our application from the App Store or Google Play. In this case, you can also put text on a photo absolutely free of charge, but after watching the ads.
How can I add text to a picture for free?
Use our free online app "Add text". You'll be able to enter any text you want, choose one of 12 fonts for free, adjust the size, transparency, position of the text, and add numerous visual effects.
How do I add captions to a JPEG?
Our application allows you to upload an image of any format. Just open your picture in the "Add text" app and start applying a text.
How do I choose the best font for my text?
Choosing the right font for images isn't an easy task. After all, it is essential that the font determines the mood of the whole picture, maintains the style, and does not differ from the overall visual concept.
It is essential for the font to have the same style and mood as the scene in the photo. It shouldn't be offputtingly different. Simply put, a wrongly selected font can throw your beautiful photo of balance. If you don't know much about typography, play it safe and choose one of commonly-used fonts. For example, Arial, Verdana. They will look good in any pictures.
How do I add text to a screenshot online?
Our free online tool "Add text" allows you to work with any image, including screenshots. It will take you only a few minutes to apply your text. To do this, you must upload a screenshot to our app and then work with the text. You can save the finished image to your computer/mobile phone or cloud storage memory.