You might need to add logo to photo for a variety of reasons. Perhaps, you want to protect your images from being stolen or you need to confirm the authenticity of your works. Maybe, you want to add your logo for advertising purposes and to increase your brand recognition.
If you need to process just one photo, our free online app "Add Logo to Photo" may be a great choice for you.
Our app offers numerous tools for editing, including built-in icons, hundreds of fonts, and various effects. It allows you to add a logo to a photo on any device – iOS and Android smartphones and tablets, laptops, PC, and MacOS. As long as you have a stable internet connection, you can process your images anywhere you want.
Try "Add Logo to Photo" for free to see whether it meets your needs.
Key features of the app:
Lightning-Fast Processing. Even if you need to do some editing, the whole process will take you no more than a minute.
Various options for logo design. You can not only add the logo that you already have, but also create an entirely new one, from scratch, by combining icons from the app's gallery and strings of text.
Remove Background. Does your logo file have the monochrome background that you'd like to remove? You can do that in our app with the help of the Remove Background option. Just one click of this button and the background will be gone.
There are no restrictions on how many watermarks you can add. You can add just your logo. You can combine a logo with some text. You can even add several logos and lines of text to a single photo if necessary.
User-friendly interface. Mastering the app won't pose any challenges. You'll be able to resize, reposition and edit your logo without any effort.
Please note! We value the privacy of user data and don't store your original and processed images on our servers.
---
How to add a logo to a photo: step-by-step instructions
Using Visual Watermark, you can add logo to photo of any format – jpg, png, webp, heic и svg. With the help of this service, you will be able to design logos of any style you want.
To get started, simply open the app in your web browser. All the tools – except for some fonts – are available at no cost. You don't need to sign up or provide any other sort of personal information.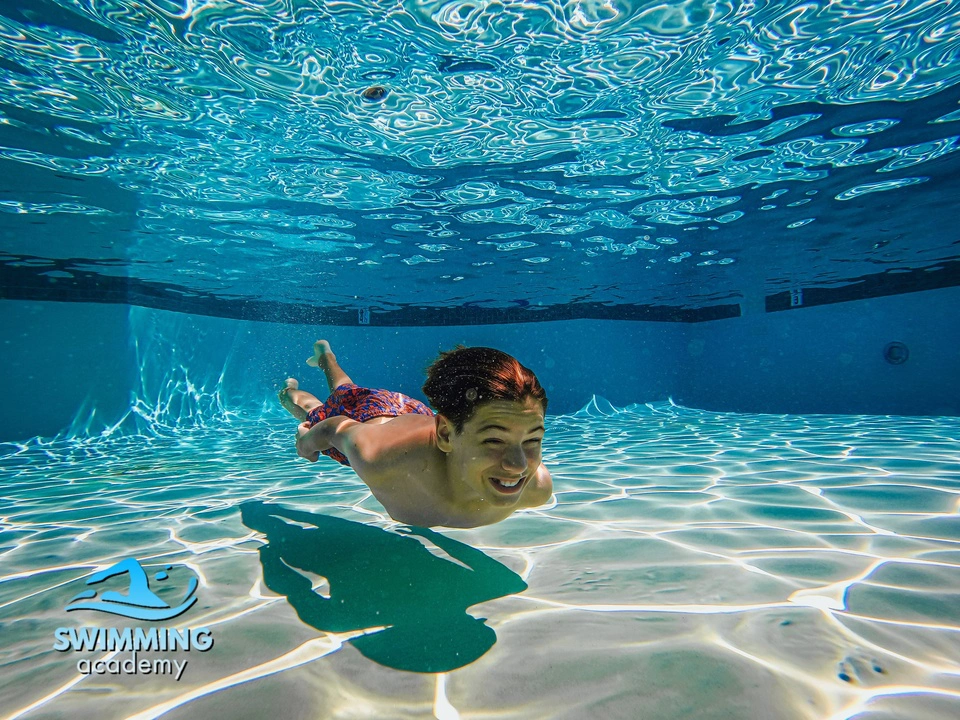 This is how you can add a logo to a picture with Visual Watermark:
Go to visualwatermark.com, hover your cursor over the "More Tools" button and click on "Add text to photo".
Click "Select image" or drag and drop your photo into the app's window. If you want to replace the image, simply click on "Select image" again in the top left corner of the app and choose a different file.
Click on the "Add Logo" button. You will have several options: upload your own logo file from your device or cloud storage. You can also use one of the ready-made icons to create a brand new logo. To do this, click on the "From Gallery" button.
Click on the "Remove Background" button to get rid of the logo's background, if necessary.
Make use of the toolkit to edit your logo. More details about the available tools and features will be provided below.
Click on "Save Image" and a copy of your photo with your logo will be downloaded immediately.
If you want to save time and add a logo to hundreds of pictures in one go, consider using our watermarking app Visual Watermark.
---
Tools for Editing
Once you add a logo to a picture, you can customize it to your liking. The following editing options are available:
Color. You can change the color of your logo with the help of the color wheel. If you want a specific hue and shade, you can also enter a HEX color code.
Resize. The size of your logo can be adjusted using the "Size" slider. If you want to add a logo for protection, advertising purposes or both, your logo has to be noticeable, so make sure that it's of a big enough size.
Tiled watermarks. You can put a single logo on your photo or fill the entire image with repeated logos, using Tile feature.
Transparency. You can adjust the level of transparency from 0 to 100%, depending on how transparent you want your logo to be.
Rotation. You can set your logo at any angle you need.

Effects. Over 60 different effects will help you add a nice finishing touch. You can make your logo stand out by adding a shadow, placing your logo against a boxy background, or giving it a 3D effect.
---
Why It's Important to Add a Logo to a Photo
Logos on photos serve several important purposes. Here are some of the key ones:
Brand Identity. All the visual content that you post is a part of the corporate identity, therefore it needs to have your logo. A logo on a photo helps with establishing connection between the image and the brand.
Copyright Protection & Authorship Information. A logo on a picture can serve as a watermark. This will indicate that this photo was created by you and must not be used without your permission. For better image protection, your logo should cover up to 30% of the photo. Alternatively, you can fill your entire image with repeating logos; this is what photo stocks usually do. If you opt for either of these, it's a good idea to make your logo semi-transparent, so people could still see the photo clearly.
Marketing and Advertising. Your logo can be used to promote products, services, and the brand itself. A logo on a photo can be a big help if you have a small but highly competitive business, and you are actively promoting it on social media. If you add a logo to the photos that you post on Instagram, people will remember your logo better. And the better people remember the logo, the better they remember your brand. Thanks to the logo on your visual content, you will become more recognizable among your competitors.
Trust and Professionalism. The fact that you spend time on adding logos to your images shows people that you care about your brand, that you are okay with putting in the work to promote it. This evokes a sense of trust in people and makes you look like a real professional.
Attracting Attention. Logos can draw attention to a photo and make it more noticeable on various platforms, including social media and websites.
Creating Associations. Logos can establish associations and emotional connections with a brand, product, or service, which can be great for marketing.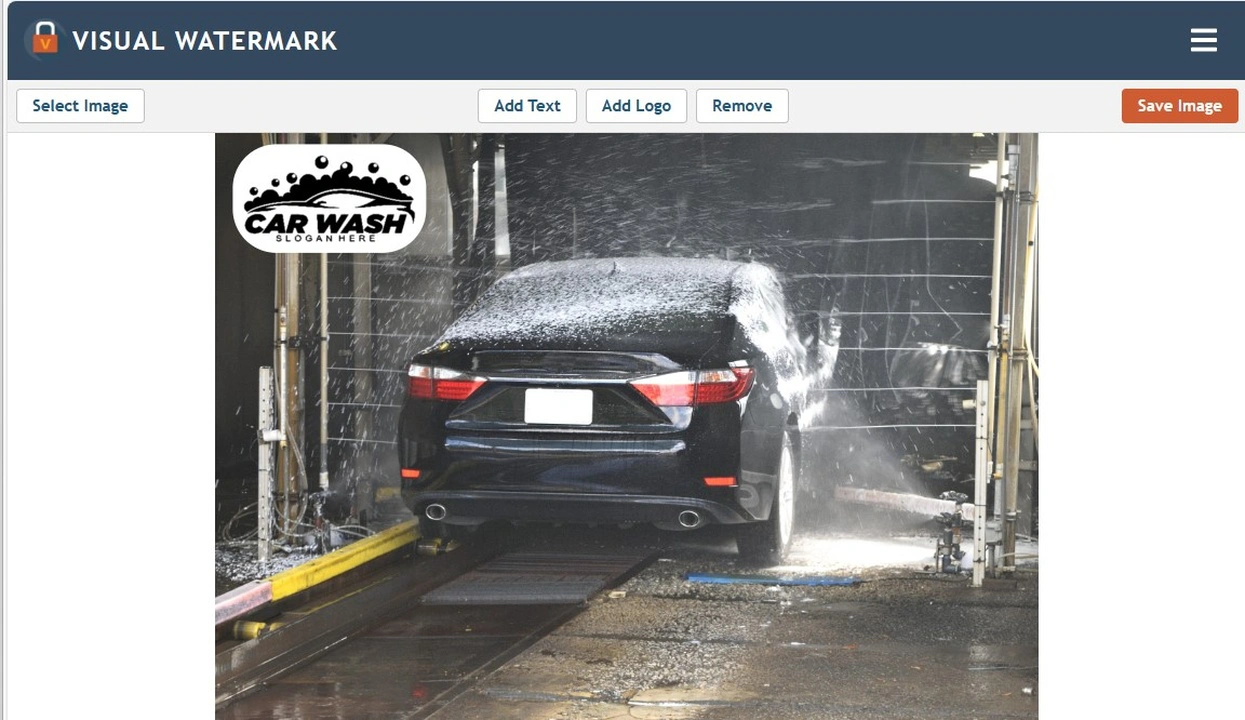 ---
How to choose the best font for your logo on a photo
If you are thinking about designing your own logo using free online services or the "Add Logo to Photo" app, first, you'll need to decide which fonts you'll want to use. The choice of a font directly affects the way your logo – and therefore, your brand – is perceived. It is recommended to use no more than 2 different fonts: one for the company name and one for the slogan.
Are you afraid of being at loss when the time to choose fonts for your logo comes? That's totally fine. After all, our app, "Add Logo to Photo", includes more than 900 fonts. But don't worry. We're here to help! Below you will find the main recommendations for choosing a font.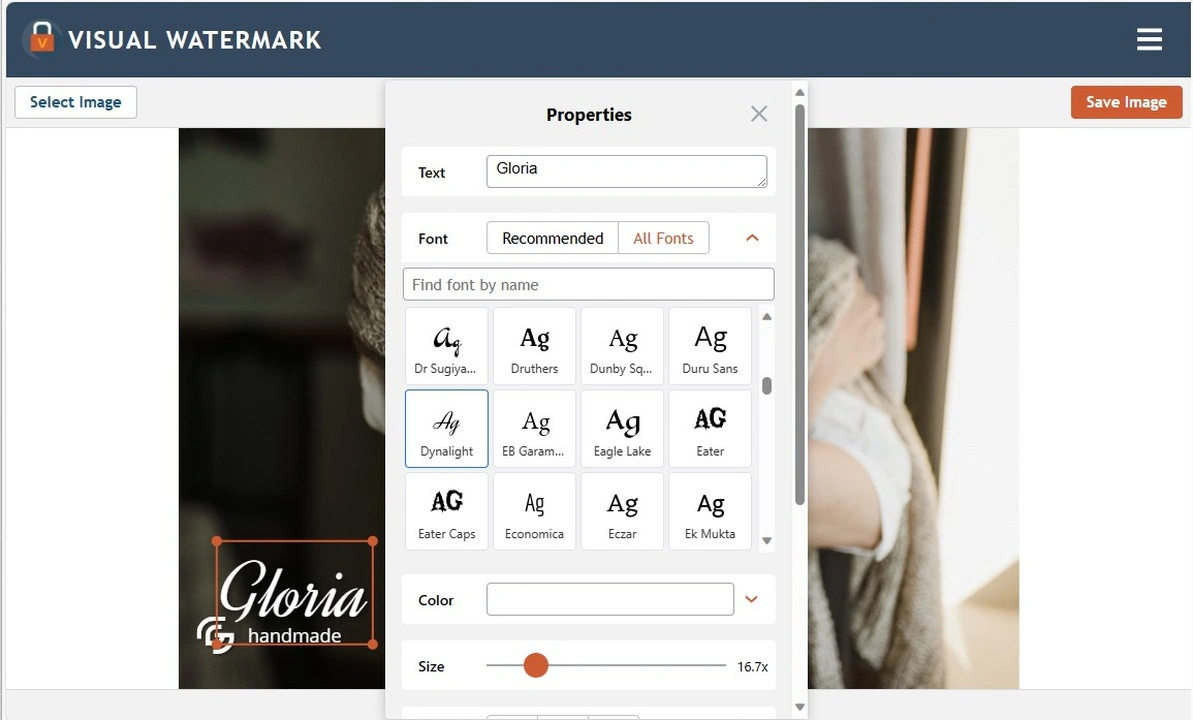 There are 4 main types of logo fonts:
Serif fonts. They have small, decorative flicks at the ends of each stroke. These fonts have become popular thanks to their readability and their form that is visually pleasing. Here are some examples of serif fonts that you can find in our font library – Arapey, Cardo, Times New Roman, Lora, Caslon, Garamond, and others.
Sans serif fonts. Any font that does not have tiny dashes, indents, and extensions at the tips of its characters falls into this category. Sans serif fonts are often used for logos published online due to their excellent screen readability. They are more minimalistic and easy to understand, therefore they will be perfect for a slogan. Here are few examples: Roboto, Oswald, Signika, Sarabun, Prompt.
Script or cursive fonts. These fonts look like they were written by hand. These fonts will be perfect if the unusualness of your logo is more important to you than its readability. Script font will surely make your brand stand out from others. But please note that in a logo, cursive fonts should be used only for one word. For instance, for the brand name. Don't use them for slogans and small-sized strings of text; otherwise, people will have a hard time reading them. In our app, you can find the following cursive fonts: Great Vibes, Alex Brush, Dancing Script, Playball, Allura and much more.
Display fonts. These are decorative fonts that have a unique design. They can be big, bold or quirky. Just like script fonts, in a logo, it's best to use display fonts to draw attention to the brand name and in a combination with minimalistic fonts. The 3D-styled and vintage fonts also fall into this category. Here are few examples: Neon Show, Monoton, Porter Sans Block, Poster Boy etc.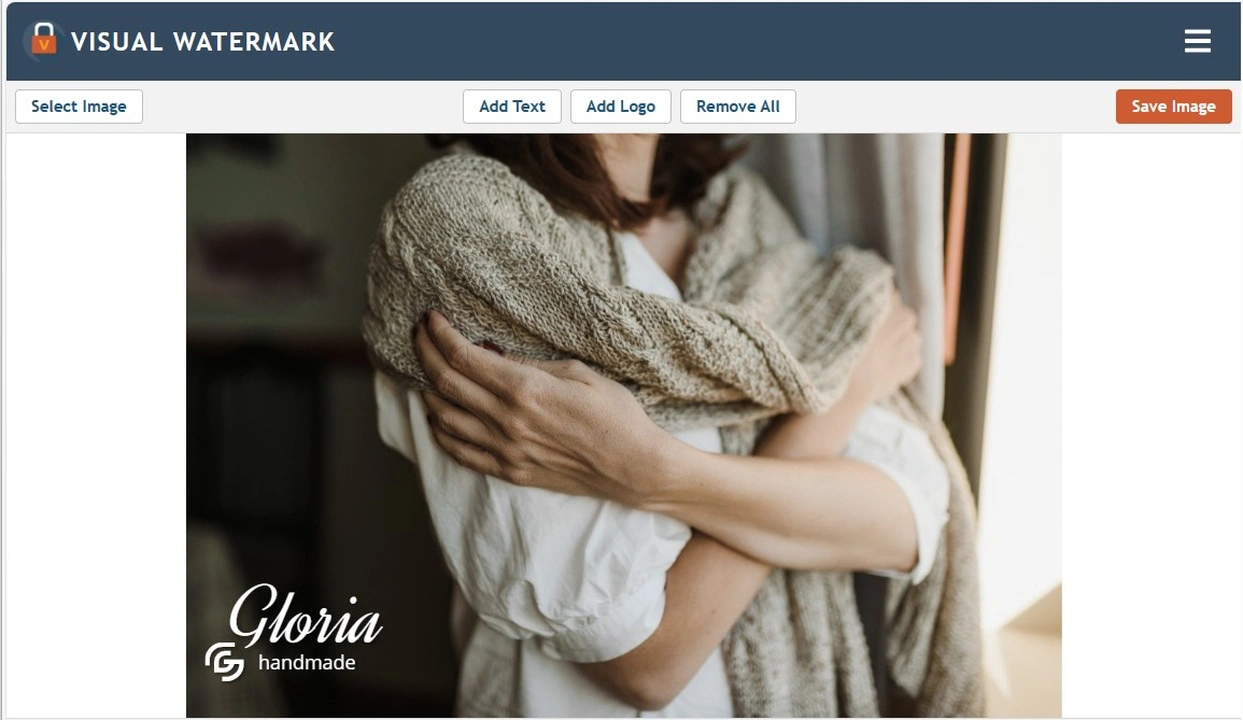 Here are a few options of combining different fonts in your logo:
serif font for the brand name or main logo text + sans serif font for the slogan
script font for the brand name or main logo text + sans serif font for the slogan
display font for the brand name or main logo text + sans serif font for the slogan
How you can improve the legibility of your logo on a photo:
Add some contrast. Light-colored letters on a light-colored background tend to be almost invisible. To avoid this, increase the contrast of your logo. This can be done by adding a shadow or placing your logo against a dark-colored background.
Be careful when using script or decorative fonts. For better perception, it is necessary to add some free space. This means that you need to increase the space between letters or lines of text in your logo. This can be done in our app without much effort as there are options for adjusting the line height and the size of the text itself.
Use a thin font in a logo that has a symbol or a monogram. This will allow you to change up your logo more easily, if necessary. For instance, if you notice that the thin font of your choice looks small and unattractive on a photo, you will be able to discard the textual part and leave just the monogram or symbol.
If you want to design a logo from scratch, you can use one of the free online logo makers. Here is an informative article with an overview of different websites for that - The best logo makers for photographers.
If you have already decided on a font and want to quickly check if it's included in our app, use the search bar "Find font by name".
---
How to Choose the Best Place to Add a Logo on a Photo
The best placement for your logo will depend on what platform you are using your visual content on. If, for example, we are talking about a website, then according to the study of Nielsen Norman Group:
«Users are 89% more likely to remember logos shown in the traditional top-left position than logos placed on the right»
If you exclusively add a logo to photos that you post on social media, the priority is not so much on where the logo is placed, but rather maintaining a consistent style. Simply put, you should make sure that the logo in all your photos looks the same, has the same size, and is positioned in the same place.
Consistency in the design of your logo will help improve your brand recognition and also demonstrate your professionalism.
If you're ready to design a sole logo template and want to apply it to all your images in the same way, it's worth using one of our watermarking apps (desktop or online), which allow you to save your watermark template and apply it to a batch of photos.
---
FAQ
How to add a logo to a picture for free?
Use Visual Watermark's free online app. With it, you can process one photo without paying anything or signing up. You'll be able to import your own logo and add it to a picture easily and quickly. What's more, it's possible to design a new logo from scratch using one of 12 recommended fonts, more than 60 built-in icons and about 40 effects.
How to add a logo to a photo on iPhone?
Find Visual Watermark in App Store. It is a free watermarking app that allows you to add both text and logo to your images. You can process up to 10 photos a day. Also you need to watch an ad to download your watermarked photos. If these limitations bother you, consider purchasing the full version of the app.
How to add a logo to multiple photos?
Use Visual Watermark for that. It works offline and online. In both cases it is available for free with some limitations. The main advantages of the app are amazing editing capabilities, the ability to save watermark templates and fast processing of photos no matter how big a batch is.