Lina Thorne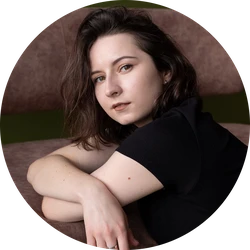 Hi! My name is Lina, I'm a self-taught photographer and writer.
My passion for writing developed much earlier than my passion for photography. Probably because all I needed was a pen and some paper or because of my fascination with words. It's always been an exciting challenge for me to find the right words to describe something, express an idea or communicate what's in your head to another person. Writing also offers a lot of variety. A piece of text can mean the same thing and send the same message, but, depending on how you phrase it, it can evoke drastically different emotions and associations.
In my late teens, I started taking pictures with a point-and-shoot Olympus camera, then, soon, moved on to my first DSLR, Canon 450D, which I got as a gift. Ever since then, I've been capturing whatever caught my attention – people, streets, landscapes, details of daily life. I truly believe that it's possible to find something fascinating and beautiful pretty much anywhere – you just need to take a closer look around and pay attention.
My photography journey has been going on for over ten years now, and I've had the chance to try out different genres of photography. I've done portraits, self-portraits, street photography, food photography as well as shot concerts, weddings and graduations. I don't like to limit myself, although, I have to admit that nowadays I stick to several genres that I enjoy the most and don't shoot absolutely everything.
In my opinion, writing and photography have a lot of room for experimentation and exploration of different genres and topics; and this is something that I greatly enjoy. You might have guessed that I also like combining these two passions of mine, because I like exploring different photography related topics and share my knowledge in my blog posts.
If there's anything you'd like to discuss, feel free to contact me at helpme@visualwatermark.com.
If you want to, you can take a look at my works on my website or Instagram.